Uptime.com Blog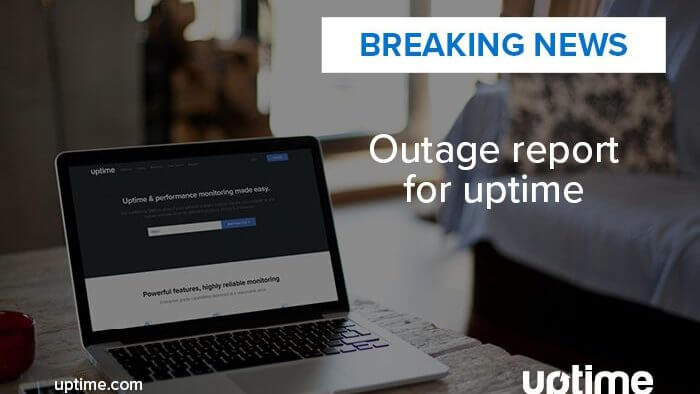 Outage Report July 2018 by Uptime.com
This month was a hot one for server outages in the gaming, government and business sectors.
The Happiest Place on Earth Became a Little Less Happy in July
On July 6, a companywide server outage caused a serious company-wide issue for Disney:
Two Disney mobile apps crashed (Play Disney Parks and ESPN)
The Walt Disney World Homepage was unreachable
FastPass reservations were unavailable for Disneyland and Walt Disney World
Disney Hotels reservation systems were failing to notify guests that their rooms were ready
Disneyland Paris experienced issues
Disney Cruise Line website was unavailable
Disney has yet to report what caused the four-hour outage.
It's affecting Disneyland Paris as well.

— daniel hartley (@HartleyIs) July 6, 2018
Just when things seemed to be under control, a power outage caused rides in Disney's Hollywood Studios to shut down a week later!
This just goes to show even the biggest companies in the world are not immune to technical issues.
Gaming Industry Hit Hard by DDoS and Other Issues
Despite having some of the most tech-savvy people in the world running their infrastructure, major gaming platforms were plagued with server outages and DDoS attacks this past month.
Many gamers who enjoy playing World of Warcraft, Overwatch and Heroes of the Storm over the weekend were unable to access the game because of a DDoS attack from July 7-9. According to SC media, DDoS attacks are common in the gaming industry because hackers can block opponents from playing to gain an advantage. Blizzard fans seem to take one of the hardest hits, as the outage affected all titles the company makes.
Sony Playstation servers experienced significant global outages throughout the entire month for its Playstation Plus, Sony music, and other services. Those of you with the Playstation Vue lucked out: it was the one area of the PS servers that didn't experience as many outages.
To repay frustrated players for DDoS attacks on its games during the first half of the month (specifically, For Honor), Ubisoft "compensated" all active players with virtual goodies.
Warriors, due to recent DDoS attacks impacting many games including For Honor, we'll be granting all active players during the last month the following compensation: 1000 steel; 10 XP Boost, 2 Scavenger Crates

PC players have received compensation, PS4, Xbox1 coming today!

— For Honor (@ForHonorGame) July 19, 2018
As the month drew nearer to a close, Xbox Live experienced server outages in the UK for XBox One players. A week later, EA was hit in the same region and virtual soccer players and soldiers alike couldn't access FIFA '18 or Battlefield 1.
Just when we thought the month of less fun and games for the gaming industry was over, gaming equipment manufacturer Razer was DDoSed by Russian hackers.
A Bad Month to Be a Government IT Employee
Systems at the Nevada Department of Motor Vehicles (DMV) melted in the summer heat on July 6. Not only were appointments booked between June 25 and July 2 completely lost, but the scheduling software also double-booked appointments out to August. Services were restored two days later.
Meanwhile, in the Arctic north, the Alaska Department of Transportation experienced website outages as well. These outages froze people out of:
State contracting webpages
The Ted Stevens Anchorage and Fairbanks International Airport websites
Alaskan Marine Highway system
Commercial Vehicle Contracting
This wasn't the only outage causing bone-chilling problems in Alaska this month. The Matanuska-Susitna Borough experienced serious problems with local government servers that caused:
Payment issues at the local landfill, public pools and local libraries
Animal care facilities went down (some services remained available)
The web services "eCommerce" and "MyProperty" were down (as of August 1 these services were still unavailable)
Problems in the small Alaskan Borough were so bad, local officials declared a state of emergency on August 2.
If you live in South Africa, things may be looking up for you soon. After discovering an average system downtime of 20 days per month, The Department of Home Affairs has hired Dimension Data to assess the problem and a plan is (hopefully) coming quickly to relieve this ongoing government IT disaster.
We reported early in the month that a popular Zimbabwe mobile payment site, EcoCash, was down. On July 27, Zimbabwe government websites went down, too.
Major Brands (US & UK)
As if we haven't told you about enough major outages already, Amazon will forever remember the Amazon Prime Day Server Outage of 2018. Angry shoppers everywhere were forced to go to Walmart to find rock-bottom prices. Walking into a store and actually picking things off the shelf?!? Nobody's got time for that!
BBC's website experienced some downtime on July 26. Many smaller BBC sites, including the popular Auntie's offerings, were also having some trouble. But never fear, iPlayer never skipped a beat. Could it be the record-breaking summer heat?
On July 29, several American Airlines flights were delayed in the US due to data center connectivity problems.
Just when we thought we had recovered from the Prime Day outage, US fast food chain Chipotle did such a great job of promoting National Avocado Day that both their website and mobile app crashed.
Financial Service Downtime Problems, Anyone?
On July 10, the UK Bank TSB website and mobile app left customers unable to access accounts. Customers were unhappy, especially after experiencing problems for about a week in April. Looks like that app and website update didn't go quite as smoothly as planned. The company has been trying to rollout changes since major outages in April caused a tweetstorm of customer complaints.
I've been with some shitty banks in my life, but @TSB is definitely the worst. Been trying to log on to my online banking for and hour and can't access the website AGAIN! The app hasn't worked for me for over a year, and now I can't even login via the website. Absolute joke. ?

— Kirsty Marie⚡️ (@Kirst_izzle) July 10, 2018

Toward the end of the month, the bitcoin trader AVINOC's website was unreachable. Was this unplanned downtime or a plan to prevent future DDoS attacks ahead of its latest faucet offering?
Other News
Soccer fans who subscribe to YouTube TV were left to view a World Cup Semi final match elsewhere when the service was down for over 30 minutes. Fans of the England and Croatia teams were especially heartbroken.
YouTube TV going down in the middle of a world cup semi final and then just promoting makeup tutorials is the most YouTube way of dealing with a problem pic.twitter.com/EeNwfsHTeT

— Cole Richard (@coltonkrich) July 11, 2018

ISPs in Singapore, the UK, and Kenya all experienced internet outages this month, leaving subscribers fuming about the lack of internet.
Though social media outages are common, users worldwide saw significant outages on Reddit, SnapChat, Facebook and Instagram. Some of these may be related to the Google Cloud outages in the middle of the month that also affected Spotify and other Google-Cloud powered services.
Don't Become Part of Our Monthly Outage Report!
No matter how large or small your website or mobile app, website and app uptime monitoring is essential to making sure things are running smoothly. Uptime.com offers a 21-day free trial with no credit card required. What are you waiting for? Get started today!
Minute-by-minute Uptime checks.
Start your 14-day free trial with no credit card required at Uptime.com.
Don't forget to share this post!