Uptime.com Blog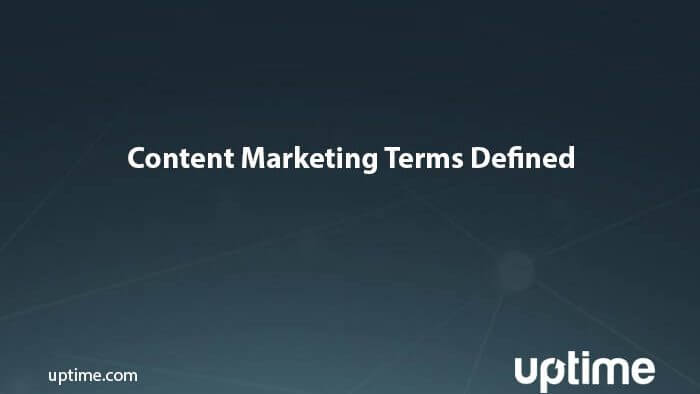 Common Content Marketing Tips Defined
Content marketing jargon can be intimidating. You've got terms that make sense only to Yale marketing majors. Every competitor is on the internet and so competition is fierce.
But it doesn't have to be a daunting task. Today we'll cover some of the most common content marketing terms to give you the head start you need to build an audience through your efforts.
What we'll cover:
  "Above the Fold" and how it's useful in digital marketing
  Repurposing old content
  Keyword research
  Content remarketing (different than content marketing)
Above the Fold
The concept of "above the fold" comes from the days when newspapers ruled the information market. Newspaper stands displayed them folded in half and showed the top headline of the day above the physical fold of the paper. An attractive headline would literally stop passersby and tempt them to buy the paper and read the story.
The kingdom of the newspaper has come to pass and the internet now reigns supreme, but that doesn't mean the concept of above the fold marketing is no longer useful. In fact, it is as relevant today as ever.
When referring to the "fold" in web design, it is simply the content that fills the screen when entering a website before a user has to scroll down.
Here's a fun fact: did you know 59 percent of readers do not engage below the fold?
It's crucial to grab the attention of your website visitor the minute they land on your site with above the fold content and encourage them to keep reading.
Learn more:
Pro tip: Add a small bullet point list of the general overview of the content at the beginning. Include enough detail to get the reader's attention, but not enough so they don't have to scroll to read the rest. See my example in the intro to this post.
Repurposing Old Content
Recycling isn't always about tossing items into the trash can. You can use it on your website as well. Here are a few examples:
Creating Blog Posts from Ebooks
Ebooks are typically short (less than 100 pages) publications with useful information on a specific topic.
A good example of repurposing an ebook would be using the information from a 30-40 page ebook to create 15 to 20 individualized blog posts. You'll save a lot of time by repurposing existing content.
Read more:
Creating Podcasts from Blog Posts
Repurpose your blog posts by creating podcasts based on the information in the articles you write. You can expand on the title topic in greater detail, or simply deliver the same information in podcast format for people who prefer to listen instead of read.
Read more:
Reusing Headlines from Your Website in PPC Ads
Your headlines should be catchy AND use keywords (I can't stress this part enough). This makes it easy to use your website and blog post headlines for pay-per-click (PPC) advertising. Just remember: PPC ads include a very limited amount of words to work with, so make each one count!
Read more:
Keyword Research
Always find a few relevant trending keywords BEFORE beginning to create content. Your keyword research can guide the direction of your content creation. You can get ideas for keywords through a variety of popular keyword tools, including:
While you do not want to write content that is "stuffed" with too many keywords, it's important to reference the keywords people are typing into search engines to create SEO-friendly content.
Content Remarketing
Content remarketing is easy to confuse with content marketing, but it's an easy way to get repeat website.
Essentially, you "tag" website visitors (usually with cookies) and target them with banner ads once they leave your site.
As they browse the internet, they repeatedly see ads for your website and are more likely to visit your website and make a purchase in the future. Remarketing campaigns on Google Display Network and Facebook are extremely effective. Google Display Network reaches 90% of internet users around the world, with 65% of them reached on a daily basis! (source: Google). Facebook has over 1.4 billion users and about a billion login per day.(source: Facebook).
Read more:
Develop Your Content Marketing Strategy
We've covered a few of the most common types of content marketing, but your education doesn't end there.
Although we've learned why the fold is important, the basics of repurposing old content, the importance of keyword research, and dipped our toes in content remarketing, this was just a jumping off point to get you started.
The next step is finding a combination of marketing strategies that work best for you and take action!
Minute-by-minute Uptime checks.
Start your 14-day free trial with no credit card required at Uptime.com.
Don't forget to share this post!