Uptime.com Blog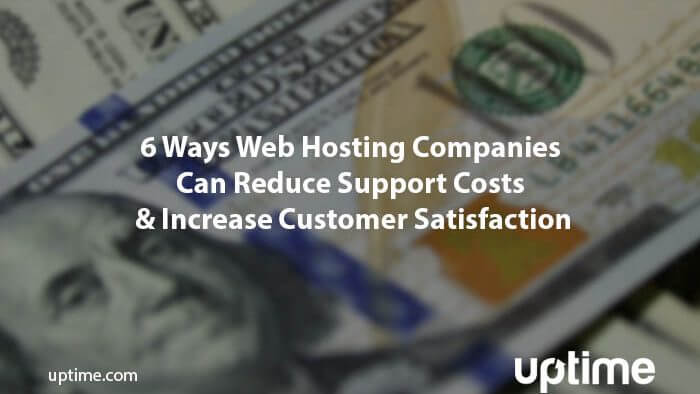 6 Ways Web Hosts Can Reduce Costs & Boost Customer Satisfaction
Web hosting is a tough business. Not only do you have lots of competition, but customers often can't solve problems on their own. This makes support one of the largest cost centers.
Even if you're good at what you do, if customers aren't satisfied with your support, your business may suffer.
We here at Uptime.com love web hosting companies. That's why we put together the following tips to help you reduce support costs AND increase customer satisfaction in the process.
Provide Documentation Everyone Can Understand
If you're just starting to build a knowledge base and aren't sure where to start, look to your support team. They can tell you the most common questions customers have. By starting with your client's biggest problems, you're likely to see a reduction in the number of support tickets sooner rather than later.
When creating support documentation for your web hosting platform, it's important to remember that your customers are not always as tech-savvy as you are. Be sure your content runs the gamut from the most basic answers to very sophisticated ones for clients with IT departments and higher levels of knowledge.
Here are some more guidelines for creating great support content:
Write as simply as possible. Remember, your customers are not the experts. Use plain language, avoid technical jargon, and write out the full-terms at least once before using acronyms like DNS, MySQL, etc.
Use screenshots whenever possible. Some people learn better visually.
Keep it updated. Periodically audit your content to ensure the steps included in support articles are still valid. This is critical after major software updates.
Readability is key. Use bulleted and numbered lists, short sentences, and short paragraphs.
Promote your content via email. While you don't need to spend a ton of resources on content promotion, email customers periodically with links to new support articles. It also is a great way to onboard new users and improve engagement.
Use Chatbots and AI to Answer Basic Questions
To free up support staff from questions that customers can find answers to on your site, invest in a customer support solution that uses chatbots to answer basic questions.
The way it works is simple:
A customer clicks on a button on your site to ask a question.
The chatbot asks how they can help.
Your customer asks a basic question like "Where are your FAQs?"
The chatbot responds with a link to the appropriate page.
Chatbots use AI to provide feedback based on a customer's question. The great thing about these chatbots is after initial setup, they can learn how to respond without a lot of configuration on the backend.
If you engage customers on social media primarily, you can use Facebook Messenger's basic chatbot features. Many companies are creating bots for Messenger that can integrate with a website. If you're stretched thin, you can also purchase software to create Messenger bots in minutes without writing a single line of code.
While this can't help with more complicated issues, like configuration problems, having a chatbot in place to help with simple questions will ease the burden on support and increase response time.
Take Steps to Stop Spam in Support Tickets
Spam often creeps into support ticketing systems. Web host support company Bobcares recommends the following to help reduce or eliminate spam in your support queue:
Add a captcha to contact forms
Use a spam filtering service like SpamAssassin or DSpam for support email addresses
Enable spam filtering at the SMTP level
While the burden on support doesn't seem high because there are no problems to solve, every ticket still needs to be read and dealt with.
Hire Support Agents With Strong Communication Skills
Whether you choose to hire remote or in-house employees, your support team is the front line between your company and the customer. After they sign on with you, support employees may be the only interaction your customers have with your company.
Because your customers will choose to interact with you in a variety of ways, the following communication skills are critical to hiring good support employees:
Strong social media skills: Even if you use customer service software like ZenDesk or Drift, customers will often contact you via Facebook Messenger and Twitter.
Above-average writing ability: Customers are busy and will often contact you via chat or email. For that reason, your support team should be fully versed in writing support emails and be excellent writers overall. It's helpful to have some pre-written responses to common problems, which your representatives can edit or rewrite as needed. This saves time and effort crafting solutions to problems that are already solved.
The ability to break down technical concepts into simple terms: Not all your customers are IT experts. Support staff may have to explain complex topics in ways that people with little technical ability or experience can understand.
Outsource Support Services Entirely
If your company is having a hard time finding and retaining talented support staff, there are companies dedicated to providing technical support to web hosting companies. A couple to try include Support Monk and Bobcares.
According to the customer service experts at HelpScout, here are a few of the reasons companies should outsource their support:
When you're first starting out
During times of rapid growth or change
If you need additional coverage during peak support times
Since you'll be sharing sensitive customer data, it's important to have well-organized internal systems and a security policy in place to ensure information isn't shared that doesn't need to be. You should also limit access to the most sensitive parts of your database, so you can escalate issues to on-site support staff.
When looking for an outsourced support provider, not all solutions are equal. Be sure they have experience helping web hosting companies, and that this team can align with the goals of your organization.
Use Public Status Pages
Server status questions diminish time spent on bigger support issues. Use Public Status Pages, like those provided by Uptime.com, to provide a convenient place users can visit to learn if your site is up.
In addition to letting customers know current server status, Uptime.com's Public Status Pages allow you to report specific incidents and include descriptions to keep your customers informed.
Wrapping It Up
If you're struggling to retain customers or cut down on support costs, try the solutions above. By providing customers with a stellar customer support experience, you're likely to see an increase in positive reviews and a decrease in ticket volume.
Minute-by-minute Uptime checks.
Start your 14-day free trial with no credit card required at Uptime.com.