Uptime.com Blog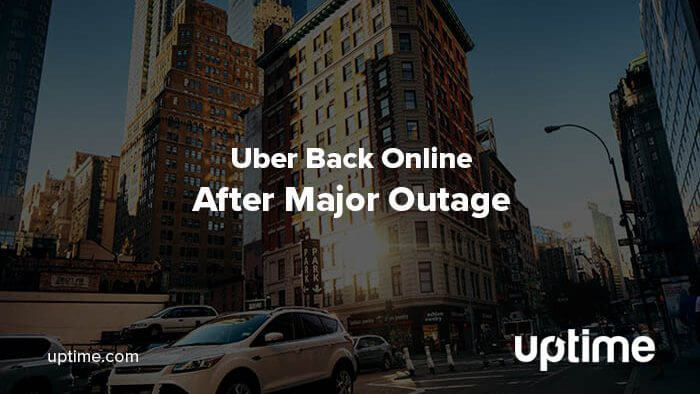 Uber Back Online After Global Outage
Ridesharing and delivery service Uber is up and running after a major outage. Services in the US, Canada, Europe and Australia experienced problems Monday evening through Tuesday morning EST. Though these areas had the most reports, other areas reported problems as well, including India and South America.
Drivers and Customers Frustrated
Problems with the Uber app began around 5PM EST Monday evening. Drivers couldn't access trip information. Customers claimed charges for trips they didn't take. Restaurants prepared food orders that drivers never delivered.
Both customers and drivers reported problems like the ones above. The severity of issues varied, but the inconsistency made it harder to determine the source of the outage.
This is not helpful at all. Your phone line and website help system is down too! I was charged for an #UberEATS delivery that never arrived. #uberdown pic.twitter.com/yGljWldm6a

— Lola Smith (@blisslife2014) December 10, 2018
Support Flooded With Requests for Help
As hungry customers waited for food that never arrived and offline drivers received trip assignments, requests flooded Uber support. Because the app wouldn't respond, support requests crashed the website and phone lines at times.
But people still found a way to get through to Uber support. Customers and drivers around the world turned to Twitter to express their frustration. Support struggled to keep up with all the requests for help.
It seems like all of uber is down even the technical support just goes nowhere and the app keeps on crashing uninstalling and reinstalling doesn't help #uberdown

— elliot moto (@ellmoto) December 10, 2018
Service is Restored But The Damage is Done
It's unclear how much money the company lost and how their reputation fared. Though customers who depend on Uber were frustrated, many likely found other ways to get what they needed.
Uber competitors took advantage of the situation with special offers.
The Uber app is down worldwide.

If you need a ride, download #Lyft and use promo code POLLS for $20 off first trips!! ?? https://t.co/6GcPtYX5Pc#uberdown

— Laura yeager (@Getfreefood81) December 10, 2018
An Important Lesson for Uber Users
Outages of this magnitude are uncommon, but they provide a valuable lesson for those who depend on technology-driven services like Uber. Even the most reliable services experience problems, but some downtime is unavoidable. When issues occur, have a backup in place just in case.
Monitoring Provides Outage Alerts Quickly
Continuously monitoring your domain alerts you of issues fast. Using a domain monitoring tool like Uptime.com keeps you in the loop. While monitoring can't prevent an outage, you'll be better prepared to tackle problems as they occur.
Other Outage Coverage
For more information on major outages, check out our monthly outage reports and coverage on major events when they happen:
Minute-by-minute Uptime checks.
Start your 14-day free trial with no credit card required at Uptime.com.