Uptime.com Blog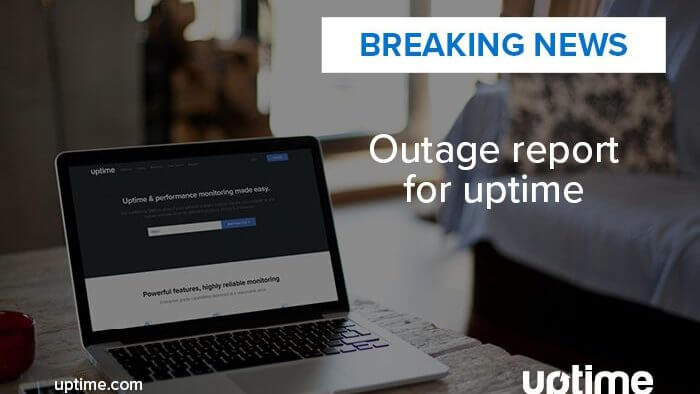 September 2018 Outage Report by Uptime.com
Aside from the continuing DDoS attacks that plague the gaming and online poker industries, last month was a relatively quiet one for major outages. Here is an overview of major outages during the month of September.
Large Publishers Experiencing Problems With Google Ad Manager
On August 19, many large publishers started reporting problems with Google Ad Manager. The cause of the outage is unknown, and it appears the problems were still occurring well into September.
As of October 1, there's no word on a resolution or if the problems continue. Marketers struggle to analyze campaigns due to the lack of performance data.
Other companies using Google Adwords and other Google Advertising products have full access to the entire platform, including data.
Venezuelans Frustrated With Connectivity Issues
Venezuelans had issues connecting to Google services and social media during the first half of September. Some speculate it is an intentional block, while others say it is due to outages and technical problems. Internet connectivity has been an ongoing problem in Venezuela for quite some time.
Lightning Strikes, Microsoft Customers Lose Access
Microsoft Azure & Office365 users experienced outages when lightning struck a Texas data center on September 4. Though the lightning caused server damage, the IT megabrand reports that all data was preserved and released details of their findings later in the month.
Air Travel a Little More Hectic for Some Customers
On September 6, some travelers on Cayman Airlines experienced significant delays due to a flight planning software outage. The airline resolved the issue by creating manual flight plans. The flight delays affected travelers flying between Kingston, Jamaica and New York.
Later in the month, low-cost airline RyanAir had website outages on September 17. Though the struggling Irish airline tweeted that customers should use the app, some users reported app problems, too.
Due to server issues as a result of a high volume of traffic, our website is experiencing brief outages, which are currently being resolved. We apologise to affected customers who are advised to use the Ryanair app to check-in, which is unaffected. Updates will follow.

— Ryanair (@Ryanair) September 17, 2018
Education Sector Hit With Ransomware and DDoS
The Monroe School District in the FL Keys suffered approximately 5 days of downtime after being infected by ransomware GandCrab. An employee uncovered the ransomware on September 9, and a day long Comcast outage further complicated the problem.
Meanwhile, in Scotland, a DDoS attack caused the University of Edinburgh to go offline during the first week of classes (around September 12). Officials originally thought the attack occured on one network, but later reports show a more widespread issue. It's still unclear how many networks the attack affected.
Education software company Infinite Campus experienced a DDoS attack 50 times greater than previous ones. The company provides software for parents to access attendance records and grades of their children in school. Infinite Campus suspects students are behind the attack, which took place from Sept 19-26.
Cryptocurrency Hard Fork Update Goes Awry
The Steem cryptocurrency hard fork update started a little earlier than planned, which caused all 400 apps running on it to fail on September 17. Steem is the blockchain of choice for apps running on the social network Steemit. Looks like the 100% uptime theory of cryptocurrency is starting to show less promise.
Cisco Customers Had to Reschedule Some Teleconferences
On September 25, Cisco WebEx customers couldn't access teleconferencing services due to a major outage, according to Network World. A day later, customers reported some services worked, but intermittent outages affected many customers for days after.
Honeywell Customers Shut Out of Smart Home Controls
A big selling point of smart home systems is the ability to control devices remotely. According to Digital Trends, a Honeywell server outage on September 25 left people unable to control their  thermostats with smartphones. However, the report also states that many Honeywell customers have been complaining for weeks prior to the confirmed outage about their ability to control their thermostats remotely and lack of communication from Honeywell about outages.
European Alexa Customers Had No Digital Assistant to Talk To
On September 26, what appeared to be a total outage in Germany, Spain and parts of the UK for a good part of the day left Amazon customers frustrated with the lack of response from Amazon about the Alexa outage. This is the second time in recent months Amazon downtime has made news.
Barclay's Customers Couldn't Access Online and Phone Services
The end of the month panicked customers of Barclay's Bank customers as the company experienced outages with their phone and online banking services on September 28. The company reported their mobile app worked fine and all services resumed the same day.
DDoS Attacks Caused Internet Outages Down Under
Australian ISP Aussie Broadband experienced significant outages on September 29 after a DDoS attack on its VoIP services. Phil Britt posted a detailed post-incident report on Whirlpool.
Outages Happen
With the rise of frequency and intensity of DDoS, ransomware and other security threats, web monitoring is a critical part of IT infrastructure.
Customers today expect to know about problems as they occur. Share information about service outages, as well as optional notes about expected resolution times and other pertinent information, with Uptime.com Public Status Pages. Don't leave your customers in the dark.
Check out our other outage reports:
Minute-by-minute Uptime checks.
Start your 14-day free trial with no credit card required at Uptime.com.
Don't forget to share this post!