Uptime.com Blog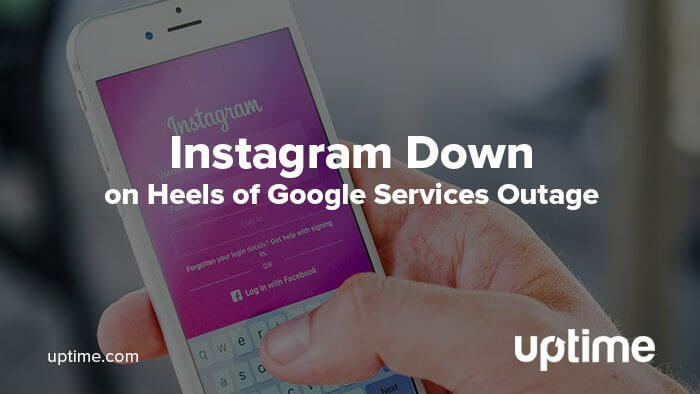 Instagram Down on the Heels of Major Google Outage
As people get back to business after a Google services outage that affected everything from Gmail to Google Drive, Instagram users are reporting significant problems with the app.
Instagram Outage Details
According to user reports, problems began around noon EST on March 13. Some can login to Instagram but are unable to post updates. Others cannot see their feed at all, and still others can't login. As usual, Twitter is buzzing with memes and complaints from angry Instagram users.
How I look when i come from #instagram to Twitter to check if its not working or if it's your wifi that's off. #instagramdown pic.twitter.com/QJh3JyM1cO

— Angharad Barrett (@peanutsmumm) March 13, 2019
Outage Affects Users Worldwide
Users from the US, Portugal, the UK, Italy, and several other countries are reporting problems with the social media platform. Thousands of users reported issues with the app. Many also reported problems with Facebook and Messenger as well.
@facebook is down. Prepare for the apocalypse pic.twitter.com/3VF6EdBk82

— ☞ Chuck Glass ☜ (@TheChuckGlass) March 13, 2019
Instagram Outage Cause is Unknown
It's unclear what the cause of the outage is and when it will be fixed. Facebook has yet to comment on the outage, and the official Twitter account for Instagram doesn't have any news.
This is the third major Facebook-related outage since November, and the second for Instagram this year.
Despite the increase of people on Twitter checking on the status of Instagram and Facebook, it's business as usual for Twitter.
Twitter when Instagram and Facebook both crash ? #instagramdown #facebookdown pic.twitter.com/DLVQBJ3WbJ

— Courtney (@courtsx08) March 13, 2019
As of now, Instagram is still not working.
Other Outage Coverage
For more information on major outages, check out our monthly outage reports and coverage on major events when they happen:
February 2019 Outage Report
January 2019 Outage Report
2018 Major Outages
December 2018 Outage Report
November 2018 Outage Report
October 2018 Outage Report
September 2018 Outage Report
July 2018 Outage Report
June 2018 Outage Report
Wells Fargo
Instagram
CenturyLink
Uber
Facebook (First Outage)
Facebook Outage #2
GitHub
YouTube
Verizon Wireless
Slack
Amazon Prime Day 2018
Minute-by-minute Uptime checks.
Start your 14-day free trial with no credit card required at Uptime.com.