Uptime.com Blog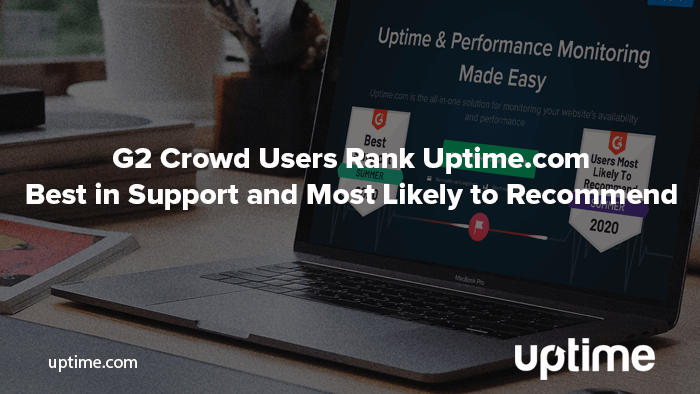 G2 Crowd Users Rank Uptime.com Best in Support and Most Likely to Recommend
Uptime.com has been ranked #1 in Customer Support, and has been voted Most Likely to Recommend by the G2 Crowd Community. These terrific achievements cap off a year of activity and updates that have helped Uptime.com remain a market leader in IT alerting and website monitoring solutions.
With top scores in IT Alerting and Web Monitoring, Uptime.com continues to grow alongside our userbase to create the most powerful and accessible web monitoring platform.
What Users Like
In their own words, users love that Uptime.com is straightforward and easy to use. We provide a robust uptime monitoring solution with a low adoption cost, making us one of the easiest to implement and the speediest solutions in the market.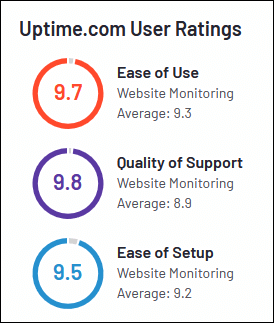 In addition, our support representatives prioritize your use case. From the moment you submit a ticket with us, Uptime.com works toward finding the best possible solution for you. Even when that means added development and new features. We are excited most by passionate users with a vision of how Uptime.com will work for them.
Honesty and Integrity in Website Monitoring
When you need honesty in your SLA reporting, Uptime.com has your back. We provide check types for every major piece of your infrastructure, offering a hybrid view from inside and outside your services.
What's New What's Coming?
2020 has been a challenging year for devops, but Uptime.com has rolled out steady features and improvements built for these difficult times. What's new?
Private Locations
Private Location monitoring complements our extensive list of external check types, offering internal and external perspectives on your infrastructure. This hybrid form of infrastructure monitoring is bolstered by the most integrations in our class.
Status Page Improvements
We added two key features to our status page system, available to every tier of Uptime.com service. Subscribers are available via public status pages, giving IT and DevOps a critical line of communication during an outage. Additionally, status pages can utilize HTTP(S) when you adjust your CNAME.

As for what's coming… We have some secrets yet in store worth waiting for. Stay tuned and keep your eyes peeled.
See for Yourself
Users from G2Crowd chose Uptime.com as a market leader in IT alerts and web monitoring solutions.
See the difference for yourself and try a 14-day free trial today.
To our existing users: thank you for making us your chosen monitoring service. We appreciate the opportunity to grow alongside you for another year.
Now, let's get to work!
Minute-by-minute Uptime checks.
Start your 14-day free trial with no credit card required at Uptime.com.
Don't forget to share this post!