Uptime.com Blog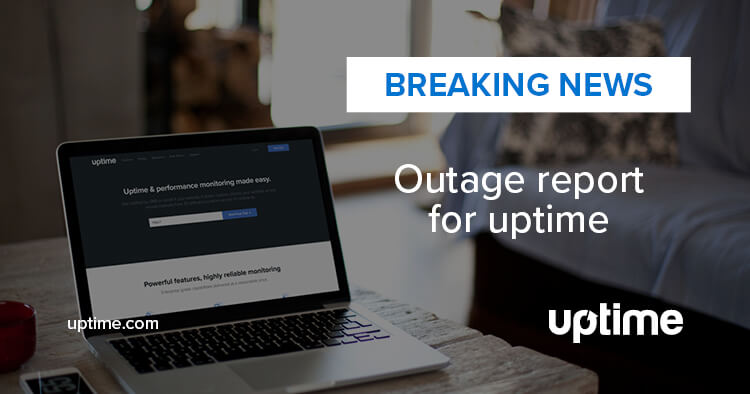 February 2019 Outage Report by Uptime.com
This past month was relatively slow for major outages. Though we found reports of major outages throughout the month, they didn't seem to last very long.
As usual, outages spanned a number of industries including education, social media, ISPs, and connected devices (wearables).
However, one major US bank experienced an extended outage that affected not only online and phone banking, but ATMs as well.
Here's the rundown of this month's outages.
Wells Fargo Experienced Extended Banking Outage
Nothing's more frustrating than not being able to access your own money.
On February 7, Wells Fargo experienced this frustration firsthand when online and phone banking, as well as ATMs went down. Some believe fire at one of their data centers in Minnesota caused the outage. However, the local fire department said there wasn't one.
Whatever the reason, Wells Fargo customers were outraged. In addition to the online banking service, we detected intermittent outages on their main website.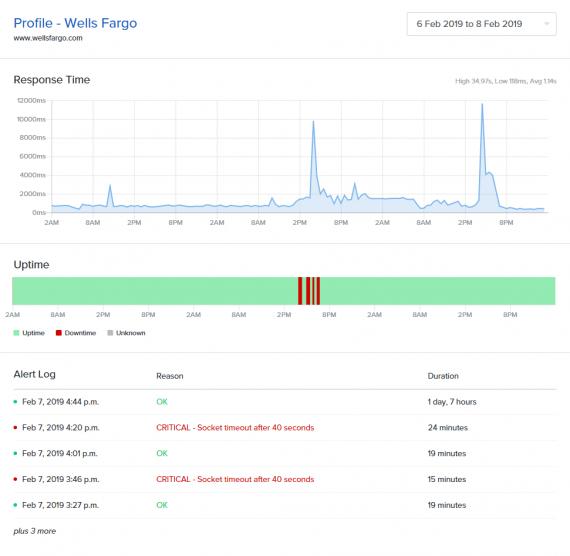 Email Woes Across a Number of Networks
Email users on a variety of different services experienced problems this month.
On February 6, both Yahoo and Xfinity email users experienced problems accessing their accounts. Yahoo's problems seemed to be browser-specific; one savvy user reported he could access his email account on MS Edge, but not Chrome or Firefox. Yahoo acknowledged the problem, though couldn't definitively state when they would fix it.
UPDATE: I have managed to login using MS Edge browser.
However, Chrome and Firefox are not accessing

— Mungai Kihanya (@mungaikihanya) February 6, 2019
Xfinity users, on the other hand, were not so lucky. Though the problem wasn't mentioned until February 6, it seems that some users had gone a couple of days without access to email at that point.
Perhaps the unluckiest of all were US customers of VFEmail. On February 11, hackers breached the company's servers and deleted all US user accounts. The attacker reformatted all the disks on every server, so all backups were lost. VFEmail advised users not to try to connect to VFEmail on a local email client, or all local mail would be lost. Empty inboxes greeted users once they were able to log back in. Talk about inbox zero!
Dunkin' Donuts Customers Locked Out of App
Those who rely on Dunkin' Donuts for their morning coffee were disappointed when users were locked out of the app on February 6. Users reported a variety of problems, including locked accounts and forbidden error messages when trying to reset passwords.
First, the app logs me out. Then, the app claims that my Touch ID is incorrect. For the cherry on top, it locks me out. Not at all convenient, @dunkindonuts, when trying to get my morning joe before work. #ugh pic.twitter.com/mMek3Kgk2c

— Sarina Rhoads (@SarinaRhoads) February 6, 2019

Social Media Problems Force People to Be Productive
Social media outages are becoming more common, but this month's outages didn't seem to ruffle too many feathers.
On February 6, a minor Facebook outage affected a couple hundred users in the UK, Denmark and Greece. Reports say the outage was minor and corrected quickly.
Snapchat users in Europe experienced trouble on February 12. A little over 3,000 users experienced problems logging in or using the platform. Snapchat support remained on top of the issue, advising customers to stay logged in. The problem was resolved within a few hours.
Many Snapchatters are having trouble using the app ? Hang tight, we're working on a fix! In the meantime, we recommend staying logged in ?

— Snapchat Support (@snapchatsupport) February 12, 2019

Connection Problems for University Students
On February 11, an electrical surge resulting from routine utility maintenance knocked several Purdue University servers offline. The problem affected the website, student MIS systems, dining and laundry services. Many student dining halls were only able to accept cash during the outage. IT workers resolved the problem that evening.
Swarthmore College students looking to get a jump on work for the weekend were frustrated by an internet outage on February 15. The outage occurred when the IT team was upgrading servers due to a bug discovered earlier in the year. Though the team expected a brief outage of about 30 minutes, the network was down for a little over 2 hours.
Service was restored when the upgrade completed.
Strava App Wouldn't Sync Runs or Rides
Strava is a popular app that records mileage for runners or cyclists via GPS. Many use Garmin Connect devices to sync data with the app.
On February 17, users reported they couldn't sync their rides or runs with the app. Strava confirmed problems with the app, and everything seemed to back online within a couple of hours.
To complicate matters, when Strava was back online, Garmin Connect users will still having problems. It seems that this service had massive outages of its own. Many users were frustrated because they couldn't tell if the problems they experienced were with the Strava app, their Garmin connect device, or both.
As of February 18, users were still reporting issues.
@Garmin @StravaSupport 2nd day activities not uploading to Strava. Logged out of both apps and logged back in but still not working! Can't even connect strava to my Garmin connect account now

— Steve Davison (@steveedavison) February 18, 2019

Another Outage for Microsoft
Regular outages have become a huge problem for Microsoft. On February 18, users couldn't access Microsoft Teams. The company was slow to respond, but did post an update on Twitter several hours after users reported problems.
We're investigating an issue in which users may be unable to access Microsoft Teams. More details can be found in the admin center under TM173756.

— Microsoft 365 Status (@MSFT365Status) February 18, 2019

Bit.ly Down for a Bit
On February 18, the popular URL shortening service Bit.ly experienced an outage. It's unclear exactly what happened, but the outage affected access to the website, branded redirects, and their API. Customers couldn't access metrics for their links.
Though the site reported everything was working a few hours later, many users still reported problems.
. @Bitly Any updates dears … Service is down ?#BitlyDown pic.twitter.com/mT5ruLjVYl

— Thaer Ismail (@ThaerI) February 18, 2019
ISP Cox Communications Outage Leaves Users Without Internet or Phone
As MS Teams users cursed their inability to access their Microsoft account, Cox Communication customers couldn't even make it to the login screen. On February 18, the ISP confirmed an outage that affected internet and phone customers.
Users were frustrated with the inability to reach support, and messages about the status were vague at best.
There's currently an outage affecting our customers in the Northern Virginia area. We don't have an exact time for services to be restored just yet. I apologize for the inconvenience. -Steff

— Cox Customer Care (@CoxHelp) February 18, 2019

Ebay UK Users Locked Out of Website
On February 22, a few hundred eBay users in the UK reported they were unable to access the site. The outage appeared to be minor and lasted only a couple of hours.
Stay On Top of Outages With Web Monitoring
Want to keep an extended outage from affecting your website?
By continually monitoring your site for problems, you'll be better prepared to react quickly. Check out Uptime.com for a complete monitoring solution that lets you monitor your site for outages and performance problems.
Other Outage Coverage
For more information on major outages, check out our monthly outage reports and coverage on major events when they happen:
January 2019 Outage Report
2018 Major Outages
December 2018 Outage Report
November 2018 Outage Report
October 2018 Outage Report
September 2018 Outage Report
July 2018 Outage Report
June 2018 Outage Report
Wells Fargo
Instagram
CenturyLink
Uber
Facebook (First Outage)
Facebook Outage #2
GitHub
YouTube
Verizon Wireless
Slack
Amazon Prime Day 2018
Minute-by-minute Uptime checks.
Start your 14-day free trial with no credit card required at Uptime.com.
Don't forget to share this post!