Uptime.com Blog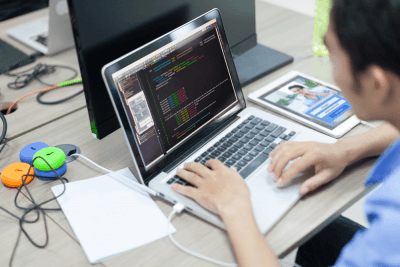 5 Reasons to Pick a Professional Web Developer
With so many free website building platforms available on the Internet, business owners may try to build their website in-house using these tools. It makes sense on the surface, at least financially. Why pay someone to build something you can build yourself for free? But that logic may end up costing you more in the long run. Here are some reasons why business owners should think about hiring a professional web designer.
Best Foot Forward
Although some people already know about your business, the likelihood is that many do not. The first interaction they might have with you may be your website, so you want your site to be the best it can be. If you build a simple site filled with mistakes and technical glitches, you could turn off potential customers.
Brand Trust
If your site looks unprofessional, your company will as well. It can make people lose trust in your brand if you are a large organization. But if your online presence looks classy and professional, people will think the same about your business and the goods and services you provide them.
Reduced Maintenance Costs
Professional web designers know how to build a site. They will make it as error-free as possible, knowing all the traditional hiccups that might occur. You won't have to keep fixing things after they leave. If you build your own site, you'll have to devote internal resources or hire an outside contractor to address problems.
User-Friendly Design
Large companies spend a lot of money making sure their sites are user friendly. They'll perform usability tests where someone will use the site for the first time then describe his reaction. What parts were easy to navigate? What parts made little sense? They'll take that information and improve the site to create a version that will be intuitive to your customers.
Higher Traffic
Professional web designers can make sure your site is SEO-friendly. SEO stands for "search engine optimization," which basically means it's easy for Google to find. When people search for what you do, they'll find your site before those of your competitors. Making a site SEO-friendly requires real know-how, so leave it to the professionals.
Minute-by-minute Uptime checks.
Start your 14-day free trial with no credit card required at Uptime.com.