Uptime.com Blog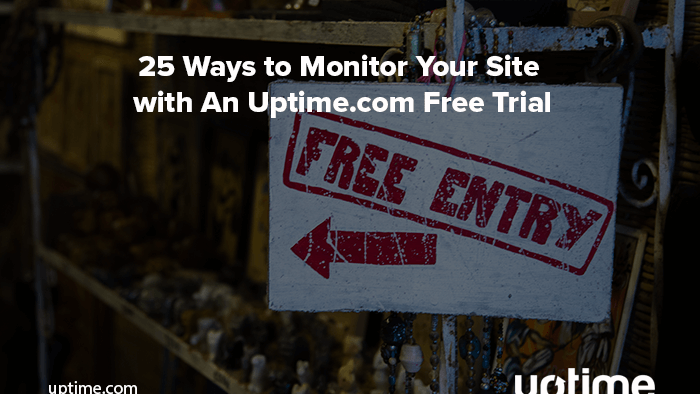 25 Ways to Monitor Your Site with An Uptime.com Free Trial
With a service as intricate as website performance and uptime monitoring, it's nearly impossible to have all your questions answered just by exploring the product website. No matter how clear the pricing and feature descriptions are, it's hard for a feature description to tell you if it can rise to every occasion your devops team will face. A free trial is an opportunity to connect with a service and test for your use cases. Not all free trials are created equal, some may restrict features while others restrict user seats. Monitor Your Site with Uptime.com and fully test all of the features allotted to the plan you choose, even at the free trial level. 
Read on for 25 ways you can use our free trial to kick-start your monitoring.
1. Check your domain health with Monitor Entire Site
The first thing we recommend is to establish a baseline for your domain health with our Monitor Entire Site tool. This is the lightning speed route to get your website monitoring online. The tool can automatically create a series of basic checks that we find useful for any account; DNS checks, Blacklist & Malware, HTTP(S), and SSL Certificate are a few of the checks generated. You can select all possible checks or pick and choose checks to add to your account.
2. Create a basic HTTP(S) check with additional parameters
Our HTTP(S) check tells you the status and response time for a single URL. Our checks also have optional parameters you can configure like checking for headers, basic auth functionality, and checking for strings to expect which you can use for handy tasks like verifying your Google Analytics tags.
3. Choose your probe server locations
We currently provide monitoring from over 30 locations spread across 6 continents and growing. Customize the locations for your checks to tailor your monitoring to suit your user geography.
4. Check out our run test feature
Especially for advanced checks, like our Transaction checks or API checks where there are multiple steps, it's helpful to test as you go. Uptime.com has provisioned test servers for this purpose and included a Run Test button for relevant check types.
5. Tag your checks
Tags are one way we organize and associate checks across our features. Create a tag and use it as a label to categorize checks, an identifier to call checks with our REST API, a vehicle for bulk actions, or as a category to associate a group of relevant checks to SLA reporting.
6. Try our bulk updating features
Sometimes it's convenient to set a maintenance window for a single check, or adjust it's SLA thresholds, and sometimes you need to make the same update to a large number of checks. Our bulk actions feature supports the setting of maintenance windows, timeout thresholds, check intervals, contacts, and more en masse.
7. Add Users
Our free trial respects the user limits that come standard with the subscription tier you choose to test. Add your users to test our solution at varying permission levels and see how alert notifications are received among different members of your team.
8. Create Contacts
Crete contacts to link to your checks and configure alert escalations. Test for SMS notifications, and use contacts to direct notifications to third party integrations like Slack and PagerDuty.
9. Customize your dashboard
Customize and create dashboards to represent different services, client groups, or SLA requirements. Easily navigate to alerts and reports for relevant checks, and maintain a bird's eye view of your performance.
10. Setup Integrations
We make it easy to integrate with your most used platforms like Microsoft Teams, or Jira. Try setting up multiple integrations with the same platform to direct specific check alerts to key people and channels, or use our custom webhook and partnership with providers like Zapier to create your own integrations.
11. Create an alert escalation
The main reason to monitor your site and services is to be alerted as quickly as possible to downtime events. Create escalations to structure your alerting and direct notifications to the right people.
12. Test our alert notifications and reporting
We mentioned tags earlier, and here's another way they are useful. Tag alerts and add details and notes to be sent with notifications when a check fails. Try customizing your alerts with these methods
13. Drill down into alert data, and real-time analysis
Real-Time Analysis provides a chronological timeline of the events and alerts that have been issued to a particular check. Learn the state of an outage, and review related technical details. Dive into Root Cause and gain insights to resolving incidents quickly.
14. Create an Uptime.com Status Page
The Uptime.com Status Page is powered by your account checks and metrics. Create one with your free trial to suit your needs. To make this easy, we provided setup in the form of three page types; Public Status Page, Public SLA Page, and Internal Status Page.
15. Customize your status page
Customize your Status Page with CSS and HTML to create seamless branding between your company website and your status page. Use CNAME to direct your page, add your logo, and extend your customization to your notification emails.
16. Subscribe to the Status Page and create an incident
Test Status Page subscriptions via email and RSS and check how Status Page notifications are conveyed to your users and subscribers. With incident creation to add information, automate component status, and manage updates through to resolution.
17. Create a maintenance window
Create maintenance windows for checks within your account and suspend downtime calculations. For maintenance updates you need to share, try creating an automated maintenance window for your Status Page.
18. Create an SLA report
Uptime.com has built SLA thresholds directly into our checks. Test all our SLA features included SLA reports. The Uptime.com SLA Report allows your organization to report on specific checks or systems for the purposes of SLA accountability.
19. Try out our scheduled reporting feature
Scheduled reporting makes it easy to send required reports at custom intervals for your specified checks in pdf or xls format.
20. Create an advanced check, like our API check
Use commands and validators to configure an API check to test your status code returns OK 200 but also that specific data is retrievable on your page. Retrieve an oAuth token, post data, and add variables to optimize your check.
21. Try out our Transaction Recorder
Synthetic monitoring is made easy with our step-by-step Transactions checks, and easier still with our chrome-based Transaction recorder for easy point and click check setup.
22. Try out Real User Monitoring
Synthetic monitoring recreates a user experience for testing but Real User Monitoring (RUM) provides actual experience data. Our free trial will let you test our RUM checks and reporting – just paste our snippet onto your site and give it a go!
23. Try out our REST API
A significant amount of our feature functionality can be performed via our REST API. Create checks, and reports as well as automate features like our Status Pages with an impressive level of granularity.
24. Investigate Us
We believe quality customer support is a key ingredient for a monitoring provider. As you test our features, reach out to us directly to test our knowledge, responsiveness, and solutions.
We also want you to check out what people are saying about us, and compare our service to other providers.
25. Tell us what you think
Uptime.com is user-centric so your feedback helps us grow. Even if our free trial doesn't convince you we're the best option for your needs, we value your input as an opportunity to grow.
Minute-by-minute Uptime checks.
Start your 14-day free trial with no credit card required at Uptime.com.