Uptime.com Blog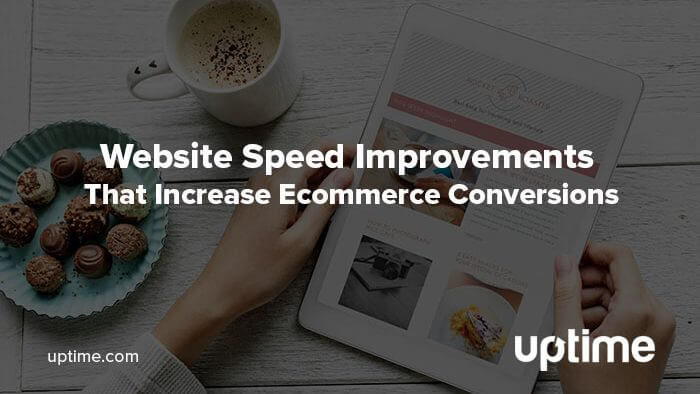 Website Speed Improvements That Increase Ecommerce Conversions
It's no secret that shoppers want a site that loads fast.
Ecommerce websites have to balance looking good and working well to provide the best possible user experience.
From product descriptions to user registrations to shopping carts, it can be overwhelming to figure out where to focus your site optimization efforts.
Increasing your site's loading time can double your conversions.
Instead of focusing on the normal site optimization tips like compressing images and avoiding excessive pop-ups, we're going to focus on two areas that are often overlooked: perceived loading time and the user experience.
Let's begin with some stats about poor site performance, and its effect on ecommerce conversion rate. Then we'll focus on areas for improvement.
Crunching the Numbers: Site Speed & Conversion Rates
In 2010, Google began using Site Speed as a ranking factor.
Since, several studies have concluded that even milliseconds make a difference. According to an online retail study by Akamai, page load times delayed by 100 milliseconds can decrease conversions by 7%
Back in 2012, Amazon concluded a one-second page delay would cost the retailer $1.6 billion in sales per year.
As more and more customers turn to shopping on their mobile devices, ecommerce sites need to focus on mobile optimization. Statista reports over half of all traffic globally came from mobile devices in 2018.
A case study by SOASTA showed that the best conversion rates on mobile devices occurred with pages that loaded in 2.4 seconds. The retailer studied saw conversion rates of 1.9% at 2.4 seconds loading time, 27% faster than pages that loaded a second later.
What's an optimal conversion rate? The advice varies.
According to ecommerce software company BigCommerce, the average ecommerce conversion rate is 1-2%.
Invesp's numbers are slightly higher. Their reported ecommerce conversion rates as of Q2 2018 are 2.86% globally, 2.63% in the US, and 4.31% in the UK.
WordStream reports the highest performers in ecommerce convert at 6.25%.
Here are some tips to help you increase your conversions through site optimization.
Pay Attention to Perceived Loading Time
Not only do ecommerce sites have to contend with actual page speed, but another key area of importance is perceived loading time.
How fast your page loads versus how fast your page seems to load makes a difference. If shoppers think your page is taking too long to load, they are just as likely to go elsewhere.
With ecommerce sites, the homepage tends to have the most content. Between the search bar, navigation, images and personalized information, there's a lot of competition between these elements to load. Add in the scripts and backend resources that aren't visible, and it's amazing that most sites load as fast as they do.
Fixing the Problem
With all this going on, what makes a site appear to load quickly?
The secret is to load the most important assets first. Prioritize loading content above the fold (which is very little on mobile) above the content at the bottom.
This is where some of the advice you've been given to load pages faster actually can be detrimental.
For example, developers often merge multiple scripts into one file. However, if these scripts load first, like with JavaScript, they prevent visible content from loading and make the perceived page load time increase.
A better solution is to create multiple files for scripts and load them as needed for priority content. There's no point in loading a script for something like a search bar before the user can even see it. Doing this with both CSS and JavaScript files allows the content users can see to load quickly.
Once content above the fold fully loads, your page will appear to be completely loaded even though it isn't. That's the advantage of perceived loading time.
Check Your Site Across Multiple Locations and Devices
Website testing is key to making sure your site loads quickly. Developers commonly run speed tests to find out how fast pages load and get recommendations for improvement.
But in the real world, speeds vary based on a user's location, browser, and device.
That's why one test is rarely enough.
In addition to running a speed test, we recommend testing your site's global uptime and using actual user data to determine how well your site performs in a variety of conditions.
A Global Uptime test provides key statistics on how fast your site loads from various locations around the world. By looking at the speed of each step of the loading process, you might uncover problems that can be resolved.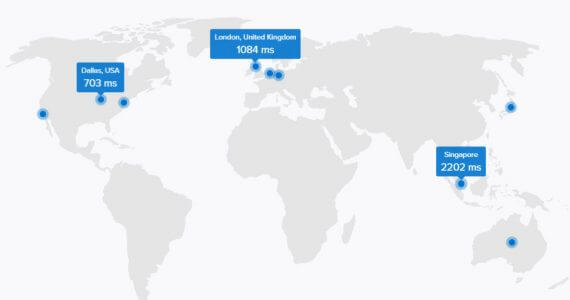 One particular stat of interest in the Global Uptime test is the DNS Lookup time. If you notice a huge difference in DNS Lookup time across locations, you may want to invest in premium DNS services. Premium DNS providers use multiple servers, meaning that shoppers will connect via the closest server, reducing latency. They also offer additional security by masking your true DNS address.
Performance Testing
Testing is great, but using real data from actual website visitors provides the most accurate picture of how your ecommerce website is performing.
Real User Monitoring (RUM) gives you the ability to view actual data on how fast your site loads in different locations and across devices. Copy a simple tracking code on your website, and you can view reports on average loading time along a goal funnel you create. When you manage the URLs that RUM tracks, you pick up important user statistics and receive alerts when elements take longer to load than expected.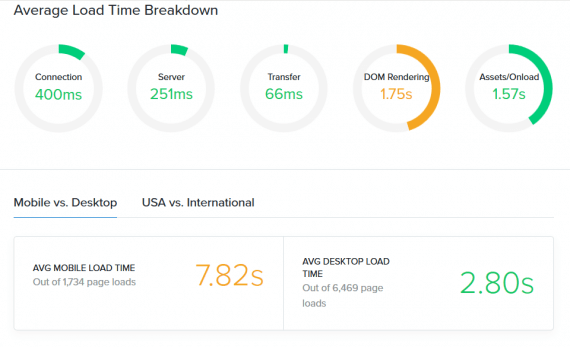 Monitoring and Testing is Key to Increasing Site Speed
Ecommerce site optimization is a continuous process. The best way to stay on top of problems as they happen is to continually monitor your site.
Transaction checks are another way ecommerce sites can test site elements. These multi-step checks verify signup forms, shopping carts and user registration works as expected.
Monitor user experience with RUM and check worldwide site speed with Global Uptime tests. You'll stay on top of important changes that affect conversion rates and respond to alerts as they occur.
Minute-by-minute Uptime checks.
Start your 14-day free trial with no credit card required at Uptime.com.
Don't forget to share this post!