Uptime.com Blog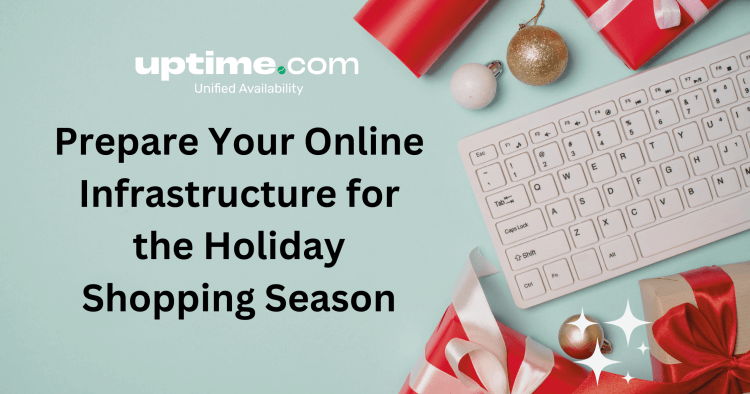 Maximize Sales with Uptime.com this Holiday Season
Uptime checker and website monitoring tools are vital to ensure carts and CTAs are working effectively for Black Friday & Christmas sales.
Black Friday online sales reached almost $10 billion last year, and getting a share of that action can make or break a retailer's year. With that kickoff to the holiday shopping season fast approaching, businesses must be ready with website security and online monitoring to ensure their online infrastructure is secure.
As consumer confidence in online shopping grows, and consumers keep seeking deep discounts and flexible ways to pay, they will flood the online marketplaces of retailers and e-commerce businesses from Thanksgiving and Black Friday through Christmas.
Those trends appeared in sales data last year. According to digitalcommerce360.com, Black Friday online sales reached a record $9.12 billion in 2022. Salesforce reports that 78% of web traffic comes from mobile devices as consumers are increasingly comfortable shopping from their phones. In fact, mobile shoppers accounted for 48% of online sales on Black Friday last year.
To manage that surge of interest and maximize revenues, it's crucial to prepare your business to prevent losing potential sales because your website is down. Uptime.com recommends you employ an array of best practices for online retail. Our e-commerce website monitoring software helps businesses like Apple, Microsoft, and IBM to implement the best practices and ensure maximum performance.
From the Uptime.com platform, you can configure HTTP(s) checks to confirm whether sites serve code 200 OK, monitor API endpoints, and implement custom checks to evaluate critical website jobs and processes.
Website Checklist
Here is a checklist of what you can do to help maximize your sales this year:
Get notifications and keep up to date with changes in performance.
Use a free website page speed test on asset-heavy ads for optimization opportunities.
Leverage transaction checks for synthetic monitoring of pathways such as login pages and shopping carts.
Use anonymized, real-user monitoring data to break down your website performance by location, device, browser, and URL.
Set up and customize multi-channel alerting across email, SMS, phone, and DevOps tools such as Slack, PagerDuty, and Microsoft Teams.
Further customization is available through the platform's branded status page creation tools. Customer-facing pages can be referenced for downtime and designed to remain consistent with company branding.
Judging Your Website
75% of potential customers will judge your credibility from their experience while visiting your website. Therefore, when you use website visitor data, you can optimize website speed, performance, and experience.
And speed is of the essence: according to Forbes Advisor, nearly half of visitors leave a website if it takes more than three seconds to load. You must ensure your pages load quickly or risk losing potential sales.
You can monitor metrics, page speed, site errors, bounce rates, and platform performance before the holiday season and be ready to provide top service and website reliability to your customers.
Key Features You Need
An ideal uptime monitoring solution for your store should offer the following features:
Real-Time Monitoring

: Constant monitoring means detecting and resolving issues quickly, minimizing downtime.

Automatic Alerts

: Receive instant notifications via email or text message when your website experiences downtime, allowing you to take swift action.

Detailed Reporting

: Regular reports provide insights into your website's performance, helping you identify trends and areas for improvement.
Global Monitoring

: Ensure that your Shopify store is accessible worldwide with monitoring from multiple locations.
For more information on how Uptime.com can help you monitor e-commerce marketplaces during the holiday season, please visit http://uptime.com.
About Uptime.com
Uptime.com provides peace of mind to thousands of customers, like Apple, Microsoft, IBM, Palo Alto Networks, Kraft, and BNP Paribas, who trust the company to monitor the performance, health, and downtime of their websites.
Minute-by-minute Uptime checks.
Start your 14-day free trial with no credit card required at Uptime.com.