Uptime.com Blog
Page Speed Monitoring Will Elevate Your Website's Performance
In the world of constant connectivity and digital realm, velocity is vital. Imagine a user reaching your website only to be met with a stark, blank page. Their anticipation hangs in the balance as they await any sign of engagement. Such an encounter does little to endorse the readiness or accessibility of your business. In today's hyper-connected world, every single millisecond carries profound significance.
The statistics are compelling: a staggering 70% of customers confirm that a site's speed directly sways their buying decisions. It's an intricate dance of patience, one where audiences refuse to twirl around a slow-loading page, choosing instead to abandon it altogether. This behavior is referred to as "bounce."
These bounce rates echo far and wide, impacting your site's visibility on search engines. After all, if search engines aim to provide the best user experience, they are less likely to favor a site that users frequently leave due to slow loading times. Page speed, therefore, emerges as a titan in the realm of SEO, holding the reins of an online business's fate.
What Is Page Speed?
Also called load speed, page speed measures how fast the content of a page loads. There are many factors that impact page speed, including web hosting, page size, and optimization. It also differs depending on whether the user is on a mobile phone or a desktop or laptop, or if their connection is being throttled.
Optimizing a page to load quickly and efficiently across all devices and connection speeds is an important aspect of responsive design. It ensures that all users can see and interact with a webpage as quickly as possible.
Every (Milli)Second Counts!
According to a digital.com survey, 32.3% of people leave if it takes seven seconds for a web page to load. Poor loading speed leads to an exodus… away from your website. The only thing worse than a lost customer is one that goes right to a competitor.
Load speeds are vital to the customer's user experience. The survey found that users visit an average of 5.6 additional pages on your site if it only takes two seconds for the page to load. The number of pages viewed drops to 3.3 after eight seconds. The average person takes only 50 milliseconds, or one-twentieth of a second, to make a snap decision whether to stay on your website.
When expectations aren't met, customers are decisive. The survey further notes that 53% of online consumers expect a webpage to load in three seconds or less. Half of them leave their cart items if they must wait more than three seconds. That is crucial when it comes to converting visitors into customers! Providing a solid and reliable user experience is truly a game of milliseconds, so investing time into improving page speed is an easy call.
Uptime.com's Page Speed Monitoring Solution
Uptime.com is a leading provider of website monitoring and uptime solutions. The Page Speed Monitoring tool will elevate your website's performance to attract and keep visitors, inspiring them to consider a call to action.
As part of Uptime.com's ongoing mission to provide top-tier, comprehensive monitoring solutions, we've implemented Page Speed Monitoring: a solution that offers in-depth reports, invaluable insights, and tailored recommendations for optimizing site speed.
In-depth performance reporting displays historical info and metrics, as well as breakdowns of load time by content type and domain: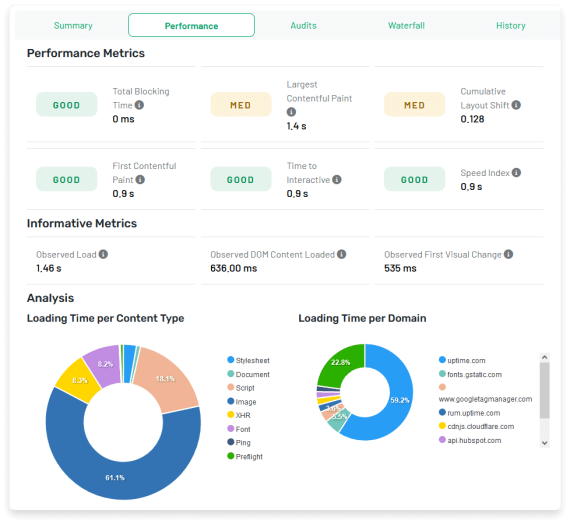 Uptime.com's new Page Speed Report can empower your business to take its website performance to the next level with metrics, analysis, and recommendations. Slow-loading websites lead to lost revenue and diminished user satisfaction.
Slow page loads can also tank a website's search engine rankings. It's not only users evaluating your website — massive search engines like Google perform page speed analysis and rank sites higher when they're efficient in loading content like text and images, as well as background processes like Javascript. That's where Uptime.com comes in.
Data drives everything these days. Page Speed Monitoring offers detailed performance metrics and provides your business with a better understanding of your website's loading times and the effect on your audience. Continuous page speed analysis is transformative. It can help you identify opportunities for improvement and enhance the user experience at the same time.
Intelligent issue reporting breaks down potential problem areas and proposes actionable suggestions for improving load times: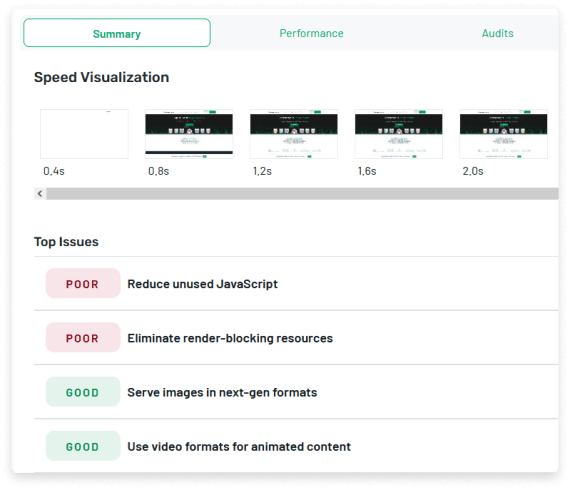 By leveraging this information, you can implement strategic changes and monitor the impact in real-time. Through a clear view of your website's performance, Uptime.com can ensure optimal user experience and, consequently, increase customer retention.
Page Speed Monitoring Now
Page Speed Monitoring is available immediately to all Uptime.com customers, and a free-tools version is available on the Uptime.com website. If you're new, check out our 14-day Free Trial and try it for yourself!
We are proud to lead the charge for a robust, reliable website monitoring platform with the addition of Page Speed Monitoring. Unleash your website's true potential with Uptime.com.
Minute-by-minute Uptime checks.
Start your 14-day free trial with no credit card required at Uptime.com.