Uptime.com Blog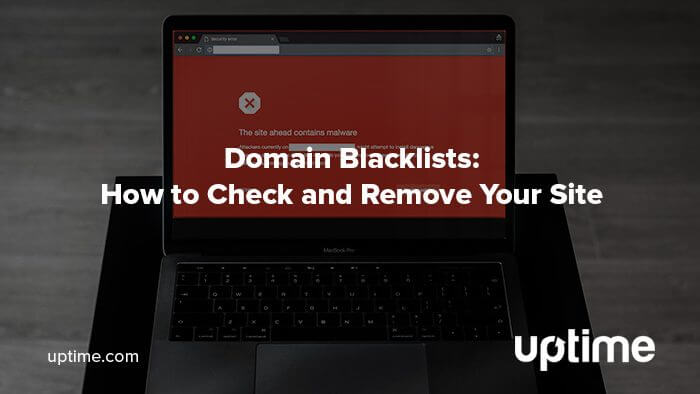 How to Identify, Remove, and Prevent Domain Blacklisting: A Comprehensive Guide
Are website visitors experiencing problems with accessing your website or email?
Your domain may be blacklisted.
If your website isn't available, blacklists can wreak havoc on your web traffic potentially resulting in lost revenue. It's crucial to remedy the problem immediately.
Uptime.com includes a Domain Blacklist Check to continually monitor your site for issues.
That's why we've created this helpful guide to assist in determining if your site is blacklisted and what you can do to resolve the issue.
What is a Blacklist?
A blacklist is a list of blocked domains, email addresses or IP addresses. When your domain gets on one of these lists, users can't access your site directly and servers block email from your domain.
There are both public and private blacklists. Public blacklists are available for anyone to filter email, while private blacklists are maintained by individual organizations. Google also has their own blacklist, which removes sites from search engine results and block users from accessing the site.
Why Do Blacklists Exist?
Blacklists are a method to protect internet users from harmful or malicious content. Though most commonly associated with email, domain and IP blacklists exist to keep web browsers from inadvertently accessing sites that could automatically install malware or viruses on machines.
How Do Sites Get Blacklisted?
Each blacklist has its own criteria for including a domain, but the three main types of criteria are:
Technical
Policy
Evidence-Based
Technical reasons include server misconfiguration, DNS record errors, and incorrect or missing banners, and other issues. Many of these issues point to the existence of malware on a server, which may be there without the knowledge of the domain owner. Any malware or viruses found on a domain fall in this category.
Policy criteria is when an operator doesn't want to receive email from certain countries or ISPs, usually because they do not honor unsubscribe requests.
Evidence-based reasons are when an operator has direct or indirect evidence a domain is involved in sending spam email.
Will You Know if You've Been Blacklisted?
A sharp dive in site traffic is a sure sign you may have been blacklisted but you are not always directly notified; or the notifications, (which can be subtle or easily missed), are sent via a console; as Google does via webmaster tools.
Uptime.com accounts include a domain blacklist check that scans over 100 of the most popular blacklists each day. If the check is down, you'll receive an alert with details. The same check is a part of our Monitor Entire Site scan (free to all users) which will also check:
DNS
Mail Server
Web Server
Valuable tools like the WHOIS check work with the Domain Expiry Check not only to generate an expiration timeline but to monitor changes made to the domain registration information. Alerts here can indicate hackers or other vulnerabilities that contribute to blocked sites.
The best medicine is the preventive kind. Use routine website monitoring not only to receive notifications if you are added to a blacklist but to avoid getting stuck on one in the first place.
Google Blacklisting Criteria
With the rise of phishing scams and malware, Google also blacklists sites that may harm machines without the user's knowledge.
Google blacklists about 10,000 sites per day. These blacklisted domains can lose up to 95% of organic traffic. Google blacklisting is the kiss of death to organizations dependent on web traffic.
Since Google is not as concerned with email, their three main reasons for blacklisting are:
Malware
Phishing
Black Hat SEO
If Google suspects your site automatically downloads malware on visitor machines, a warning page appears when visitors type in your URL or click on a link to it. This page may vary depending on the browser, but states the site contains harmful programs.
For phishing sites, a similar page appears that says the site may try to trick you into submitting personal information.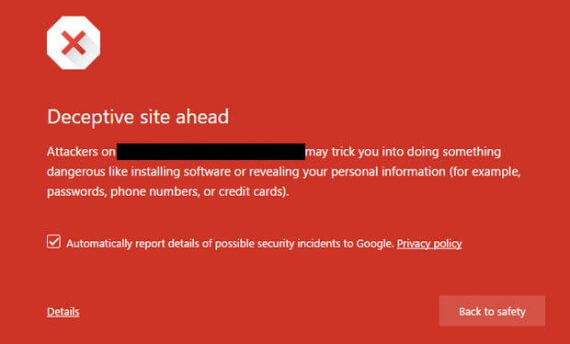 Some unethical organizations use Black Hat SEO techniques to try to elevate their search position. These include website scraping, stealing content and cloaking. When Google discovers sites using techniques like these, they remove them from search engine results completely.
How to Check Your Site
The Google blacklist is easiest to check. Type your URL in any browser. If your site is blocked, you know it's blacklisted.
But this is only one blacklist. There are many others that can cause issues for your domain.
Uptime.com accounts include a domain blacklist check that scans over 100 of the most popular blacklists per day to ensure your domain isn't included. If the check is down, you'll receive an alert with details.
How to Remove Your Site From a Blacklist
If your site is on a blacklist, sometimes you can contact the list owner and request removal. Most require you to lookup your site first and then provide instructions or a form to ask to be removed.
Here are some resources to manually request your site be removed from a blacklist:
Before requesting removal, make sure you thoroughly investigate what the problem is with your site. While it's usually email related, if your problem is related to malware, check your site for malware and remove it before making your request.
Google Blacklist Removal
Getting your site removed from Google's blacklist requires a little more effort. The best way to resolve problems with your site is to use Search Console.
Click on the Manual Actions menu on the left, and correct all the issues noted. Once everything is fixed, go back to the same section and request a review. After the review is completed and no problems are found, your site is no longer on their blacklist.
What to Do Going Forward
To avoid inclusion on a domain blacklist, continually monitor your site with a tool like Uptime.com. Create a Domain Blacklist check and Virus/Malware Scanning to ensure problems are spotted and corrected quickly.
Don't wait until your traffic plummets to find out why. Be proactive.
Minute-by-minute Uptime checks.
Start your 14-day free trial with no credit card required at Uptime.com.