Uptime.com Blog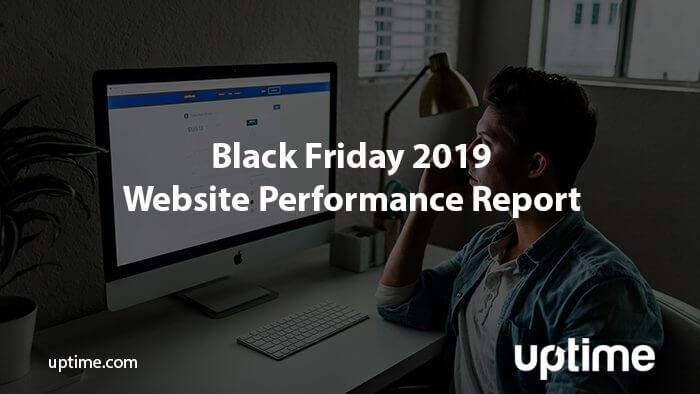 Black Friday 2019 Website Performance Report by Uptime.com
Tis' the season for website downtime. No matter how great your web infrastructure is, many ecommerce sites experience downtime on Black Friday.
You're not alone. New research by Google Cloud says that one out of ten retail executives reported downtime on Black Friday 2018, and four out of ten reported outages during one of the past three years.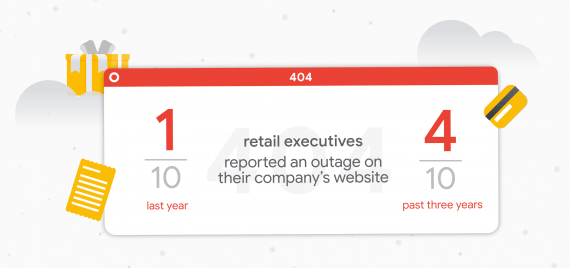 Source: Google Cloud
This year was no exception. As online sales on Black Friday topped seven billion dollars, website outages started a day before the famous shopping holiday.
We'll take a look not only at major outages, but also the performance of a handful of top shopping websites. We also ran our own tests to get an idea of how their performance stacks up.
Let's start with a rundown of the major website outages from this year's shopping frenzy.
Holiday Shopping Outages
Website outages started on Turkey Day USA as shoppers looked to swap info on social media and get a head start on shopping. Not only were retailers affected, but social media and banking suffered as well.
Here's the scoop.
Facebook family of apps
Both Facebook and Instagram went down on November 28. Though pictures of Thanksgiving meals went unshared until the site was back up, the material loss was for retailers.
Facebook accounts for over 80 percent of social referral shares to ecommerce websites. And since retailers can sell directly on Facebook, they are learning hard lessons firsthand about monitoring outside services for downtime to ensure smooth shopping.
Instagram also attracts buyers worldwide. Shoppable posts, which allow in-app purchasing through Instagram posts, are a popular weapon in the ecommerce arsenal. Without those perfectly styled pictures of their products, shoppers will have to look for products they love on Google.
However, the sites were back up by Friday and all was right in the world again.
GHD Hair Products
Black Friday was a really bad hair day for hair care product company GHD. The site was down and customers looking to score holiday deals found an error page instead. Though we're not sure how long the outage lasted, customers complained on Twitter they couldn't access the site for the entire day. Others were unsure if orders went through even though the company debited money from their account.
The company assured shoppers that payment problems will be corrected and to email customer service with issues. That's one busy support team.
— ghd (@ghd) November 29, 2019
Bank of Ireland
Shoppers across the pond looking to cash in on holiday deals were disappointed on Thursday. The Bank of Ireland experienced problems with their online banking and ATM services for most of the day. The bank reported that debit and credit payments were still processing normally, and many branches stayed open late so customers could cash out at the counter.
Nordstrom Rack
Nordstrom's deal site Nordstrom Rack experienced major problems on November 28. Users reported disappearing items from shopping carts and an inability to login. Though the company stated they fixed issues ahead of Black Friday, one angry shopper said all the items they wanted were sold out.
@nordstromrack Wasted THREE hours last night trying to check out. Stuff disappeared from my cart, couldn't login, couldn't check out. And now, 10 HOURS later, I STILL CAN'T GET THE WEBSITE OR APP TO WORK! Get it together!!!

— Minnielu (@Minnielu6) November 28, 2019
Costco
The most costly outage of the weekend started on Thanksgiving and extended into Black Friday. Costco's website outage cost the company an estimated $11 million dollars, as members were unable to access the website. To make up for the problem, the company extended many of their Thanksgiving-only deals into the next day.
According to Gremlin's ecommerce downtime tracker, every minute of downtime cost the retail giant over $11K in sales.
Site Performance Tests
Which Websites Were Included in the Black Friday Site Test
We used a combination of methods to choose which websites to monitor. In addition to looking at the highest ranked ecommerce websites on Alexa, we also looked at websites that had major issues last year, as well as popular US shopping websites.
Here's a list of the websites and tests for each:
| Website | Homepage Test | Speed Test | Login Test |
| --- | --- | --- | --- |
| AliExpress | X | | X |
| Amazon | X | X | X |
| Apple | X | X | X |
| Best Buy | X | | |
| B&H Photo | X | X | |
| eBay | X | X | |
| Etsy | X | X | |
| Macy's | | | X |
| Target | X | | X |
| Walmart | X | X | X |
Website Performance Test Methodology
We used three different types of tests to evaluate website performance. Since we didn't have full access to the websites we chose, we couldn't run all three methods on every site.
Here's a breakdown of what we did.
Homepage Response Time
To check the response time of homepages and monitor for unplanned downtime, we created a set of HTTP/S checks that ran every minute. These checks verify the URL status code is OK 200, and provide response times in milliseconds.
It's important to note that response time and load time are not the same. Response time indicates the amount of time the check needs to perform an HTTP GET request and receive a response from the server. An HTTP(S) check doesn't actually load content, but reports how long it takes a site to verify the status code is OK 200.
We ran HTTPS checks for the homepages of the following websites:
AliExpress
Amazon
Apple
B&H Photo and Video
Best Buy
Ebay
Etsy
Target
Walmart
Login Response Time
To test the login functionality of ecommerce websites, we created a set of Transaction Checks. We began running these on November 1 to get a baseline for performance.
The check steps were as follows:
Go to the URL of the homepage or account sign-in page.
Return a status code of OK 200
Click on the login button (for homepage)
Login with username and password
Return a status code of OK 200
In addition to logging in, the Transaction Check provides response times. While we didn't uncover any major errors during the login process, we used these response times to determine how sites were performing during the day.
The checks ran every five minutes for the following sites:
AliExpress
Amazon
Apple
Macy's
Target
Walmart
Speed Testing
We ran two Uptime.com Speed Tests for each site from our East Coast US probe server on Black Friday. We used the second test for each site since best practice is running speed tests more than once.
The following sites were tested:
Amazon
Apple
B&H Photo and Video
Ebay
Etsy
Walmart
Speed Testing gives us several data points to compare. The results of these tests were used for:
Load time
Page size
Number of requests
These speed tests were only run from one location. Since they are synthetic, a variety of variables will affect actual user experience including network latency, connection speed and location.
Want to replicate these tests for your site? Check out Uptime.com free for 21 days, no credit card required.
Fastest Response Time for Login
We tested six websites for login response times. Our system logged into each website every five minutes with a Transaction Check.
The good news: the login process never failed for five of the websites. We were able to login to each website without an issue, except for Apple. Late night on Thanksgiving, we received a 503 error when trying to login. However, this could be explained by planned downtime to get ready for the shopping rush. We couldn't find any complaints on Twitter of problems with the site.
So who had the fastest response time for site login? The clear winner was Apple. Their average response time clocked in at 4.31s, slightly lower than their average time for all of November (4.39s). The company's slowest response recorded was a whopping 4.96s on Black Friday.
Another site with fast response times was Walmart, with an average of 6.43s on Black Friday and a 6.03s average for the entire month of November. Their highest recorded response time on Black Friday was 8.19s and their lowest was 5.21s.
Rounding out third place was Target. Their average response time on Black Friday was 8.57s, slightly higher than their average time for the month of 8.08s.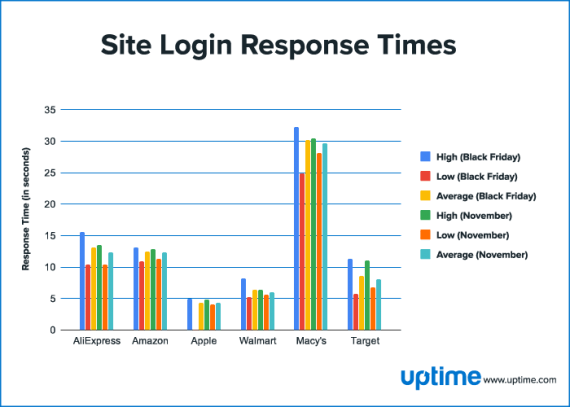 Slowest Response Time for Login
Though half of the websites tested had a response time of less than 10 seconds during the login process, the other half averaged closer to 15 seconds.
However, one website stood out from the pack with the slowest response time. Macy's response times were over double the average for Aliexpress and Amazon. The highest time recorded on Black Friday was 32.36s, with an average of 30.15s. This is slightly higher than their November times. Their high for November was 30.46s and average was 29.69s.
Next on the list is AliExpress, with an average response time of 13.11s. This was almost a second slower than their November average of 12.36s. The highest time recorded on Black Friday was 15.59s, a full two seconds slower than their November average of 13.49s.
Last on the "naughty" list is Amazon, with an average login response time of 12.46s on Black Friday, slightly lower than their November average of 12.38s. Their highest recorded time on Black Friday was 13.16s, slightly higher than their November time of 12.92s.
Fastest Homepage Response Time
Using HTTP/S checks, our system navigated to nine different ecommerce site homepages to check for website availability and response times on Black Friday. Homepage response times are lower than login response times because they lack multiple steps.
Of the nine sites tested, six had response times under one second. We found no correlation between fast login response times and homepage response times. Some sites with slower login response times had fast homepage response times. We also couldn't test either login or homepage response times for some of the sites, so we didn't have data to compare.
The winner was Target, with an average homepage response time of 474ms. Their highest time recorded was 559ms, and the low was 435ms.
Coming in second was Amazon, with an average homepage response time of 653ms. Even though their login response time was on the high side, their homepage response was among the fastest we found. Their high time was 1.45s, and low was 579ms. Since many Amazon users stay logged in, it may be more advantageous to optimize the homepage.
Rounding out third is Apple. Their average homepage response clocked at 658ms, only 5ms slower than Amazon. The highest recorded time was 748ms, and low was 637ms.
Slowest Homepage Response Time
Three websites stood out with homepage response times over one second. We were unable to test two of them for login response times, so it's impossible to know if the login response times were slow as well.
The site with the slowest homepage response was Best Buy, with an average of 10.17s on Black Friday. Their low and high times were not too far off, with the lowest recorded time at 9.86s and highest recorded time at 10.48s.
Coming in next is B&H Photo and Video. Their average homepage response time was 1.44s, with a high of 1.59s and a low of 1.32s.
Surprisingly, Walmart was the third slowest on the list. The average time was 1.27s. The highs and lows weren't much different. The highest recorded homepage response time was 1.33s, with a low of 1.18s.
Speed Test Results
We ran two speed tests on six sites. Many of the sites we used in other tests were blocking the Speed Test.
The fastest loading site overall was Apple, with a load time of 1.6s. B&H Photo and Video came in second at 3.7s. The slowest loading website was Walmart, with a recorded time of 42s. Number of requests and site size will be discussed in the following sections.
Here are the full speed test results:
| Site | Time | Requests | Size |
| --- | --- | --- | --- |
| Amazon | 9.1s | 140 | 2M |
| Apple | 1.6s | 52 | 1.5M |
| B&H | 3.7s | 36 | 2.1MB |
| Ebay | 5.9s | 99 | 1MB |
| Etsy | 18.9s | 89 | 1.5MB |
| Walmart | 42s | 125 | 1.9MB |
Number of HTTP Requests
Excessive HTTP requests can waste valuable loading time.
The HTTP Archive provides median numbers for various URL data points based on a sample of approximately four million mobile and five million desktop sites. According to them, the current median number of requests for a page are 75 for desktop and 70 for mobile.
The sites we tested had a slightly higher median of 94 requests. However, since ecommerce sites tend to be image heavy, this isn't surprising.
The sites with the lowest number of requests were B&H Photo and Video with 36 requests, and Apple, with 52 HTTP requests.
On the high side, Amazon topped them all with 140 requests, and Walmart came in at 125 requests. Again, this isn't surprising given the volume of content each site delivers.
Page Size
The HTTP Archive reports the median page size to be around 1.9MB for desktop and 1.7MB for mobile.
This is especially critical for mobile sites. Browsers with older phones and spotty connections will struggle to load oversized pages quickly.
Of the six sites we tested, page sizes were very similar. The smallest was Ebay at 1MB. Etsy and Apple were tied with a size of 1.5MB. The largest page size was B&H Photo and Video at 2.1MB.
Final Observations
Despite the problems that always come with major traffic surges, the websites we tested fared pretty well.  There will always be outages on Black Friday, but major problems seemed to be relegated to only a handful of sites.
Another interesting note: all of the Speed Tests indicated that the sites had better mobile performance scores than desktop. With mobile sales dominating the season, it's obvious that ecommerce companies are doubling down on mobile optimization.
Minute-by-minute Uptime checks.
Start your 14-day free trial with no credit card required at Uptime.com.