Uptime.com Blog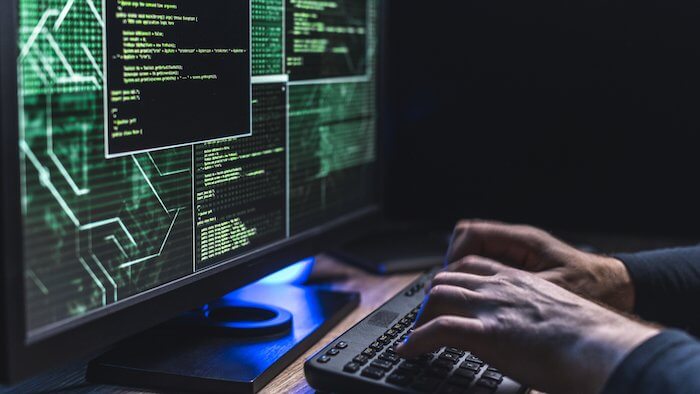 Top 10 Best Website Monitoring Tools [2023 Update]
Nothing is more important than a healthy, functioning website.
It is essential to monitor your website to make sure it remains functioning, fast, and available to your customers. For example, imagine your website goes down and you aren't aware of it for another hour. How much business could you lose in that time? Or worse, what long-term damage could it do to your brand reputation?
With the influx of competition on the web, you cannot afford to lose customers to the poor quality of your website, which is why monitoring your website is essential.
What is website monitoring?
Website monitoring includes checking the health of your sites, tracking user experience and page performance, alerting you on anomalies, and anything else related to your website's proper workings.
Today, we will go over everything you'll need to know about the top 10 website monitoring tools to help you choose which best fits your needs.
To consolidate the need-to-know information, we decided to compare each tool by the following methods:
Used the tools a consumer if they offered a free trial
Looked at pricing compared to features available
Weighed up real customer reviews
Analyzed the number of features each tool provided
With all this data, we have consolidated it into an easy-to-read comparison guide below that will help you choose the right tool for you.
1. Uptime.com
Uptime.com is an award-winning website monitoring service offering a diverse set of tools like synthetic, real user, network, and API monitoring. Its synthetic monitoring includes transaction checks along with a useful root cause analysis feature.
Its alerts are flexible with customization features and can be sent via SMS, phone, email, or integrations through Slack, PagerDuty, DataDog, and Microsoft Teams. In total, it has 20+ integrations with an additional 3000 more through its Zapier partnership.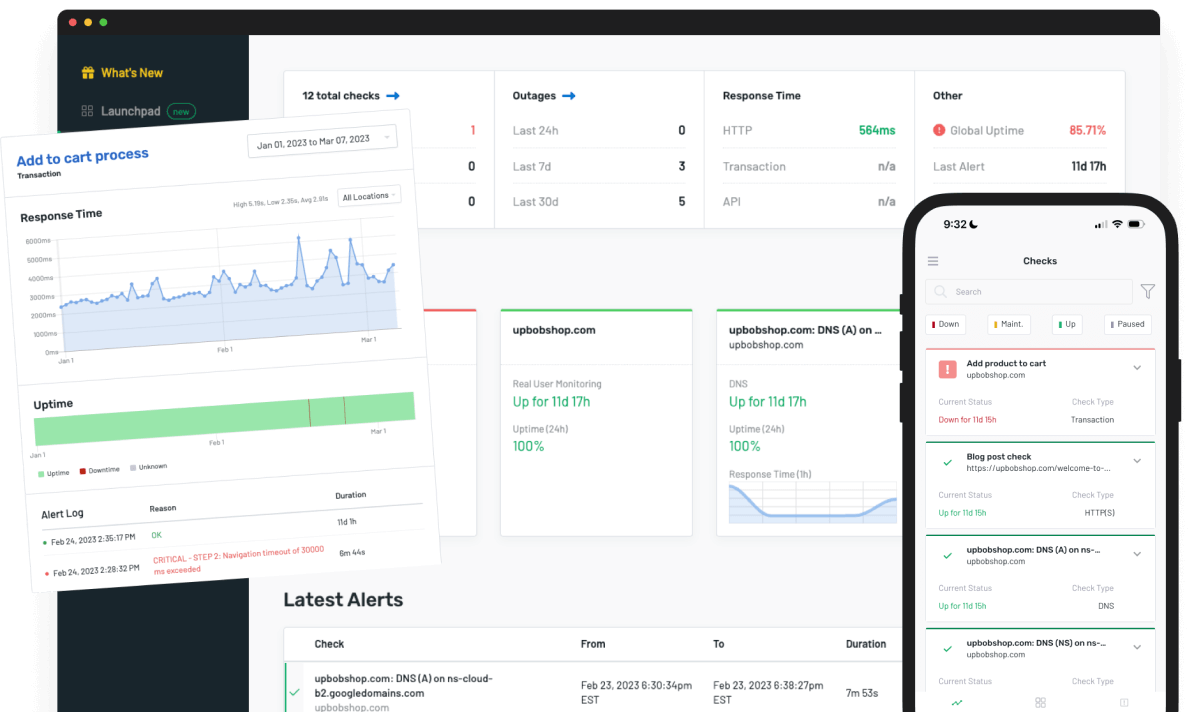 Key Features
Check Types: HTTP(S), API, Transaction, RUM, Group, Malware/Virus, SSL, Domain, Ping, DNS, NTP, SSH, TCP, UDP, IMAP, POP, SMTP, Webhook, Heartbeat
60 global monitoring locations
Customizable Dashboard
Multi-site monitoring
Customizable status pages
Multi-channel alerting
SLA reports, scheduled reporting, SPF reports, RUM reports, NTP reports
User Experience
For the number of features offered, Uptime.com is relatively easy to use, with a self-explanatory UI and a reliable Quick Start guide to get you started. It also has a great variety of technical documentation for users who want step-by-step guides on how to use their features.
If you find yourself still in need of help, there is 24/7 human support that you can email or call, coupled with an automated chatbot. You can also submit a ticket for technical issues if you desire.
What Users Are Saying:
"I love how easy it is to configure things. Their support team is friendly and responsive and helped me resolve technical issues quickly. They have many ways to get alerts if something is down, and there is no delay in alerting once a check has failed. We also love the built-in reporting they have available. It's clean, and we don't have to modify it in any way before sending it to clients."
– G2.com (4.5 stars)
"No false notifications or specific downtime (only a few scheduled ones due to system maintenance)."
– G2.com (4.5 stars)
"One thing that is a dislike is the pricing of the service. But that is what it is. There are many positives that out weigh the pricing though."
– G2.com (4.5 stars)
Pros and Cons
Pros
Cons
– Customizable Dashboard
– Easy, Clean UI
– Customizable alerts, dashboards, and status pages
– Scheduled and shareable reports
– No Free Tier
– Pricier than competitors but with more offers per tier
Pricing
14 day free trial on any tier
Essential: from $67 per month (includes 30 basic checks)
Premium: from $379 per month (includes 200 basic checks + everything in Essential)
Custom: from $699 per month (includes everything in Premium + customized for your needs)
If you are in the market for a reliable website monitoring service that boasts of reducing false positive alerts with good support, Uptime.com could be a good option for you. Compared to the other tools on this list, it balances giving you powerful features without overwhelming you with the experience.
2. Sematext.com
Sematext offers a tremendous amount of monitoring capabilities in its drive to build a one-stop shop for DevOps teams to work faster. Within its features are offered Synthetic, Real User, application performance, database, network, JVM, inventory and process monitoring, and more features beyond that.
Its synthetic monitoring offering includes distributed transaction tracing, API availability monitoring across multiple locations, and help to identify issues with third-party resources.
Sematext can alert you by email, Slack, and webhooks with customizable alert rules and also offers real-time alerting.
With its 100+ integrations, you can connect Sematext with other tools you may be using, like PagerDuty, Slack, Telegram, and Microsoft Teams, along with other integrations like Jenkins, AWS, MongoDB, etc.
Key Features
Check Types: DNS, TCP, SSL & HTTP
8 global monitoring locations
Private networks behind firewalls
Custom dashboards with real-time data
Custom monitoring metrics
Shareable to other users with customization of what they can see
Scheduled reports with various visual ways to see the reports
Status page
User Experience
Sematext contains a behemoth of documentation, guides, webinars, blogs, videos, slide decks, and community forums to help you navigate its UI because it is something that is not easy to pick up right away. Because of its many features, it has a lot of things to filter through, and Sematext operates on its own terminology. For example, they use a feature called Apps to symbolize buckets where your monitoring data will go to be organized, which can interact with other monitoring components Sematext offers.
The best way to get started is to go to their Getting Started Page or reach out directly for a demo or contact customer service by email, phone, or chat.
What Users Are Saying:
"Sematext support was overall positive and they are super helpful when integrating with the tech stack."
– Capterra.com (4.8 stars)
"At times the data showed up slightly delayed than our expectations, however it is not something that happened frequently enough to escalate the concern."
– Capterra.com (4.8 stars)
"There are a lot of metrics, and sometimes it's confusing with all the data configuration (dashboards, alerts rules, monitoring Browser/monitoring HTTP…). Still, with the help of the support and the documentation, it's manageable."
– G2.com (4.7 stars)
Pros and Cons
Pros
Cons
– Lots of free tools (REST API tester, Website Availability, etc.)
– Great support from customer service and documentation
– Extremely customizable dashboard and metrics
– Can be overwhelming or confusing to use with so many features and customization options
– Guides are not easily searchableStatus page is not customizable
Pricing
14-day free trial
Per-app basis: starting at $2.60/month/host
3. Site24x7.com
Site24x7 is an all-in-one monitoring solution for your business website, server, cloud, network, and applications. In its wide array of options, some key ones include website monitoring, synthetic monitoring, application performance, and real user monitoring (RUM).
This tool can alert you through SMS, push notifications, and voice calls for critical alerts and aims to reduce false alerts by rechecking from secondary locations before notifying you and letting you use maintenance schedules.
Site24x7 also offers around 20+ integrations, including Slack, Microsoft Teams, Telegram, Webhooks, Zapier, Jira, Freshservice, PagerDuty, etc.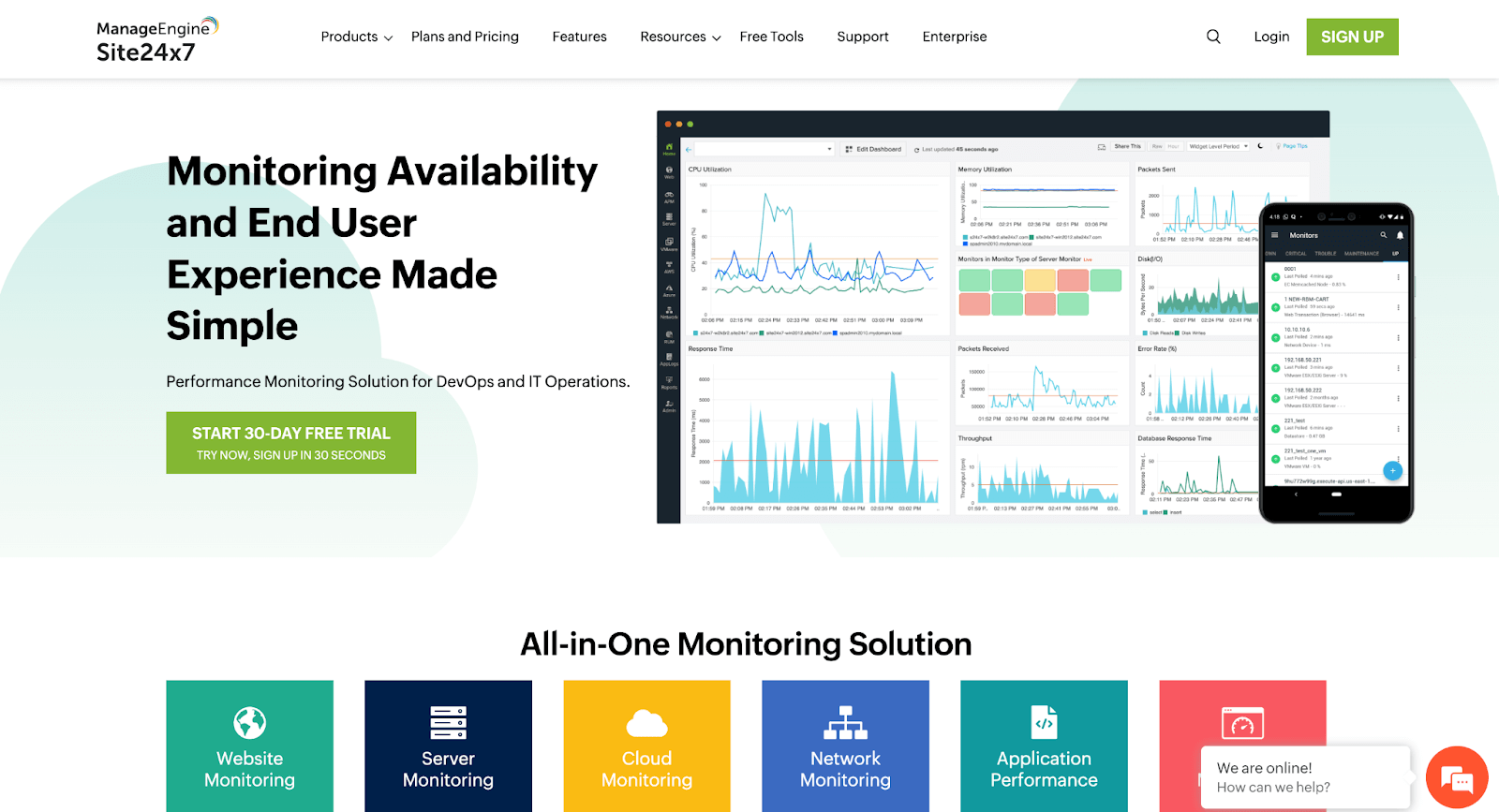 Key Features
Check Types: HTTPS, DNS server, FTP server, SSL/TLS certificate, SMTP server, POP server, URLs, REST APIs, SOAP web service
120+ global monitoring locations
Real browser speed tests
Artificial Intelligence-powered anomaly detection
Root cause analysis (RCA) to identify the reason for outages
Android and iOS apps available
Service-level agreement (SLA) reports
Customizable branded status pages
User Experience
Because Site24x7 offers so many different services and features, there will be a steep learning curve to get used to how everything works. Luckily, there are lots of resources for you to use, like documentation, case studies, blogs, IT glossary, user guides, eBooks, and presentations. There is also an active community that Site24x7 offers you to learn their software and ask questions.
Customer Support is also there to help you by email or phone.
What Users Are Saying:
"Sometimes, we do not have easy documentation or description of the error or why it is failing. We should have an easy way to find why that is not working or what we need to do to make it work."
– G2.com (4.6 stars)
"The large number of tool options of supervision that site24x7 has is extremely useful for multi-system environments."
– G2.com (4.6 stars)
Pros and Cons
Pros
Cons
– All-in-one solution (no need to have multiple platforms for different monitoring needs)
– Custom dashboards and reportsLots of great features
– Overwhelming UI for newcomers
– Alerting can get out of hand if not limited properly
Pricing
30-day free trial on any tier
Starter: $10 per month (includes 10 basic checks)
Pro: $39 per month (includes 40 basic checks)
Classic: $99 per month (includes 100 basic checks)
Site24x7 excels at offering you a plethora of monitoring options for businesses with diverse pricing tiers. However, it can also be daunting to use this tool if you are just starting out. For newcomers to monitoring, starting with a simpler tool may be better, while veterans of the monitoring game that want an all-in-one solution may benefit from using something like Site24x7.
4. UptimeRobot.com
UptimeRobot is a tried and true website monitoring service that offers general website monitoring packaged with root cause analysis, response time monitoring, and HTTP monitoring. It also offers CRON job, SSL, Ping, and Port monitoring. However, compared to the other tools on this list, it does not offer comprehensive checks, synthetic monitoring, real user monitoring, API monitoring, or private locations.
When it comes to alerting, UptimeRobot can give you instant notifications through email, SMS, voice call, or through its 16+ integrations, including Slack, Zapier, PagerDuty, Google Chat, Discord, etc.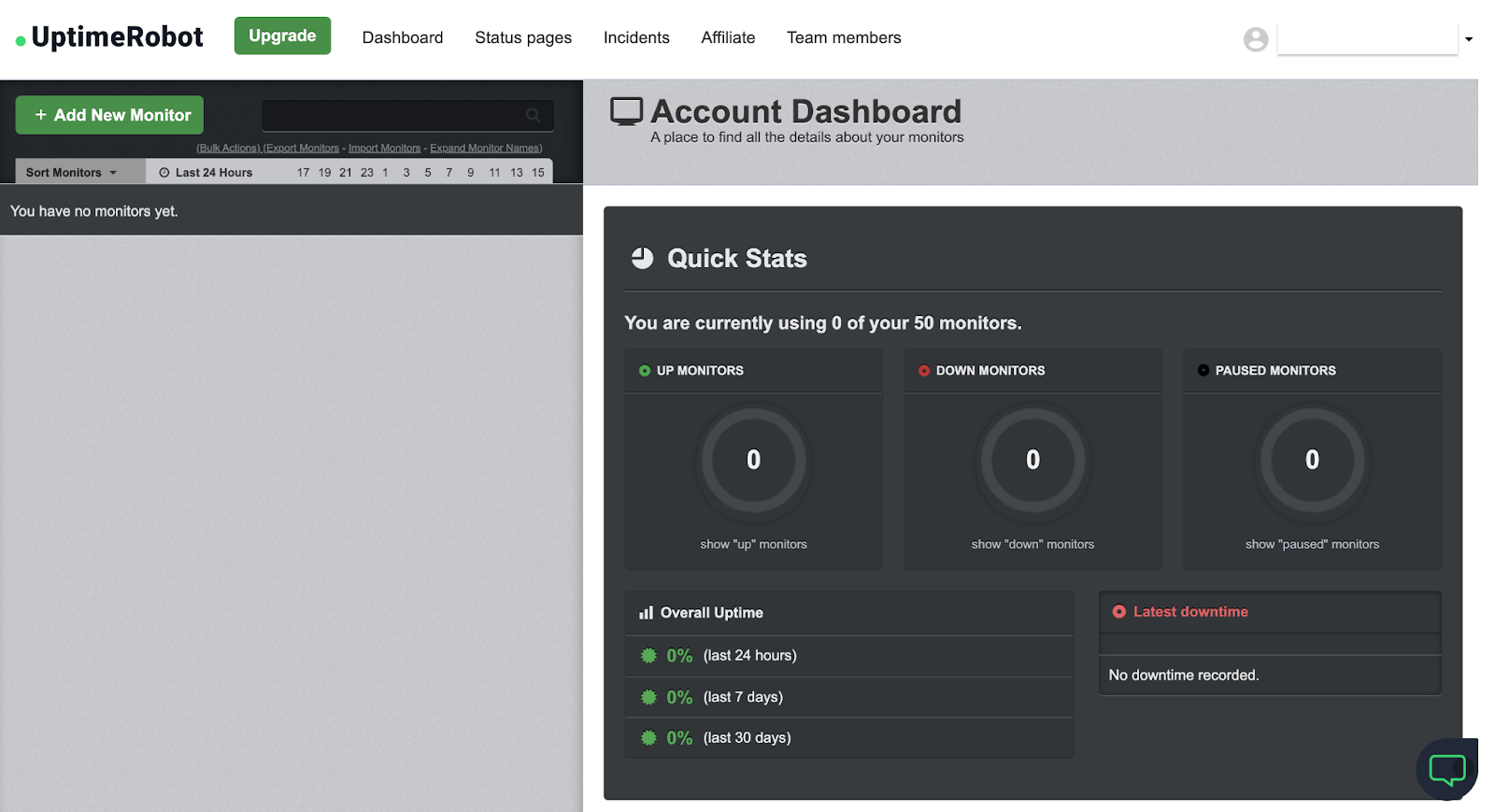 Key Features
Check Types: HTTP(S), Keyword, Ping, Port, Heartbeat
Customizable status page and also private status page
Android/iOs App available
Multi-location checks
Maintenance Windows
Root Cause Analysis on incidents
User Experience
UptimeRobot is a straightforward tool with fewer features, which makes it a breeze to learn and understand. If you need customer service help, you can always email them or use the chatbot. Although they provide FAQs, there is a lack of documentation and tutorials that other tools offer to help you understand how to use the tool and website monitoring education in general.
What Users Are Saying:
"The overall experience with uptimerobot is good. We receive realtime notification via email and phone number which is very good."
– Capterra.com (4.4 stars)
"Their support is quite slow in responding to queries. For small issues/queries waiting for more than 30 mins is not an ideal scenario, one can expect from an enterprise solution."
– G2.com (4.3 stars)
"We use UptimeRobot every day to monitor all of our client websites. It has become an essential tool in our daily workflow. The app is straightforward to use, simple and has an excellent user experience."
– G2.com (4.3 stars)
Pros and Cons
Pros
Cons
– Easy to use with simple UI
– Offers root cause analysis on incidents
– No customizable dashboard
– No multi-site monitoring
– No multi-channel alerting
– Limited customer support
– Lacks technical documentation
Pricing
Free plan available
Solo: $8 per month (includes 10 basic checks)
Team: $34 per month (includes 100 basic checks)
Enterprise: from $64 per month (includes 200 basic checks)
If you are looking for a simple website monitoring service with no extra features and a simple UI, UptimeRobot can provide you with just that. However, it would be good to note that due to a lack of documentation, you may have to rely on customer service more if you find yourself lost.
5. BetterStack.com (Better Uptime)
BetterUptime is primarily a website monitoring service that offers website, synthetic, real user, and API monitoring, along with extra services like Incident Management.
When it comes to integration available, BetterUptime can be combined with Slack, Microsoft Teams, DataDog, AWS, Google Cloud, and other platforms easily.
Alerts can be sent through SMS, email, Slack, Microsoft Teams, and push notifications. BetterUptime also offers on-call scheduling, unlimited voice call alerts, and incident escalations for you and your team.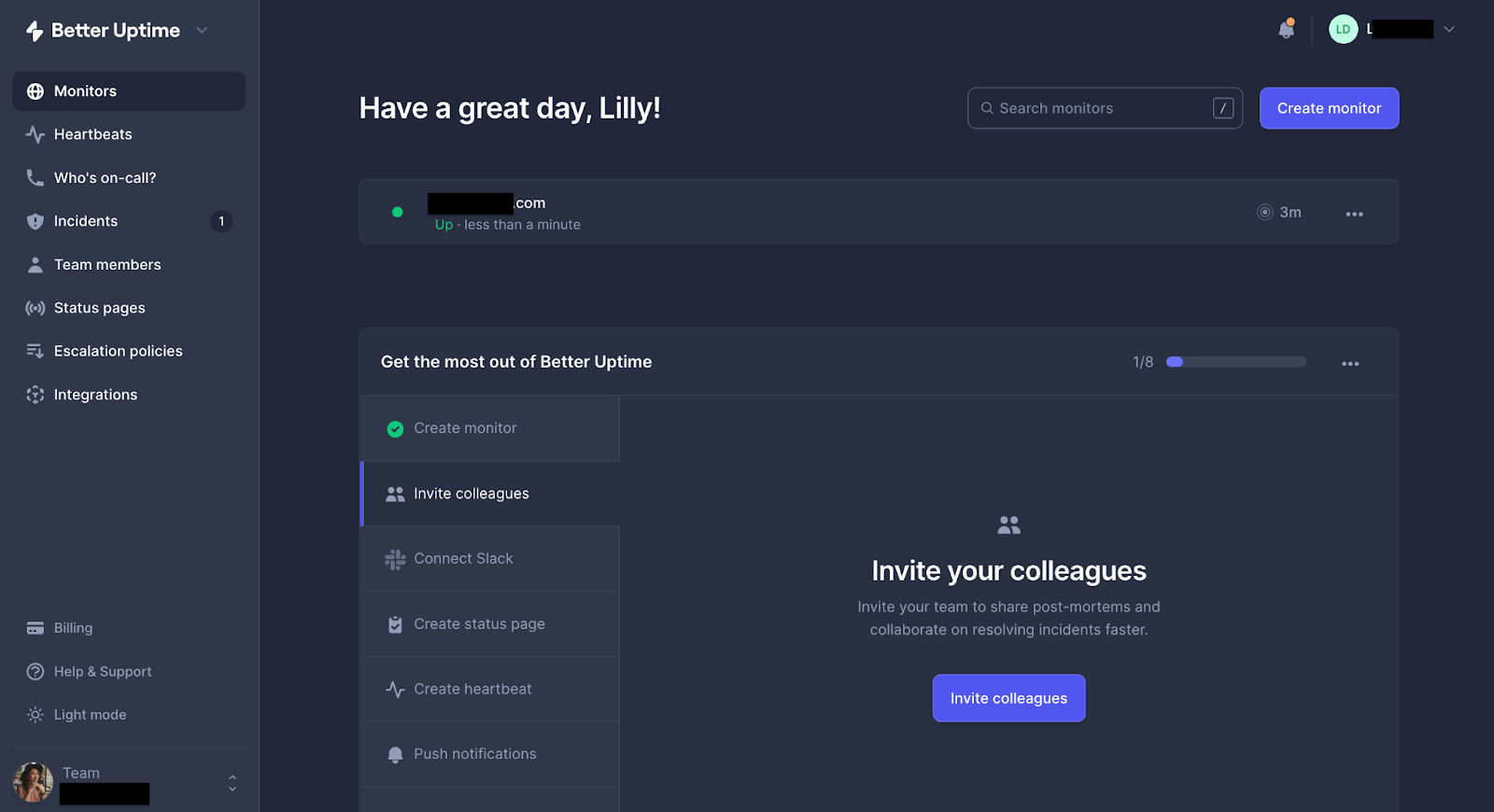 Key Features
Check Types: Keyword, HTTP(S), Ping, TCP, UCP, SMTP, POP3, IMAP, DNS
30 monitoring locations
Multi-locations checks
Screenshots and error logs for API error messages during checks
Customizable branded status page
Private Locations
User Experience
BetterUptime is so easy to use; you don't need to reference documentation that much to understand what is going on. And if you do get lost, you can always contact them through email, phone, or chat.
What Users Are Saying:
"I love how polished Better Uptime is firstly, that makes a great deal of your experience better when using and managing the product."
– Capterra.com (4.9 stars)
"The thing I don't like is that you can't have a dashboard with the current status of every monitor you set up on more than one team."
– Capterra.com (4.9 stars)
Pros and Cons
| | |
| --- | --- |
| Pros | Cons |
| Customizable DashboardLots of check typesCustomizable Status Page | No multi-site monitoringNo multi-channel alerting |
Pricing
Free plan available
Freelancer: $30 per moth (includes 50 basic checks)
Small team: $100 per month (includes 100 basic checks)
Business: $200 per month per team (includes 1,000 basic checks)
If you want an easy-to-understand website monitoring tool with a good UI experience, BetterUptime is a worthy competitor to the others on this list.
6. Uptrends.com
Uptrends is a SaaS monitoring service that offers a plethora of monitoring options, including website uptime, web application, web performance, API, real user, server, synthetic, concurrent, domain, and SSL monitoring.
It aims to reduce false positive alerts with its error verification process and offers 12 integrations with Zapier, Slack, Microsoft Teams, PagerDuty, Opsgenie, Grafana, and others.
When it comes to alerting, Uptrends can contact you through SMS, email, and push notifications (through the Uptrends mobile app). It also offers escalation and duty schedules for easy alerting responsibilities.
Key Features
Check Types: HTTP(S), SSL, DNS
Error snapshots (takes images of what your users see when they run into errors)
Custom dashboards
233 global monitor locations
Transaction Recorder and Step Editor with chrome browser to perform user actions for testing
Private Checkpoint
Custom API metrics
Concurrent Monitoring (multi-location checks at the same time)
Branded Status Pages
Uptime and performance reporting
User Experience
When it comes to making sure you have resources, Uptrends takes it up a notch with its plethora of in-depth documentation and tutorials, which are clear and packed full of information. If you need further assistance, you can contact them through a support ticket or phone number.
What Users Are Saying:
"They reach out regularly to make sure we are happy. Good communicators, flexible business solutions."
– Capterra.com (4.7 stars)
"The dashboards provide many options, so it can sometimes be confusing to know where to find exactly what you're looking for."
– Capterra.com (4.7 stars)
"It also takes quite some time to set up things properly to avoid alert fatigue."
– Capterra.com (4.7 stars)
Pros and Cons
Pros
Cons
– Lots of available free tools (website speed test, SLA & uptime calculator, DNS checker, and more)
– Customizable status page
– Free trial requires a business email account (not Gmail, etc.)
– Too many options can get confusing for newcomers
Pricing
Starter: $19.45 per month (includes 10 basic checks)
Premium: $55.86 per month (includes 50 basic checks)
Professional: $272.32 per month (includes 250 basic checks)
Business and Enterprise: base price + pay per check
Uptrends is a good choice for those who want a variety of monitoring options along with customizable features and a robust alerting system. Although it doesn't have a free tier, you can still try the 30-day trial to determine if it's the right solution for you.
7. Pingdom.com
Pingdom offers a wide array of monitoring solutions for businesses of all sizes. Among its many offerings are synthetic, transaction, page speed, uptime, real user, infrastructure, application, and API monitoring. Its RUM monitoring includes User Experience Monitoring, Page Load Performance, and User Behavior Metrics.
When it comes to integrations, it doesn't boast a wide variety like competitors like Uptime.com or DataDog, but it does provide extensions for BookMarklet, WordPress, and Slack.
Key Features
LiveMap for user behavior in RUM
100+ global locations
Shareable user insights reports from RUM
Email and SMS alerting
Public status pages that are customizable (branded)
User Experience
Pingdom offers a level of documentation and tutorials, but a search bar is not provided for easy navigation through their catalog. If you have issues, you can always submit a ticket or email, or call customer service.
What Users Are Saying:
"I recommend this software as a crucial tool if you don't have an in-house team to monitor your website server data."
– Capterra.com (4.4 stars)
"It is not so stable as we want. Every month they have the outages of their site/web-interface, the checks sometimes are failing while everything is completely fine."
– G2.com (3.9 stars)
Pros and Cons
Pros
Cons
– Customizable Status PageOffers a good variety of monitoring solutions
– No customizable dashboard
– Documentation not easily searchable
– No free tier
Pricing
Determined by # of checks and alerts
$10/month start + 30 free trial
If you need specific monitoring solutions and won't need that many checks, the pricing on Pingdom is a relatively good deal. However, things can get expensive if your needs are greater. Pingdom is a considerable choice if you need a tried-and-true solution with not that many checking needs.
8. Datadog.com (Synthetics)
If you're familiar with website monitoring tools, you've probably heard of DataDog. This popular website monitoring and security solutions tool offers so many monitoring options it will take too long to list them all. However, some key ones they offer related to website monitoring include synthetic, real user, network performance, infrastructure, and security monitoring.
When it comes to alerting, you can configure DataDog alerts and send them through email or through one of its 600+ integration platforms like Slack, PagerDuty, Webhooks, Jira, etc.
Key Features
Private Locations option available
Browser Testing
CI/CD Testing
Code free transactional, fully hosted web recorder (Monitor key workflows with step-by-step screenshots of the end-user view and waterfall visualizations)
Root Cause Analysis
Check tags
Crash reports
User Experience
DataDog is a powerhouse of monitoring options, making it extremely useful but overwhelming for new users. Getting used to the layout and how everything works will take time. Luckily, DataDog offers extensive documentation and tutorials along with the customer support you'll need through live chats, email, phone, and slack channel communities.
What Users Are Saying:
"I think that the best features that Datadog has is that you can track and follow logs in real time, something really important to have if your project is live."
– Capterra.com (4.6 stars)
"It's a complex thing and if you're not familiar with monitoring systems it could be difficult to figure it out how you can find what you need."
– Capterra.com (4.6 stars)
Pros and Cons
Pros
Cons
– Root Cause Analysis tool available
– Allows for checked tags for easy organization
– Popular with a big community of users
– No status pages
– No free tier
– Learning curve in using the platform needed
Pricing
Per app and usage
$5 per month per 10k test runs
14-day free trial
If you want a tried-and-true all-in-one monitoring solution and do not mind the cost, then DataDog is a good choice for experienced monitoring tool users. With great power comes greater responsibility, and DataDog will give you the power you need if you know how to wield it.
9. FreshPing.com
Part of the Freshworks umbrella, FreshPing is a monitoring tool that provides Uptime Monitoring, Performance Monitoring, and SSL Monitoring capabilities to its users.
It provides many integration options, including its own products like Freshdesk and Freshservice, along with Webhooks, Slack, Twilio, and Zapier.
Key Features
Check Types: HTTP(S), Web sockets, ICMP Ping, TCP, UDP, DNS
10 global locations
Performance, Incident, and Historical Uptime reports only
Public Status Page (Not Branded)
Fine Tune Alerting (Under Paid Plan) – with customizations such as alerting when response string contains a keyword or returns specific status codes
Email or SMS alerting
User Experience
FreshPing provides a clean interface with a navigation bar on the left side that guarantees little to no confusion on how everything works. When it comes to customer service, FreshPing provides a community site full of forums, posts, and feeds that can get you the answers you need. For further assistance, you can submit a ticket or check out their knowledge base.
What Users Are Saying:
​​"It has a free plan, so you can try it out for yourself. I personally liked their UI. You get a good insight of your application. Simple alerts and badge features are my favourites."
– G2.com (4.6 stars)
"The mobile interface is not great. It's not mobile responsive and is limited in what yo can do. At least they tell you."
– G2.com (4.6 stars)
Pros and Cons
Pros
Cons
– Simple and easy to use
– Great amount of features in free tierDashboard
– Lack of bulk check editing
– No Check Tags
– Reports not really customizable
– Status Page not customizable
Pricing
Free tier available
Starts at $11 per month
If you are looking for a website monitoring tool without the frills, especially if you want to only use the free tier and have access to most of the features, FreshPing is a competitive choice.
10. StatusCake.com
StatusCake is a London-based website monitoring service company for personal or business use that include uptime, page speed, domain, server, and SSL monitoring. Domain monitoring includes alerts if your domain is blacklisted, expired, or the rules for your DNS records have changed, and SSL monitoring comes with renewal alerts and an SSL score/report.
It also provides up to 14 integrations with platforms such as Slack, PagerDuty, Telegram, Discord, Microsoft Teams, and DataDog.
Key Features
Check Types: HTTP, HEAD, TCP, DNS, SMTP, SSH, PING, PUSH
43 monitoring locations in 30 different countries
Multi-location testing (in paid tiers)
Checked Tags
Reporting
Email Templating
Public Status Page that can be branded and customized
Basic email and public reports
Alert through emails, phone numbers, integrations, and webhook with repetitive functionality
User Experience
Because of its simplicity and fewer features, this makes Statuscake extremely easy to use. When it comes to customer support, Statuscake provides documentation on its knowledge base, but instructions are short, and many lack visuals to help users understand step-by-step processes. If you have further questions, you can email or send a message through their chat support. According to reviews, customer support is very responsive.
What Users Are Saying:
"StatusCake is pretty good value for money, offering a much greater number of tests than alternatives."
– G2.com (4.5 stars)
"They have an excellent response time, a seemingly genuine concern for their customers, and the product seems like it's very well thought through when it was being developed."
– G2.com (4.5 stars)
"The UI is a bit dated."
– G2.com (4.5 stars)
Pros and Cons
Pros
Cons
– Simple and straightforward UI
– Has a free tier
– Good/attentive customer service
– Documentation is not as thorough as competitors
– Reports are not customizable
– Alerts notify contact groups which must be set up separately rather than flexible email insertions during alert creation time
Pricing
Free plan available
Superior: $24.49 per month (includes 100 basic checks)
Business: $79.99 per month (includes 300 basic checks)
Statuscake is much more simplified than the other competitors on this list and provides an easy-to-use and clean UI. If you are looking for a basic website monitoring tool with lower cost and no frills, then Statuscake could be the tool for you.
Top Features to Look
Configurable Checks and Alerts
When selecting a website monitoring tool, the following key factors make the largest difference in your monitoring experience and provide the most benefit to your monitoring needs.
There is no one-size-fits-all solution. Each project will need different types of checks, which means the monitoring tool must be flexible enough to bend to various requirements. This is why having customizable checks and alerts is essential in monitoring tools.
Examples of customizable checks and alerts are escalation chains, limits, sensitivity, and retry values that can be configured. The right website monitoring tool will let you determine how you want to configure your checks and alerts based on your needs.
Ease of Use
Have you ever walked into a situation where everything was so overwhelming that you left? That is the feeling you'll want to avoid when picking a website monitoring tool. A tool can have every feature possible for you, but it still won't be very helpful if it isn't easy to understand and use.
When choosing a tool, ask yourself: Is the tool easy to spin up and use immediately, or do I have to take training courses and learn it through trial and error over the course of a month? A difficult-to-use tool can severely impact your productivity.
If a tool has a cluttered UI or the features are hard to find or understand, it may not be the tool for you. A lack of documentation and support staff will also severely hinder your ability to learn the tool quickly.
Alert Details
An alert is of no use if it doesn't give you the information you need to drill down on the problem and how it happened. A good monitoring tool gives you all the details of an alert necessary to understand the issue, such as location, date, log output, and server information. It will also give you a way to get to the root of an error by following a path from input to result. Sometimes they will call this real-time or root cause analysis or issue tracking in their feature lists.
Support
No tool works 100% of the time, and some things will be out of your knowledge scope. You need a tool that offers you a path to ask questions easily and get answers. This support can come in the form of detailed, easy-to-follow documentation and/or direct support through a chatbot or human.
Chatbots are good for easy-to-answer questions that have been asked before, and the chatbot will most likely direct you to documentation. However, for more in-depth, specific issues, you'll want to have the option of speaking with a human.
Also, consider how easy it is to get this support. Is the staff available 24/7 or only during a specific time?
Reliability
Choosing the right website monitoring tool involves one with the experience you'll need to guarantee that the tool is useful and delivers on its promise.
Check out their site and see if they have success stories or testimonials. What do the reviews say? Are they from known companies? Do they have awards or certifications that can vouch for the quality of service they offer?
Choosing Your Monitoring Service
Every business is different. Therefore, choosing the right monitoring service may require trying a few for yourself and then choosing one after. Luckily, most web monitoring services on this list, like Uptime.com, offer either a free trial or a free tier. Take advantage of these trials to get an idea of how these monitoring services can work for you.
Minute-by-minute Uptime checks.
Start your 14-day free trial with no credit card required at Uptime.com.