Uptime.com Blog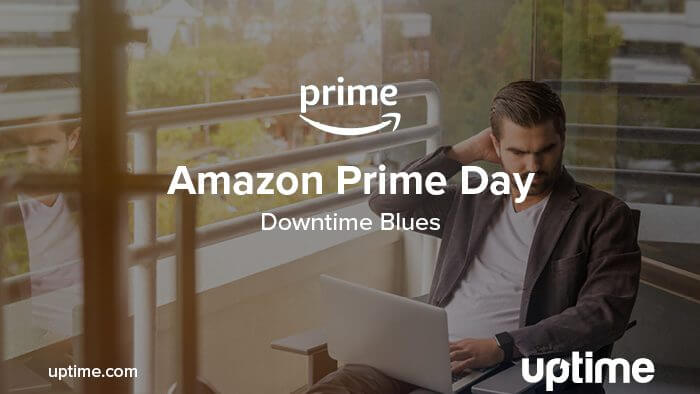 Amazon Prime Day Downtime Blues
For about 3 hours at the very beginning of Amazon Prime Day, Amazon's website experienced outages on both the East and West coasts of the US. Even the world's largest retailer isn't prone to technical mishaps. In fact, Amazon's server infrastructure is reasonably stable. This particular outage is a fascinating study in how Amazon's website downtime affects a business in real time.
Customer Response
Downtime reports from Amazon Prime members began around the start of Prime Day, but Amazon took nearly two hours to respond.
We can guess at a few reasons why:
Resources were focused on fixing the issue
Amazon may have thought the problem could be resolved sooner than it was
Diagnosis may have been complicated, with no direct cause readily visible
Whatever the case, failing to discuss outages hurts a brand, but doing so prematurely has equal potential for damage. If this outage resulted in a security breach, for example, it would be ideal to communicate that information shortly after it becomes available.
— Amazon.com (@amazon) July 16, 2018
In this particular case, a huge surge in traffic affected site response time, but Amazon's acknowledgment is too vague to tell.
Every Second Counts
Taking a long time to acknowledge a problem doesn't make it go away and frustrates customers. If you're a big brand like Amazon, those customers will take to social media and put you on blast.
Internally, you might feel pressure to respond. However, without downtime statistics, you might not understand the cause. Worst case scenario, you attribute the wrong reason to the outage, and something even worse happens.
Amazon recovered from its downtime within a few hours, and Prime Day carried on as usual afterwards. But the outage serves as a valuable lesson in how to respond when these things happen.
It's also worth pointing out that several aspects of Prime Day experienced continued downtime even after access was restored. For example, some users were unable to click through to new deals. This hidden inventory went unsold for hours until the problem was isolated and fixed.
How much did that downtime cost? CNN reported sales soared over last year, despite the glitch. Bustle said a backdoor that got around the downtime for users signing into Smile.Amazon, the company's charity donation service.
Lots of Bad Press
Another side effect is the negative press coverage that accompanies downtime. Many sites made light of the idea that Amazon's hyped up holiday crashed seconds after launching. Lots of outlets, like TechCrunch and Mashable, covered the lighter side of the downtime.
Seems like Prime Day is bringing down Amazon's servers.. GG. #F pic.twitter.com/gt8xkfZ2lH

— Linus Tech Tips (@LinusTech) July 16, 2018
Disgruntled Amazon Prime Members tweeted their frustration with memes.
On the lighter side, this particular incident also presents a learning opportunity. Amazon's downtime page is a never-ending list of the company's famous dogs. Users might not have been able to shop, but they had plenty of cute animals to keep them company. Don't underestimate the value of a well-designed 404. Introducing humor to downtime helps users feel less angry about their situation, which your support team will appreciate.
Final Thoughts on Amazon Downtime
Uptime.com's Public Status pages helps ease the blow to businesses experiencing downtime by providing your customers a list of which regions are down and other useful information.
In the case of Amazon, it's interesting that the AWS status page isn't readily accessible to users. The company's server infrastructure is a significant selling point for its web services, and Amazon employees are intimately involved with sales like Prime Day. Amazon should communicate downtime transparently, instead of burying it like they did earlier this week.
Uptime.com offers monitoring and escalation services precisely so your teams have the right people working on PR and damage control, while simultaneously diagnosing and fixing the downtime. Downtime should never be a surprise to anyone. When a problem arises, seconds count. Brands have more at stake than a few lost sales. They suffer bad press and get slammed on social media.
Considering its marketshare, Amazon has to respond on multiple fronts. Customer service reps, social media, and even in-home products must have a coordinated response to the downtime. That kind of response does require time to craft. Amazon's statement came a bit late and was all too brief, but Prime Day went on largely without additional hitches.
Well, at least the dogs were cute.
Minute-by-minute Uptime checks.
Start your 14-day free trial with no credit card required at Uptime.com.