Uptime.com Blog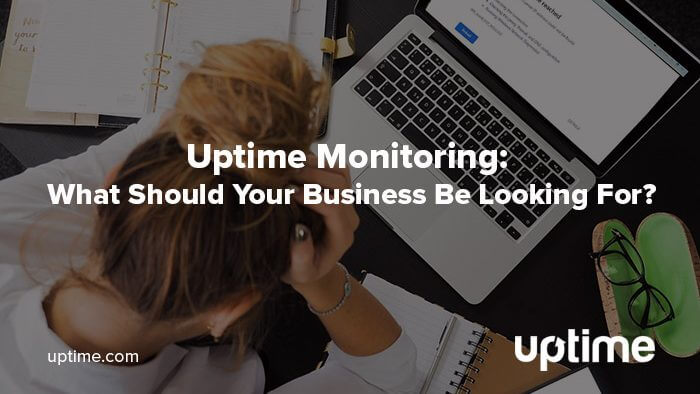 Uptime Monitoring: What Should Your Business Be Looking For?
How well is your web hosting provider meeting their Service-Level Agreements (SLAs)? Are you using an uptime monitor to be sure?
Research by Hosting Facts states the average website downtime is three hours a month because of hosting-related issues.
That's why website uptime monitoring is such an important part of a business. Uptime monitoring provides critical technical details about website availability issues so you can get back up and running before anyone notices (hopefully).
DirectPay Product Manager Satish Gaire says: "Uptime is very important to [our online software services] and if there is a problem, we need to know about it."
If your site goes down, wouldn't you rather know about it right away? Website visitors who can't access your site are more likely to leave and never come back than let you know there's a problem.
Internal monitoring software can't catch performance problems outside your company network, especially if it's isolated to a specific geographic location. External monitoring, however, will catch these issues if configured correctly.
Here's what we'll discuss in today's post:
Advantages of Using External Uptime Monitoring Software
An external uptime monitor provides insights into website performance, which is a large part of UX. You only have one chance to make a first impression. People today expect an excellent user experience and well-designed website from every company they visit.
Here are a couple of stats to consider:
Every dollar your company invests in improving user experience can equal $100 in ROI.
Slow-loading websites cost $2B in lost sales yearly
88% of online shoppers won't return to an ecommerce website after bad user experience.
70% of ecommerce customers abandon shopping carts due to poor UX
Internal monitoring tools are important to determine web infrastructure health behind the company firewall. But if you're only relying on internal monitoring tools, you won't know when site visitors outside your company network are experiencing problems with your site.
External monitoring tool features that help you catch web performance issues include:
Real User Monitoring (RUM): Lets you look at how your website performs across browsers, devices and locations. In addition to providing valuable data, you can also get alerted when load time exceeds a specific threshold.
Transaction Checks: A type of synthetic monitoring that continuously tests specific elements of a site (like shopping carts and login forms) to ensure they are functioning properly.
Speed Testing: Checks website speed from outside your network from a variety of locations to ensure website users around the world can connect quickly. Uptime.com also provides performance improvement suggestions.
Advantages of a SaaS External Uptime Monitor
Enterprise companies with large IT teams often build a custom uptime monitor with a combination of open-source tools like Zabbix, Cacti and/or Nagios Core.
However, SaaS options have their advantages.
Here are some of the reasons why companies choose browser-based website uptime monitoring tools instead of custom builds:
Integrations. The last thing your IT team needs is another piece of software to log in to and check everyday. Uptime monitoring software that integrates with your current tools allows you to keep on top of website uptime without adding more tasks to your to-do list.
Quick to deploy. Open source and self-hosted tools take longer to get up and running. Even the most experienced dev teams need time to work out bugs, test every last detail, and find resources to work out problems as they arise. Since time is money, what appears to be a less expensive solution often costs more in the long run because of extended configuration time. A turnkey solution lets you get up and running quickly.
Requires less resources to build and maintain. Large IT teams often don't have the time or additional manpower to take on such a large project. Development costs are only part of the equation. Ongoing maintenance can eat away at precious IT resources on a consistent basis, causing issues in other areas. Good monitoring software deploys new features on a regular basis and handles the infrastructure pain points, allowing you to stay focused on more pressing tasks. External uptime monitoring SaaS tools simply budgeting, allowing you to know exactly what the yearly cost is to your organization.
Dedicated support. Instead of scouring user forums and reaching out to multiple people to find answers to questions, support teams make it easier for you to get help. Not only will you get help when you have a problem, you have access to experts who can make suggestions to help you get the most out of your monitoring software. Uptime.com has a dedicated support team ready to help when you need it most.
Setup external monitoring on your website today with a free 21-day trial (no credit card required)
Criteria for Choosing Website Uptime Monitoring Services
There are a variety of criteria for choosing an external website monitor.
Here is what to look for:
Downtime Alerting Options
When a check fails, how does your team find out about it? Most uptime monitoring software offers some or all of the following alert options:
Email
SMS
Integrations (in apps like Jira ServiceDesk, Slack and Twitter)
Phone call
Webhooks
Total Control Over Website Monitoring Tool Alerts
Managing alerts is critical.
That's why it's important to have features like:
Maintenance windows
Escalations
Pause checks when necessary
Uptime Monitor User Management/SSO
Some businesses have the need for multiple users in each Uptime.com account.
One user is fine for brand new businesses, but as IT infrastructure grows for a business, needs may change.
Large enterprise companies with multiple users often use Single Sign-On (SSO) integration. Uptime.com integrates with SSO, including AWS.
SSO configuration can be tricky. If you choose website monitoring with SSO integration, look for one with documentation and a dedicated support team.
Monitoring Locations (Number of and Geographic Distribution)
International ecommerce businesses often experience limited outages that may impact sales in one geographic location but not another.
False alarms are common when testing websites from only one location. It's possible that the outage is isolated to that particular probe server and there's no downtime at all. By checking website performance from multiple locations and alerting when at least two locations are down, you'll help reduce the number of false alarms from your website monitoring tools.
It's also important to look at not just the number of monitoring locations, but where the probe servers are located. Some external monitoring tools use multiple servers in one geographic area, which won't help you detect outages in other parts of the world.
DirectPay Product Manager Satish Gaire mentioned the importance of web monitoring tools that have a "network worldwide in all major cities."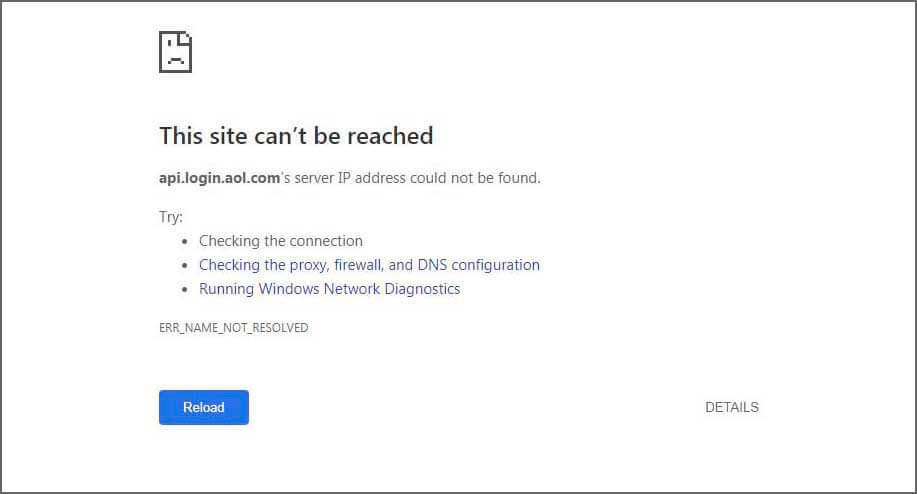 Testing Intervals
A low testing interval (less than five minutes) allows for the fastest possible alerting, but detecting latency issues may require a multi-step check with longer intervals. The more endpoints or pages the check cycles through, the better your picture of performance.
Website Downtime Status Pages
Uptime.com status pages can be customized to include detailed notes about current website downtime and expected ETA for a fix.
Because companies have the ability to customize Uptime.com status pages, you can use it to create detailed changelogs.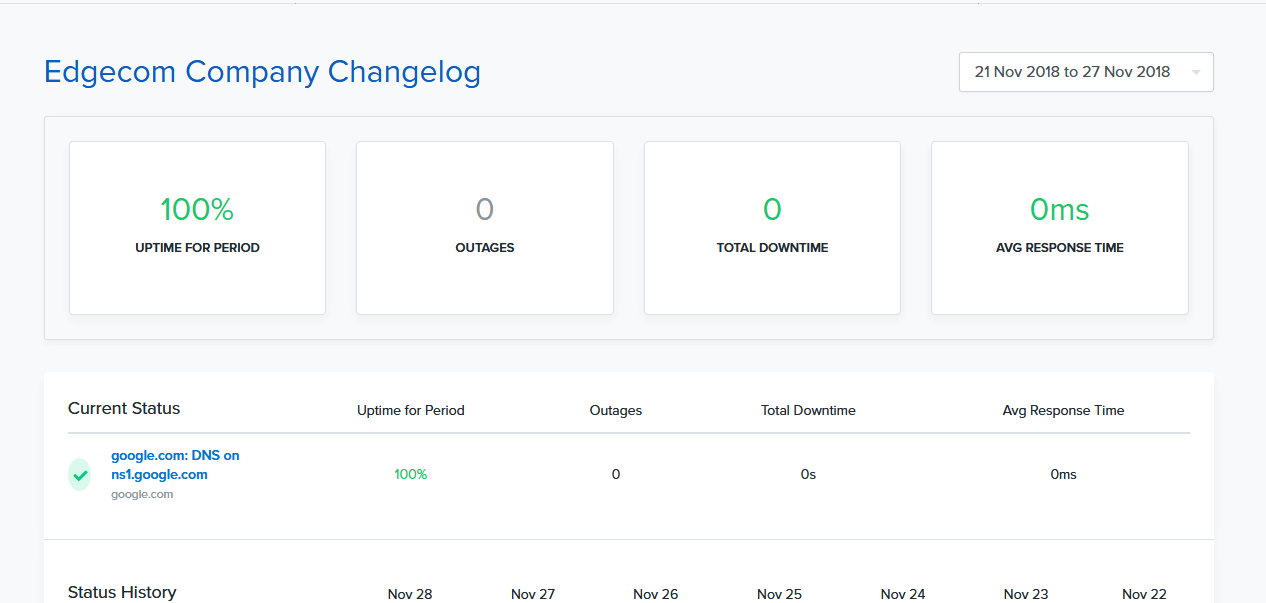 Determine Your Needs Before Considering Cost
The best option is to choose software with tiers of service so you can move to the next tier as needs grow.
But what are your company's current uptime monitoring needs?
At a minimum, HTTP/S checks help you determine site availability. Less expensive plans tend to run these checks less frequently, while more expensive ones run them every minute or less.
The amount of traffic your site receives, as well as how dependent users are on your site determines how often you need to ensure your site is available. Ecommerce companies, web-based apps, and sites with thousands of page visits per month warrant more frequent checks.
Ecommerce companies, banks and SaaS companies tend to need more sophisticated monitoring to ensure all parts of their app or store are working properly. Just because your site is available doesn't mean it's running properly.
Uptime Monitor Cost
Every business needs to consider price when choosing a monitoring service. There are both free and paid versions available. But you get what you pay for. Free uptime monitoring services don't check your site routinely or from multiple locations as paid ones do. They also do not keep a history of your checks or provide as much data.
How to Setup a Transaction Check to Verify Login is Working
Here's a common use case for web apps.
If you run a SaaS service where users need to login to use an app, it's critical to keep an eye on the login process to ensure users have the proper access.
Even if your homepage is available, users may have trouble logging in. A simple HTTP check won't tell you if they are having trouble accessing the app.
Uptime.com allows you setup a Transaction (TXN) Check to ensure critical elements on your site (like logins and shopping carts) are working properly.
Here's a breakdown of how to create one in your account:
Login to your Uptime.com account.
Navigate to Monitoring>Checks. Click on Add New>Add New Check.
In the Add Check box, give your check a name and select Transaction from the Check Type drop-down box.
In the Check Steps, select the following:

Go to URL (enter the URL below)
Authentication Settings (fill our Auth User and Password below)
HTTP Status should be (fill in 200 below for OK)
Optional: URL should contain text (if you want to make sure the redirect is correct after login)

When you are finished setting up the check, click the Run Test button underneath the Check Steps box to make sure there is no problem with the setup.
Keep in mind this check will perform the transaction in the interval you specify. You can run a transaction check every five to 60 minutes. To change the testing interval, move the slider up or down.
To avoid causing problems with a live user account, setup a test account for monitoring. Other optional steps include adding additional validators like Title should contain text to ensure that users are taken to their dashboard or homepage after login.
Here are some other tips to ensure your transaction check alerts are working as they should:
Advanced options include a Notes feature that adds text to alerts. Use this to provide a checklist for fixing simple problems, or when you should send issues to the next tier of support.
Escalations give you the ability to send more complicated problems to senior support staff or management.
Use the Maintenance tab to setup a schedule for planned maintenance such as upgrades or patches.
If you want to turn off alerts temporarily due to unplanned downtime, you can pause the check from your list of checks.
Key Takeaways
Enterprise IT teams should employ a combination of internal and external monitoring tools.
External uptime monitor tools help troubleshoot aspects of UX that may not be apparent from inside an organization's infrastructure.
Be sure to determine both your current and future web infrastructure monitoring needs before looking at the cost of software
Free tools are limited in what they can do and don't provide the best insights
Free monitoring tools often aren't enough to find out how well your website is performing. Choose an uptime monitor that checks at low intervals, provides multiple methods of contact, and looks at site performance from multiple locations.
Don't leave it to your customers to let you know there's a problem with your site. Be proactive and start monitoring today.
Minute-by-minute Uptime checks.
Start your 14-day free trial with no credit card required at Uptime.com.
Don't forget to share this post!