Uptime.com Blog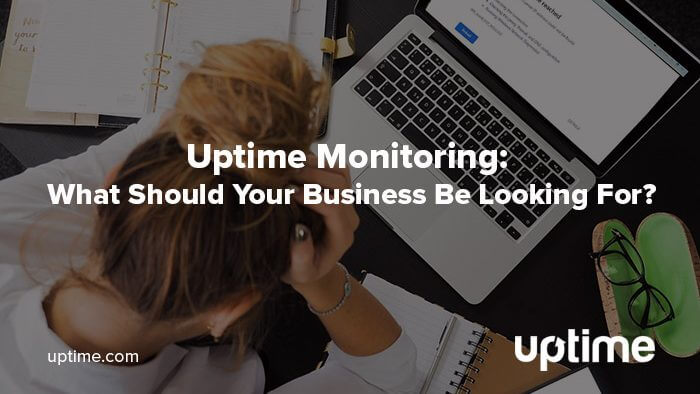 Uptime Monitoring: What Should Your Business Be Looking For?
How often does your website crash?
According to recent research by Hosting Facts, the average website is down three hours per month due to web hosting service issues.
But hosting issues aren't the only reason websites crash.
That's why uptime monitoring is such an important part of a business. Uptime monitoring provides critical technical details about website availability issues so you can get back up and running before anyone notices (hopefully).
DirectPay Product Manager Satish Gaire says: "Uptime is very important to [our online software services] and if there is a problem, we need to know about it."
Even if your website appears fine on your end, it may not be available for your customers, vendors, or remote employees. Internal monitoring software won't catch the issue because it is only viewing your website from within your company network. External monitoring, however, will.
Here's what we'll discuss on today's post:

What is Uptime Monitoring?
Uptime monitoring is an automated testing service that sends signals to your website to see if website visitors can access it.
When there's a problem, you'll receive alerts until you correct the issue.
There are two types of website monitoring tools:
Internal website monitoring tools send signals to your website from within your company network. When someone in China can't view your website and it appears fine on your end, the software won't alert you. These tools measure the physical equipment serving your website like servers and firewalls.
If your website is hosted elsewhere, your hosting company uses internal monitoring tools to provide you with information about system status. Most of the tools included with AWS and Azure fall in this category, though they do offer some limited external monitoring.
External website monitoring tools send signals to your website from outside your company network. This software measures the health of your domain as related to user experience.
In addition to website availability, external monitoring may include performance details like website speed, mail server availability, Real User Monitoring (RUM), malware/virus and domain blacklist checks.
Setup external monitoring on your website today with a free 21-day trial (no credit card required)
How Does an Uptime Monitor Help Business Revenue?
Ecommerce is predicted to own 17.5% of global retail sales by 2021.
KPMG reports the number one reason consumers buy online is because they can shop when it is most convenient to them.
Monitoring uptime will allow you to react to downtime fast in order to avoid losing sales due to a lack of website availability. This doesn't just apply to ecommerce businesses and SaaS companies. If a potential customer for your business can't access your website, they will turn elsewhere.
Recent research shows businesses can lose over $10M/yr because of downtime.
In August 2018, a nine-day outage at the US Patent and Trade Office cost the government agency $864 million.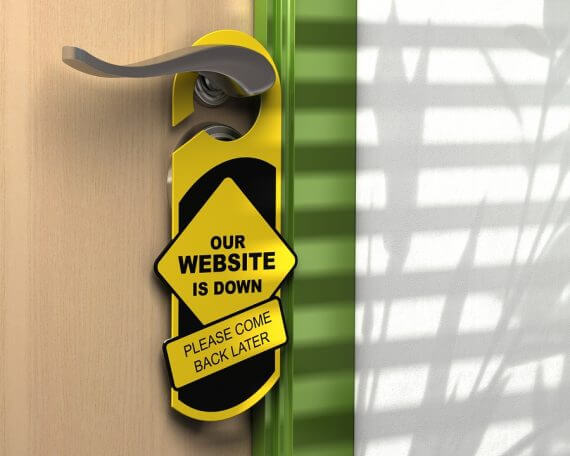 Advantages of Using External Uptime Monitoring Software
Enterprise companies with large IT teams often build a custom uptime monitor, but purchasing software or using a SaaS option has its advantages.
Here are some of the reasons why companies choose website uptime monitoring tools instead of building them:
Quick to deploy. Open source tools take time to configure and get up and running. Even the most experienced software engineers will have to work out bugs, test every part of the process, and find help through their network or on online forums to work out problems as they arise.
Requires less resources to build and maintain. Even large IT teams are stretched thin when it comes to having the time to take on such a large project. Finding the right talent outside your company costs both money and time. Development costs are only part of the equation; you'll likely to retain additional staff to maintain your monitoring services as well.
Customer support. Instead of scouring user forums and reaching out to multiple people to find answers to questions, support teams make it easy for you to get help.
Criteria for Choosing Website Uptime Monitoring Services
Now that you have an understanding of what uptime monitoring does and why it's important, let's learn about what you need to consider when choosing a solution that's right for you.
Uptime Monitor Cost
Every business needs to consider price when choosing a monitoring service. There are both free and paid versions available. But you get what you pay for. Free monitoring services don't check your site as often or from as many locations as paid ones do.
The most expensive monitoring services often require the brightest minds in IT to deploy, use and maintain. They often include features you'll never use (but you're paying for).
The best option is to choose software with tiers of service so you can move to the next tier as your IT needs grow.
Website Monitoring Tool Alerting Options
Free tools often don't provide you as many options to choose how, when, where and who receives alerts when there's a problem. Paid tools offer some or all of the following options:
Email
SMS
Push notifications (in apps like PagerDuty, Slack and Twitter)
Phone call
Webhooks
When you create contacts you can specify what type of alert each person can receive. If you're using push notifications, each app you integrate with should be created as a contact.
Satish says the ability to add multiple contacts is important to his business. One of his criteria for choosing web monitoring software is the "ability to add my IT managers and System admins."
Every type of alert has its strengths and weaknesses. Email alerts and push notifications can get mixed in with information that doesn't require immediate action and get ignored. SMS notifications are preferable for items that need immediate action, like an HTTP or ping check showing a website that's unresponsive.
Satish prefers combining alert types to make sure nothing gets missed.
"[Good website monitoring software] has SMS notifications on top of email notifications," he says.
Advanced alerting options should allow you to create maintenance windows when you know your site will be unavailable — such as when you're rolling out a new patch or update. Another "nice-to-have" is an option to pause testing if you're working on a problem that's taking a long time to fix.
Speaking of persistent downtime, escalations notify different people if problems aren't corrected within a specific time period.
Uptime Monitor User Management
Some businesses have need for multiple users in each Uptime.com account.
One user is fine for brand new businesses, but as IT infrastructure grows for a business, needs may change.
Large enterprise companies with multiple users should consider Single Sign-On (SSO) integration. SSO allows administrators to create one password to login to multiple pieces of software. This is how you can login to many of your favorite web applications with your Google or Facebook credentials.
Number of Monitoring Locations
Website performance varies depending on where in the world someone is trying to access it.
International ecommerce businesses often experience limited outages that may impact sales in one geographic location but not another.
False alarms are common when testing websites from only one location. By checking website performance from multiple locations and alerting when at least two locations are down, you'll help reduce the number of false alarms from your website monitoring tools.
Satish mentioned the importance of web monitoring tools that have a "network worldwide in all major cities."
Testing Intervals
How often your website monitoring service checks sends a signal to test your site is called a testing interval.
A low testing interval (less than five minutes) is critical when sites are experiencing traffic surges so additional capacity can be added as needed.
One minute testing intervals are great for:
Status Pages
Status pages provide important information to your customers about your domain. Uptime.com status pages can be customized to include detailed notes about current website downtime, such as when you expect to have the site up and running again.
Many companies use status pages to create detailed changelogs of their site or application, so users can find out what's changed over time.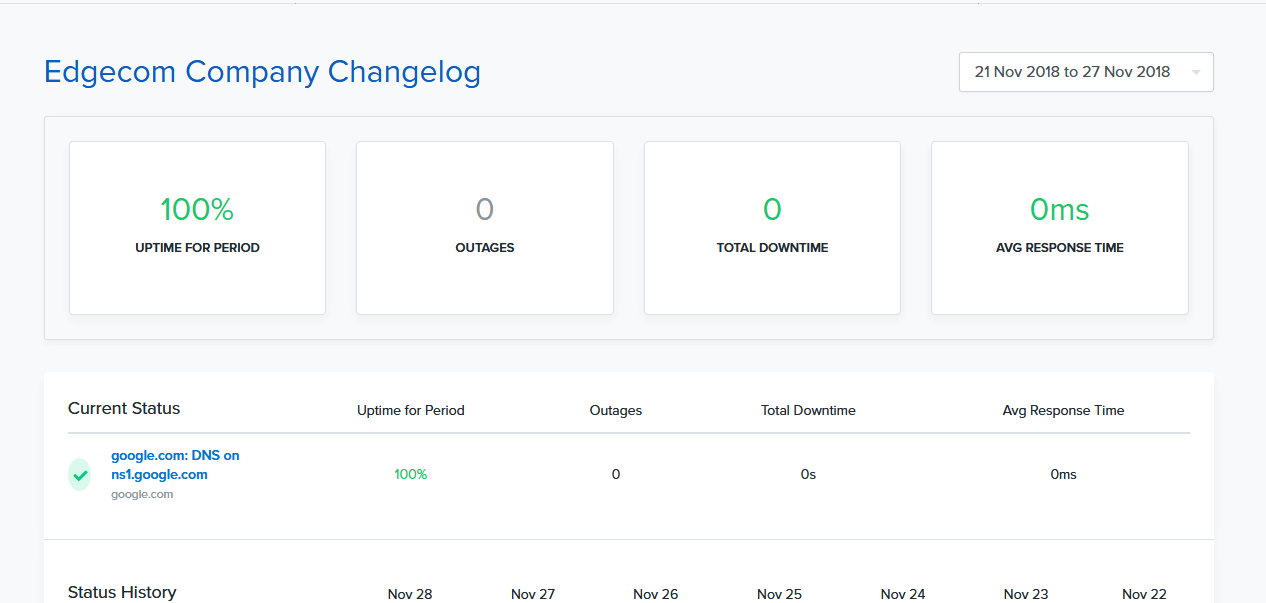 How to Setup an HTTP Website Monitor in One Click
Uptime.com allows you setup an HTTP check within seconds from the Dashboard.
Login to your Uptime.com account.
2. Navigate to Add Quick Check in the lower right-hand corner of the screen and enter the URL you want to create an HTTP check for. If you want to check the secure version of a page, enter the letter s at the end of the HTTP.
Quick checks are HTTP/S checks that ping your website at five minute intervals. When your check goes down it will alert your default contact via the method you chose (email, SMS, etc.).
Once you create a check, it immediately shows on your dashboard at the bottom of your list of checks. Clicking on your check will take you to the Uptime Report Page.
The Current Status in the upper-right corner of the page will say Pending until the test begins running. Allow up to 30 minutes for the status to change. For this example, we'll use Google as the website we're monitoring.
Let's make some changes to this check. Click on the Edit Check button to adjust the check settings from the Uptime Report screen.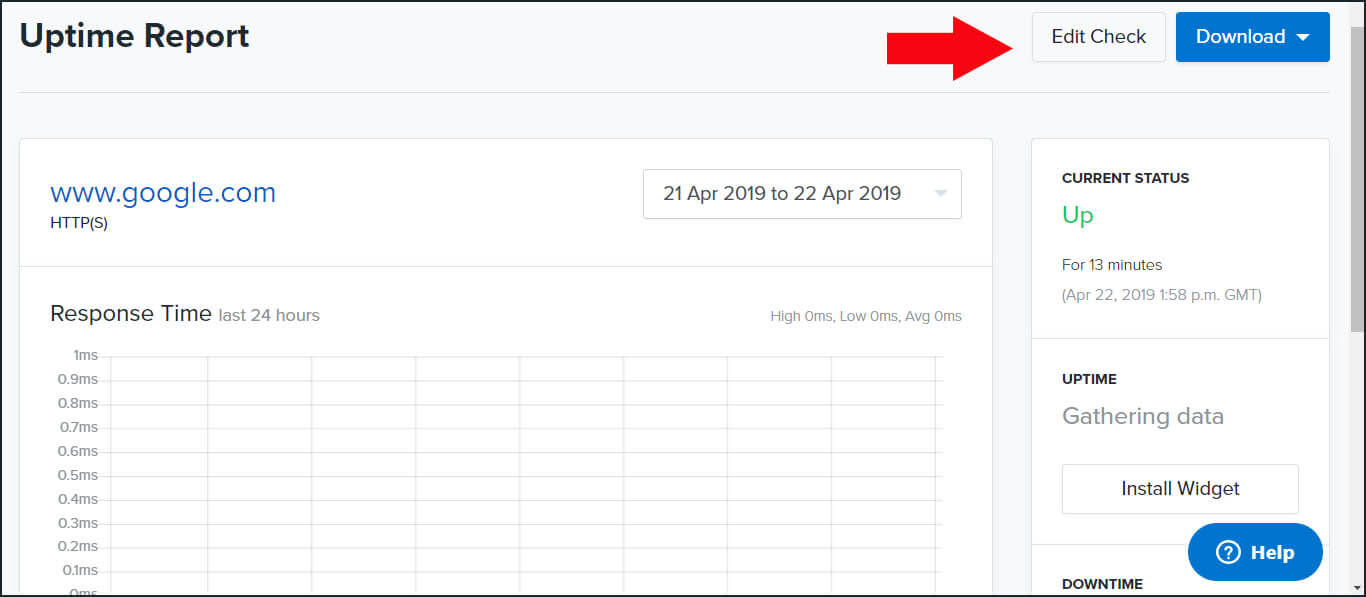 Everything looks good on this screen, but we want to make sure Google is available every minute, so I moved the slider down from five minutes to one.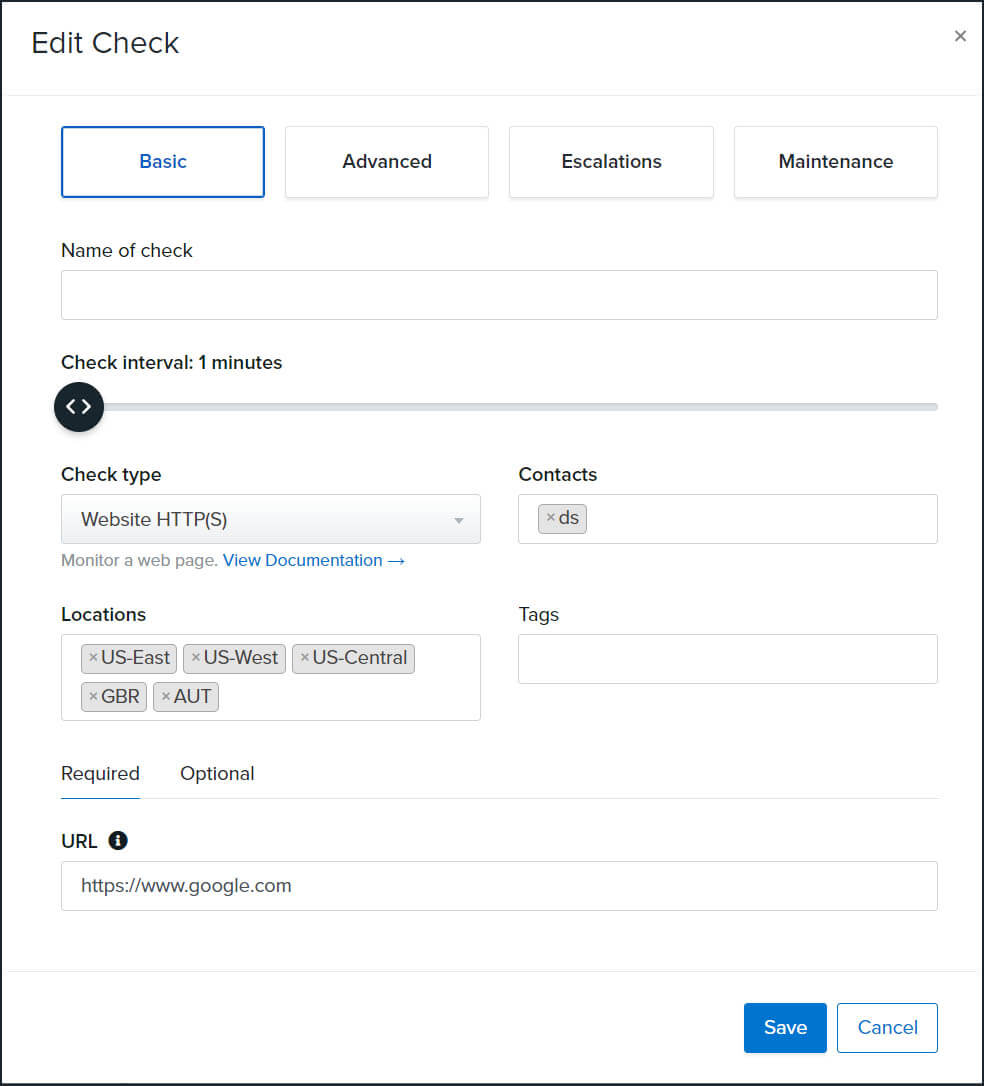 Looking at the screen above tells us the following:
Uptime.com will ping Google.com every minute to be sure the site can be accessed when someone types www.google.com in their browser.
We are checking from the following five locations:
United States (East Coast)
United States (West Coast)
Central United States
Great Britain
Australia
Alerts will be sent to the contact ds when a check fails.
In this scenario, the contact ds is a low-level tech guy. If he can't solve this problem in five hours, we need to escalate the problem to jt, a more skilled employee for her to solve. Click on the Escalations button located at the top of the Edit Check screen to make sure she will get alerts after five hours of website downtime.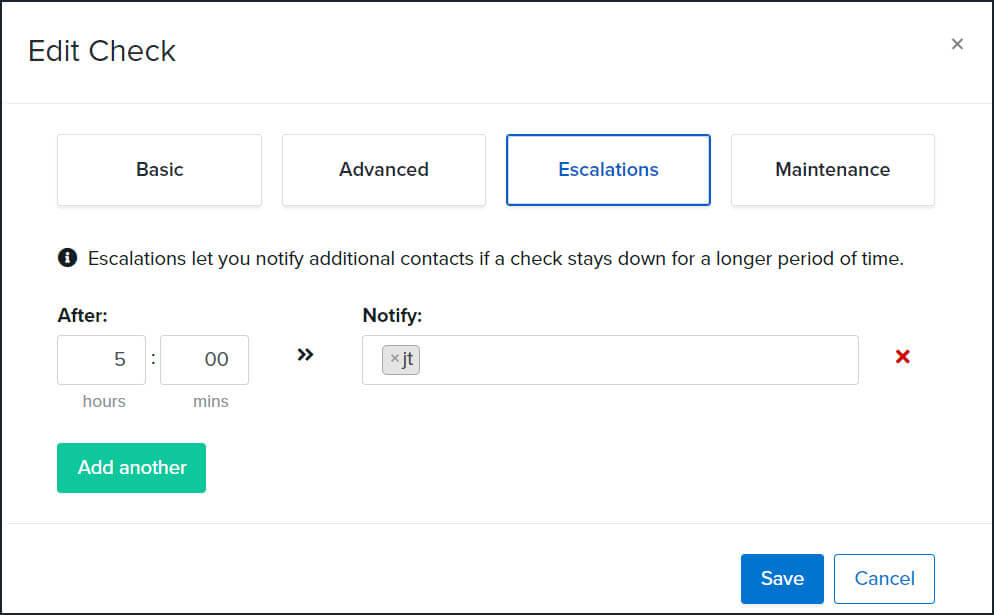 Looking at this screen we can see that jt is the contact for website downtime longer than five hours.
Your Company Needs an Uptime Monitoring Solution
Free monitoring tools often aren't enough to find out how well your website is performing. Choose an uptime monitor that checks at low intervals, provides multiple methods of contact, and looks at site performance from multiple locations.
Don't leave it to your customers to let you know there's a problem with your site. Be proactive and start monitoring today.
Minute-by-minute Uptime checks.
Start your 21-day free trial with no credit card required at Uptime.com.
Don't forget to share this post!