Uptime.com Blog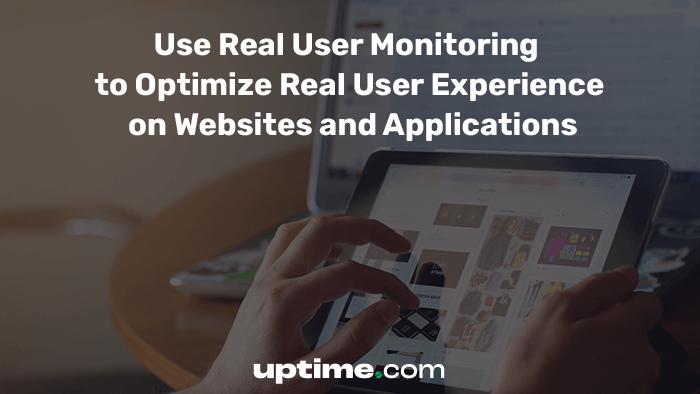 Use Real User Monitoring to Optimize Real User Experience on Websites and Applications
What if I told you one of the most common mistakes businesses make is reporting on website performance without understanding user experience? 
What if I said there was much more to website performance monitoring than simply alerting you when your site is experiencing a downtime outage?
No two websites – or baselines – are exactly the same. However, all businesses need the ability to leverage real user data to optimize their website for speed, errors, and other issues impacting their overall site experience. 
This need for visibility is why your trusted website monitoring experts at Uptime.com have released our new and significantly improved Real User Monitoring (RUM) solution; available and ready for use by active customers and free trialists alike.

Introducing: Advanced Real User Monitoring (RUM)
Users who have been Uptime.com customers for some time know that Real User Monitoring (RUM) has been part of our top-rated website performance monitoring suite for years. That said – this release is a massive upgrade which allows websites of all sizes to comprehensively analyze real user data through the lens of:
User Satisfaction

Time to Interactive (TTI)

Error Rate (and most changed)

Load Time (AJAX and page load)
Each is compared against the URL(s), devices, operating systems, browsers, and geographic locations those page views occurred though.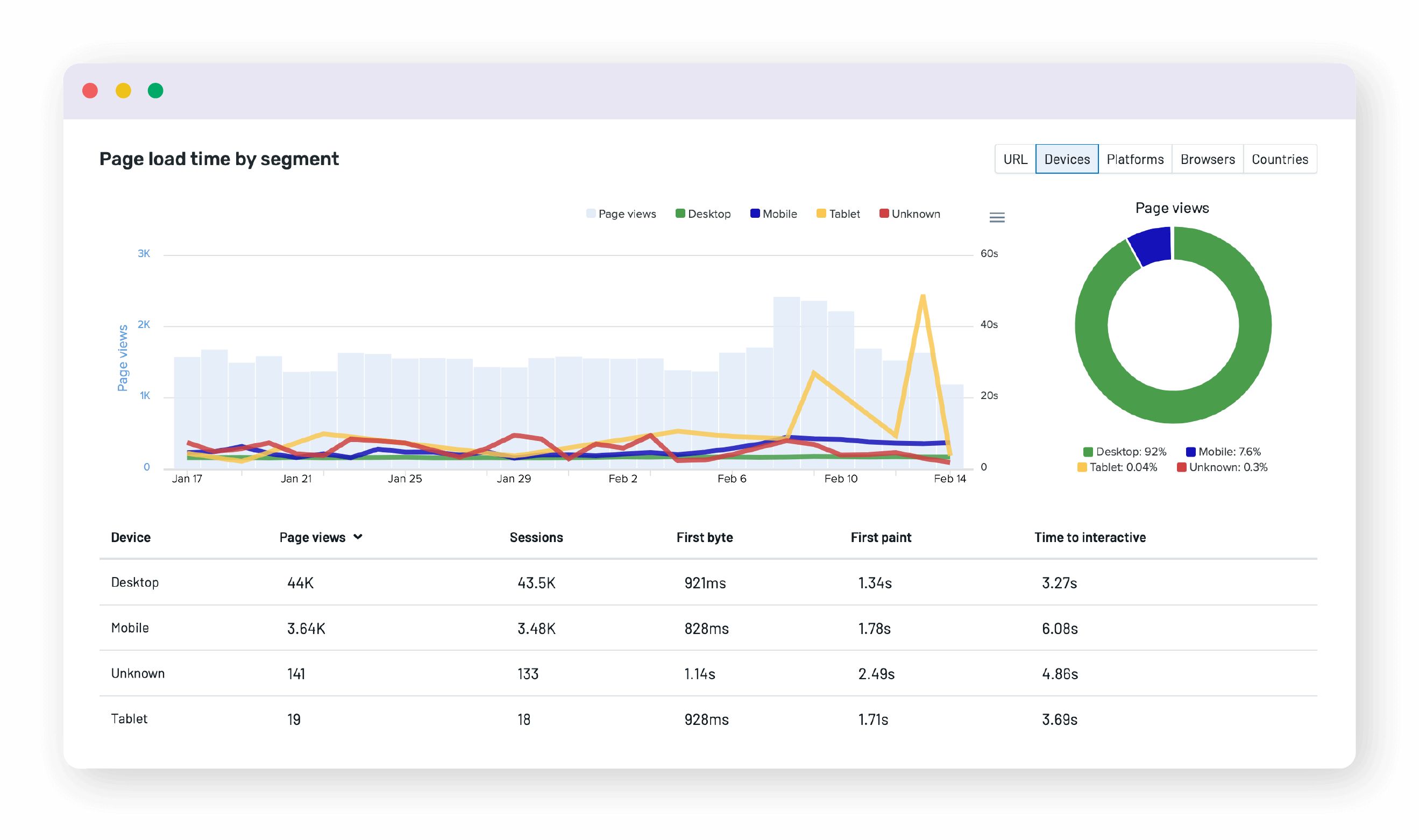 This wealth of website visitor data can then be put to work for SREs, IT, and DevOps teams by comparing current performance thresholds to pre-set baselines to improve speed and reduce errors and bounce rates of monitored websites and applications.
How Real User Monitoring Works
Real User Monitoring records anonymous user interactions with a given website or application to determine whether visitors are being served quickly (ie: speed) and correctly (ie: errors). The RUM data collected helps websites ensure a better experience for visitors, while SaaS companies can leverage RUM reports to ensure the tools actively being paid for by customers work and meet contractual standards and obligations.
At Uptime.com, we prioritize usability in everything we do. That's why we've made configuring new RUM checks and reading their reports easy. For the most accurate reporting performance, embed Uptime.com's advanced RUM HTML snippet before other scripts on the page you intend to monitor.
If page speed performance is on your mind (we assume it is if you're interested in RUM!), we've got great news. Embedding our Real User Monitoring snippet will add zero added net-impact on page load time.

We've worked to make sure the real visitor data collected is as relevant as possible for your website and business. Uptime.com's Real User Monitoring uses industry Apdex standards measuring response time against set thresholds indicating user satisfaction levels of:
Satisfied:

Website response times with high speeds users prefer.  

Tolerated:

Website response times deemed slow – but tolerable – by users.

Frustrated:

Website response times deemed unacceptably slow by users.

For users looking to implement their own performance benchmarks, we've got you covered. Customize Uptime.com RUM checks with your own Apdex standards for more control over Real User Monitoring metrics.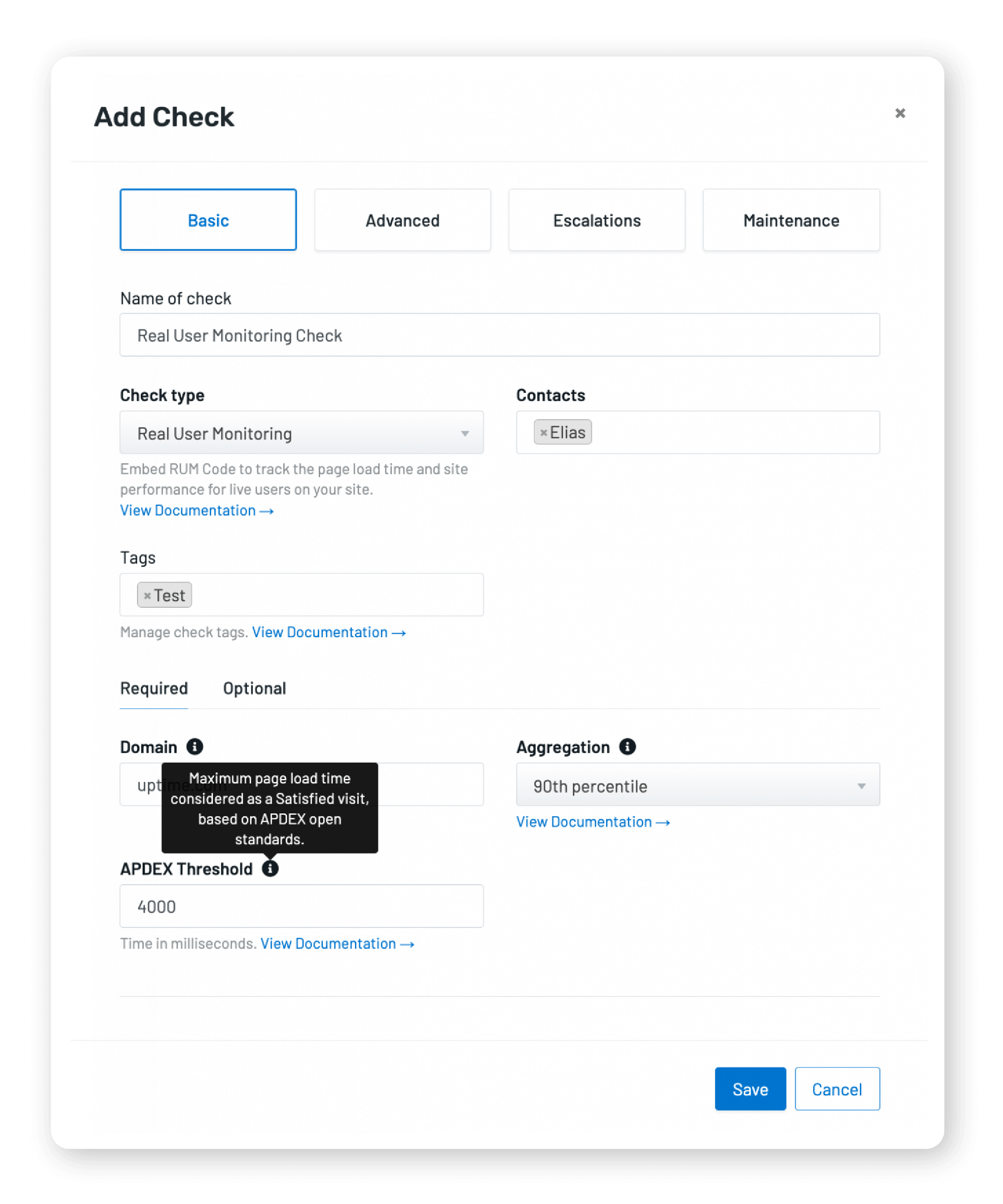 Use Data From Past User Experiences to Optimize Future Ones
If understanding the state of your site or app's performance is step one, step two is all about taking action on those insights to improve experience. 
Once performance benchmarks have been defined, put Real User Monitoring to work:
Quickly flag website speed issues by comparing response time trends to baselines. This will help you assess whether performance thresholds are being met, and diagnose issues impacting site performance and user experience. Learn more about the data and graphs found under RUM's AJAX and Page Load Time tabs.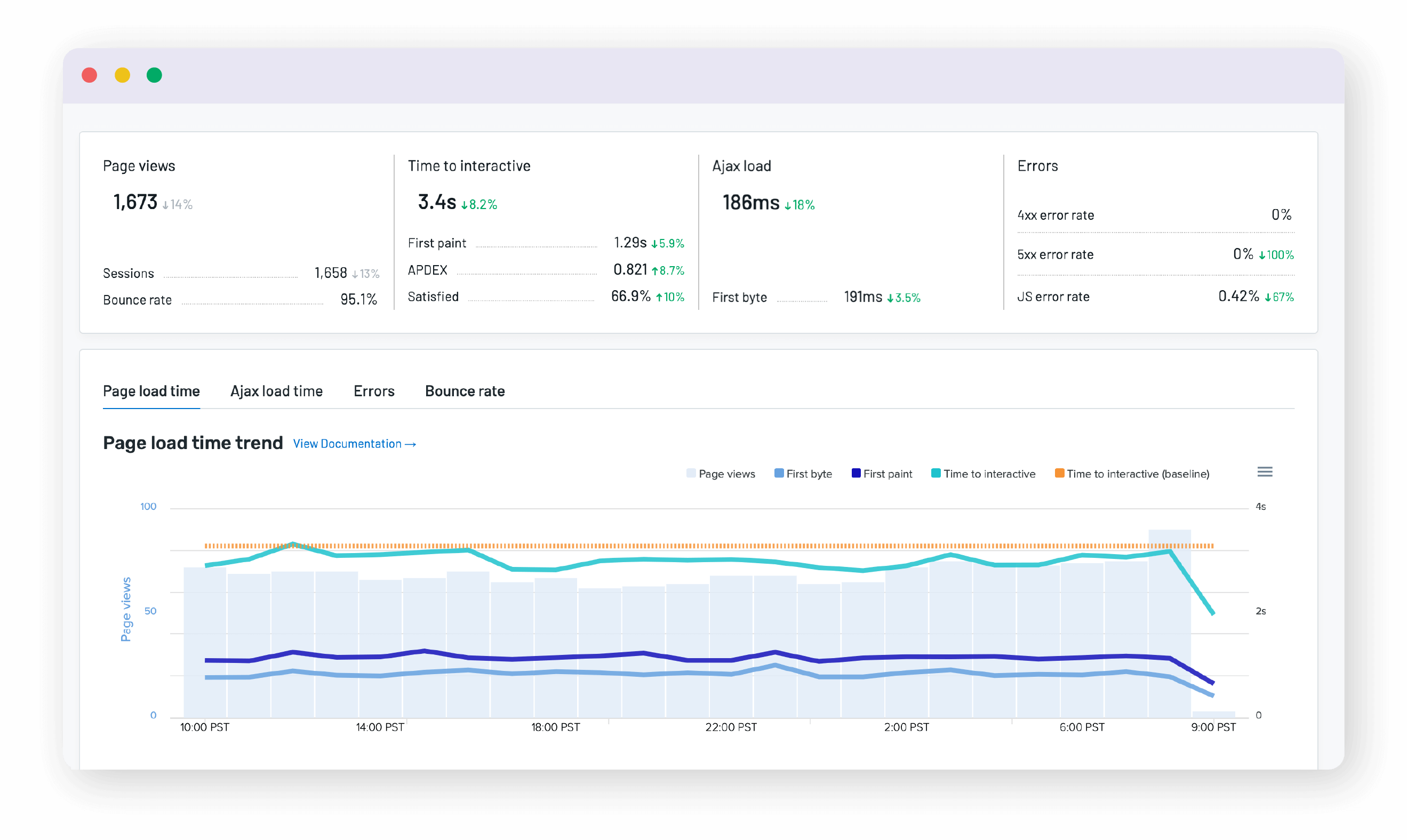 Uncover (and correct) errors impacting visitors by easily referencing any 4xx, 5xx, and JavaScript issues impacting one, or many URLs. Sorting your data by URL or error type will help you confirm whether systems are indeed working as expected or if you have a site-wide issue on your hands. Learn more about the data and graphs found under RUM's Errors tab.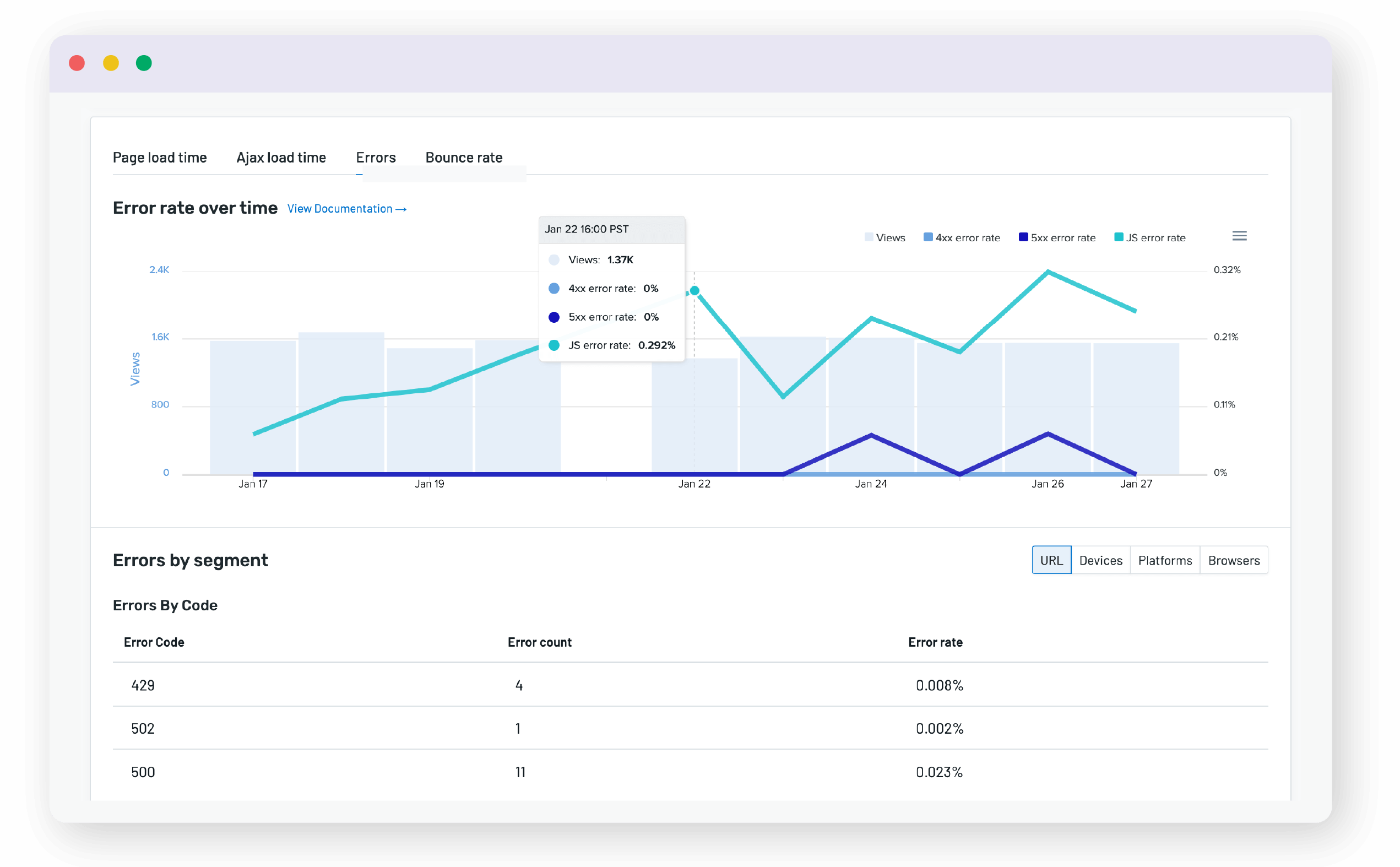 Link website bounce rates to poor website experiences by correlating any changes in bounce rates to peaks in load time or new errors. If users are suddenly bouncing en masse, there's likely something wrong. Learn more about the data and graphs found under RUM's Bounce Rate tab.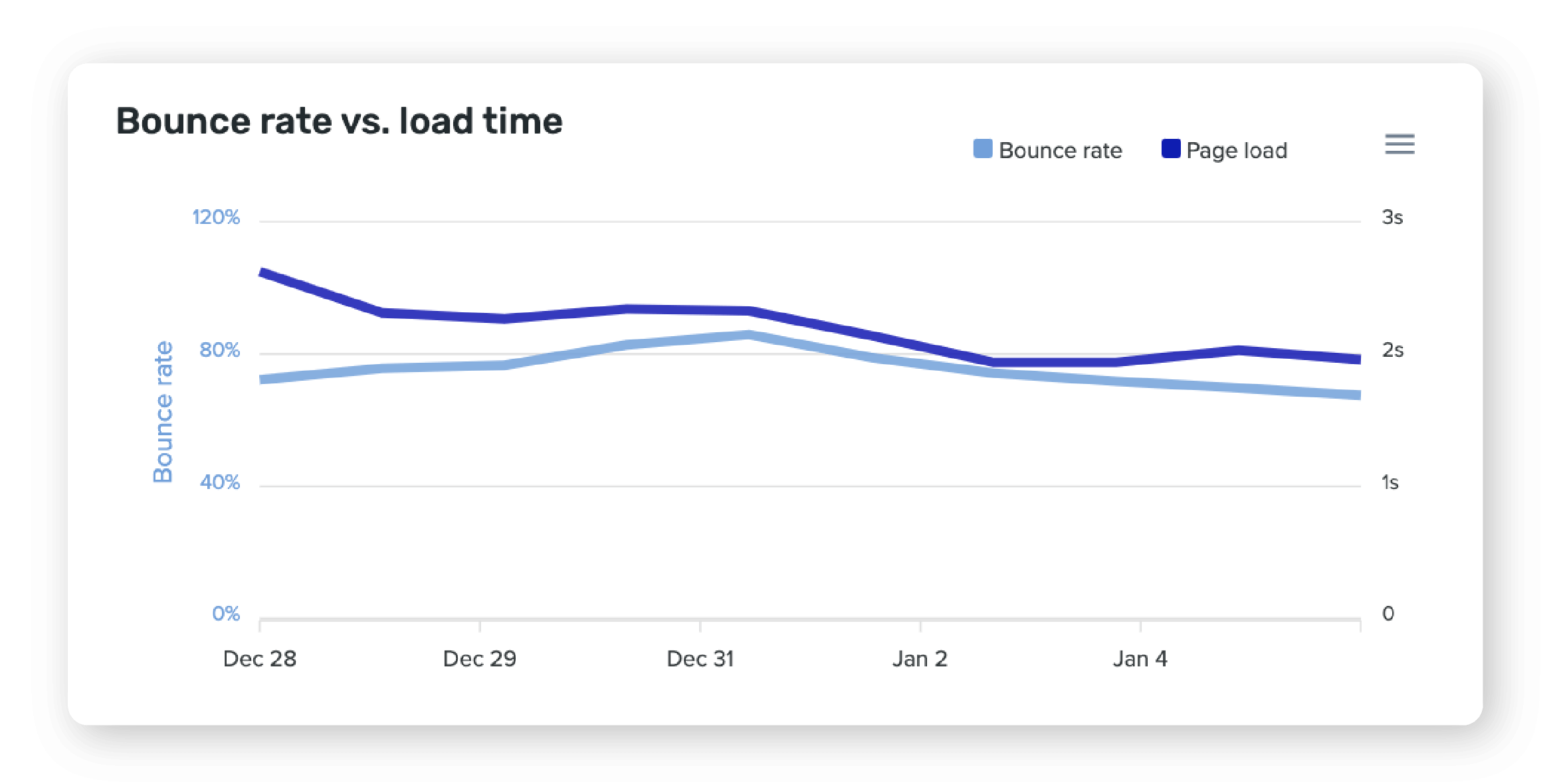 Monitor Users and Uptime In One Platform
Our new Real User Monitoring comes jam-packed with features and value, but what excites me the most is the potential to use RUM in tandem with other Uptime.com monitoring tools. 
Where other solutions offer only Real User Monitoring – Uptime.com customers benefit from a full suite of tools at their fingertips to unify their website performance monitoring from end-to-end. 
One of the best examples of this involves leveraging RUM and synthetic transaction checks together to immediately notify stakeholders when login forms, buttons, carts, and other critical website pathways fail.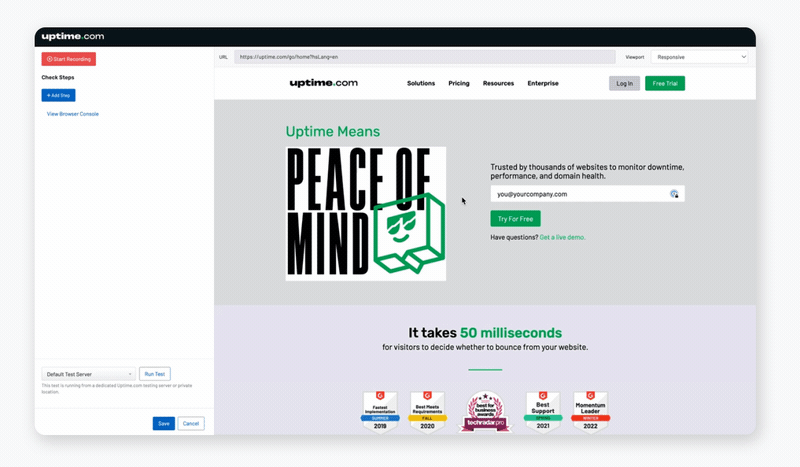 Insights like these can then be passed from IT, DevOps, and SRE teams to quickly and efficiently improve front-end performance.
Choose the Right RUM For You
Whether you're new or a longtime Uptime.com user, we want to ensure you have the information and resources needed to choose the right RUM solution. Learn more about the data points collected by our advanced RUM check.

| | | |
| --- | --- | --- |
| Real User Monitoring Capability | RUM Capability Definition | Supported by Uptime.com RUM |
| AJAX Load Time Breakdown | The time taken to make and process AJAX calls. | Yes |
| Apdex Score Monitoring | The industry performance standard for websites and software applications. | Yes |
| Bounce Rate vs. Session Monitoring | Comparing bounce rate to a number of sessions over a specific timeframe. | Yes |
| Bounce Rate vs. Load Time Monitoring | Comparing bounce rate to the page load time over a specific timeframe. | Yes |
| Bounce Rate vs. Errors Monitoring | Comparing bounce rate  to the percent of 4xx, 5xx, and JS errors over a specific timeframe. | Yes |
| Bounce Rate by Segment Monitoring | Breaking down bounce rate by individual URL or URL groups. | Yes |
| Website Error Monitoring | Breaking down the 4xx, 5xx, and JavaScript errors impacting individual URLs or URL groups. | Yes |
| Page Load Time Breakdown Monitoring | Detailing load time segments between connection, server, transfer, client, and assets currently, and compared to baselines. | Yes |
| Page Load Time Trend Monitoring  | Detailing First Byte (FB), First Paint (FB), and time to Interactive (TTI) to represent page load from end-to-end. | Yes |
| Real User Monitoring by Device | Segmented website or app visitor data by device used.  | Yes |
| Real User Monitoring by OS | Segmented website or app visitor data by operating system used. | Yes |
| Real User Monitoring by Browser | Segmented visitor data by browser used. | Yes |
| Real User Monitoring by Geography | Segmented visitor data by country or other geographies. | Yes |
| Single Page Application (SPA) Support  | Monitor performance of single-page apps or static websites. | Yes |
| Raw RUM Data Export | Export all collected Real User Monitoring data | On Roadmap |
| Real-Time Alert Notifications | Actionable alerts delivered in real-time via SMS, call, email, or software integrations. | On Roadmap |
Current customers can log-in and select Monitoring → Real User Monitoring to configure our advanced RUM checks. Access website visitor and performance data collected by RUM under Reports → Real User Monitoring. Access comprehensive documentation here.
If you're new to Uptime.com, create a 14-day trial (100% free, no credit card required) to test our advanced Real User Monitoring. As you weigh options during your trial period, we encourage you to consider uptime monitoring solutions that support both synthetic and RUM to report on site performance and visitor experience, together. 
Happy Monitoring!
-Yoni
Minute-by-minute Uptime checks.
Start your 14-day free trial with no credit card required at Uptime.com.
Don't forget to share this post!