Uptime.com Blog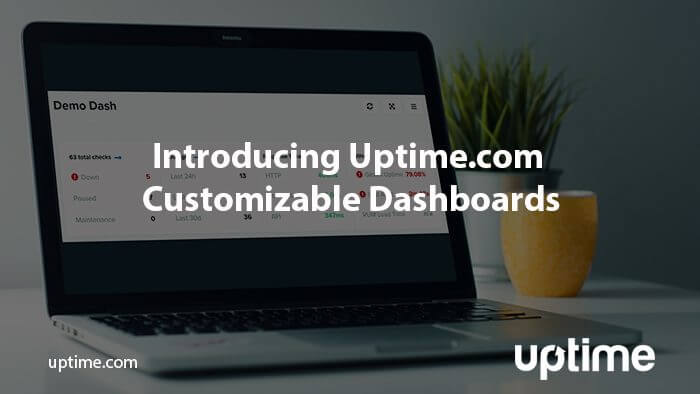 Introducing Uptime.com Customizable Dashboards
Dashboards do their job best when they are a centralized space for the data you need. Not all data, but specifically those key performance indicators that drive the decision making at the top. Uptime.com created a customizable dashboard system that brings that level of personalization to you and your organization.
The dashboard involves three components:
Metric Summary: A bar at the top that includes the metrics that matter most to you. At a glance, learn the state of your checks, your most recent outage, your cumulative response time, and when your last alert was issued.
Check Cards: The meat of the dashboard consists of Check cards with response time graphs and 24 hour uptime expressed as a percentage.
Alert History: A log of recent alerts that display only what you want to see. Customizing this space will help you determine where your attention is needed most.
Today, we'll walk you through customizing the look and feel, ignoring alerts, making your most important check cards front and center, and other important functions. Whatever your priority, our robust Dashboard is ready for you.
Customizing Uptime.com Dashboards to Your Preference
A dashboard is only as useful to you as the data it puts at your fingertips. The Uptime.com dashboard is a flexible space that allows full control. Today, I'm going to take off my support hat and put on my SRE hat to create dashboards that serve a few purposes:
I want…
a wall of cards I can use to view as many checks as possible
a personal dashboard that filters out the noise
access to everything, but not my default
Ideally, doing so will help me spend the least amount of time viewing these statistics in the morning when I wake up.
With our priorities established, let's get to it!
Dashboard Basics
From your Dashboard, click the menu icon and either Create a New Dashboard or Customize your existing one.
Notice the order of the newly created dashboards. We'll discuss this more in a moment.
The Dashboard customization menu is below: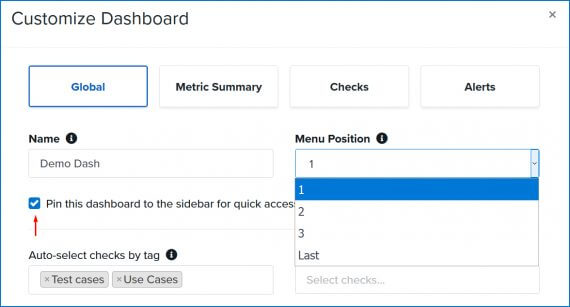 The five tabs at the top determine the look and feel of your customized dashboard. Configuring each option will customize the dashboard exactly to your liking, but we've set some useful defaults that are designed to get you up and running quickly. For example, paused check cards are excluded from your dashboard by default.
Here is a rundown of each tab from a high-level view:
Global: Global options control the fundamentals of your customized dashboard, and determine which checks will appear.
Metric Summary: The Metric Summary section includes metrics from all checks, or all selected checks.
Checks: These options determine the display order and number of check cards a customized dashboard will display. A maximum of 20 check cards can be displayed at once with auto refresh available.
Alerts: This tab allows you to customize how Latest Alerts are displayed, creating a customized list of latest alerts that excludes information not relevant to your team.
Creating a Check Card Wall
Dashboard 1 is going to be our wall of check cards. It will get the full screen treatment in our office, where we'll rotate our monitor and show as much information as we can fit on a single screen.
We'll need to cut the Metric Summary and Latest Alerts sections to achieve this goal.
You can also manually select checks, use tags, or some combination of both.
We recommend managing and using tags if you are creating a custom Dashboard. Taking the time to set tags on important check types will make customizing your Dashboard much faster, and will better organize accounts with dozens or hundreds of check types.
Controlling Metrics and Filtering the Noise
I've got my wall of VIPs. Now I want greater visibility for my personal use as admin of the account. I don't want to see checks that are paused or in maintenance, I don't care about check cards on screen so much as I want visibility on alerts and metrics.
Let's first dive into the Metric Summary tab, where I can control visibility on all metrics. I'll toggle global metrics off so that this Dashboard only shows me metrics from checks I've selected.
To finish my work, I'll go to the Checks tab and untick the box to show Check Cards. The end result looks a bit "Uptime.com Classic" don't you think?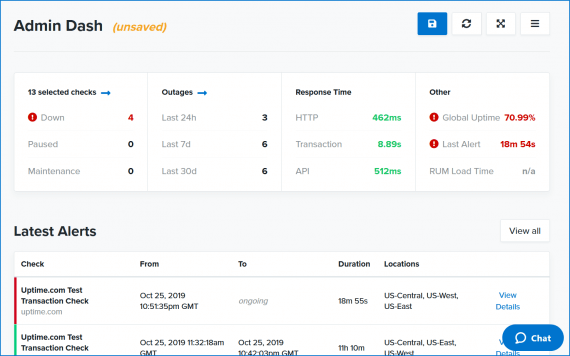 I've got my morning dashboard ready. I've filtered the noise of all metrics to focus on the 13 I really care about. I can see at a glance how many outages I have, my response time, and I have a list of most recent alerts. I can further filter those alerts to show only those related to the checks I've selected if I choose. But I like awareness of my account, and I've chosen only to filter alerts that I've ignored so I have control over what goes into this space.
Looking for a way to filter out the noise in your monitoring? Try Uptime.com today for free for 21 days, no credit card required.
Creating my "Accessibility" Dashboard
This final Dashboard will provide my staff quick access to the checks I want them to focus on. I'll use some of the same check settings I used to create my global wall so we're all tracking the same priorities. I also want them to have access to some of the same metrics I rely on, alongside alert history so they know where their attention should be.
Let's determine the logic for check card sorting first.
Click Checks and you'll notice that we've set default values of Up/Down State as the primary and Last Alert Date as the secondary sort order. This order shows you recent outage cards at the top of the list with checks that have most recently issued an alert as the secondary sort value. You're free to customize these as you see fit:
Check Name
Check Domain
Date Created (latest)
Up/Down State
Last Alert Date
1hr Response Time (slowest)
Here are some use cases:
1hr Response Time//Check Domain: If you run a series of HTTP(S) checks for different domains, this setting will tell you which of these URLs is the slowest
Last Alert Date//1hr Response Time: Provides a glimpse into which checks most recently had outages, and have reported high response times within the previous hour
Up/Down State//1hr Response Time: This configuration allows you to view most recent outages, with checks reporting as UP sorted by response time within the previous hour.
Additionally, you can configure the number of check cards you see at once. By default, we allow four cards to show with auto-refresh functionality. Increase the number of check cards visible to improve visibility on the checks you need to see.
We will pin this dash to our sidebar, as it's an important one we want easily accessible. You will notice once you've saved your work that clicking on Dashboard from the left-hand menu now features a list of dashboards we have pinned to this space.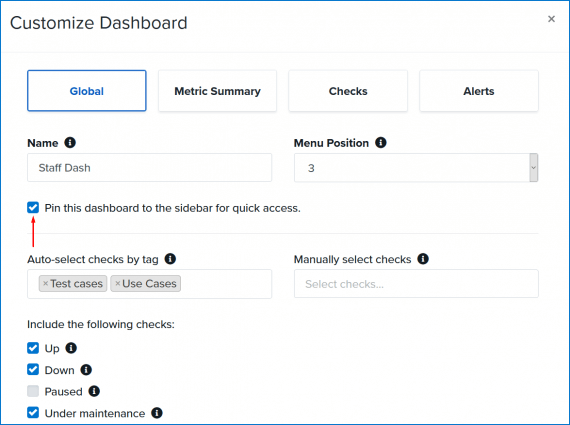 Latest Alerts
Choose how latest alerts are displayed, and whether ignored or resolved alerts appear on the dashboard. You can also change the number of alerts visible to a maximum of 15.
Multiple Dashboards
Your ability to create more than one Dashboard depends on your account tier. Accounts above Basic have access to multiple Dashboards. Check your account's plan usage to see your options.
To save a dashboard, first click Preview and ensure everything is configured to your preference. Click the Save Disk icon to save the changes.
Some Last Minute Notes
Your first saved dashboard will become the new default, and any user with View & Modify or Administrator privileges can create a dashboard.
Please review our documentation on your dashboard to see these options in more detail.
As always the customization options we've discussed above are available through the Uptime.com REST API via the endpoint:
https://uptime.com/api/v1/dashboards/
One quick note on tags, as they are a useful feature we don't often discuss. An account that utilizes tags benefits in multiple ways:
It's easier to create and manage Dashboards and Status Pages
Filtering checks from your Checks screen is simplified
Search for specific checks you need much faster
Efficiently manage multiple teams or groups of checks
Dashboards (and Status Pages) reward this curation with reporting that puts the statistics you need right at your fingertips.
If you prefer one dashboard over another, you can set its menu position as "1" to make it the first item to appear. Additionally, you can tick the box Pin this Dashboard so that it appears in the left side menu. This feature is best utilized by owners and administrators, who should be the ones to set the defaults on the account.
We look forward to hearing from you regarding customizable dashboards. Please send your feedback to support@uptime.com.
Happy monitoring!
Minute-by-minute Uptime checks.
Start your 21-day free trial with no credit card required at Uptime.com.
Don't forget to share this post!