Uptime.com Blog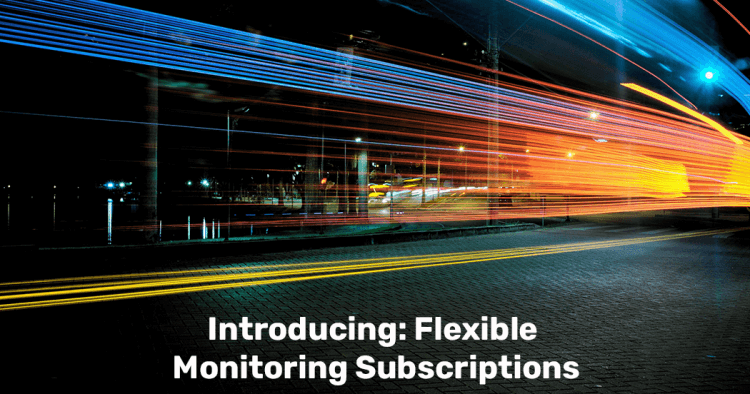 Introducing Flexible Subscriptions: Websites Are Dynamic, Monitoring Should Be Too
Have you ever felt limited or "locked into" a fixed SaaS subscription plan?
Have you ever been forced into a Sales call only to struggle with the decision – and costs – of upgrading to a higher plan tier to add incremental features or usage you need? 
Are you subscribed to a SaaS plan today that's chock-full of features or capabilities you've never used (or asked for!) – but are still paying for? 
If so, you're not alone. 
Introducing: Flexible Monitoring Subscriptions
Uptime.com has released our flexible, self-serve website monitoring subscriptions to end this struggle once and for all. 
Instead of fixed (and limiting) SaaS plans, these flexible subscriptions allow users to customize their usage and add-on new monitoring features without upgrading to a higher plan. 

How it Works
After trialing Uptime.com free for 21-days – users simply select their ideal subscription level which comes pre-packed with a *customizable* preset of starting volumes and features they'll need to effectively monitor their sites, apps, and more. 
From there – adding on features and usage happens à la carte, and is done self-serve via the Uptime.com User Panel under: Billing → Subscriptions.
Flexible Subscriptions Means Better Experiences
As our CEO Mike Welsh said in our press release – customers are hungry for the ability to quickly add features without having to upgrade plans or engage sales. 
The traditional fixed subscription plans long associated with SaaS companies are great for margins, but can negatively impact the customer experience. Gone are the days where software buying decisions were up to leadership teams selecting tools on behalf of their employees, based on:
 IT/infrastructure compatibility: Will it integrate and work well with the systems already in place? 

KPIs: Will it help us achieve our top-line business goals and objectives? 
Fast-forward to today, it's the employees trialing new tools and telling their leadership teams what to buy – and why. 
That's why it's no coincidence this shift to self-serve, flexible monitoring subscriptions has been advocated for across Uptime.com's ecosystem. This includes thousands of passionate SREs, IT, and DevOps users, along with Uptime.com's leadership and employees. 
Using Our Self-Serve Subscription Tool:
Accessing our Subscription tool is easy. Current customers and free trialists alike can find it by logging in and selecting Billing → Subscriptions. 
Once inside the Subscription tool, you can self-serve virtually any web monitoring tool you need – the moment you need it – including but not limited to:
Basic Monitoring Checks

which monitor HTTP(S), DNS, SSL certificates and everything else pertaining to website, network, and email server performance. Learn about our

suite of website monitoring checks

.

Transaction Checks

which mimic user actions so you can test critical forms, and flows via synthetic monitoring. Learn about our

transaction checks

.

Real User Monitoring (RUM) Checks

which test and report on your website's load time and performance through the eyes (and data) of real users visiting it. Learn about our

RUM checks and reports

.

Custom Checks

which monitor critical web infrastructure processes with cron jobs, heartbeats, and webhooks. Learn about our

Custom checks for process monitoring

.

Downtime & Performance Alerts

which come in the form of SMS, phone calls, emails, and push notifications to popular DevOps tools. Learn about our

incident alert notifications

. 

Monitoring Reports & Dashboards

which can be customized to display your most important alerts, checks, and SLA monitoring data, and automatically scheduled to deliver to designated contacts at designated times. Learn about our

reporting and dashboards

.

Website Status Pages

which are created for both public and internal website incident communication. Learn about our

various status and SLA pages

.
Users can also customize Uptime.com account settings like new User Account seats, or configure premium monitoring capabilities like Private Monitoring Locations or Subaccounts via Support. 
But wait – there's more. Check out everything you're able to customize and add to your Uptime.com monitoring subscriptions. 
Go Forth and Monitor!
Current customers can log-in and select Billing → Subscriptions to customize their website performance monitoring subscription. 
If you're new to Uptime.com, use our 14-day trial (100% free, no credit card required) to test our top-rated tools and build the monitoring subscription that best suits your needs. 
Our mission is peace of mind – your peace of mind. That's why we're proud to prioritize the flexibility, ease of use, and customer experience you deserve from your website monitoring partner. 
Happy Monitoring!
-Yoni
Minute-by-minute Uptime checks.
Start your 14-day free trial with no credit card required at Uptime.com.
Don't forget to share this post!