Uptime.com Blog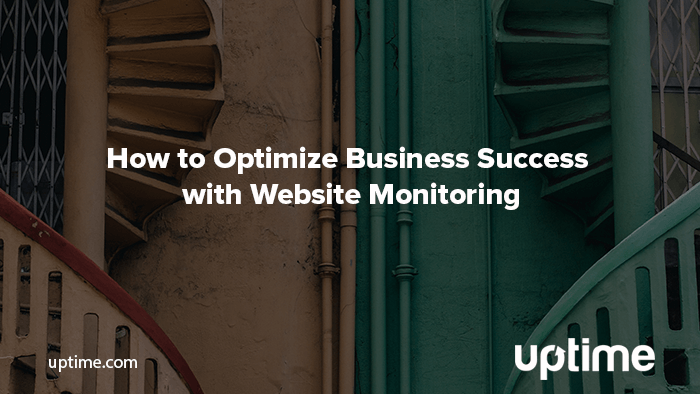 How to Optimize Business Success with Website Monitoring
There's an old proverb; an inch of time is an inch of gold but you can't buy that inch of time with an inch of gold.
In the landscape of ecommerce we hold true to that proverb, and though you can't purchase uptime outright, you can guard it with website monitoring. Time equals money but the value of convenience should also be considered. When ease of use returns profits, speed and functionality become primary resources.
How can website monitoring improve your user experience?
The Natural Symmetry between Website Monitoring and Profit
"Symmetry is what we see at a glance" – Blaise Pascal
The human brain is programmed to love symmetry, so it's easy to scan over your google analytics reports and correlate web traffic to profits or to blame a downward spike on your marketing.
Yes, advertising is a key ingredient to success but when your focus is off you miss a lot. The healthy function of your website matters big time – and from a user perspective, function is judged entirely on two factors:
Is it fast
Is it easy
It takes 20 years to build a reputation and 5 minutes to destroy it, or so says Warren Buffet. If we apply that wisdom to site functionality, incurring losses boils down to a matter of seconds.
Here is the reality of ecommerce:
Speed + Function = Competence
Competence = Trust
Trust = Customer Loyalty
Why Should You Be Monitoring your Website Uptime?
Reliability in ecommerce depends a lot on uptime; your website has to convey stability by being accessible to end users. Being accessible means a few things:
Easy to navigate
Speedy load times
Concise content and documentation
Functioning shopping cart, links, and other page elements
Secure site and payment process (HTTPS)
Do you know your destimate? What are your  site losses from just one minute of downtime? If you don't know now, go and find out. Now you have a standard measurement to say: is it worth me investing further in monitoring?
What Aspects of Website Monitoring Promote Revenue?
A lot of factors can cause downtime; bugs, expired SSL certificates, security hacks …
But not all failures will affect your site as a whole – it's possible that only your shopping cart might be hit, or users experience a lag in page speed.
Unchecked downtime is like losing a limb in battle. It may not kill you but it'll cause you to hemorrhage money.
Un-carted Territory
Now that you've read that cringe-worthy title, let's bring up some equally cringe-worthy statistics:
Out of 100% of global ecommerce customers in 2019 that initiated checkout, an average of 77.13% of them chose to abandon their carts
Slow load speeds, (not even full-blown outages), can increase cart abandonment up to 75%
For companies like Walmart and Amazon, every second of decreased load time equals an increase in conversion rates, while just 100ms of delay can equate to a 1% loss in revenue.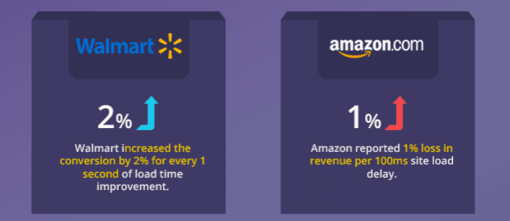 The consumers of the internet have a brutal 3-second rule; a whole two seconds less than the standard 5-second rule we allow for eating food from the floor. A good first defense tactic is to check if you have a slow website, and be sure your load time isn't cutting your revenue off at the knees.
Website Monitoring for Total Visibility
Monitoring isn't just about receiving alerts and responding to errors; it's your website's own internal audit system, and there are two avenues that return the most data.
1. Lots and lots and lots of checks
Checks create visibility by pinpointing elements and processes that are failing. You want to perform checks to ensure that every element of your site is UP from your SSL to your shopping cart. When talking about monitoring for revenue, start with adding HTTP(S) checks at one-minute intervals to support continuous synthetic monitoring.
Tip: Use HTTP(S) checks to monitor the URLs for your Contact and Service pages, not just your homepage. 
You can also add custom checks for process monitoring at any interval you need; like every hour or every day as processes are performed. Configuring additional HTTP checks and custom Transaction Checks will provide deeper information on specifically targeted statuses and site elements.
2. Reporting and Audits 
Site testing, IT Audits, and reports will paint a detailed mural of the deeper processes of your site and open you up to troubleshoot obstacles and prepare for worst-case scenarios.
Check the Big Picture
Entire Site Monitoring is a simple feature to use and offers, (all at once), checks for the major factors of running a secure and trustworthy site:
HTTP(S)
DNS
SSL
Blacklist
Malware/Virus
Once you've established some history, the checks and monitoring features can be dissected into specific audit logs that can assist your IT team in a full website audit you can use to develop successful strategies.
As a more immediate asset, the Alert logs give time stamped data of past status changes to the probe servers related to your checks. Technical data of shifts in status from OK to CRITICAL can be useful when figuring out what caused an outage.
Alerts can also be tested to check how fast notifications travel to your team, and the time it takes for them to respond. Awareness through audits and alerts helps prep your team and reduce losses during an outage via informed action and quick response time.
Website Monitoring from Multiple Perspectives
Always monitor from two vantage points. Yours, and the end user's.
The best way to test your site's usability is to analyze it from the user's perspective. To do this we like to combine RUM Checks with Synthetic Monitoring for a 360º view from backend operations around to the user's experience.
Real User Monitoring (RUM) Checks rely on user interaction. You insert an HTML snippet into your site, create URL patterns and assign them to specific groups to track your site URLs. Reports are then generated by monitoring and collecting latent data to create an overview of user traffic and demographics, device type, and interactions.
RUM Checks give you the statistical half of the user story, Synthetic Monitoring gives you insight into interactive elements like signup forms, shopping carts, and user registration via Transaction Checks. Establish check steps; travel to a URL, wait for the page to load, fill in data fields, etc. to get direct feedback on any element.
Website Monitoring: Don't Waste Your Data
One more saying for the road: Waste not, want not.
In May of 2019 Salesforce had to deal with an outage that targeted its Pardot marketing automation system; a system that searches out leads via CRM data to help users build marketing campaigns and extend their reach.
The issue boiled down to a script error that "inadvertently gave users broader data access than intended" causing a security breach. The kick in the pants is that the Pardot system is automated to scan through the same lead-generating data that could have potentially prevented this issue, had the data also been used for automated testing of the new scripts.
Website uptime and user experience are linked when it comes to revenue, but we can get stuck thinking of monitoring as focusing on site function alone. The final kernel of wisdom is, don't waste your data.
Use the information you get from monitoring to enhance usability and strengthen your backend; then follow those updates full-circle and push them through to the user to increase your bottom line.
Minute-by-minute Uptime checks.
Start your 14-day free trial with no credit card required at Uptime.com.
Don't forget to share this post!