Uptime.com Blog
How to Choose Your Web Monitoring Provider | Advice from Uptime.com for 2021
Waking up at 3 AM to deal with a downed service is a special kind of pain, isn't it? A cross between annoyance, fury, and half-asleep melodrama. Maybe you curse yourself or your team. It's ok. We've all been there. Here at Uptime.com we want to help you get through life's painful little moments with some advice on how to choose a web monitoring provider.
It's what we do, so we hope our advice and suggestions will lead you to a good fit. You might still have to wake up at 3 AM, but if you take our advice you will have the tools you need to deal with the problem.
Let's look at the most important factors in choosing a web monitoring provider.
Which website monitoring check types are most useful?
Before selecting a provider you want to assess your needs, so it's helpful to think about the unthinkable outages that your team might be dreading.
You likely know some of these points of failure well, and may already have monitoring in place for parts of them. What about unknown points of failure, AKA the infrastructure that hasn't really ever gone down and you forgot about? Think it can't happen to you?
Basic Checks and Web Monitoring Detection
One of the first points we want to raise is automation, since it's so critical to CI/CD and Agile methodologies. What kind of automation is your prospective provider offering that can help expedite setup costs?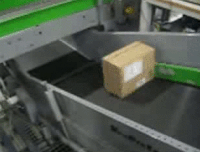 We use a Monitor Entire Site tool, which does exactly what it says. You can configure 14+ check types depending on what the tool finds when inspecting your site.
These basic checks usually do one thing, like monitoring for SSL expiry or checking email servers. Checks like these can slip your radar, since what likely prompted your search for monitoring was something specific to an outage you experienced. You should also configure HTTP(S) and Ping ICMP checks. These checks ensure round-the-clock connectivity, and offer first alert and response capabilities.
These checks tend to form the underlying backbone to monitoring, whether it's a startup or enterprise driving the need.
Plan Considerations and Allotments
Logically, you might be asking about allotments and needs. That depends on your infrastructure, and Uptime.com aims to cater to each level of business at various stages in growth. At the basic level, we're offering a cost-effective plan that provides some advanced capabilities while allowing you ample basic checks to make sure the lights are on. Higher tiers will add more advanced features, like public-facing status pages, additional checks (and additional advanced checks), as well as more users or reports.
You most likely began your journey wanting to know if your site was up or down. Considering pricing at this early stage will help you weigh the benefits of investing in more advanced checks.
Protip: Make sure you are clear on how your provider supports alert delivery. It's a good idea to centralize alerts to the space your team lives and works, and here is a quick example illustrating why:
An upcoming SSL expiry alert is issued to the team Slack channel. Dev recognizes this error and forwards it along to the project manager who can then coordinate with finance to pay the bill and renew. All with less back and forth than email with a smaller chance of important info getting lost in the stack.
Advanced checks every devops team should consider
An advanced check offers multi-step features, or more complex data gathering than your run-of-the-mill monitor. Such checks can handle complex user interactions, or even return real user data to provide a clear picture of performance.
We recommend all users try a Transaction check, and a RUM check, with API checks as applicable.
Let's look at how RUM and Transaction Checks can work together:
Your business has deployed RUM code to its URLs, and real user data shows performance is great! Time to add to the application.
You develop a completely spiffy new feature that is just gangbusters. Upon deployment, you are all headed out for the eve to celebrate at your local eatery when suddenly you notice disaster is afoot! Alerts pinging all of your colleagues, who scramble to respond and learn what went wrong. Users can't log in!
You work through the evening and trace the root cause back to what you thought was a margarine smooth deployment. In post mortem, you decide to examine your RUM data and that's when you notice a sharp increase in response time the day of the deployment. You lower your RUM check response time, and future outages are easier to detect and maybe respond to before they bring your evening to a halt.
Having recognized a potential issue, you may also add a Transaction check to test frequented user routes, other checks or escalations to improve your alert response. This is especially useful as you grow in size, where response time at the lower tiers of service can make or break SLA fulfillment.
Useful Tools A Web Monitoring Provider Should Offer
Reporting is not a nice-to-have, but it is not essential for everyone. The same goes for integration or API access. So this section tackles what we think are useful tools, and why you might want them.
Public and private reporting
A familiar scenario: the quarterly performance review. You must report on your deeds and may perhaps see a reward for your diligence. But if you show up empty handed you get nothing, and maybe won't have a job for the foreseeable future.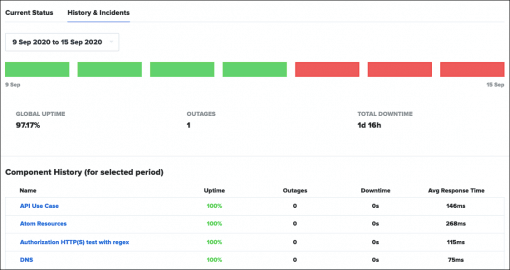 Visibility and accountability matter. They matter to your management and executive team precisely because they matter to your end user the most. Let's drill this into your head: reporting is about end user fulfillment. Devops has an opportunity, not an obligation, to provide good customer service here.
Why should your IT manager care what the end user is experiencing if he or she is the person keeping it running? Because this person likely does not want to answer customer tickets and fix the problem.
If you use a public-facing status page, you essentially eliminate most, "Why can't I access your site" tickets. If your support staff does not need to respond to hundreds of tickets with the same answer, querying you hundreds of times in the process, how much time and money would you save?
Bonus points for status pages that allow branding. Seamlessly integrating your Status Page with your website gives a more professional appearance.
Ease of use and value
Setup carries its own hidden costs, like onboarding other team members or even just convincing management to say yes to your proposal. If you're enterprise, it's important your web monitoring provider is sensitive to these needs. Providers that offer invoicing, onboarding, and a UI that is easy to use should make the top of your list but you won't know a lot of these answers until you start a trial.
Finally, make sure pricing is clear and simple to understand. Plan selection is a difficult choice, so a clear breakdown of features is important. Especially as you discuss your options with others on your team.
Alerts and Observability
Alerts are the crux of monitoring, and important that they vibe with what your team wants to accomplish. Flexibility is really the most important metric here, as alert delivery is equally as important as the contents.
We saw an example of this above, showing how Slack acted as a central workspace with integrated alerting. But DevOps may have eyes on other platforms like PagerDuty or Splunk. Technical alerts are most important there, whereas general service alerts might be most useful in Slack where everyone has visibility.

This structure is highly dependent on the needs of your organization, so providers who offer some flexibility here can be useful.
Protip: Oftentimes a bridge app, like Zapier, can connect your service with other services. Look for these bridge applications, as well as webhooks and API services, which offer lots of options to connect monitoring with your preferred platforms.
Support is an unseen factor in web monitoring
When your team needs help interpreting alerts, upgrading a subscription, or just generally needs to know functionality of the application, it's important a responsive support team is available to you. This includes documentation, which can offer use cases and thorough step-by-step instructions.
Good documentation brings you up to speed quickly, and makes your calls into support fewer and farther between. When you feel empowered to use the tool, your efficiency improves. Bonus points to providers that incorporate outside toolsets, browser extensions, or other ways to go above and beyond for you.
Committing to a web monitoring provider
When you decide to monitor your applications and websites you are taking an important first step toward building user trust. Of course, you also benefit from fewer panicked midnight wakeup fixing sessions with more data at hand, but without your users there's nothing to panic over.
Take the time to get these requirements right. Whether you choose us or another provider, we hope web monitoring becomes a useful tool in your arsenal for the year ahead.
Minute-by-minute Uptime checks.
Start your 14-day free trial with no credit card required at Uptime.com.
Don't forget to share this post!