Uptime.com Blog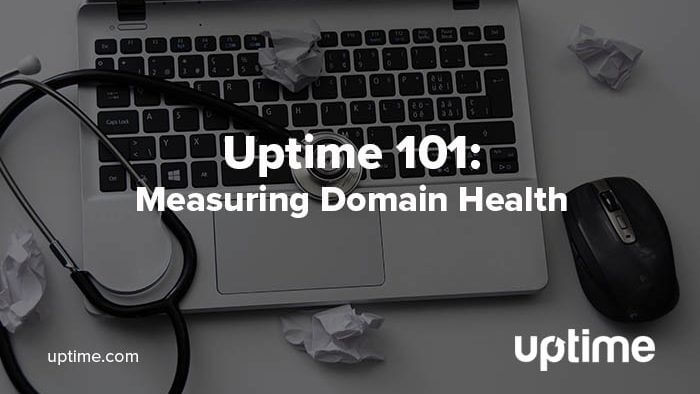 Uptime 101: Measuring Domain Health
High-level thinking thrives on interactive reporting. A wealth of data provides great minds with what they need to draw meaningful insights. Teams can then make informed decisions with measurable outcomes.
Troubleshooting domain performance and server management both require ample data for root cause analysis. You're not just looking for downtime. Instead, you're studying overall performance and tracking incidents as they unfold.
Today, we'll study some methods we use to quickly assess the domain health and identify potential problems. We'll look at how to check against every potential problem, including site blacklisting or hacking, in our performance assessment.
Let's get started.
Dashboard – Learn The Status of the Checks You've Configured
Let's begin with the Dashboard, which shows us the number of checks both up and down.
This screen gives us an easy reference for:
Past 24 hours of uptime as a percentage
Average response time in the past 30 minutes
Links to all failed checks
Links to all working checks
The Dashboard is useful for quickly assessing what happened when you were away. Click View Down Checks to review only failed checks, for a quick reference into priority action items.
In practice, the Dashboard provides your quickest reference for incident reporting internally. When you deploy a new feature or perform maintenance, this screen tells you how that deployment affected server performance. It also provides a list of recent alerts that you can dig into by clicking View next to the alert for specific technical data about the incident.
Domain Health – Measure Performance and Configure Checks Simultaneously
For overall performance assessment, nothing beats the Domain Health Check. This all-in-one tool monitors health and configures missing checks for critical infrastructure simultaneously.
We recommend that users begin with the Domain Health report to look at existing failures the moment they sign up with Uptime.com. This check not only tells you what failed, but also what has passed. It even provides some warnings with more insight about potential problems. It's common to find a DNS mismatch or problems with email configurations, especially on mid-sized sites with less IT support.
Uptime.com also checks the site against spam, blacklists, and malware lists to be sure that your site is not a threat to visitors.
After reviewing your report, select All checks and click Schedule Checks Now to instantly configure any missing checks for domain infrastructure.
Website Speed – Audit Your Site's Performance and Test New URLs
It's good to run a monthly, or bi-weekly audit to check site speed, especially on a large site that sees many changes over time. The Uptime.com Speed Test tells us some key statistics concerning:
Average load time
Number of requests
Total size of requests
Performance grade
Mobile Performance
Try this tool out on a specific URL, like a new landing page. You can also use it when you make significant changes to a specific page, such as a product page, where you might want to know how random URLs perform from different locations.
The point is to use this tool not only as a monthly audit of your domain, but to go beyond the home page and look at your highest converting pages.
The Page Speed Test provides an analysis of each content type via the Waterfall, which visualizes both time and size of each request. Use this section to identify potential causes for slowness so you can start fixing those issues and prioritize based on impact.
Global Uptime – Global Performance Testing with Granular Data
eCommerce is all about reach, so it's important that when you do make a new customer contact that you're able to sell to them.
We use the Global Uptime test to determine how our domain stacks up worldwide. This test pings our domain, and associated infrastructure, from 10 locations around the world.
Global Uptime can tell us where our server performance is bottlenecked, and help to localize the problem to a specific location. We can break this data down request by request, or look at the total time spent loading the entire page.
When we compare data country by country, variances in behavior become more apparent. In our analytics, it may look like the bounce rate from Europe is increasing. But our server infrastructure may be underperforming in that region. We can make improvements, either switching providers or optimizing our site, once we better understand the issue.
Key Takeaways
Site performance is critical to delivering the best possible user experience, and no facet of our infrastructure can afford to be overlooked. As businesses grow with data, applications, and complex eCommerce interactions, monitoring performance becomes critical to success. Even small changes can have major improvements in bounce rate and retention.
Monthly audits designed to check for speed, coupled with domain health assessments, are important weapons in defense of your website and infrastructure.
Minute-by-minute Uptime checks.
Start your 14-day free trial with no credit card required at Uptime.com.
Don't forget to share this post!