Uptime.com Blog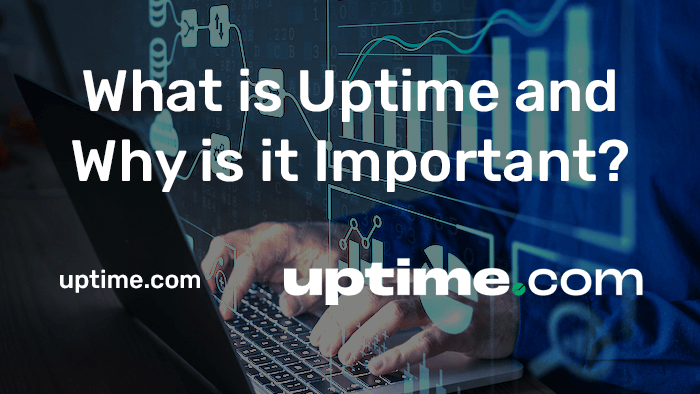 What Is Uptime and Why Is It Important?
Remember the last time you tried to visit a website or pay a bill and the spinner just kept going and going? That site needed uptime monitoring! "Uptime monitoring" refers to the practice of tracking a website's availability and performance quality over time. This type of monitoring includes services that report on the availability of a website or server. Monitoring tools ensure that your website or server is running smoothly. These tools will send an alert if you have any issues with your website or server, so you can take action to fix them.
What Are the Benefits of Uptime Monitoring
Uptime monitoring services can monitor any type of server, including web servers, email servers, databases, and more. Some of the benefits of uptime server monitoring are:
You will know if your server has been down for a certain period of time.
Get notified if your site has been blacklisted or if it is in a malware database.
The uptime monitor will alert you if your server has a problem.
You will be able to measure server performance against an SLA or baseline.
You can check for specific status codes during and after incidents.
Keeping track of your server's uptime can provide important information about its availability.
Uptime monitoring uses at least one monitoring location that allows users to monitor their servers and send notifications when certain conditions have been met, such as when the server has been down for a certain amount of time. A typical uptime monitor will also have graphs and charts that track the performance of your servers and predict their future availability.
How to Choose the Best Uptime Monitor for Your Business
Choosing the right uptime monitor can be a daunting task. You can choose from many different options that vary in features and pricing. The first thing to consider is how often you want to be notified about downtime periods. Some monitors only notify their users when there is an outage, while others provide regular notifications, even every few hours.
Some monitoring solutions have operating system considerations, but cloud-based monitoring solutions, like Uptime.com, have the advantage of operating independently and, thus, more reliably. Another factor is the time it takes for the monitor to alert you and start recording data. Monitoring tools usually have a delay between when an outage occurs and when you are notified, so try to find one with minimal lag time. Finally, as always, you should consider different costs and the availability of other features.
Choosing Uptime.com
Even a basic monitoring strategy includes procedures, processes, and tools used to monitor the performance of an organization's website. Your website needs to be monitored to maintain its performance, maintenance, and security. You can't go wrong with products from Uptime.com. Their features include web monitoring checks for HTTP(S), SSL, and synthetics, as well as alerting via SMS/call and email when things happen. They've also got you covered with best-in-class reporting featuring custom dashboards and uptime performance charts, status pages, and dozens of integrations.
Uptime.com offers support, free tools, and analytic insights at an affordable price. Get started today!
Minute-by-minute Uptime checks.
Start your 14-day free trial with no credit card required at Uptime.com.