Uptime.com Blog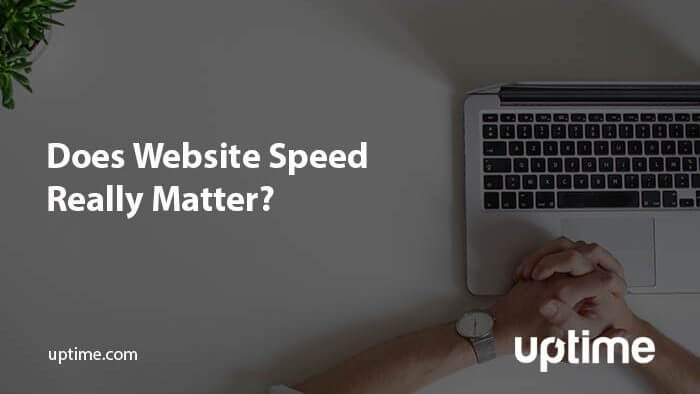 Does Website Speed Really Matter?
Imagine going to the store and waiting in line for 10 minutes while the cashier calls the manager over to help the customer in front of you. That is how it feels when you are waiting for a slow webpage to load. You get impatient and even contemplate moving to a new checkout line (or website).
Many people want to shop, bank, and pay bills online because it is quicker. You don't have to spend the time driving to the bank and waiting in line. If your bill is due the next day you can avoid a late charge.
The biggest difference between in-store and online customers is that the online ones do not expect to wait. They want instant access and if they don't get it, they will move on to another, faster website.
Why It Matters
People are impatient in general. The need for speed is why fast food restaurants, self-checkout POS systems and drive-thrus are so popular.
When it comes to online businesses every second counts, literally. Website speed matters because online customers expect convenience. The modern world is busy and always in a hurry. If your website takes a split second longer to load than a visitor expects – you lose a potential customer. According to KISSmetrics, 47% of consumers expect a web page to load in 2 seconds or less, and 40% of customers will abandon a website that takes more than 3 seconds to load.
A slow webpage can cause problems with customer experience issues, as well. If a website's payment process takes too long to load, customers may click the back button on the browser and try again – sometimes resulting in a double charge to the customer's credit card.
Website speed is also important to Google rankings. In fact,  it is a key SEO ranking factor. A slow webpage won't find its way into the top search results and you'll miss out on the potential increase in organic traffic.
What You Can Do to Improve Your Website Speed
Companies often hire a web developer to maximize website performance, but you can also take steps to improve website speed yourself:
Remove or compress oversized images and anything unnecessary that is slowing your page down. For WordPress pages, there are a variety of plugins available to compress images already loaded to your site so you don't have to upload new versions of the same thing.
Enable caching so returning customers can load the webpage a lot faster
The free tool will provide recommendations for improving the speed of your website. You can address the issues found and run another speed test again to see whether or not the speed has improved. You can repeat the process as many times as you want to get your website running at higher speeds.
Improving your website speed is one way to stay ahead of the competition and get your website to the top of the search engines. A faster website will also improve visitor and customer satisfaction.
Minute-by-minute Uptime checks.
Start your 14-day free trial with no credit card required at Uptime.com.
Don't forget to share this post!