Uptime.com Blog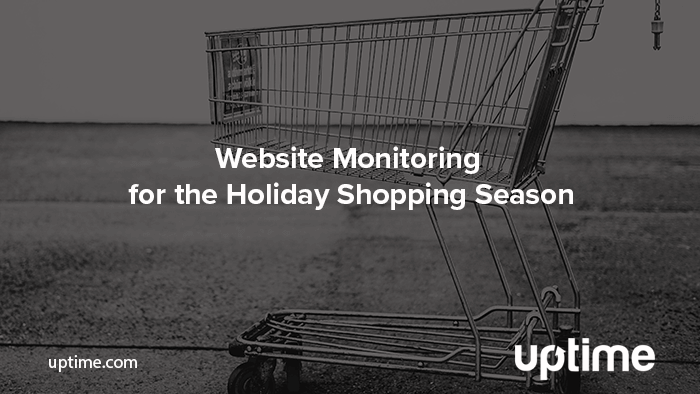 Website Monitoring for Holiday Shopping Seasons
The events of 2020 accelerated ecommerce sales. According to Adobe Analytics (analyzing website transactions from 80 of the top 100 U.S. online retailers), shoppers shelled out $10.8 billion online during Cyber Monday 2020 — a single day of shopping — for a 15.1% year-over-year increase.
2020 was just the precursor to 2021, which may actually warrant use of the word "epic", making online shopping more appealing than ever before. Today's consumer is savvier online with multiple accounts ready for spending. COVID-19 and various restrictions also still make the remote shopping option extremely attractive.
Shocking statistic for the day: experts say this year's rush of digital traffic and engagement will account for more than 34.9% of 2021's total sales.
The fast approaching sales season is a lot like an oncoming wave. You've seen waves this big before, and maybe you've surfed right over them. But this wave is looming and as it gets closer it starts to cast some doubt on your prep work.
So with eyes firmly set on the task at hand, let's dive into what uptime monitoring and responding to incidents will look like during peak online shopping.
Every Shopping Season Brings Traffic Surges
The simple question here is: are you prepared?
During sales events, you can expect hourly traffic spikes as real-time ads and deals lead consumers from site to site. Users also refresh pages to check stock, availability, and status of a sale item on top of the onslaught of new traffic coming from all directions.
More can fail under these chaotic conditions. 
But it's easy to handle these incidents confidently and efficiently when you use Uptime.com website performance monitoring.
Performance Monitoring Saves Downtime
Holiday shopping is all about speed, and speed is a good indicator of a site's health. Servers that show a decrease in performance could be suffering from routing issues, bandwidth, or poor optimization just to scratch the surface of a litany of potential root causes.
When your site is down, you want accurate confirmation fast with as much technical detail available. Uptime.com HTTP(S) checks are powered by cURL, offering advanced monitoring capabilities:
HTTP/2 monitoring for servers that utilize and support it
TLS 1.3 support allows Uptime.com to detect SSL errors to help focus your efforts
Improved handling of redirects and chunked content
Post strings, expect responses, and send HTTP Headers
The HTTP(S) check looks for server code 200 OK, which means your URL should be accessible to everyone. Optional features also make it a powerful tool for monitoring API endpoints.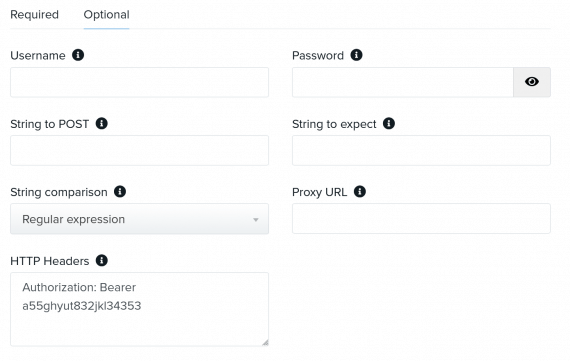 To monitor for both website uptime and performance, we recommend using duplicate HTTP(S) checks. The first should be configured with customized timeout thresholds to track performance degradation. As response time rises, your threshold checks will trigger alerts so your team can proactively address issues before your site ever sees downtime. For example, let's look at 3 HTTP(S) checks:
1 minute intervals, 5 second threshold
1 minute intervals, 7 second threshold
1 minute intervals, default threshold
Checks 1 and 2 are your feelers. When they go down, you note how long and whether both checks were alerted. Check 3 is where the action is. If this check goes down, you know something is wrong and have the details to prove it.
Level up your monitoring with Custom checks that give deeper insights into the jobs and processes that drive your site's critical components. Both webhook and heart beat checks make it easy to monitor anything from customer databases to the jobs that drive critical sales processes.
It Doesn't Matter Who Can Reach Your Site If It Doesn't Work
Consumers will make lightning fast purchasing decisions during a big sale season so they can make sure they get the best deals in stock. If a site isn't reachable in an instant, they're just as quick to leave as they are to buy. It's estimated that 8 in 10 consumers won't return to a website with performance issues.
Handling Surges in Transactions
Creating a synthetic monitor is a good step toward improving peace of mind by monitoring the user processes driving big business for you. You could lose  millions if the third-parties that handle critical components in your shopping cart fail.
You and your providers are grappling with a larger volume of transactions during peak holiday shopping seasons. With Uptime.com Transaction checks, you can quickly identify site downtime and either get the word out to users as soon as possible or make critical decisions to revert to backups and alternatives.
Establishing a Plan for Recovery
Prepwork like this lays the foundation for catching incidents as they unfold, but all of that work relies on your team preparing for the outage. What can you do to improve response time?
Run a Game Day
During slower seasons, run a game day scenario on your team and look for areas to improve. You can crash your dev site with virtually no consequences under normal circumstances. Why not designate a team member to do it under controlled circumstances?
For one, you will learn about critical flaws in your system if you conduct intrusion testing. You will also give your team the chance to react to an outage and fix the problem. Valuable experience when millions of dollars aren't on the line.
Designate the Right Person
Someone needs to take point, and let's assume for a moment that person is the system's owner. Maybe it's you and you wear all the hats. No matter how it's parsed out, you need to develop an on-call and escalation protocol that works for you and your team members.
Uptime.com simplifies this process with on-call scheduling, check maintenance mode, and escalation techniques that both improve visibility and put technical alerts front and center for the person who can act on them.
Research Your Options
Let's assume the absolute worst occurs and a provider you count on for payments goes down for several hours, maybe even an entire day. How long is this tolerable on a big sales day?
If that question has inspired a knee jerk "won't happen to me" reaction, it's time to research backup plans.
Accept that the third party providers you rely on could fail, and have a plan B lined up in case the inevitable occurs. It may be worth investing additional resources and acquiring temporary subscriptions with other providers to have a fallback that isn't time intensive.
Wrapping it All Up
We know the holidays are big, and the sales are getting bigger. We know demand is increasing. So what will you do about it?
Start building up your monitoring infrastructure now. Evaluate your contacts so the right alert is delivered at the right time, and use every incident as a learning experience. If you start now, you also have time to build right.
Don't know where to start? Uptime.com has you covered. Begin with Monitor Entire Site to check your site's general health, and reach out to us if you need help digging deeper.
Minute-by-minute Uptime checks.
Start your 14-day free trial with no credit card required at Uptime.com.
Don't forget to share this post!