Uptime.com Blog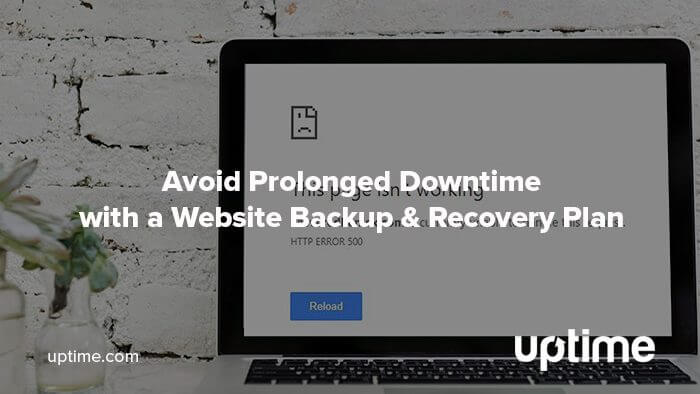 Avoid Prolonged Downtime With a Website Backup and Recovery Plan
Website downtime is inevitable.
Extreme weather, equipment upgrades, or major site updates are all ripe conditions for downtime.
However, there's always a problem we don't see coming. A website backup and recovery plan is essential to keep unplanned downtime from severely impacting your business.
If you already have a plan, use this guide to revise or make changes to your existing one.

Crunching the Numbers
The exact number depends on a variety of factors, including how dependent your business is on the web (it's usually more than you think) and when the outage occurs.
For a company like Amazon, 24 hours of downtime would cost the retailer millions.
Industries that rely on web-based systems including healthcare and government services suffer major losses when employees can't access records online.
Last year's outage at TSB cost the UK bank over 431 million dollars and 80,000 customers.
IBM Security sponsors a yearly study of data breaches. If an outage includes a data breach, it costs the average US company almost 8 million dollars, or $148 per record.
In the case of data breaches, IBM Security reports companies with a documented website backup and recovery plan will save over $340,000.
Before You Begin Your Website Backup and Recovery Plan
Before you begin, you'll need to have some things in place:
Website Backups
Backing up data is a no-brainer for the enterprise IT professional. But over half of small businesses are not prepared for data loss.
Here are some best practices for backing up business data:
Create a schedule. Backups can be often as hourly, but for many businesses, daily backups are more than enough.
Automate backups. Save IT resources for current issues and challenges.
Save backups locally and online. If you have a working copy of your website locally, you may be able to use your backup until the problem is fixed.
Backup more than just your website. Data from cloud providers, like your CRM, should be included in scheduled backups.
Test your backup systems. Periodic testing of data backups ensures the information is readable when you need to access it.
Website Monitoring & Hardware Monitoring
In order to know your site is down, you'll need a website monitoring system in place. Third-party monitoring tools provide critical information on site availability and performance issues.
By creating several different tests (called checks) for your website, you'll be able to more accurately pinpoint what the problem is and take the proper steps to correct it. The Domain Health Check tool is a good place to start if you're new to Uptime.com, or haven't setup checks outside of the basic HTTPS check.
Additional checks can record changes to your DNS records, or check your URL against databases of known sources for malware and viruses.
In addition to setting up monitoring for your own website, you can create checks for web-based services your company relies on to do business.
Internal monitoring is a critical part of understanding your own network, including associated hardware. By continually monitoring metrics like CPU Usage, you'll be able to see when a piece of equipment may need to upgraded or isn't performing as it should.
"When we can identify the exact type of transactions failing, we know what servers and software components those transactions utilize, and focus out troubleshooting efforts on those," says Ian McClarty, CEO of PhoenixNAP Global IT Services.
Writing Your Website Backup and Recovery Plan
Once you've done the prep work, you're ready to begin your plan. While every business is different, your plan should include the following key components:
Identifying the problem
Key personnel
Informing customers or users
Steps to resolution
Identifying the Problem
If you're using web monitoring software, an alert informs your company's designated contact of a problem. Your plan should detail which contacts receive an alert, including expected response times. If response times aren't met, an escalation plan would elevate the problem to more senior-level staff to avoid extended downtime.
Other steps depend on what the problem is, but could include contacting your web hosting service or web service provider if they are the source of the problem.
Key Personnel
Depending on the size of your company, a number of staff may be involved. Not only should you include IT staff needed to troubleshoot and correct the problem, but also list staff members responsible for keeping customers and employees informed.
Informing Customers or Users
How will you inform others of downtime and who needs to know?
If your website is down, public status pages are a simple way to let people know about downtime. Uptime.com hosts your account's status page, so you can inform users of your efforts to bring services back online. We suggest using social media to post these status page updates when your homepage is inaccessible.
You can add detailed notes to let people know you're working on the issue, and when you expect resolution. Want to restrict access? Add a login and password and share it with only your authorized customers.
Other options to inform users of outages include integrations, your company intranet (if it's up) and email.
Steps to Resolution
How will you resolve the problem once it's discovered?
This part of your website backup and recovery plan should include a list of all possible problems and the steps necessary to resolve them. The best way to write this part of the plan is to create checklists. Don't forget to include how to test your site for data loss.
Prepare for Downtime With a Plan
Downtime happens. Are you prepared?
Create a website backup and recovery plan for your site today. To assist with recovery. use a web monitoring tool like Uptime.com. You can include checklists in the notes section of alerts to inform IT staff of what steps to take or where to access your company's plan.
Don't let downtime take down your business. Create a plan today.
Minute-by-minute Uptime checks.
Start your 14-day free trial with no credit card required at Uptime.com.