Uptime.com Blog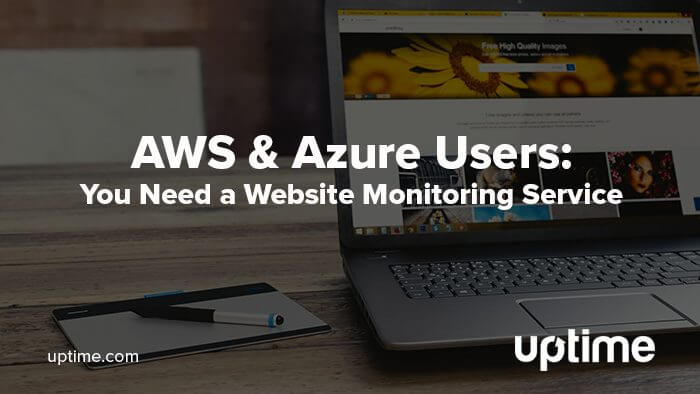 Using AWS or Azure? Why You Need a Website Monitoring Service
Already have a monitoring service with your current host? Does your plan include Amazon CloudWatch, Azure Monitor or another proprietary monitoring tool?
You might want to check the fine print.
These services often provide internal web monitoring only. While they may check HTTP availability from locations outside their network, HTTP checks alone are not sufficient.
Internal Web Monitoring: The Pros & Cons
Internal website monitoring checks servers behind a firewall. This type of performance monitoring includes metrics like CPU load, memory usage, disk space, and page load times.
If you're using your own hardware, these stats alert you to when memory is low or servers are not performing as they should. This information is useful to plan for equipment replacement, or to justify increasing capacity with additional equipment and upgrades.
If you're using a web-based infrastructure like Amazon Web Services (AWS) or Microsoft Azure, the monitoring is still only checking behind the cloud provider's firewall.
Internal web monitoring is extremely useful for server performance and diagnostics, as well as capacity planning and upgrading. Keep in mind that this information is useful to your organization, but provides no insight on the end user experience.
Potential Gaps With Internal Website Monitoring
If your internal network has no issues, downtime can continue undetected until a website visitor brings it to your attention. Monitoring the user experience, or checking that the URL is responsive, allows your organization ample response time.
Some services include HTTP checks from external locations, but these checks only tell you a site is down. They may not provide any additional information to help you pinpoint the problem. In addition, these checks don't simultaneously watch for performance issues like slow site speed.
Internal monitoring is built for checking performance, not ensuring everything is functional. It's part of a larger strategy IT teams adopt to catch problems outside the network, and maintain rapid response to website downtime.
What is External Monitoring?
To detect problems outside the network, external or third-party monitoring solutions test availability from a variety of locations at predetermined intervals. This provides critical insights into the user experience.
In addition to alerting you of site downtime, external monitoring also provides reports on other infrastructure, including:
DNS record errors
SSL certificate expiry
Malware and viruses
Mail server issues
Domain blacklisting
API
TCP/UDP availability
External performance monitoring software can also test elements on your website to make sure they work properly, a key component for consumer-facing websites and applications. Multi-step transaction checks give you the ability to test shopping carts, user registration and login, and other key components that may not work even when your website is available.
Check out Uptime.com's transaction checks to see how you can create multi-step checks without writing a single line of code.
External monitoring can also provide actual data on site performance with Real User Monitoring (RUM). These reports provide actual data on how fast your site loads from a variety of locations and devices. RUM reports give you the insights you need to adjust your site and alert you when load time exceeds expectations.
Questions to Ask
Understanding what you're getting with a website performance monitoring service comes down to asking the right questions. To help you get started, here are some questions to ask (internal or external):
Do you offer more than HTTP checks to determine site availability?
How often do checks run and from how many locations?
Does your service integrate with other popular tools like Slack or PagerDuty?
Can you set a maintenance schedule to avoid false alarms?
Can I track domain expiration or nameserver changes?
What tests are available for site performance?
How does alerting work and what control do I have over how and when I receive alerts?
Can alerts escalate unresolved issues automatically?
Learning what type of tests are available and how much control you have over alerting are two key components to a good uptime monitoring service.
Get The Whole Picture With External Web Monitoring
There's nothing wrong with using an internal web monitoring service to monitor server performance. But to get a complete view of how your site performs, invest in an external monitoring service like Uptime.com.
External monitoring will give you the information you need to improve website performance and availability. Try it today.
Minute-by-minute Uptime checks.
Start your 14-day free trial with no credit card required at Uptime.com.