Uptime.com Blog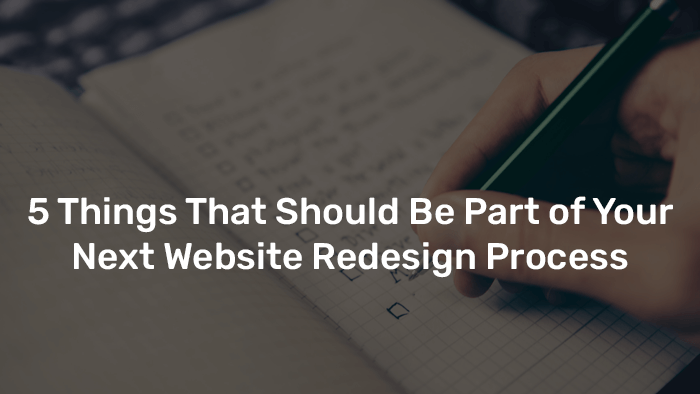 5 Things That Should Be Part of Your Next Website Redesign Process
Change is inevitable in this world, and that includes your website. The best way to stay current with the latest trends and technology and meet all of your user experience, speed, performance, conversion, and optimization needs is through a website redesign.
A well-designed website will be more user-friendly and conversion-optimized. On the other hand, a website that is not updated regularly can quickly become dated and lose its impact. A poorly designed website will do more harm than good.
That said, here are five things you should do in your next website redesign:
1. Identify Your Problems
You need to identify your website design problems first to know what changes to make to the website in the first place. To do that, take a look at the overall design of your site. Is it cluttered? Is it easy to navigate, or getting the page a challenge? Are the colors pleasing to the eye? These are all important factors affecting how users interact with your site.
Source: Arngren
For example, a quick look at the website above and we can conclude the following: It doesn't follow good ecommerce website development practices. It is cluttered, difficult to navigate, and the colors are not pleasing to the eye.
These are the issues to address in your redesign. One of the things you'll need to do is place essential elements in easy-to-find locations. You should also use accessible colors that contrast nicely and adhere to web content accessibility guidelines. 
Before redesigning your website, consider the goals your current website is not meeting. Does it rank well and drive quality traffic? Is it converting, and are those conversions the right ones? Is it generating the leads you're looking for? Knowing this will help narrow down the design problems that need to be addressed.
For example, if your current ecommerce site isn't driving conversions, you'll need to work on the site's overall look and feel. So, among other things, you'd need to make sure your CTA button is prominent and stands out on the page.
2. Check Essential Website Metrics
You need to check if your current website meets essential metrics in the first place before proceeding  with your website redesign. That way, you can make the necessary adjustments to ensure the redesigned website meets these metrics.
But what do we mean by essential metrics? Two things: speed and uptime. 
Speed is perhaps the most vital metric to consider. Users expect websites to load quickly, and if yours doesn't meet their expectations, they're likely to click away but improving your load time by just 0.1 seconds can dramatically increase conversions.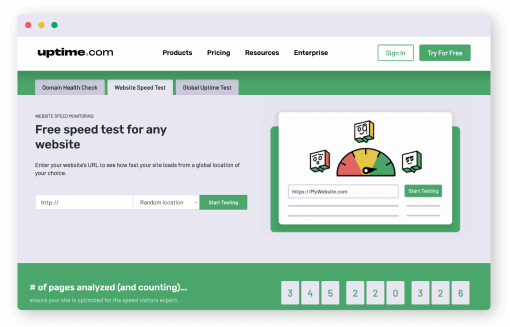 Source: Uptime.com Page Speed
Use the Uptime.com Page Speed test to check the speed of your current website before the redesign. Simply enter your URL, and the tool will provide you with a waterfall outlining which content loads fastest, and highlighting areas for improvement. Uptime.com scores your site for mobile and desktop performance, so higher scores mean a faster, more responsive site.
There are things you can do as a web developer to improve page load speed. For example, reducing the size of your images either by reducing their resolution or cropping them. You can also dive into the HTML code and look for redundant or unused code. Finally, you can remove unused plugins.
Uptime is another metric to consider. If your site is down, users will be unable to access it, resulting in lost revenue, upset customers, and impacted SEO rankings. 
If you do not actively monitor your site for uptime, you may find downtime slipping between the cracks. Use web monitoring to catch this downtime, and verify that you have chosen a reliable web hosting provider for your website redesign. Some hosts have better uptime records than others. You must find a hosting platform whose uptime is 99.9% and allows you to scale up as your site's traffic and engagement increases.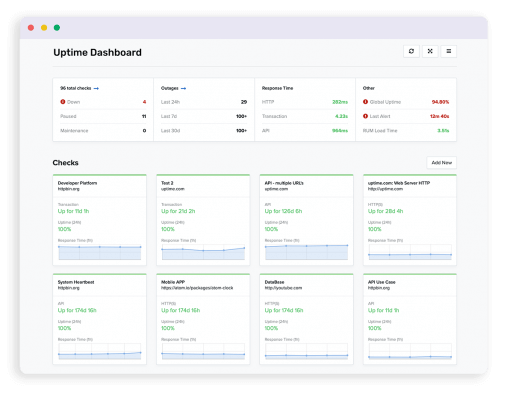 Source: Uptime.com
You can use Uptime.com to monitor your website's uptime and speed even after the redesign.
3. Revamp Website Content and SEO
Websites are like living organisms; they grow and evolve over time. What worked for your website last year might not be effective this year. That's why it's important to revamp your content and SEO strategy regularly.
Your website is only as successful as the traffic it drives – and converts.. 
To help you get started, take inventory of all the content on your current website, including blog posts, landing pages, and product descriptions. Then, identify which pieces are outdated or no longer relevant. When redesigning your website, exclude that content. Focus your efforts on creating fresh, engaging content for your new and improved website.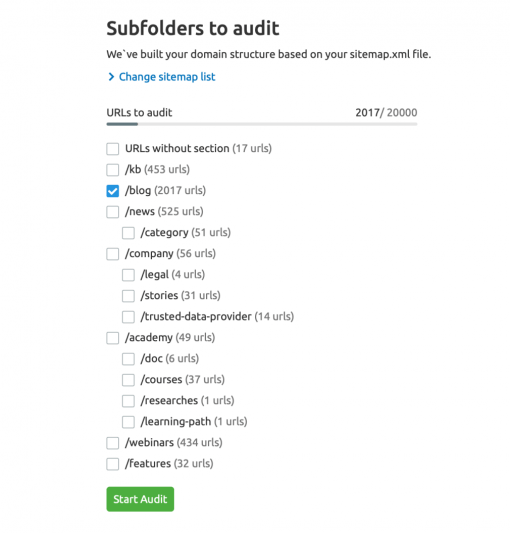 Source: Semrush
A content audit tool like Semrush Content Audit can generate a list of URLs and their associated metrics from your sitemap data. Instead of analyzing your whole website, this tool lets you explore a section of your domain like the blog, landing pages, or product pages.
Keywords are an essential part of SEO, and you should use them strategically in your redesigned website's content strategy. However, it's important to avoid using too many keywords or in the wrong places. An excellent way to find the right balance is to use Google AdWords' Keyword Planner tool.
By following these tips, you can create a visually appealing and high performing website of SEO and traffic.
4. Optimize for Mobile Devices
If you're planning a website redesign, one of the most important things to keep in mind is the need to optimize for mobile devices. An increasing number of website visitors are using their smartphones and tablets to access the internet. If your website isn't designed with this in mind, you risk losing out on a lot of traffic and SEO rankings. 
First, ensure your redesigned website uses a responsive template, meaning that it will adjust to fit any screen size. A responsive template also allows website content to adapt itself to the screen size so that the layout is accurate while keeping its readability.
For instance, Lform's homepage looks like this on a desktop browser: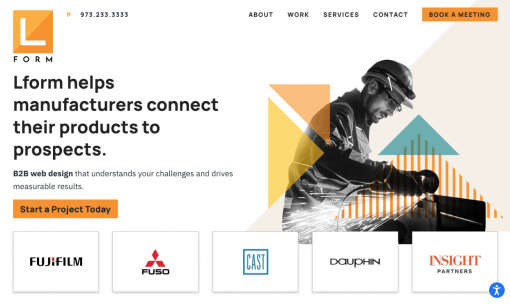 Here's how it appears on an iPhone screen: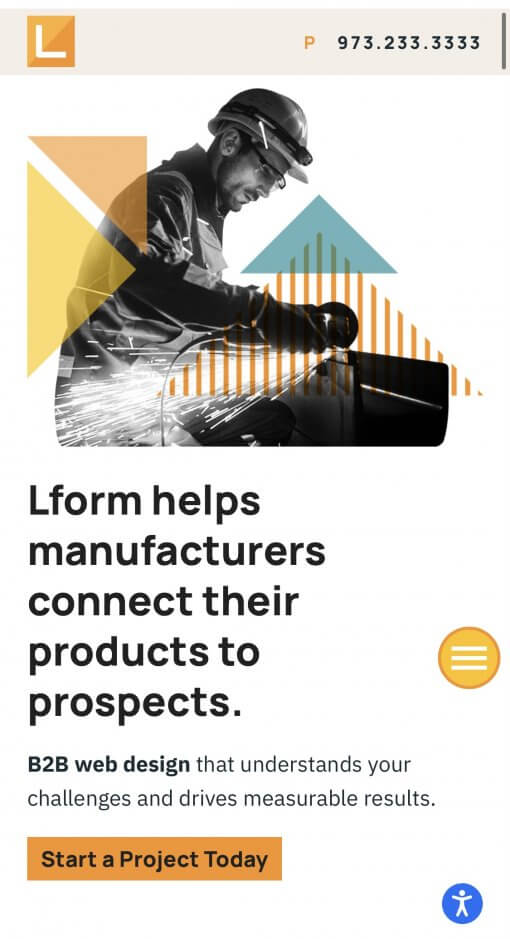 The menu on the top right corner of the desktop version of the website has been replaced with a collapsible menu in the mobile version. This feature makes it easier for users to navigate the website using a mobile device. 
You also need to ensure that the redesigned website loads quickly on mobile devices. Consider that 1 in 4 visitors will abandon a website that takes more than 4 seconds to load, so you don't want them to be so frustrated by the speed of your site that they bounce to a competitors'. One way to prevent this is by activating Google AMP on your redesigned website's pages. Mobile pages with AMP are quicker to load because it uses ultra-minimalistic HTML.
Ensure that your redesigned website's content is optimized for mobile, too. That means using responsive text and ensuring all links are easy to click on. You also need to consider how people use their mobile devices when browsing the internet. They often look for information quickly, so the actual website copy used in your redesigned website, as seen on a mobile device, needs to be concise and easy to read.
5. Incorporate User Feedback
Anyone who has ever created a website can attest that designing and launching a new site is challenging. From coming up with website ideas to the final launch, many things can go wrong.
The same applies to a redesign.
Even after a site goes live, there is always room for improvement. That's why it's vital to incorporate user feedback in any website redesign. Listening to your users is the ultimate design superpower, and will help you design an experience that's in-line with the expectations and needs of your target audience.
This may mean making significant changes in some cases, such as completely overhauling the redesign. But in other cases, it may simply involve making minor tweaks, such as changing the color scheme or the font size.
There are several ways to collect and incorporate feedback. One way is to send a survey via email and ask visitors what they'd like to improve on the redesigned site. Or you can use an exit pop-up on your redesigned website to ask them about their experience.
Finally, you can use heatmaps tools to visualize where users are clicking on your redesigned site and what areas they're avoiding. That can help you identify any areas that need improvement.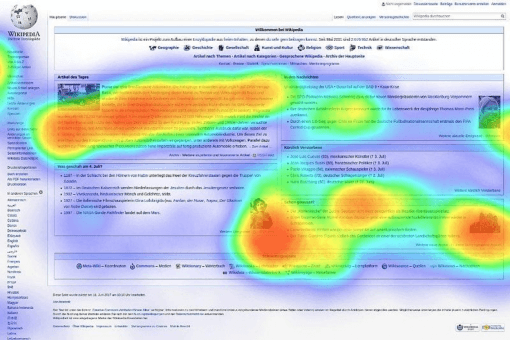 Source: Wikimedia
No matter what changes you make, website design is a never-ending process. As technology evolves and users' needs change, you'll need to continue making adjustments to ensure that your website remains relevant, usable, and discoverable to your target audience. 
In Closing
Website redesigns are a serious lift – but a necessary one nonetheless. They can be crucial for keeping your website up to date with the latest trends and technologies, and ensuring that the best possible user experience (UX) is provided to visitors. 
The good news is that it can be a smooth process if you follow these five essential tips: Identify your problems, check essential website performance metrics, and revamp your content and SEO. Optimize for mobile devices and incorporate feedback so you can make necessary changes to the new website, too.
The key is to approach website redesign strategically. Do that, and you won't just have a visually appealing site. You'll have one that performs well, ranks high, drives traffic, and converts well to help you achieve the results your business needs. 
Minute-by-minute Uptime checks.
Start your 14-day free trial with no credit card required at Uptime.com.
Don't forget to share this post!