Uptime.com Blog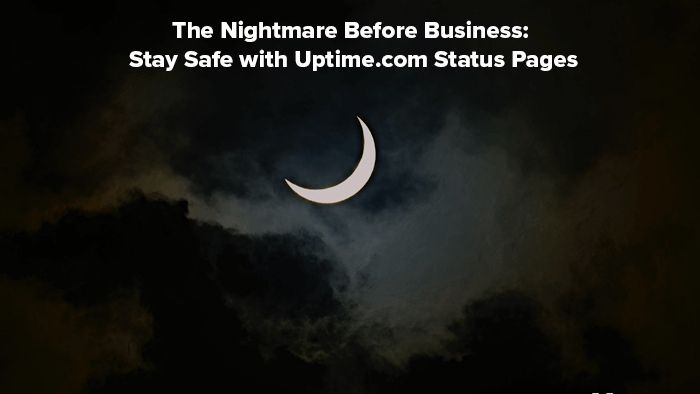 The Nightmare Before Business: Stay Safe with Uptime.com Status Pages
We're nearing Halloween and mischief night has stolen tricks from the holiday season. With online sales alone expected to creep up toward $3 billion before the next crescent moon, we're offering you a solution to keep the angry mobs with pitchforks at bay by giving them a crystal ball into your real-time incident response with Uptime.com Status Pages. 
Tales from the Script
In 1997's Mimic by Matthew Robbins and Guillermo del Toro, a scientist develops a "Judas" bug that mimics a population of diseased insects to monitor their habitat. Over the course of the film, the mimicking bugs become smarter – too smart, but that's another story…
Our Transaction Checks operate on the same basis of mimicking user actions to monitor user experience, and our checks can be as intelligent as you please with lists of commands and validators to create specific scripts that cover all your bases.
How Does This Relate to Status Pages?
Using Transaction Checks to monitor shopping carts, contact forms, and login pages are our most common use cases. Sharing the status of these specific services with your users allows for ghostly transparency in the event of an outage. They can differentiate between your site being accessible and your shopping cart being down. Transparency results in a reduction of losses by building trust and providing a timeline for resolution.

Powerful Components
At their core, our Status Pages are component-based. Think of components like voodoo dolls – they can represent anything or anyone from your off-site databases and servers, to your team members. 
You can group components together or isolate them – and tie them to your existing Uptime.com checks and response time metrics.
Your Status Page visitors can even drill down into each component for detailed response time graphs, uptime stats, and even download reports, but all the display decisions are completely customizable.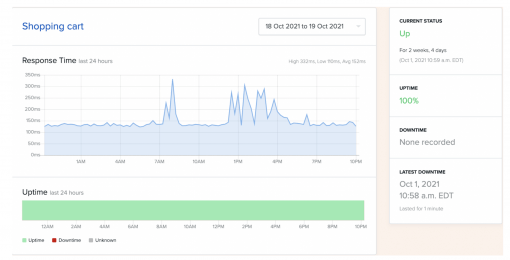 Communicating from the Beyond
To your users, your team may seem impossible to reach. When website downtime occurs, if you're MIA or buried under a pile of support tickets, your clients can feel abandoned, and that can have lasting reputation effects on your bottom line. 
Status Pages offer a medium for communicating in real-time to your page visitors and subscribers through detailed updates linked to your components – providing a glimpse into actual data that can help quiet user frustrations while you fix the problem.
Tip: Enable search engine indexing to allow indexing of your status page so it is available via major search engines like Google. 
Communicate via Updates
Create specific updates that visually communicate status as your team works toward resolving the root cause. Icons that represent maintenance or investigation tell visitors at a glance what actions you're taking, with as much detail as you can provide. Save updates, and choose to notify your subscribers via email and RSS. Create Internal Status Pages to communicate within your team with the same ease, or Public SLA Pages to communicate specific data and services to stakeholders for accountability.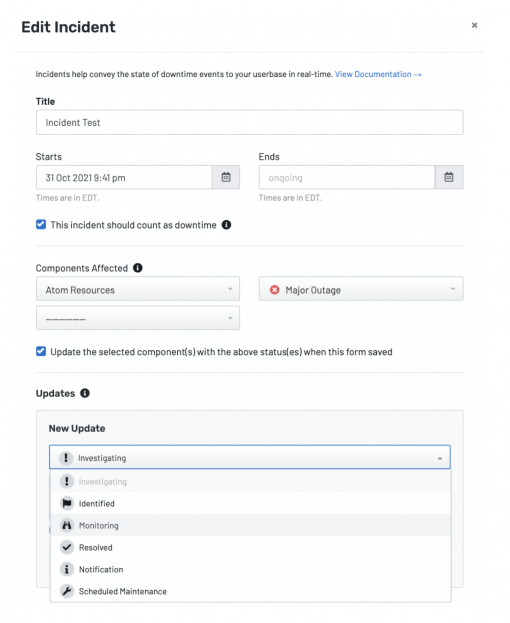 Maintain the Status Quo
One thing our support team hears a lot is "I've forgotten to put my check-in maintenance and now I have downtime reflected on my reporting that isn't actually downtime."
Internal Status Pages can help reduce this "phantom" downtime by facilitating communication among your teams. A point person can manage the Status Pages and send updates to your subscribed team members about upcoming maintenance schedules and updates that could temporarily take your services offline. 
Want a Treat? If you've ever forgotten to put a check in maintenance, Uptime.com offers a solution to ignore alerts and downtime from your overall uptime and reporting.
For Your Visitors
Maintenance windows on Status Pages can also be updated with notifications for subscribers and page viewers – as well as provide a resource for your Support Team when tickets come in for affected services related to scheduled events.
Look Alive, Customize
Status Pages offer limited availability monitoring to your user base. In the unfortunate event of an outage, a polished Status Page featuring your company logo can build credibility with your visitors. 
Customizing goes beyond branding. Any CMO worth their salt will tell you that branding is about telling a story and your Status Page should be no different. If you're displaying your services, components, incidents, and history, you're telling the story of your uptime and answering the question, "why should users choose you." 
There's not much space to a Status Page so when downtime surprises you, use your real estate to its full advantage and brand your page so your name doesn't become your epitaph. 
History and Incidents
Current events are critical to display on your Status Page, but your visitors can learn a lot from your history. Our History and Incidents tab is optional but extremely useful. Toggle it off to spotlight the present, or on to reveal the past and allow your users to explore your historic uptime and events. This is another way to build trust, but also a simple solution to allow key people to access historic data and reporting.
Keep it Secret
All Uptime.com Status Page types can be made public or kept private and optionally protected with basic auth. A great method for broadcasting incidents and events, Status Pages are also a valued tool for sharing status internally.
What Will You Create?
Uptime.com Status Pages support full customization with HTML and CSS – giving you the freedom to create a page that truly reflects your brand and your message. Link your page to google analytics to get valuable page insights and grow your reach.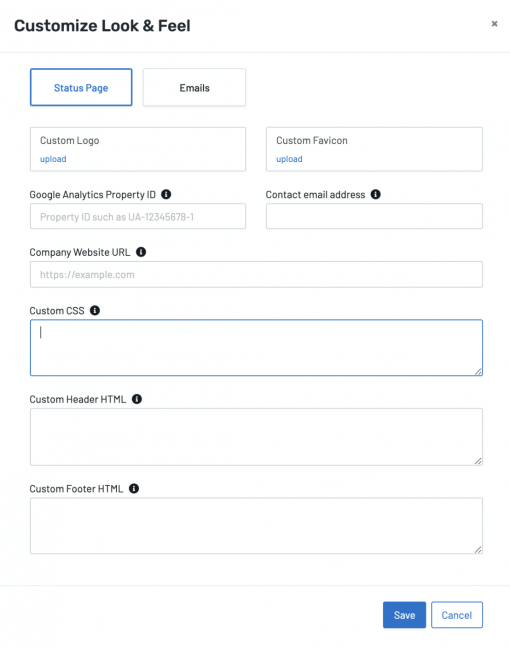 Last Words
You can learn a lot from being spooked by unexpected traffic spikes and site activity, but Halloween is just a taste. Now is the time to prepare for the avalanche of incoming Ecommerce traffic expected to take home 34.9% of 2021's total holiday retail sales. 
We've assembled a body of tips so you don't have to. Check out some of our ideas here, dig deeper into our solution with our 14-day free trial (no catch, no credit card), or reach out to our team of real humans at support@uptime.com. The season may be scary, but we're here to bring you peace of mind.
Minute-by-minute Uptime checks.
Start your 14-day free trial with no credit card required at Uptime.com.
Don't forget to share this post!