Uptime.com Blog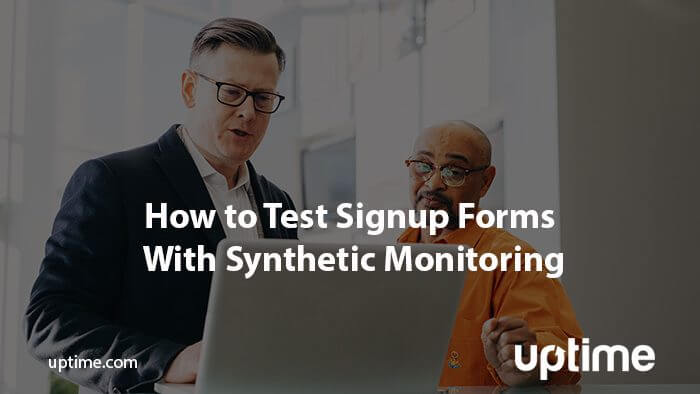 How to Test Signup Forms With Synthetic Monitoring
A signup form has a ton of moving parts we often take for granted.
There's the form itself, and the database attached to that form that stores user data. Other databases may need to sync with the form, such as marketing drip emails or coupons. There's often a thank you page with analytics attached to track goals, that may be gated behind an account.
Any of these parts could break and our form might appear to function fine at first glance. A similar problem occurs with shopping carts, where each moving part essentially works on its own. A user may encounter 404 errors, and there could be other broken parts that hinder customer experience.
With synthetic monitoring, and some AB magic, you'll be well on your way to determining the answer to that pressing concern. Let's dive into some advice, get to know what synthetic monitoring can do for you, and look at some real-world examples.
What is Synthetic Monitoring & How Does it Differ from AB Tests?
Marketers are familiar with AB testing, but synthetic monitoring is about performance and uptime. Unlike AB testing, synthetic monitoring looks at performance and ensures all those moving parts are in working order.
Before we dive into synthetic monitoring, let's address what makes a good AB test environment.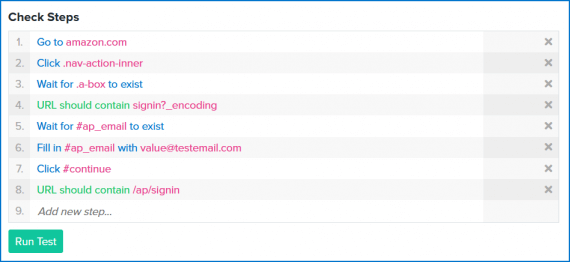 A basic transaction check to test the login form of Amazon.com
What is AB Testing?
AB testing, or split testing, compares two versions of a page to see which measures higher for a specific metric. That metric is usually conversion, but could be lower bounce or higher time spent on page. It might correspond with events triggered, or forms filled out as well.
Its aim is to tell you which of your variables is best, and to try and narrow down the reasons behind why. Who knows what goes through a customer's mind during a transaction? You do, if you can properly AB test.
Source: Wikimedia
AB Tasty recommends you test a few elements on your website to start:
Images
Headers
Form fields
Pricing
Effective AB testing boils down to minimizing the variables you're testing for so you can get the most accurate results. Your constant is your current or winning page, AKA the URL that best converts. Ideally, you change only one aspect of this winning page when you test so you have a clear choice between the two test campaigns. Whatever your method, you need at a minimum two URLs to set the foundations for a test.
What is Synthetic Monitoring, and How Does it Help AB Tests?
An AB test relies on at least two working URLs, where marketers test each URL to see which provides the best possible customer experience.
Here's where synthetic monitoring comes into play:
Synthetic monitoring pings your infrastructure, following a set of steps you've designated. For example, you can configure the check to fill in details or click a button. Synthetic monitoring can test for a variety of issues on the URLs you're using for AB testing.
You're essentially collecting two forms of data when you AB test with synthetic monitoring:
Conversion performance
Website performance
Ideally, you would also run some form of real user monitoring to get a glimpse into the user experience as well. More on that in a moment.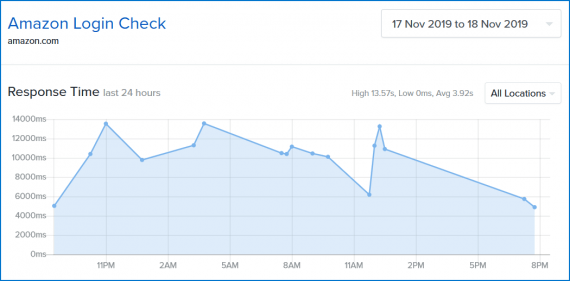 Spikes in performance are easy to see in Uptime.com reports
When you combine these toolsets, you can tell not only which site converts better but which has the better performance overall. You can see which elements are loading slowly, where your transaction is hitting hiccups in the road, and work on the unseen side of optimizing a transaction.
Looking for a tool that provides easy synthetic monitoring? Check out Uptime.com for free for 21 days, no credit card required.
Synthetic Monitoring Tips
Transaction checks can always monitor more if you know what you're looking for. These tips will help you improve your results with Uptime.com synthetic monitoring.
Wait for Elements, Not Seconds
When you use the Wait for 1 Second command, you increase the time your check takes to complete by one second (whether the elements you're about to look for have loaded or not). When you Wait for an Element to Exist, your step timeout threshold increases to 25 seconds and will move on to the next step when the element is recognized.
Add Validators
When you need to fill out information, change URLs, or you need to be sure a specific element is rendering, use a validator. Validators aren't like waiting for an element, so the timeout threshold is low. Use these to confirm critical in-between steps, such as whether a field has data in it before you click submit. You can confirm HTTP status code, text within a URL and much more.
Go the Extra Mile
Don't stop at clicking the "submit" button if there's more the check can do. Is there a thank you page? A User account? Identifying elements and validating their existence on those next steps is critical to a successful transaction check.
Real User Monitoring: The Secret Ingredient
Wouldn't you like to know whether your mobile site is the preferred way to view and interact with your application? Would it benefit you to learn more about which browsers render your site quickly, and how that relates to your user base?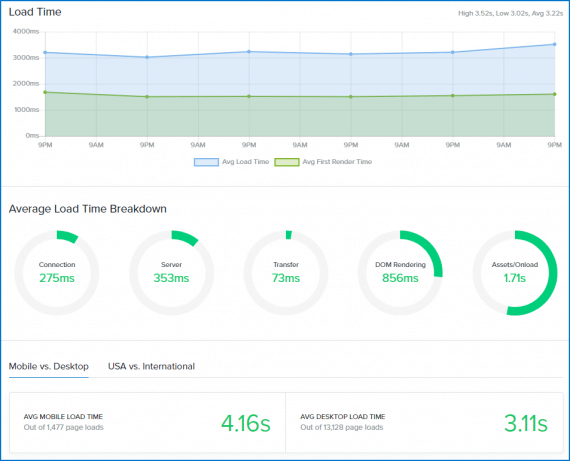 Real User Monitoring, or RUM, is analytics with a specific purpose: gauging user performance. Using RUM is like running a continuous speed check fueled with actual user data. When you combine RUM with synthetic monitoring, you get a system that catches outages with a built-in performance gauge you set to your preference.
Scenario: Feature Deployment
Consider a scenario where your dev team is releasing a new feature. This feature is adding some complexity to your backend, and requires some adjustments to your existing codebase for deployment. In your testing environment, everything is working nicely. Wouldn't you like to know more about the user experience in production?
RUM checks allow your team to gather these important metrics, packaged in an easy-to-digest report, and learn the impact of this deployment from the user perspective. You can also configure URL paths to track behavior from one click to the next, allowing your team to understand how users use the tool and whether performance bottlenecks affect user retention or usage.
What Else does RUM Do?
RUM is about user statistics, so its applications are really limited to your imagination and use cases. What do you want to learn about your users? RUM data is the valuable part, and reports are easy to share. You can provide insights to marketing, executives, and development for a ground-level view of the user experience.
The report contains 5 key pieces of data:
Connection: The time it takes to perform a DNS lookup, establish the connection and send the web page request.
Server: The time it takes the server to process the request and initiate a response.
Transfer: This value represents the time it takes for the browser to download the web page's HTML.
DOM Rendering: This represents the time it takes for the browser to download any additional assets required to initially render the web page (EG. CSS Stylesheets). Note: Images and Javascript are not yet rendered in this phase.
Assets/Onload: This represents the time it takes for the browser to fully load the page with images, videos, and the execution of any Javascript.
The last two, DOM and assets onload, indicate the wait times with the biggest impact on end users.
Synthetic and Real User Monitoring | An Incredible Toolset
Armed with RUM and transaction checks, no element can be left untested. You'll gain valuable knowledge on user behavior, coupled with synthetic monitoring that performs around the clock QA. If you utilize escalations and send alert data to your team's workspace, you will have firsthand knowledge when performance issues arise.
Pinging every aspect of your infrastructure is easy with synthetic monitoring. It's reassuring to know that every button works, and that escalations are in place to ensure those who can fix things that break are equipped with the technical data they need to diagnose the issue.
Minute-by-minute Uptime checks.
Start your 14-day free trial with no credit card required at Uptime.com.
Don't forget to share this post!