Uptime.com Blog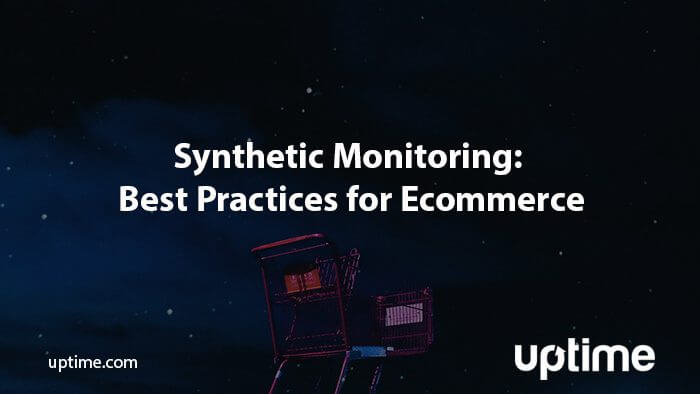 Synthetic Monitoring: Best Practices for Ecommerce
What makes synthetic monitoring a crucial tool to measure the customer experience?
When I buy something online, it takes about one to three minutes. That time depends on the complexity of forms I encounter, whether I have an account with the retailer, and how easy the site is to navigate. Of course, there are lots of other variables I don't notice that also affect my buying experience.
If you are the retailer selling to me, wouldn't you like to know which of those factors most influences whether I complete the transaction?
Let's look at a less technical example.
If we were to use synthetic transaction monitoring analogies In the analog world, we might think of two metal shopping carts. One has a great set of wheels and a pass that lets us into a faster checkout line.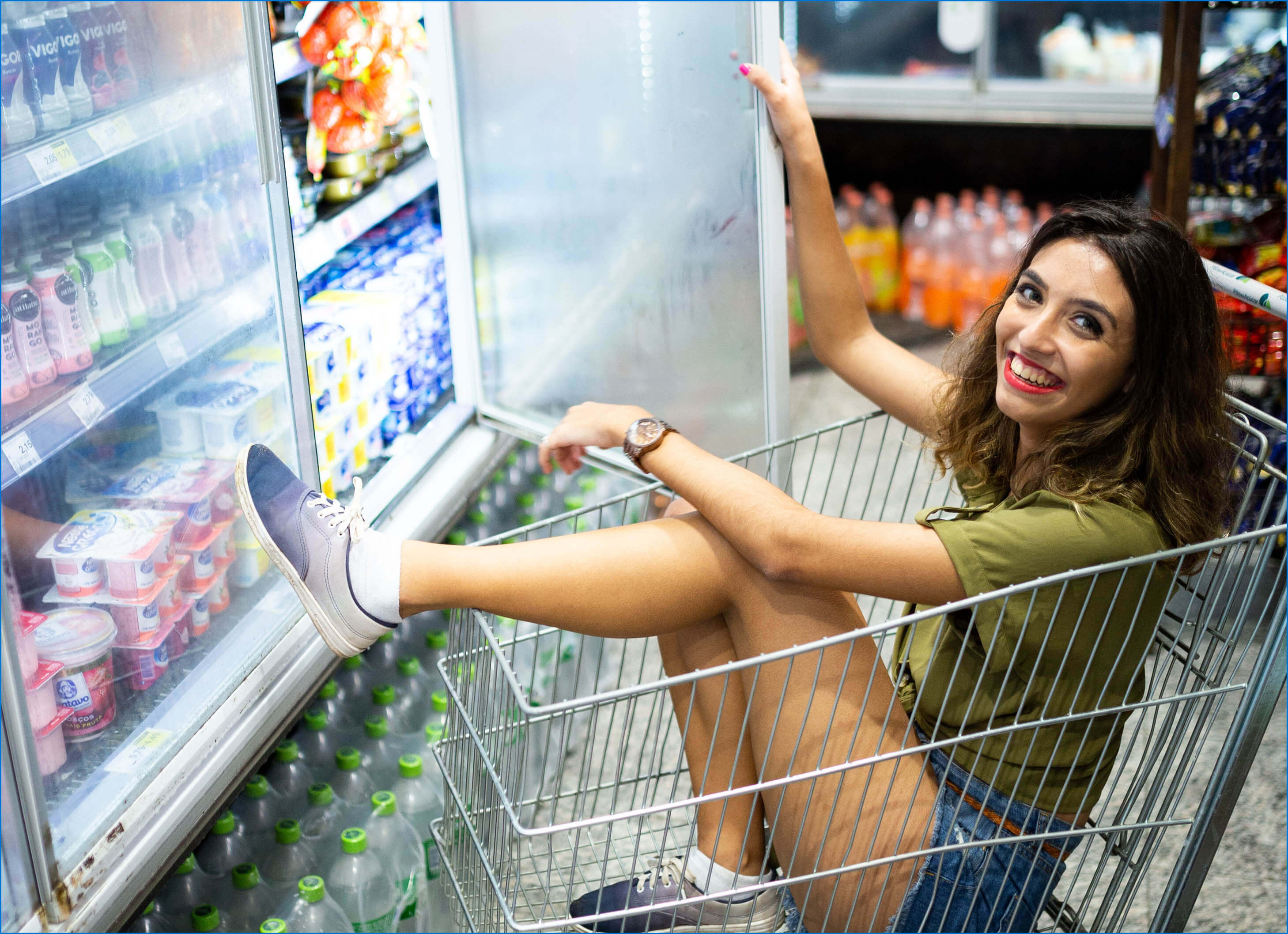 The other is not as efficient. It looks kind of rickety and it takes a lot of effort to push.
The average cart abandonment rate for 2018 was just over 75%. This means that three quarters  of the time users are feeling like they got stuck with an old-fashioned shopping cart rather than the fancy new one with the fast pass.
That's still a 25% success rate, but there are some important reasons why these users abandon that include:
Lack of SSL cert/trust (17%)
Issues with the site (17%)
Had to create an account (34%)
Lengthy checkout process (26%)
We can do better. Imagine the possibilities if you could test for and control these variables that affect the user experience. What if you could make sure that the moving parts comprising a shopping cart aren't letting your customer sit by the wayside?
Synthetic Transaction Monitoring Must Haves
Before you get deep into your testing, make sure you've configured:
Sandbox items your transaction check can safely purchase
Sandbox credit cards your bot can safely use
Clearly defined test user accounts (that you can easily filter from your database)
Whitelist the probe servers you plan to use for your check
Synthetic Monitoring Tools to Establish a Performance Baseline
Before we can seriously assess the state of our infrastructure, let's work on establishing a performance baseline. At this stage, we're not yet concerned with improvements and key takeaways just setting the mechanisms we need to gather data.
Using a RUM Check
A Real User Monitoring Check does what it says: it uses real user data to alert you when latency exceeds a certain value. When latency doesn't exceed that value, RUM checks establish what is normal for the everyday user experience.
An effective RUM check has two important configurations:
It follows an intended URL path
It alerts your team when latency exceeds a designated value (we default to 10 seconds)
Don't forget to include your RUM code HTML snippet before your site's closing <body> tag. With Uptime.com, we generate the code for you, and then you copy and paste the snippet in the appropriate place.
A URL pattern is useful when you want a quick glance at a group of URLs, such as performance statistics for /shop or /api. Uptime.com groups together all URLs under a pattern and provides performance statistics for only that group. Configuring patterns will help you distinguish between the performance of your homepage and that of your product categories.
Your RUM check should also receive alerts when latency is excessive. A RUM check's additional data on page load times broken down by browser and location allow you to compare Uptime.com account data to your own analytics. You'll be able to determine if page load times are acceptable. The alerts allow IT to step in when load times are inconsistent or outside the baseline range.
Using Synthetic Monitoring Tools
Synthetic transaction monitoring offers the first alert that a function doesn't work, such as when users are unable to add items to their shopping carts.
Downtime isn't always a 404 error. If only a portion of the tool is broken, the user experience may seem normal until you test something specific. Unless you're always testing those functions.
That's the strength of synthetic transaction monitoring.
If you're simulating user behavior, ticking the boxes and clicking the buttons that they use, you always know when their experience isn't working. Synthetic monitoring can detect specific elements, even URL redirects and status codes. Monitor multiple URLs in a single check with a detailed Root Cause Analysis tool that includes technical details of the error, and screenshots of what Uptime.com encountered.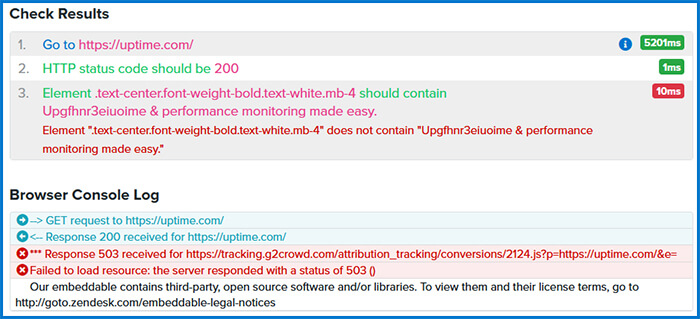 Uptime.com provides both synthetic monitoring and Real User Monitoring. Get started with a 21-day free trial, no credit card required.
Testing for What Works with Synthetic Transaction Monitoring
Let's look at some other items we can test with a synthetic transaction monitor.
Abandon Triggers
A common way to offer visitors one last incentive to buy is with a "Hate to see you leave" popup. If your popup is rigged to trigger after a certain amount of time (say 7-10 seconds), then synthetic monitoring can test it.
Simply add a series of steps that wait the allotted time, and another that checks that the popup has rendered properly.
Coupon Codes
Coupon codes are typically a function of your shopping cart, but synthetic monitoring can use test codes to confirm everything is working as intended. Add a step that waits for the form element that contains the coupon codes. The next step should confirm that element exists and has the text of your test coupon code.
The result should be easily filtered from your transaction database, and will test your coupon code functionality.
Add and Remove Items
Using transaction checks to add and remove items from a shopping cart simplifies your QA's job with a few verify and wait for commands.
If your product page includes an "Add to Cart" button, and you can review what's in your cart on a separate URL, you can test all functionality for adding and removing items with synthetic monitoring tools.
You will need commands that click the buttons to add a test item to your cart, and a verifier that checks the static portion of your shopping cart's URL after a command to click your "View Shopping Cart" button.
To check that removing an item from the cart is working, add a step that clicks the "Remove from Cart" button for your test item.
Smart Synthetic Transaction Monitoring Tips
Here are some tips designed to make your Transaction Check "smarter" and capable of detecting multiple types of outages.
Testing User Credentials
Be sure that you create unprivileged user credentials, and that you clearly define the test user that your synthetic monitoring tools will utilize. You can easily filter this traffic from your internal logs to prevent monitoring from obscuring your internal metrics.
The screenshot below shows a use case for a WordPress-based ecommerce blog. The test account name is "Guest Blogger." The icons to the right of each step appear after hitting the blue Run Test button. The time each test took to complete for each step appears in green next to the icon.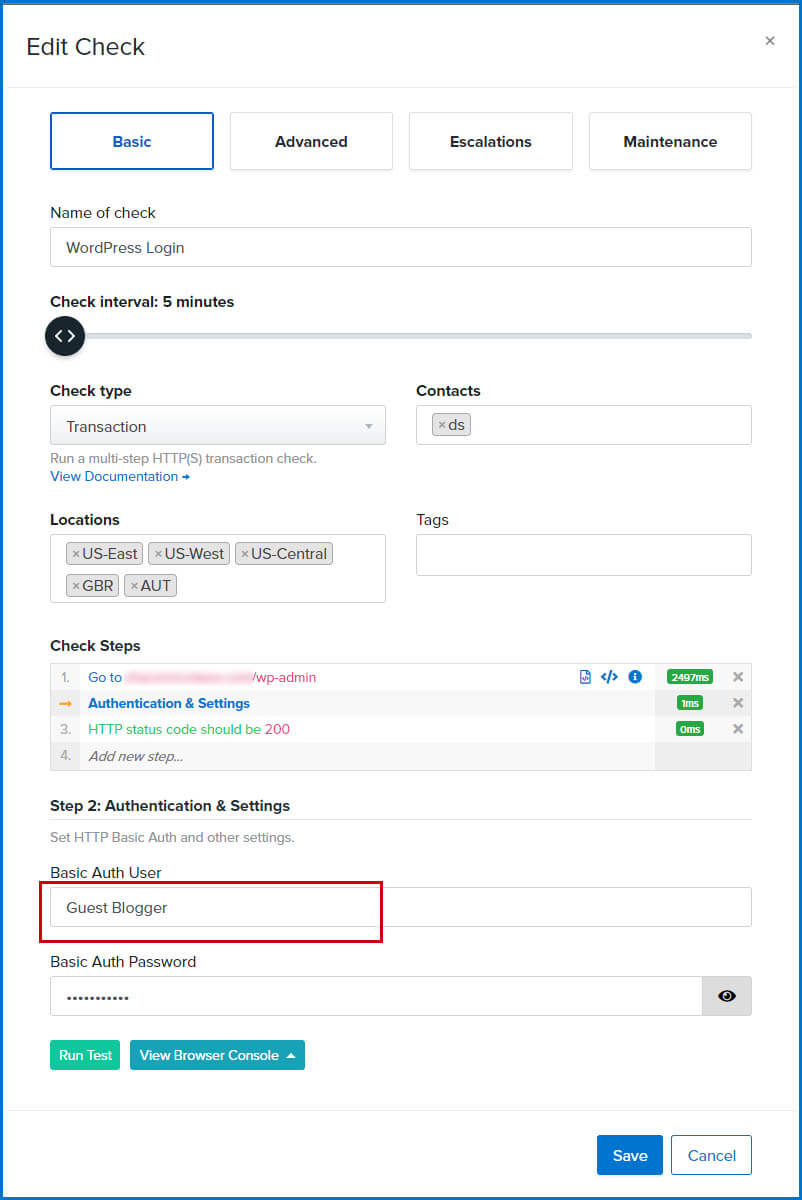 Catch Multiple Errors
The ideal transaction check is built around catching the greatest number of potential alerts.
Consider how your transaction works, and all the moving parts that contribute to a conversion, such as:
Your third-party payment processor
External CDNs that deliver images
Tracking pixels for sales or analytics purposes
everything that could potentially break.
Those are the elements you want to test for.
You can use the Wait for command or the Element Should Exist validator to be sure these cogs in the machine remain functional.
Measure the User Experience
Don't forget about RUM checks, which capture real user performance metrics following a pattern of URLs. Pay close attention to Average First Time Render, which tells you on average how long it takes users to see something. Technically speaking, this stage measures the length of time it takes to construct the render tree, after DOM is ready and stylesheets are loaded. It's an important metric because users tend to bounce when the render tree takes too long.
Improve the Shopping Experience with These Fundamentals
All of this testing is not to overlook the fundamentals. If you want to improve the bounce rate of your shopping cart, accommodating the needs of your clientele is a good first step.
Here are some other areas that will help you improve your customer journey:
Customer Service
According to Zendesk, satisfaction ratings are near 92%. There's a slight disconnect, as the answer rate is only about 21%, but 95% of respondents are fine with waiting. Better customer service doesn't necessarily mean the fastest possible answer. Focus on providing the best possible response in a collaborative environment, where you can query your customer for ideas and responses.
You might also consider hiring a community manager. People who do community management are great at helping your development team understand what works, by utilizing social channels and various outreach strategies.
Fulfillment
Offer multiple payment methods to your customers. The choice helps remove any barriers to purchasing. Eliminate further hurdles with a concisely written return policy that is easy to find (perhaps even in the footer via hyperlink or as a short blurb of text). All you need is a brief statement. You can leave the legalese to its own URL.
Support, the warehouse, and customer service are linked and very much a part of your customer's experience. They will feel every delay, and they will remind you of the time it's taking for you to fulfill what they asked for. Is your customer service department empowered to make decisions that lead to a desirable outcome for both parties? Are your expectations clear, and do they have room to creatively find a way to fulfill those expectations?
Continual Improvement
Adopt a hacking mindset that constantly strives to perform better. With continual monitoring, you can catch errors that impact that user experience but don't bring down the application. The key takeaway is that not every downtime event means a 400 error.
Smart synthetic transaction monitoring takes into account multiple points of failure. Design your monitoring system to ping not just one aspect of your infrastructure. Test everything!
While you're improving performance, focus on the fundamentals. No matter the size of your business, fulfillment should remain your top priority and every day is an opportunity to do it better.
Minute-by-minute Uptime checks.
Start your 14-day free trial with no credit card required at Uptime.com.
Don't forget to share this post!