Uptime.com Blog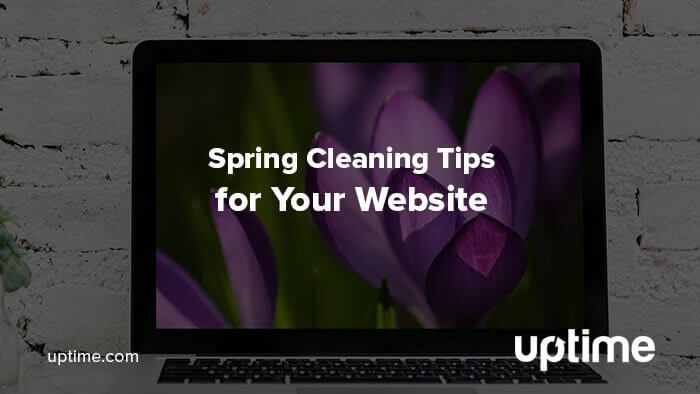 Spring Cleaning Tips for Your Site from Uptime.com
There's some research that points to the Iranian New Year as the source for spring cleaning.
The idea was that the end of the colder months was an opportunity to "shake the house" (khooneh tekouni) to feel renewed. Nowruz, or new day, occurs on the first day of spring and like everyone else with a New Year resolution, the concept of cleaning and renewal was about setting a fresh start.
Here we are, spring build alpha already deployed in some parts of the world. But does your site feel refreshed and renewed, or is there that nagging in the back of your mind for a cleaner and optimized presentation?
So let's encourage one another to engage in some spring cleaning as our first quarter draws to a close. We have the rest of the year to roadmap improvements and grow. Let Uptime.com help you prioritize this year with these solutions and ideas.
Optimize Your Images
There are two approaches to images on the web, lossy and lossless. We recommend lossless formats during image creation to provide a beautiful, clear image that doesn't decrease your site's load speed.
Lossy images lose some data when they are uploaded to the web, one reason why GIFs sometimes look pixelated. You can test this yourself if your phone can capture moving photographs (what is this, 1836?) and export them as GIFs. You'll notice the output is downgraded in quality to conserve the size of the file.
Lossless images, by contrast, reduce file size through the removal of unnecessary metadata. You retain image quality with a reduction in size. The eye doesn't typically notice but your server does.
You can use JPGs when clear photography is required. Bear in mind that editing JPGs and saving them will pixelate the final image more each time you do it, but it's an easy way to compress photos. Remember also that the WordPress preview function also does some compression work for you.
Speed Up Your Content Delivery
Continuing our theme of binary approaches, your content delivery is dependent on your overall goals.The first approach is to decrease the amount of data and requests pulled from your server. It's very easy to compress your CSS requests into a single file by copying and pasting your CSS code into a single .CSS stylesheet.
Javascript is not that much trickier, but it often requires at least two main files:
Javascript needed to render the page
Other Javascript
If you have done this compression and your site is still experiencing high latency, try the second approach: a content delivery network (CDN). CDNs are designed to cache your content in a location local to your end user.
One of the reasons we recommend a global health check is to determine where your customers are experiencing the highest latency. CDNs, and a premium DNS service, can help you deliver that content much faster.
Be sure that your content prioritizes:
Items the user can interact with (IE forms, items, buttons)
Eye-catching visuals
Content above the fold
Delivery of words on the page (AKA the time it takes to see something)
Monitor Your Website for Real User Behavior
A RUM check provides hard data on a fundamental question: what is my user really doing? Marketing and tech benefit from these answers because they explain whether users are actually following intended paths.
RUM checks also ping important URLs to be sure they work at speed and scale. When they fail, or exceed expected limits, RUM checks alert teams based on sensitivity you define.
Finally, an important part of the user experience is the mobile experience. RUM checks grade your website performance on both desktop and mobile with an average response time for each.
Test Forms and "Working Parts"
Forms and carts are a key component in successful eCommerce. You need to reach customers interested in your products, and you need to sell to them when and where they may find you. A transaction check helps to solve this problem with consistent monitoring at designated intervals.
Transaction checks are the first response when a form goes down, and they improve your time to act. The time it takes to learn of downtime, respond and deploy a fix all contributes to lost conversions and customer trust. Decrease that time to act and use escalations to send Transaction Check failures directly to the person (or people) best equipped to fix them.
Look for Broken Links
Most site administrators use Google's Webmaster Tools, and you should be if you're not. The tool is invaluable for search ranking and identifying site problems that Google thinks you have. If you're serious about SEO, Webmasters is an absolute must.
One of its functions is to point out 404s it finds as it crawls your site, including missing images or posts you might have taken down. These 404s hurt your site's search profile, and are one of the lowest hanging fruits to fix when you're beginning your SEO optimization.
Third party tools can also crawl a page and report on broken links pointing outside your domain, especially if you use WordPress where a few plugins exist to do this for you. If you're redirecting customers to an important study, for instance, you might want to check that the study is still live at the link you've used. If it's been moved, you can easily update if you can locate the broken link.
Repairing broken links is a small task you can delegate, or spend fifteen minutes each day hunting for and fixing. Within a few weeks your site will be free of broken links, have a cleaner search profile, and provide an improved user experience.
Clean and Revise Most Visited
Refer to your analytics for data on the pages users visit most, then review the URLs in question. Are users seeing relevant and eye-catching copy? Is the page visually appealing? What's the load time like (hint: run a speed test here to find out)?
One way I like to improve a page is to provide a table of contents for it. Creating anchor links within my text, I can link users to a specific headline. Here's an example from our Transaction Check support article.
Improve readability with shorter paragraphs. Ever heard of the three line email? Try structuring your support documentation, your blogging, and your other content the same way.
In short: make every word and image essential to streamline the time it takes to access useful content or convert the user.
This rule applies to content as well, where it's important to delete or update outdated and irrelevant pages.
Check and Update Social Profiles
A great way to improve your site's profile without an intense time investment is to inventory your social media status. Has your company created a LinkedIn page for itself, or established a YouTube channel this year? Quickly review any new "social real estate" you've acquired and make sure your users can find it from your website.
The backlink will improve SEO for those social profiles as well, an effective tool in branding your business.
While you audit your social profiles, check to see how much of your work is automated and what the user sees. Are your profiles lively and pushing unique content, or are you sending users the same messaging across every platform? Quick adjustments to the programs we all use to make posts allow you to create some diversity between accounts. A posting calendar also helps, so each profile has something unique to say that doesn't overlap.
Revise Company Profiles
Beginning with your about page, you should revise the publicly available information about your company. If anyone is writing about you, this page is one of the first places they will look to determine the size and mission of your company.
Next, update additional profiles such as your Crunchbase or your LinkedIn. Specific important concepts to include:
The date your company was founded
Company mission statement
Number of employees
Key management
Points of contact for press inquiries
Looking Ahead
Finally, look ahead to the year with these ideas in mind. As you consider expanding your product lineup, make sure you're testing your transactions and improving the speed of content delivery. Make sure as you introduce new information to users that you have a plan to revisit and improve it based on how well they used it.
You'll find that these audits won't just improve the user experience, they may lead to key sales insights that can help you fulfill your goals for the year.
Don't let spring cleaning chores get you down. Take this opportunity to renew your mission and provide the best possible version of that service.
Minute-by-minute Uptime checks.
Start your 14-day free trial with no credit card required at Uptime.com.
Don't forget to share this post!