Uptime.com Blog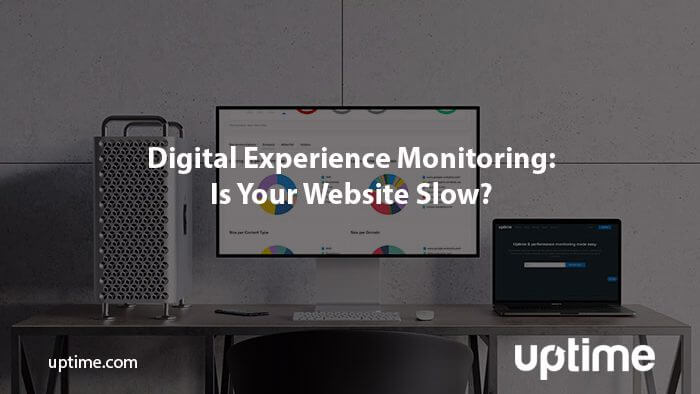 Digital Experience Monitoring with Uptime.com | Do You Know If You Have a Slow Website?
With a shift toward the Internet of Things, where always-on connectivity is paramount, digital experience monitoring (DEM) is a transformational way of looking at application and end-user performance monitoring. DEM asks more than whether you have a slow website, it looks at how every step in the user's experience performs at a granular level. This discipline measures the website's response to the user's needs.
A bit like an internal audit, digital experience monitoring seeks to answer the question: how can we better serve the end user (even if the end user is not a human)?
Here's an example at play:
Your team manages the growth of a fairly popular chat client for gamers. Its growth has seen an uptick in feature requests, and the app has grown considerably in both development effort and infrastructure as a result of your success.
In the past six months, you've seen your userbase double and your deployment schedule has become more aggressive as a result. You can't hire fast enough, nor do you have the resources to make sure every moving part has oversight. You need some form of automation, preferably with synthetic monitoring to duplicate user actions and track their behavior.
And because you're a startup, your IT consists of the app's development team.
With resources running thin, your job of making sure these parts are working together seamlessly while serving the best possible user experience increases in complexity with each request.
DEM examines more than server downtime or conversion rates. Digital experience monitoring encapsulate the entire user experience. Even the parts they don't see.
Why DEM is Growing | Going Beyond the Time to First Byte Test
As consumers, we imagine that businesses are full of people that work together in a single office on a single task that leads to a better product. In the real business world, we know through experience that we're teams of people who work together to accomplish our goals. Each team may have different objectives, protocols, and even a different language. Some more technical, others focused on a specific aspect of the product.
DEM is growing because there is an overwhelming need to consolidate the many toolsets and protocols we use to get to the finished product. DEM recognizes the fragmentation inherent to business, and monitors for potential gaps between each fragment. Two of the more popular methods involve Real User Monitoring and Transaction (or Synthetic) Monitoring.
Synthetic Monitoring for Testing and Deployment
Synthetic monitoring has become a useful tool for testing. It simulates real-user actions, such as clicking buttons, filling out forms, or submitting specific user data. You can use it to measure a slow website or to identify specific performance problems that hinder conversions.
With our chat client, we can use synthetic monitoring to look at various behavior we want our users to do. These may include:
Downloading our chat client
Pinging our support team
Checking our browser client status and sending a test message
Sending and confirming bot commands are received
Checking status of certain services
We can also create clever use cases for testing purposes. The Transaction check can monitor new functionality, and run it through rigorous testing before deployment. Transaction checks run every five minutes at a minimum, so you'll constantly ping and test new features and get notifications when they break under pressure.
Looking for powerful and intuitive synthetic monitoring? Try Uptime.com free for 21 days, no credit card required.
Real User Monitoring for User Experience
When every department is requesting new functionality, the accumulated code does its best to work together but isn't always seamless. This happens even at the enterprise level, where quick fixes and patches are more common than you might think.
Even when you know you have a slow site, and you experience it yourself on a daily basis, it can be difficult to allocate the resources to fix the problem.
Real User Monitoring provides some solutions that can help. A RUM report collects and visualizes real-time data surrounding key statistics such as average page load time.
A RUM report breaks this information down by country, URL paths, browsers, and devices:
Average Load Time: Average load time for all URLs tracked
Average First Render Time: The moment DOM is ready and there are no style sheets blocking the JavaScript execution. This metric tracks the moment the browser can potentially construct the render tree. Most websites consider this an important metric because if there is a slow first potential paint time, users usually bounce.
Recorded Page Loads: The total number of page loads for all URLs on your site.
Unique Pages: The number of unique URLs that were visited.
Average Load Time Breakdown: The five gauges that compose this part of the report are discussed in more detail below.
Average Load Time Breakdown | Time to First Byte Test and More
This section of the RUM report looks at several factors that influence load time. First, the RUM report measures the response time for DNS lookup to establish a connection and send the request to view the URL. Next, we measure the time the server takes to process the request and initiate its response. The browser must then download the HTML for the page, then any additional assets required for DOM rendering.
Finally, all assets are loaded and any Javascript is executed.
As more steps and moving parts are added to these various stages, time to first byte increases. You and your tech team already know your site is slow. You don't need RUM to tell you that. You need RUM to tell you why and what to fix so your IT/Dev team maximizes its time.
A RUM Report is designed for non-tech and tech alike. It includes granular data tech demands, in a presentation marketing understands, so you can make the connection between performance and user experience.
Measuring Page Speed and Website Performance With Uptime.com
You can try this out for yourself with our free Website Speed Test, which functions a bit like a single session in a RUM check for a single URL. It includes some informative statistics and the Waterfall to visualize the load time of every element a URL needs to render.
The Analysis tab includes a breakdown of load time by content type for a helpful visual of performance.
An easy-to-understand recommendations section draws from some of the best practices in site performance. You can use these ideas as a starting point for research into site performance, and even some action items to make improvements now.
The advantage to a RUM check is continuous monitoring. Page Speed can tell you a lot about how a single URL performs from around the globe. It's pretty good at loading your page and observing key performance indicators. RUM excels at monitoring user behavior. It looks at specific goal funnels, URL paths, and user behavior by device and location for a more in-depth look at how your site functions for real people.
Combined with transaction monitoring and you have a system that measures the digital experience of the user. Not just speed of the site, but overall how your system performs. This includes many aspects of your infrastructure that are easy to overlook.
Do you use VoIP? UDP checks allow IT to keep an eye on your company's connectivity. Ping ICMP is useful for looking at third parties, or examining specific nodes in your own network. API checks are excellent when you need to confirm the status of a site, or you want to identify latency issues in your client-facing API.
Setting Expectations for the Digital Experience
Your customers today and tomorrow have the expectation of constant connectivity. Our example today has a business model that relies on it, but don't we all? If we lost access to a payment processor for a day, or if the database that manages user logins was having latency issues, we would feel it.
The moving parts that come together to form your business need to "just work", and when they don't your team should know why.
Minute-by-minute Uptime checks.
Start your 14-day free trial with no credit card required at Uptime.com.
Don't forget to share this post!