Uptime.com Blog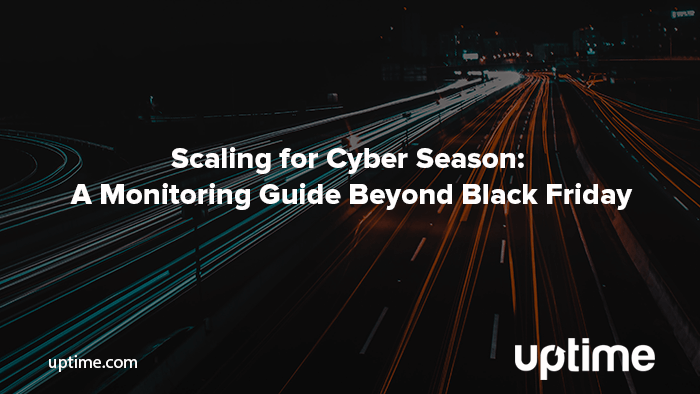 Scaling for Cyber Season: A Website Monitoring Guide Beyond Black Friday
While Black Friday has, in recent years, bled into Cyber Monday; for the 2020 season we're not focussed on an advertised day or two of deals. Instead, we're suggesting that you batten down the hatches and scale up your website monitoring for 'Cyber Season' because physical retail locations closing for major sale days is just the first wave.
2020 has brought us many challenges, and now it's declared open season on e-commerce. Adobe analytics has this year's online Black Friday sales at 9 billion, up 21.6% from 2019 with Cyber Monday projected to be the highest grossing online sales day to date, and it doesn't stop there. Discounts and sales will likely be spread over the holiday retail season and overflow into the start of the year in response to social distancing and slower quarters throughout 2020. 
Scale Your Uptime Monitoring on a Solid Infrastructure
We've already brought you an update about the building pressure of an increasing Q3 destimate, and likely expectation of losses up to 22.35% for businesses with minimal IT and monitoring resources, but Q4 brings with it the promise of behemoth traffic surges intent on spending; with increases as of Sep. 2020 of up to 20% in core network traffic as reported by providers like AT&T. 
Just like with good crowd control at a concert, (remember those?), your infrastructure and alerting system will be your saving grace this season, and it's worth the investment with research showing that the pandemic didn't alter our e-commerce habits as much as it accelerated where we were already headed. 
The newly heightened role of e-commerce will bring with it the need for a broader and more comprehensive approach to monitoring, and this year's holiday shopping season is the bench test.
Traffic Control: Monitoring User Actions
The crystal ball of performance monitoring is in understanding why users do what they do in order to predict what they're going to do next. You can look at all the lists you like; naughty lists, nice lists, surveys, and demographics, but that still doesn't give you complete intel. For that, you'd need to go inside the minds of your end user…which you can't do. Or can you?
People are creatures of habit. We may not always be conscious of our decisions but we do things out of routine and convention with zero interest in veering off course. Online trails of these patterns exist, they have some key data to offer, and you can track them with Real User Monitoring (RUM). RUM Reports are a good asset but there's one thing you should do before gathering real-time user data. 
Testing Your Routes
Walk a metric in someone else's shoes. You can use Synthetic Monitoring to test your routes from login to checkout for performance function and perceived load time. It's necessary to go the extra mile here and make sure your routes are well-marked; meaning, don't over-clutter your UI, and work with DevOps to keep your layout user centric.
Create a test account and walk through the end user paths step-by-step – better yet, have an operator who wasn't a part of the design process get behind the wheel and take the account for some test drives. We bet they run into a few brick walls, and that can be harsh on your bottom line.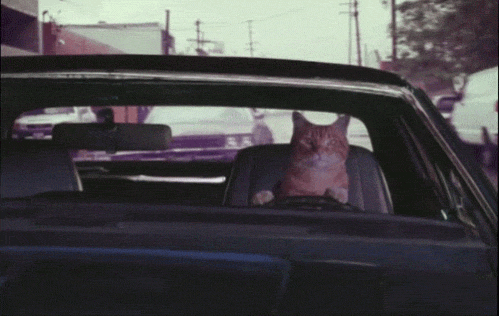 Shopping car functionality alone leads to startling losses. Since 2010, Baymard Institute has conducted large-scale checkout testing; finding that an average site increases it's conversion rate by 35.26% by solving checkout usability problems.
To put this in terms of dollars and cents, if the projections of an increase of 20% in e-commerce sales throughout 2020 hold true, that shopping cart conversion rate of ~35% amounts to upwards of $312 billion across the US and EU. That's a big number to sacrifice to a snag in your user experience.
Getting Real User Data with RUM
Real User Monitoring (RUM), provides metric breakdowns for the end user's journey throughout your UI; traffic sources, browsers, device information and load breakdowns all accumulate data that SREs can use to set thresholds and define alert escalations to notify the right team members of decreases in performance on key URL paths.
Which Monitoring Checks Should You Scale?
RUM checks are great for getting indisputable insight into your true user experience but making sure you have your checkouts, submission forms, and logins covered is a good preventive measure. 'Tis the season, so we've just released updates to our Transaction check to help you monitor your key functions.
Pro Tip: Facing the rising threat of DDoS Attacks may have prompted you to implement some top-notch 2FA, remember to whitelist our servers so your Transaction and HTTP(S) checks are optimized to return the most accurate data. Your site may be OK 200, but that could just be a redirect. 
Scaling for Speed: Monitoring for Latency
Website monitoring for speed is one thing, but speed tests aren't always as accurate as we'd like. An alternative is to monitor for network latency, to do that you need to take a look at your packets with a Traceroute tool. After all, it's just a hop, skip, and a jump from Uptime to 100% packet loss, especially when we're talking about overwhelming amounts of traffic.
No Speed, No Sale
Tip: If you manage your own infrastructure, this would be a good time to increase your bandwidth
We've talked about speed before, particularly that the average user has the same capacity of patience for load time as a goldfish has for memory; about 3 seconds. According to the Nielsen Norman Group, 50% of completed e-commerce transactions happen within 28 minutes of the first click. That's 27 minutes 57 seconds longer than that average user attention span and it doesn't just apply to initial page load time, you could lose your customers at any link. Yet another reason to trail blaze those user routes and utilize RUM data to put your performance under a microscope and streamline any data-slowing elements.
Don't Drop Your Calls
Mobile load time is a big deal. Roughly half of all web traffic comes from mobile use, a percentage that has been steadily increasing since 2012. At this point we could say it's a rookie mistake to have a website that isn't also optimized for mobile traffic, but we won't – instead, here are some tips to boost your perceived load times.
Switch off pop ups, light boxes, and lose the large banners. The high resolution and graphics increase load times. 

Opt for continuous scrolling for items rather than separate pages or tabs but keep in mind that less items = less data = less load time; use strategy with your setup

Design your site to scale between phones, tablets, and devices of varying screen size
Pro Tip: Don't rely only on industry statistics, use RUM Reporting to see your site's breakdown of mobile vs. desktop use.
Uptime Monitoring During Cyber Season: The Takeaway
This is the time to put on your forward thinking caps. We brought it up once but it's worth saying again; current events didn't create the 2020 e-commerce gold rush, they just accelerated the timeline. 
Monitoring isn't just preventive or investigative, in this case it's about data collection. End user behavior during the 2020 retail season will provide a pretty useful projection for where things are headed, the services you'll need to scale, and the aspects you'll need to monitor for the future. 
Our advice is that you pay attention, collect both synthetic and real metrics, and toast the season with a healthy glass of RUM. 
Minute-by-minute Uptime checks.
Start your 14-day free trial with no credit card required at Uptime.com.
Don't forget to share this post!