Uptime.com Blog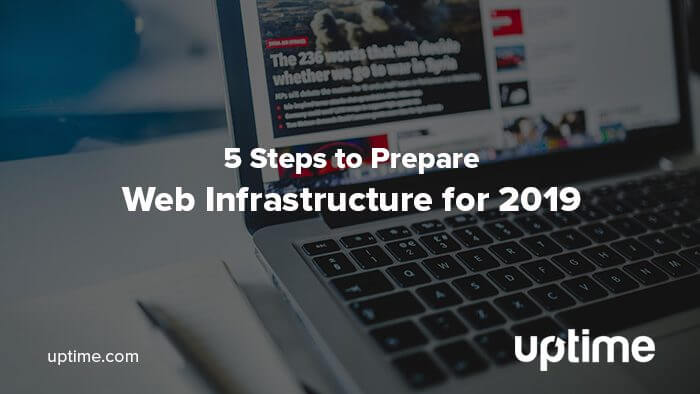 5 Steps to Prepare Your Web Infrastructure for 2019
At least 10 major data breaches occurred in 2018 including Facebook, Google Plus, WordPress, and healthcare sectors. The surge in breaches proves we need to do a better job detecting foul play. User data and our own IP are crucial assets to safeguard in this environment.
We also observed major downtime incidents from companies like Facebook and Microsoft. When Slack went down, it hit the startup scene and halted productivity. We can do more to be proactive for these events by documenting our work to build upon our mistakes.
With the New Year fast approaching, make it your resolution to focus on a proactive response and better transparency.
Here are five steps IT teams can take to get there:
Step 1: Run Domain Health Check
Begin 2019 with an overview of your domain's health. Have you used the Domain Health Check yet? It measures 4 crucial pieces of your web infrastructure:
DNS
This Check looks at DNS records and WHOIS information. The goal is to inform you of domain expiry dates, and changes to your WHOIS information. In practice, teams use this tool to prevent domain hijacking and stay up to date on the expiry of important security certificates.
Web Server
These checks report web server status, ensuring safe access to your site. With HTTPS response, Uptime.com measures response time and provides important data about redirects and other elements that slow page speed.
SSL certificate status provides advance warning of expiration.
With Ping ICMP, webmasters can monitor databases or critical web infrastructure for continuous uptime.
The web server checks combined give you a complete picture of site availability, load time, and ensure critical infrastructure is in place and running.
Mail Server
Creation of a basic user account for testing purposes provides insight into availability of POP, IMAP, and SMTP mail servers. Because email is critical to business operations, continually checking mail servers notifies you of possible deliverability issues.
Failure notices tell you what's to blame and give your support team a starting point for troubleshooting.
Blacklist / Malware
Google blacklisting can cause a substantial reduction in organic traffic. Uptime.com Virus and Malware Scanning combined with Blacklist checks lets you know if your domain is losing out on this traffic.
Blacklisting impacts the deliverability of email, overall user experience, transmission of viruses or malicious content, listing in search, safe shopping, and a host of other factors that determine visibility and safety. When combined with DNS and WHOIS, these checks offer a comprehensive view of potential vectors for attack.
Step 2: Monitor User Experience
RUM reports provide real-time data on average page load time for countries, by URL, browser and device. They offer a true simulation of the user experience from any device. You can view performance statistics for mobile vs desktop, browser vs browser, or US vs International users to name a few.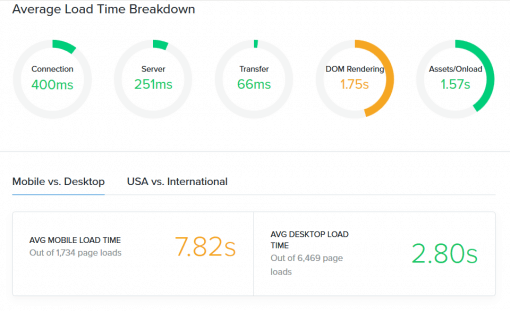 Colorful RUM Reports signal where your page speed declines
Additionally, RUM checks can alert teams when the max load time of a page exceeds a user-defined value. This functionality is especially useful when benchmarking a site for speed as more content is added to a page, or as applications change.
With RUM checks, users can define specific URL patterns to view only the data you care about most. For example, viewing only page load times for items in /shop or /gallery. This way, you can optimize specific elements of your site based on specific milestones like first render or time to connect to DNS.
What opportunities will you uncover?
Both the Domain Health and RUM checks provide insights into additional checks required to cover pieces of critical infrastructure.
Step 3: Define Your Alert Method
Customize alerts that best suit your team's existing workflow to increase productivity. With turn-key integrations for most major services and apps, Uptime.com can notify you through your current communication and monitoring tools like Slack, PagerDuty, VictorOps, Twitter and more.
Most integrations take minutes to set up and allow you to designate which teams receive downtime alerts.
To avoid false positives, define maintenance windows to give your team time to deploy updates during planned downtime.  Escalations alert additional staff when alerts go unresolved so the right people step in when downtime events increase in length and/or severity.
Step 4: Track Response Time of Specific Goals
You already track metrics related to your goals, but do you account for downtime?
With the Uptime.com Transaction Check, you can track downtime and response. These metrics may explain why one month performs better than another. Goal metrics won't tell you if there was a change in load time or downtime during a critical sale.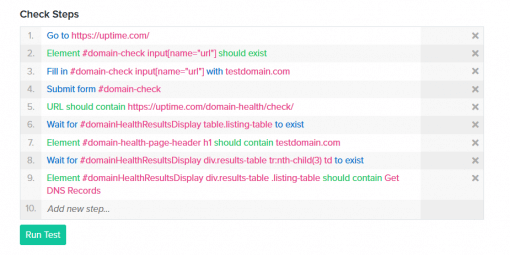 Additionally, the Transaction Check offers high-performance root cause analysis. Get specific data about what went down, at what point the check registered downtime and data on what was expected vs returned. You can download screenshots of what Uptime.com sees and view header data as well.
Use your browser's Inspector to copy and paste elements for a Transaction Check
Highly customizable, but intuitive. Copy and paste selectors using commands from your browser's Inspector, with little to no coding, and create a step-by-step check for your most important infrastructure.
Step 5: Get Specific
The greatest strength of Uptime.com is its customizability. There is a check, integration, or method of escalation that can provide for your specific need.
Are you a gaming company or VoIP service that needs constant server uptime? UDP checks can help. Are you utilizing REST API to ping services and ensure connectivity? API Checks can help. Married to a specific DevOps service? We can integrate!
With our Public Status Pages, you can keep a public changelog of important updates, expected downtime, and outages.
2019 is upon us. Your decisions today affect how you hit the ground when the year starts, and the user is the number one priority. Improve their experience and maintain a proactive response to downtime.
Minute-by-minute Uptime checks.
Start your 14-day free trial with no credit card required at Uptime.com.