Uptime.com Blog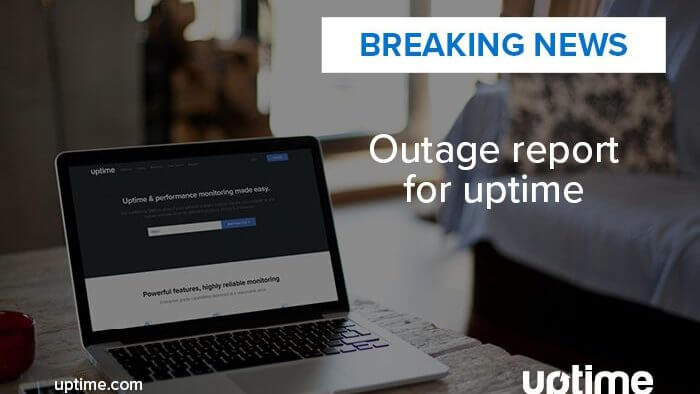 Outage Report for Uptime.com: June 2018
We here at Uptime.com strive to be on the cutting edge of downtime monitoring across the web. While our tool provides valuable insights into a website's speed and global uptime, this month the focus was on big brands with huge customer bases. Every outage seemed to affect millions of customers in the US or across the globe.
Cord-Cutters Cried For Hours
First, there was Netflix. Imagine the frustration of cord-cutters around the globe who couldn't access their favorite movies and TV shows. Thinking there may be a problem with their account, they attempted to log in only to meet a spinning ball of death.
Slackers Worldwide Unite (Over Email)!
Fully remote, global companies (like Uptime.com and many others) rely on communication tools like Slack to collaborate with their teams and each other. Imagine our surprise when we had to resort to things like (Gasp!) email in order to get in touch.
There's No Place Like Home… Because the Servers Went Down
The Slack outage led many to Google Home for directions to the nearest coffee shop. Because if you can't Slack online, a coffee shop is the next best place, right?
Wrong! To make matters worse, both Google Home and Chromecast experienced outages around the same time as Slack.
Maybe the "millennial meltdown" created by the Slack outage oozed into Google's servers and caused the Chromecast and Google Home issue. Whatever caused the problem, Google was quick to keep unhappy users updated via Twitter and rolled out a fix for it faster than you can spell Google backward five times.
We have a fix for Google Home and Chromecast. It will automatically roll out within the next 6 hours. To get back up and running now, reboot your device → https://t.co/CM4ov63F46. Thanks for sticking with us!

— Made by Google (@madebygoogle) June 27, 2018
The Final Outage of the Month
After four major outages in June, we all breathed a sigh of relief. No more surprises, the internet is not broken anymore and all is right with the world.
Wrong again! Friday night, Comcast users tweeted a string of obscenities in 280 characters or less about problems with both Xfinity internet and cable worldwide. The culprit? A cut cable.
JUST IN: Comcast tells CNBC that it is aware of a "nationwide outage impacting some of our internet, video and voice customers" https://t.co/ueab1jw8CI

(Disclosure: Comcast is the parent company of CNBC & NBCUniversal) pic.twitter.com/ViwwC4J7Uv

— CNBC Now (@CNBCnow) June 29, 2018
Later we found out that the same fiber optic cable was responsible for many more minor outages and some speculate they affected services like Verizon and AT&T. Verizon was quick to take an opportunity to try to steal Comcast Business customers.
What Can We Learn from This Mess?
It doesn't matter if you sell widgets online or run the world's most efficient video streaming service. Downtime happens.
How you handle it is what makes the difference.
While you may not have a company the size of Comcast or Google or Netflix, the important thing is that you have a plan in place to handle the days when the internet decides to rain on your parade.
That's why Uptime.com was created. Sophisticated checks with a simple pricing model. Don't let downtime run off your customers or shut down your website. Some companies never recover.
Minute-by-minute Uptime checks.
Start your 14-day free trial with no credit card required at Uptime.com.