Uptime.com Blog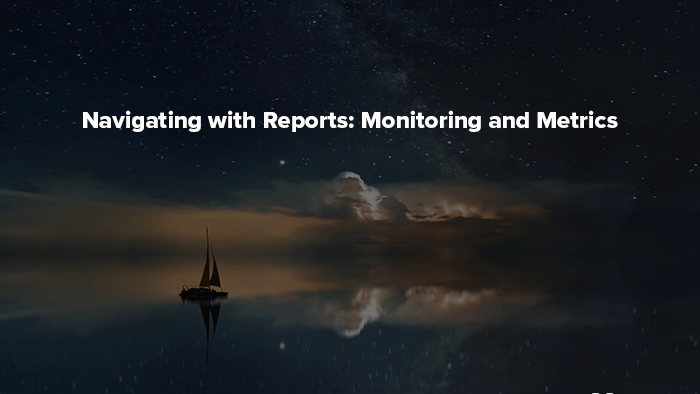 Navigating with Reports: Website Monitoring and Metrics
Once upon a time there was the internet, and it was good, and it was global. We built our businesses across its networks and expanded our commerce from computer to cloud. Like with any physical trade route, the journeys are not always consistent. If your website is your flagship, your reports are your map.
Sites rely on servers and it's possible that your site might be UP in the UK but DOWN in Dallas. In the same vein, you can experience different latencies in varying key market areas around the globe.
Reports relay information; converting technology into text, telling you everything from where your concentrated areas of traffic originate, to device types used, initial page load times, and provide uptime and response-time metrics. Reports may advise you to change providers, scale servers, optimize transaction paths, and more. Let's explore.
Reporting From the Depths
First ask, "who are your reports for?". At its deepest level, reporting is about specifics, and so it is also about the detailed control of parameters. Without diving into report creation, the Uptime.com dashboard offers customizable views of checks including alerts, outages, and uptime and response time metrics.
Often, your team's tech gurus aren't the ones looking at traditional reporting. Dev lives in the daily trenches and would likely rather pull the information they need in JSON format via API. You can use the Uptime.com REST API to generate reports that detail everything from the state of your probe servers to your global uptime stats over a period of time. 
Hint: You can call data from the API to report on aspects such as alert data, metrics, and outages. Our Github has some examples but here's some endpoint shortcuts for the savvy traveler. If you choose to navigate the API route, you will likely need at least these three endpoints:
Reporting for Industry Sharks and Stakeholders
The word metrics carries different meanings for different members of your team. If, to you, metrics mean key performance indicators (KPIs) in terms of marketing or strategy, you'll be more interested in reports that break down traffic by location, and report on metrics that prove your SLA accountability for total uptime and target response-time.
There are two reports that will help you here, and both of them are easily created and available within your Uptime.com account.
Real User Monitoring Reports
Real User Monitoring (RUM) reports are generated by inputting an http snippet into your page source code, and they break down real user data into a literal map of data points:
Review initial load times based on geographical locations around the world

View data on specific pages by specifying page URLs

Accurately measure the initial load time of your site by users devices and browsers
RUM reports give you analytics that can be used to guide decisions on marketing to certain areas, and targeting certain platforms. Is your site more frequently visited on mobile devices? Well, that influences where you spend your development dollars, what third-party providers you may partner with, and tells you a lot about who your clients are.
A big piece of reporting at the management level is being able to share relevant and digestible data. Which brings us to our second report type:  Scheduled SLA Reports. SLA reports are customizable and detail SLA required metrics; average target SLA%, and average uptime%, as well as response times and overall outages for your selected Uptime.com checks.
Reports like the SLA report are simple to interpret and pass along, just a simple pdf attachment – though they can also be displayed in XLS format if raw data is more your style.
Reporting from the Shallows
There's a lot of action happening on the front-lines of your monitoring infrastructure, and you don't have to drill deep into the API to view pertinent metrics. In fact, we've even built a type of reporting into some of our check setups, so you can test element response times in your transaction pathways before even activating your checks and having them count against your uptime.
Individual Check Reports
Select a check from your Uptime.com dashboard view, or from your main checks page, and view an interactive report instantly. Review the checks current status, total website downtime, and response time by probe server location for the date range of your choice. Conveniently download reports and share comprehensive details instantly with decision makers.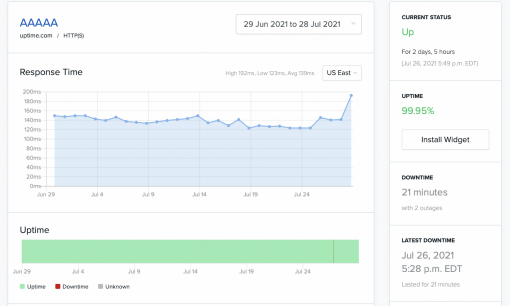 Response-time Data and Run Test
Nothing is more helpful than receiving intel from metrics before they count against you. Our favorite example is the Uptime.com Transaction Check. Transaction Checks are script-builders that can be constructed to mimic user actions on your site. Each step represents a single action, navigation, or interaction with an element.
Our Run Test feature allows you to test your check (from default servers or your private locations) and return response-times that may indicate you have some optimizing to do on a certain element before activating your monitoring for that pathway.

Knowledge = Direction
Seeing what's happening in your system right now is possible by compiling information from your checks, alerts, and metrics. We provide multiple solutions for creating accurate, transparent reporting that flexes to meet your needs. No two companies are exactly alike, but most companies have one thing in common – they thrive online. In a landscape as vast and unpredictable as the internet, Uptime.com makes it easy to know what you need to know, and show it to those who need to be in-the-know. That's a lot of knowing.
Minute-by-minute Uptime checks.
Start your 14-day free trial with no credit card required at Uptime.com.
Don't forget to share this post!