Uptime.com Blog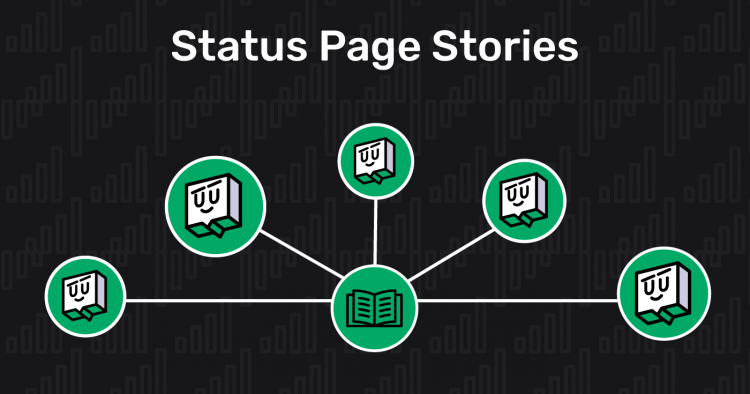 Employee Status Page Stories
In the spirit of highlighting the importance of Status Pages and how they impact users, we gathered actual stories from various Uptime.com employees. A time in their lives where they landed on a company's status page (outside of work) to investigate problems they were experiencing. Enjoy!
Yoni Solomon, CMO
Status Page: https://status.figma.com/ 
Figma is a tool that many of us rely on at Uptime.com for product and marketing wireframes. Overall, it is a fantastic tool that has allowed us as a remote-first company to easily collaborate asynchronously on many of the products our customers know – and use – within the Uptime.com user panel. Whatever the capability is, before it ever made its way into production – it was likely born in Figma. 
I recently had an issue with Figma link errors when clicking on them via email. I immediately checked Figma's status page to find that not only were they aware of the issue, but had identified the fix and it was being implemented at that very moment. 
I found Figma's status page to be an impressive one for several reasons. To start, it's clear, clean and simple. This makes it easy for anyone – including a non-technical person like me – to navigate and comprehend their page. As a writer, I really appreciated the clarity and effectiveness of Figma's written communication as well. Their incident communication copy was broken into 3 distinct sections: Investigating, Identified, and Resolved. And each had enough information to properly convey the information at hand, yet was still concise enough that anyone could understand it. Well done!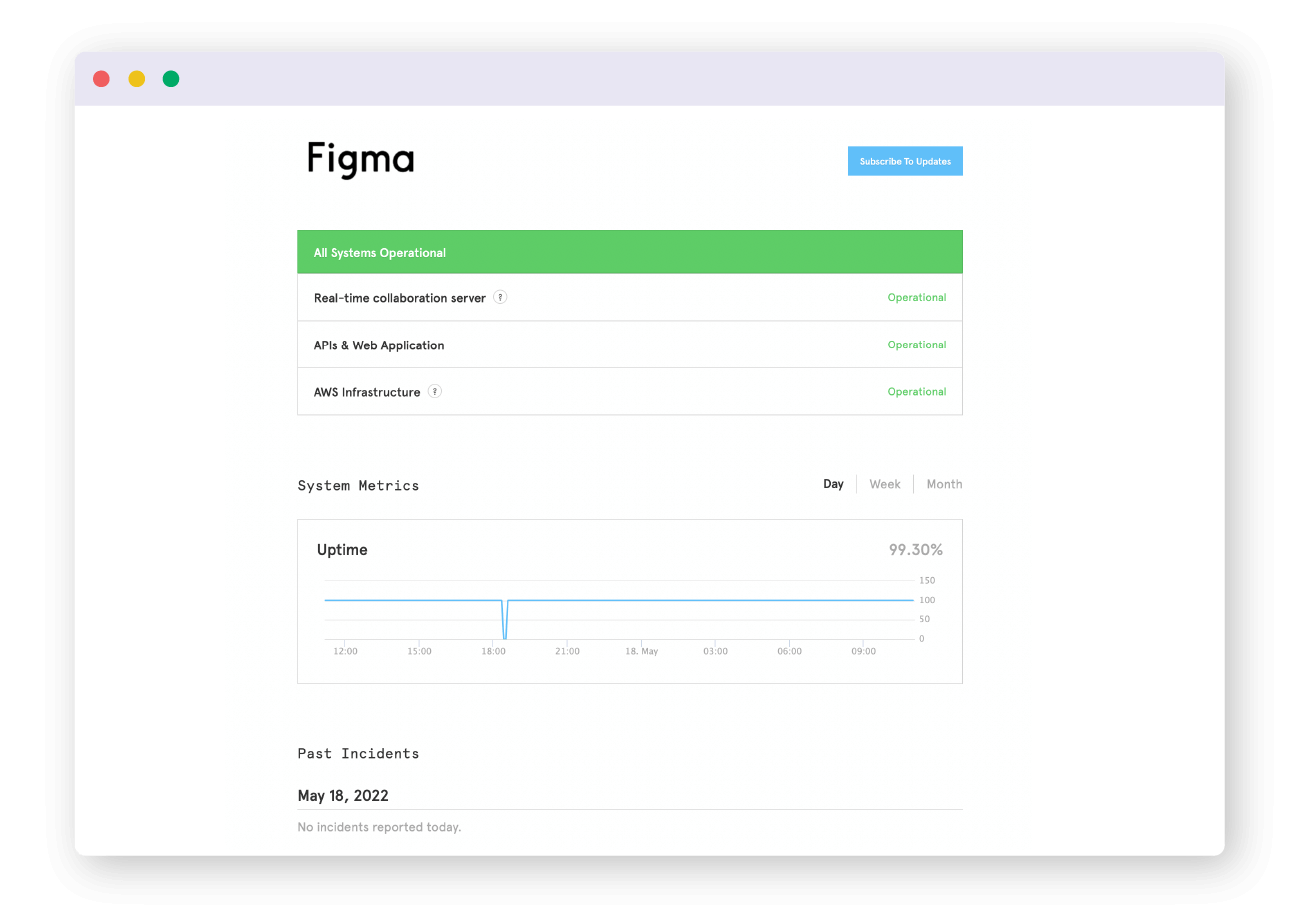 Elias Laham, VP Success & Support
Status Page: https://status.zendesk.com/
As a part of a new employee onboarding I provide access to systems as the training process progresses. I send over the username and link to the service needed in order to allow the employee to either enter with a one time password or reset password. In this case the employee did reach the site and completed to reset password to gain access. After this was completed the employee was unable to login to the service with the new password and the site was totally failing with the "cannot be reached" error.  Testing the same URL on my end was working but this service has servers all around the world and may be encountering an error in a specific location. Since I was trying to trouble solve this online, and did not want to wait hours for a support rep to get back to me my first action was to check my email as I have subscribed for updates. Not finding a relevant email the second step was to go directly to the status page. This service's status page is well organized and is luckily kept up to date at all times. Having it divided into services allowed me to review the specific services status. In addition this status page allows me to enter my own domain which may be hosted in multi locations and see specific status. 
Turning to the status page does save time waiting for support rep and also allows troubleshooting if this is general or a specific local issue which was the case in the end. A status page is useful when it is constantly updated with any outages or incidents that may affect the service as a whole. Gaining clients' trust with a status page is crucial and helps alleviate unwanted heavy loads for support teams.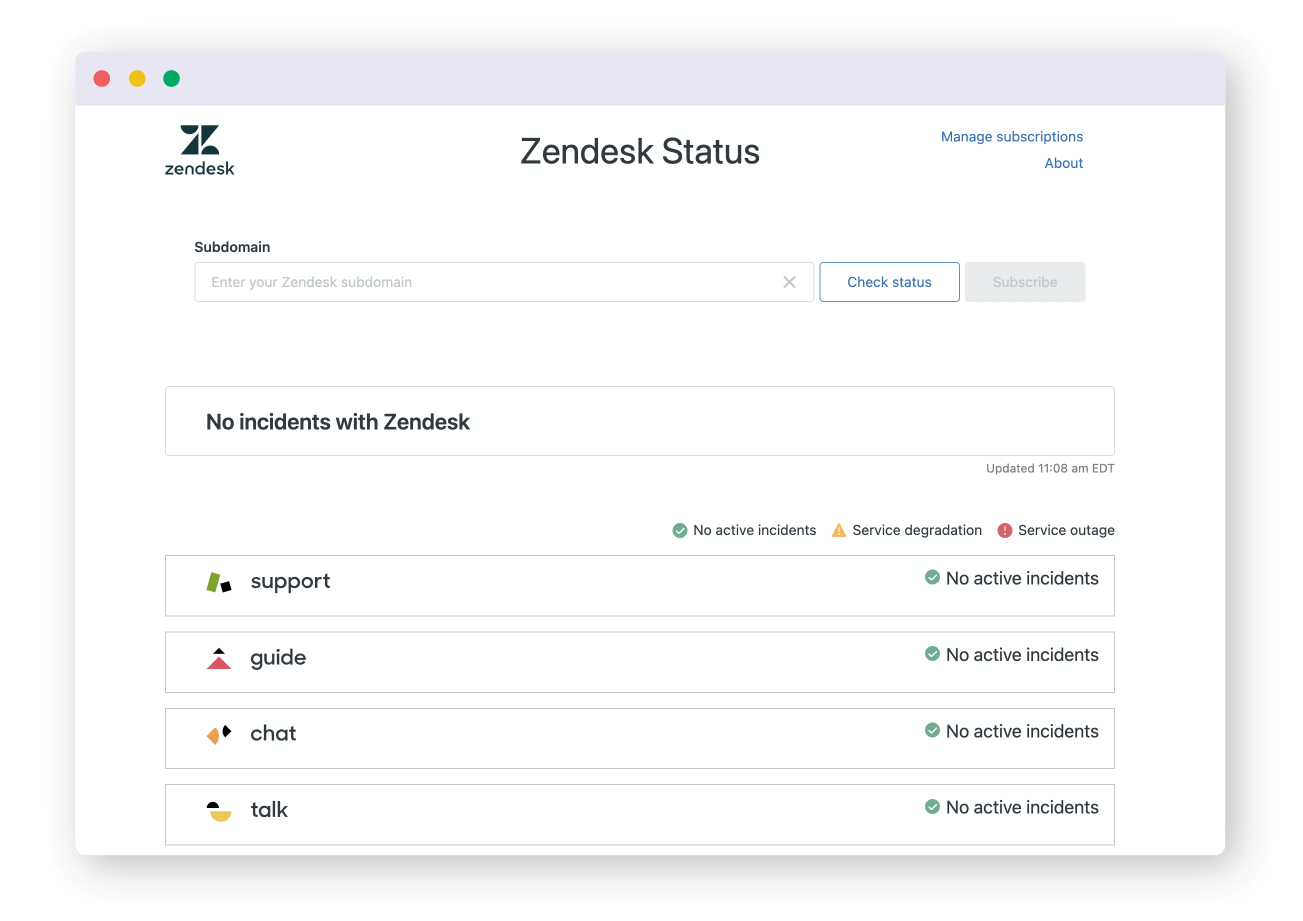 Emily Blitstein, Technical Writer
Status Page: https://status.zoom.us/ 
Status Page: https://twitter.com/spotifystatus 
For me, convenience is everything. Most of the status pages I subscribe to are work related. I subscribe to the Uptime.com status page to remind me of maintenance that our customers might reach out about in support tickets, and I subscribe to status pages for third-party services and tools that I use on a daily basis. I most appreciate when a status page sends notifications to their subscribers with a summary of the issue or update – I don't want to have to actively monitor a status page by navigating to a site. Zoom does a good job of this with detailed email notifications for maintenance and incidents regarding their different services.
On the flip side, convenience without context is annoying. I have a daily morning podcast/coffee ritual that was interrupted by issues with Spotify– who have gone the twitter route in place of an easily accessible, public, company run status page. The "something's not quite right/everything is fine" approach is a bit frustrating, especially when you're halfway through a true crime podcast and already a little on edge.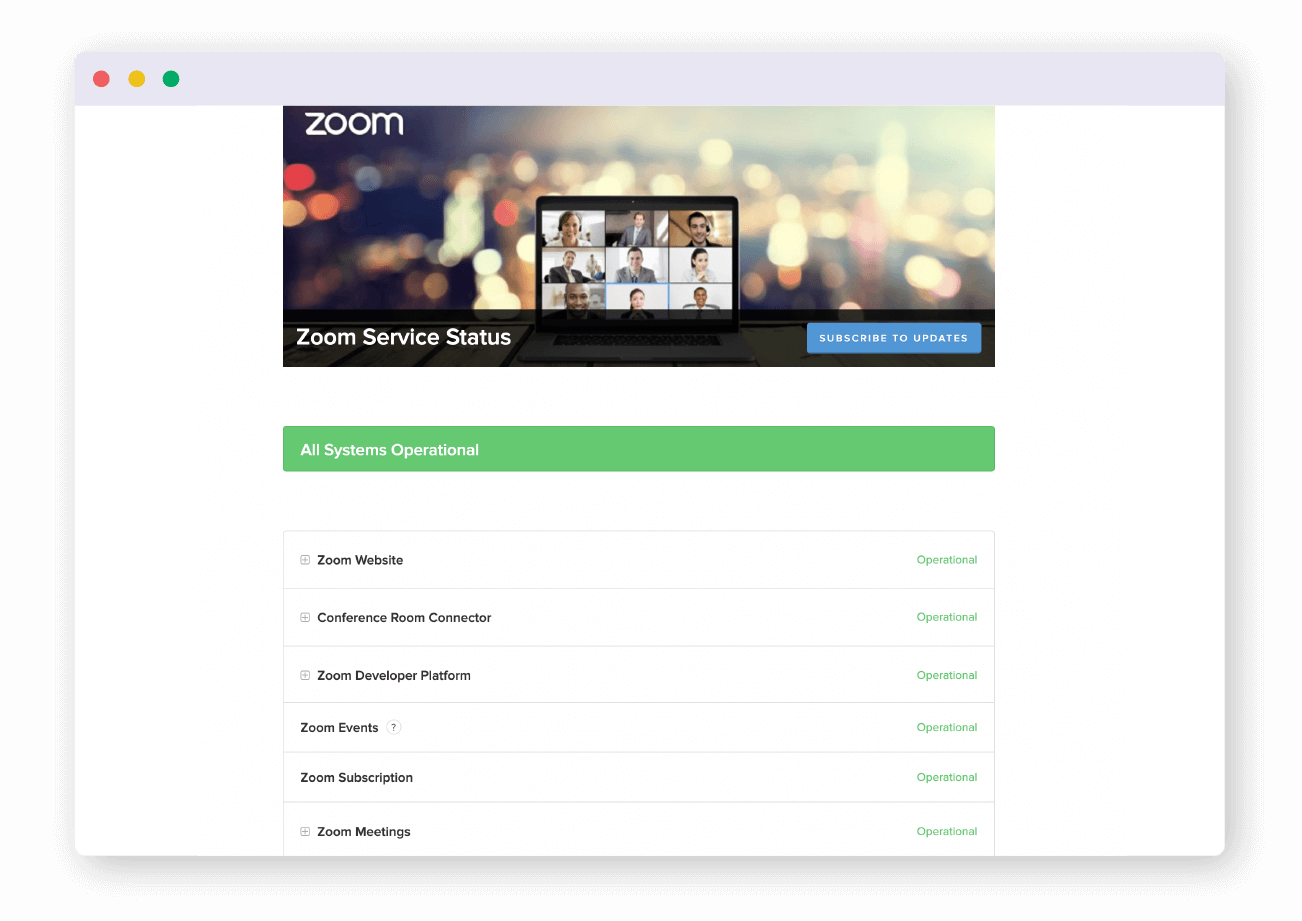 CJ Donahoe, Enterprise Account Executive
Status Page: https://status.overdrive.com/
After weeks of waiting, it was finally my turn in line to check out an audiobook. I use the Libby app from Overdrive which lets you check out ebooks/audiobooks for free from your local libraries and download them to your phone. My excitement was immediately shut down and gradually morphed from frustration into rage when I couldn't access my Libby account. I tried and tried with no success before realizing that maybe something is up with their site. I know (…I'm pretty sure) my username and password are correct, so it must be something on their end. 
Luckily, they had a status page that showed me I was trying to access the site during a maintenance window. A clear banner message stated, "During this time you may experience issues with logging in". Obviously I'm not any happier to see that message because I still want my audiobook, but it certainly beats smashing one letter at a time into my phone screen over and over and arguing with a login form.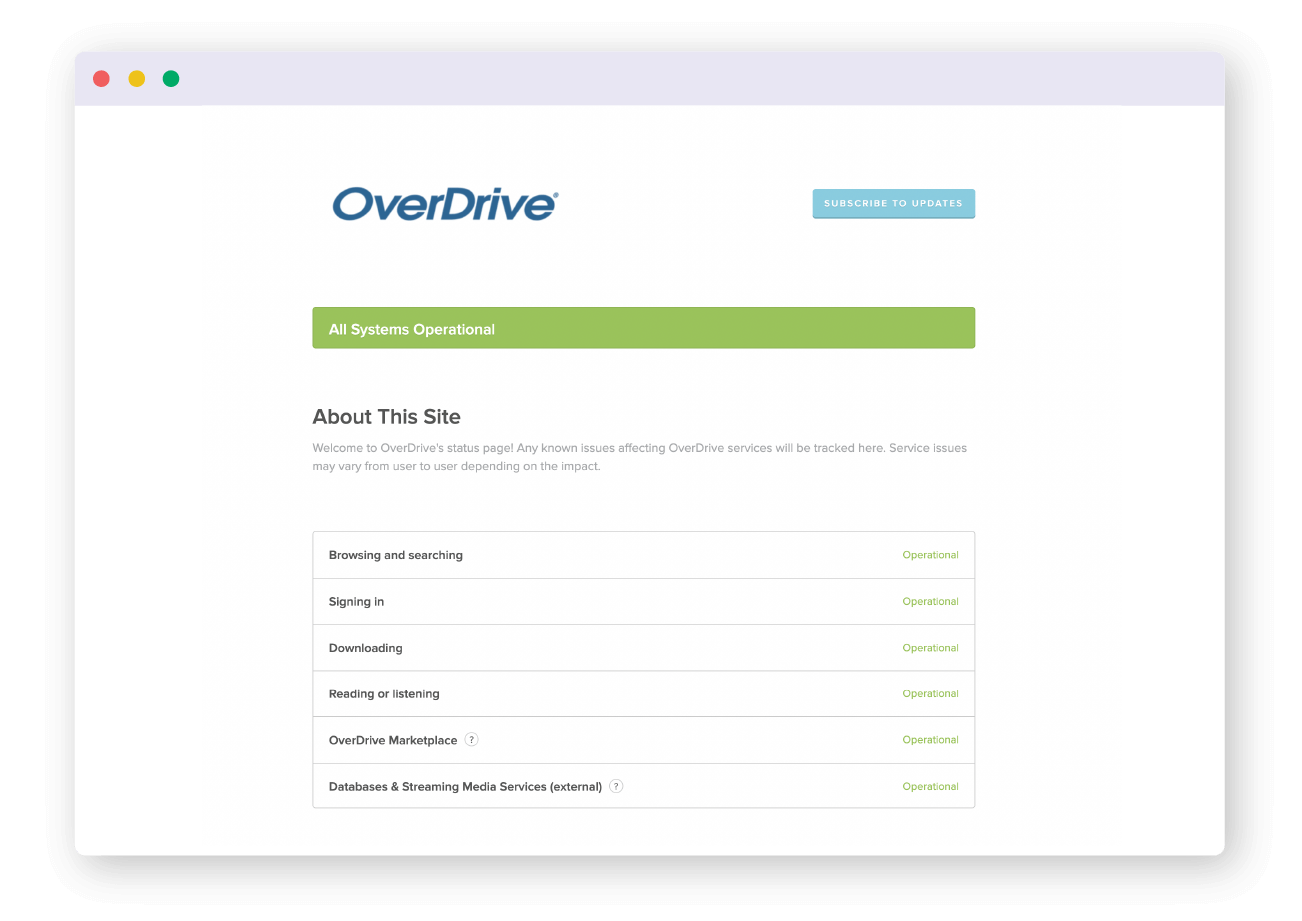 Richard Bashara, Support Manager
Status Page: https://status.escapefromtarkov.com/ 
I am a fairly avid gamer outside of work and family hours. One of the games I play, Escape from Tarkov, has authentication, marketplace functionality, game lobbies and other moving parts that can break while the game remains "functional". Their support isn't in my timezone, so a response from them on an issue like server connectivity isn't exactly ideal. 
But, not to worry! The folks over at Battlestate have a status page that is quite useful to me when we suspect issues with connectivity. It does a great job of putting uptime stats directly in front of me, and their social feed is integrated nicely so I can see the latest updates from their main account as well. 
In general, I believe more development teams would benefit from putting these metrics front and center for users. We don't always need to know, but you can save a lot on support costs for those rare times we do need this information and I'd rather see you spend that money on making the games I love even better.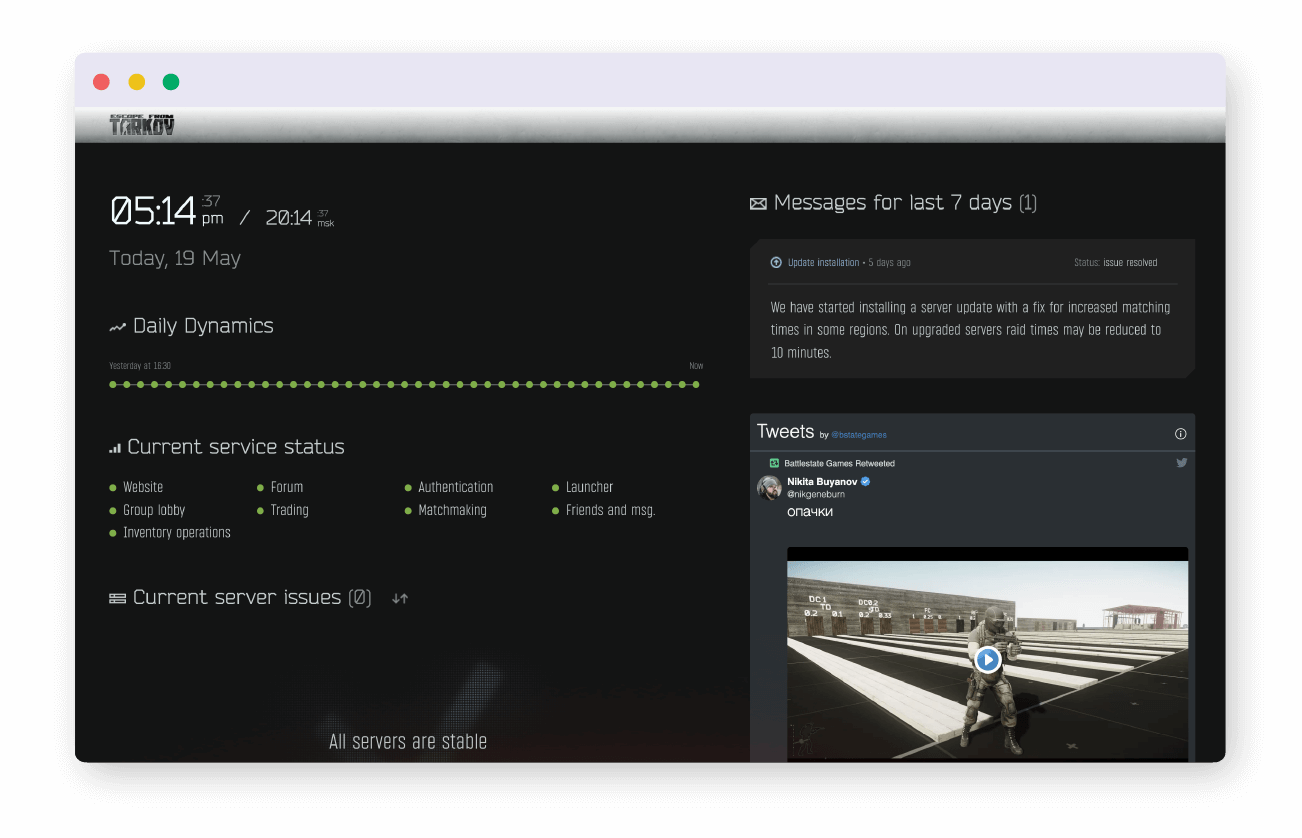 Alex Brown, Technical Support Specialist
Status Page: https://help.netflix.com/en/is-netflix-down 
There are few things as frustrating as watching a dramatic end-of-episode cliffhanger, wanting — no, needing — to know what happens next, only to see an unending loading screen followed by an error message.
"Whoops, Something Went Wrong…" Netflix apologizes, hoping that I will wait patiently for the error to resolve itself and the next episode to start. Sometimes it works, and I take a deep breath, refill my water or go to the bathroom, and return to my spot on the couch. But most times, I simply must know what the error code means, and whether Netflix will get their act together so I can see what happens in the finale.
Netflix knows this, and they built the exact tool that I need. I don't need a technical background or experience troubleshooting anything, because they make it simple. Their Status Page can answer any of my questions, from whether Netflix itself is still running properly, to a handy search bar to enter in the error code I received. If the error code search doesn't help, then I can try typing in my issue to their Help Center search bar. And if all else fails, I can contact Netflix support directly to get a human being on the line to explain what's going on.
In the end, it was just an Internet Connectivity issue because my cat decided to play with the cable in the back of the router. But if it had been anything else, Netflix would have had the answers I needed, when I needed them; all bundled together in a handy Status Page.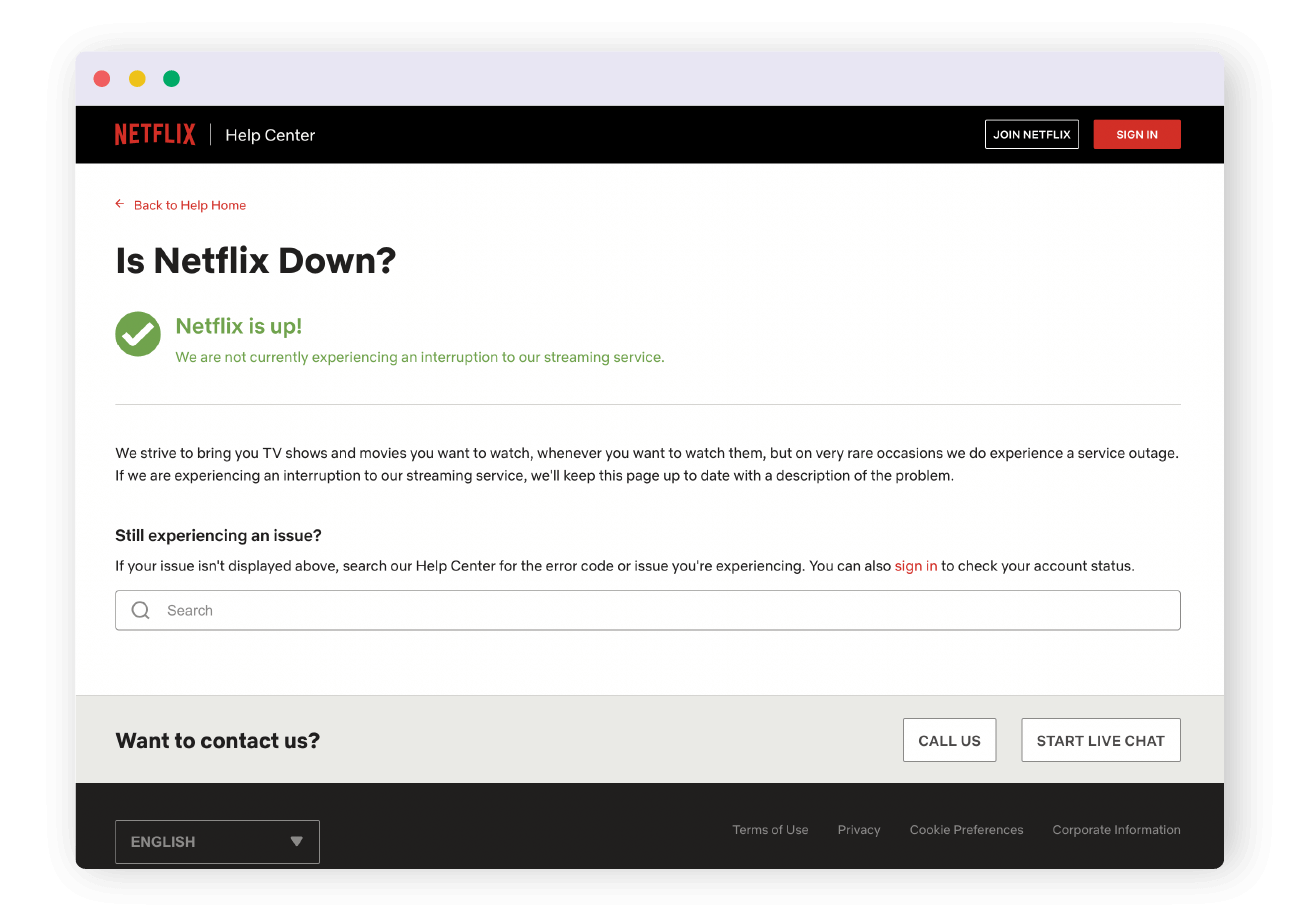 Chinedu Uwaezuoke, Technical Support Specialist
Status Page: https://downdetector.co.uk/status/bet365/
Nothing is more irritating and disappointing when trying to use any application and website, and by no means your fault, constant crashes and even resetting and reinstalling the application does not fix the issue.
Constant and Repetitive messages such as "Hi, we are aware of some customers experiencing issues…", always hoping that it means the resolution is near. The issue is that because they have many customers, and on the eve of one of the biggest games in the Champions league (Real Madrid vs Manchester City), there seemed to be no hope.
This has been a regular occurrence with this product, offering their users for the game a free £5 bet, no deposit required to be used however you want for the game. The best way to utilize the free bet is using a Bet Builder, usually where you'll win the most money. Ironically, it makes sense why each time they offer this, the site goes down?
I had a look at their status page, and obviously the site was up when the game had started and in play! It was a loss that I and others had to take, and begs the question, more has to be done in having their own status page with constant updates, and more care in the customers (like myself), who use these services. 
*This website doesn't have a public facing status page. The user had to use an external site to verify if the website application was indeed experiencing downtime. Control your own narrative in the case of an outage with a personalized, branded status page.*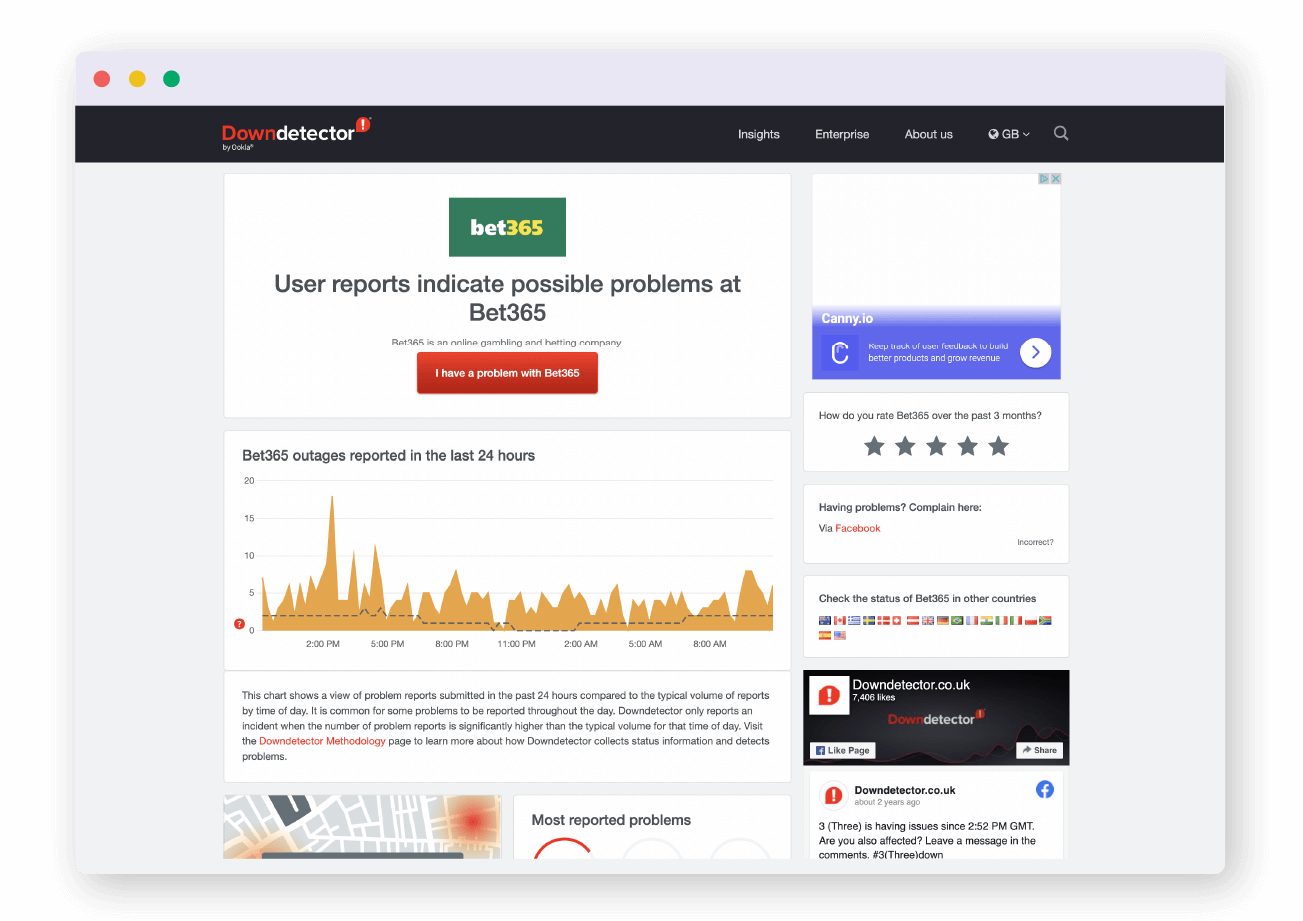 Stefany Mandarino, Brand Designer 
Status Page: https://status.adobe.com/
As a designer, I rely on Adobe Programs to fuel my work on a day to day basis. Before starting at Uptime.com, if one of my programs crashed, I would go through a long process of trial and error to see if my web based program, like Photoshop or Illustrator, had crashed as a result of something on my end or Adobe's. I would restart the program, turn my wifi off and on again, and in extreme cases I would try to use an older legacy version of the application. 
The importance and value of status pages has become increasingly clear to me. Now the first place I look when I have an error in my program is the Adobe status page. Their interface is very user friendly and I can search any particular program to see if there are any minor or major incidents or if any maintenance is scheduled. Being able to reference a single location for the status of all my applications is a huge time saver.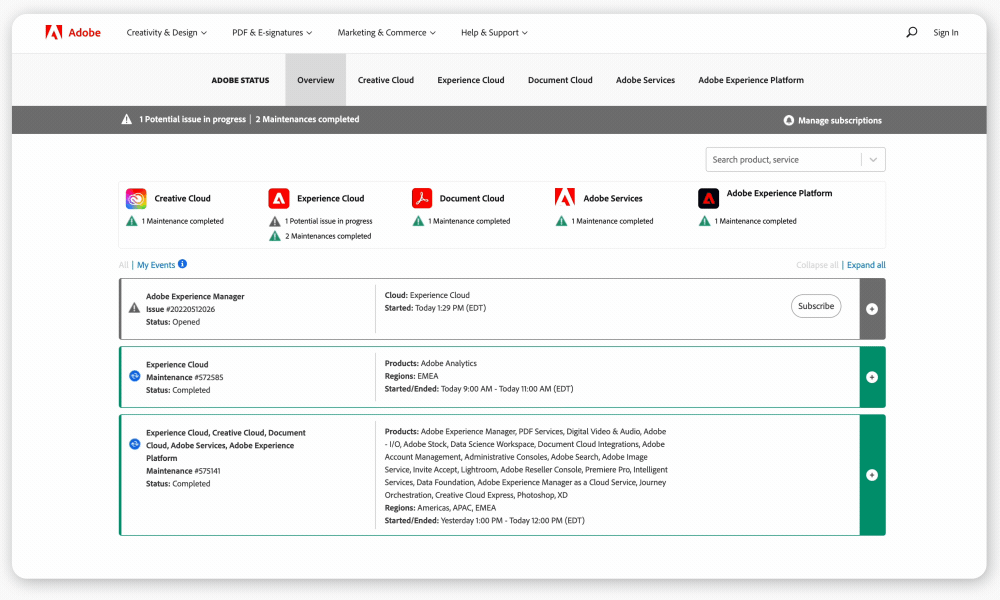 Romana Amato, Director of Marketing and Revenue Operations
Status Page: https://status.hubspot.com/
I live and breathe HubSpot. But nothing creates more anxiety than getting a Slack message from a Sales or Marketing team member that reads "Hey, I can't pull a customer list" or "Hey, is there something wrong with our HubSpot account?" (the latter especially sends me in a panic). 
During these instances, I usually open Hubspot to see if I can quickly troubleshoot what's happening. If there's an outage of some sort, HubSpot will include a message within the platform itself. From there, I can get to their status page to 1) monitor the downtime and 2) find more details regarding the outage so I can communicate back to the teams and give them an ETA.
I would be lying if I said I didn't have their status page bookmarked, and in the past I've connected it to Slack so I could receive a message the moment an outage was reported. Having more ways to be alerted is great, especially when I'm in a meeting or traveling and can't readily access the status page itself.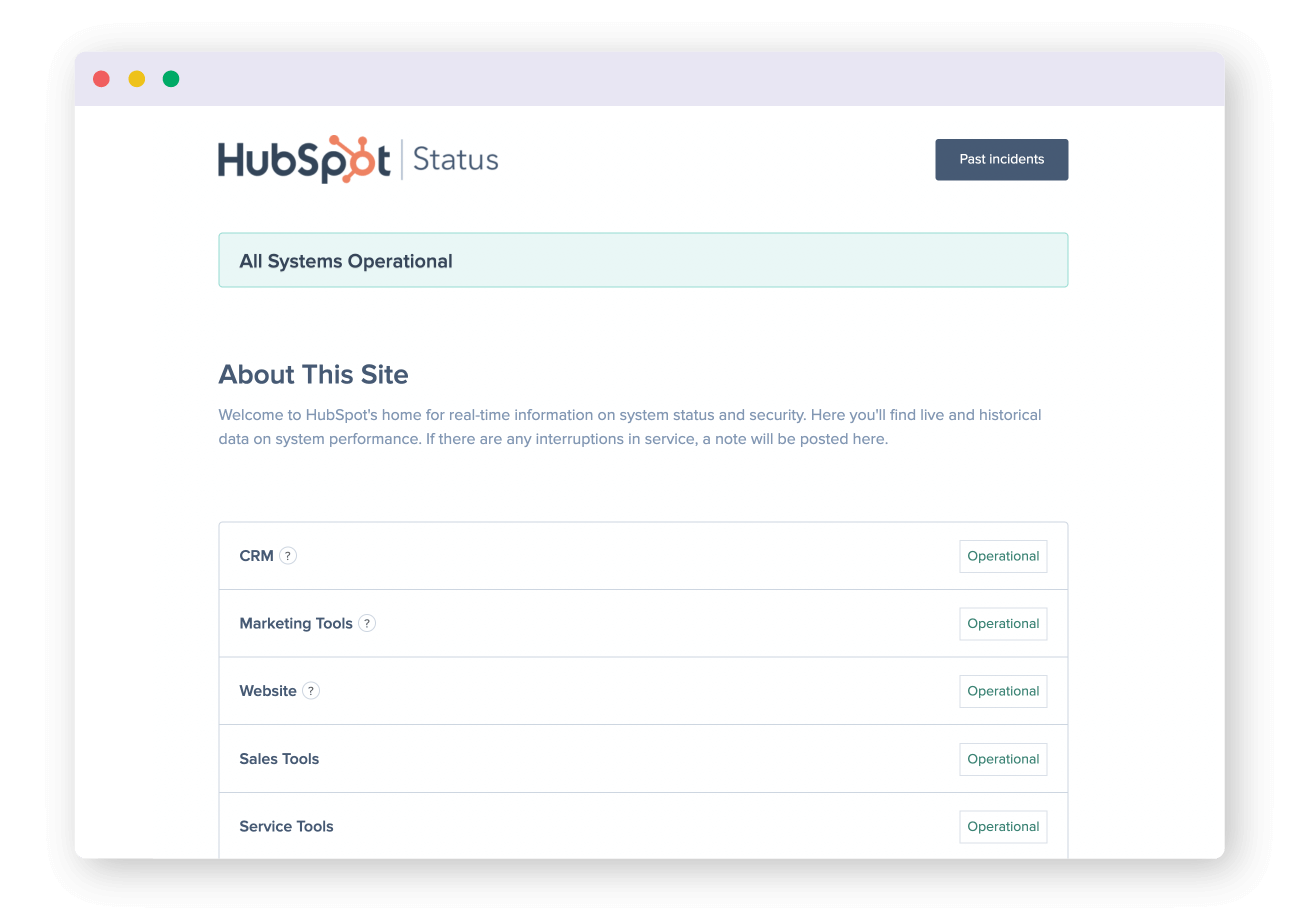 We hope these stories shed some light on the everyday use of Status Pages and how they can help mitigate high traffic in support tickets, and provide answers for concerned customers. Uptime.com has the tools to help you easily create the kind of custom branded status page you'll want seen and subscribed to. 
Learn more about our public and private status pages here – and try our 100% free for 14-days with a website monitoring free trial.
Minute-by-minute Uptime checks.
Start your 14-day free trial with no credit card required at Uptime.com.
Don't forget to share this post!