Uptime.com Blog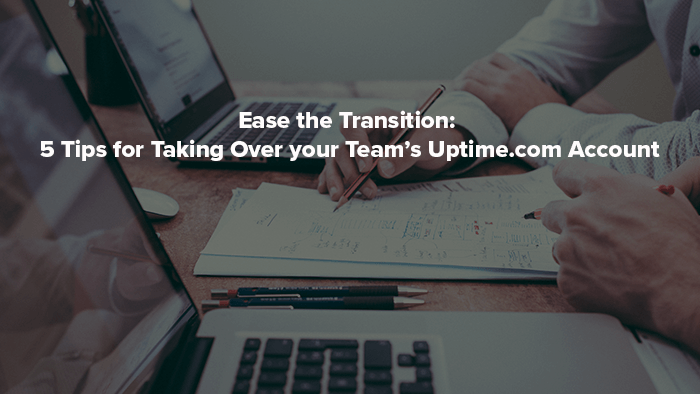 Ease the Transition: 5 Tips for Taking Over your Team's Uptime.com Account
Eleven basic checks and one status page. That's all you see when looking over the account usage of the Uptime.com account you are now managing for your company. When you logged in for the first time you saw a dashboard with cards and metrics, labeled with titles that don't obviously connect to services you offer. Your first clicks were to navigate to view the subscription – maybe your plan details can give you some guidance.
Does this sound like you? 
Companies are not stagnant, especially tech companies or those with online assets like e-commerce stores or complex websites. Teams are not stagnant either. Whether you have inherited management of your monitoring account due to reorganization, or inherited it with a new role, here are our 5 key steps for auditing what you have, and moving forward confidently as the account's primary user.
1.
Reach out to your Uptime.com account representative
The first step is to reach out and say hello.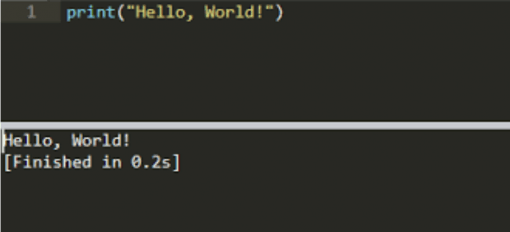 When you first create an Uptime.com account, our team will reach out to you directly and get you squared away, but we have no way of knowing the exact moment that an account is taken over by a new user. 
Uptime.com account reps are readily available for calls and live demos, and are a great resource when it comes to getting acquainted with this new monitoring tool that you've inherited. All you have to do is click support from within your account and either email or call, we'll take it from there.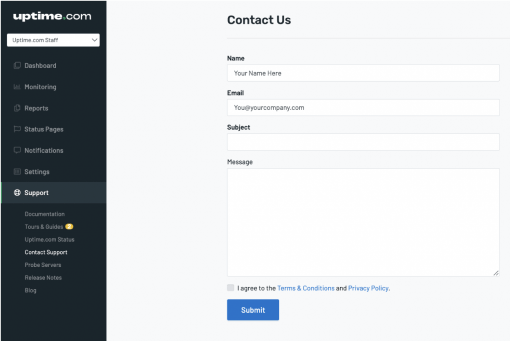 2.
Gain a working knowledge of your account features
Tours and Guides
The support menu (shown above) in your account also links you to resources like our Tours & Guides that walk you through account features step by step, and to our extensive documentation library. We've also got a growing youtube channel to help with account orientation and feature functionality. 
Support and Documentation
Our support documentation library is easy to navigate and covers every facet of your account – complete with use cases, example images, and step-by-step instructions. Relevant articles are linked throughout your account via the information ('i') icons nested within our features, as well as directly searchable through our help function.An endless supply of helpful documentation, walkthroughs, and videos sounds great – and it is – but sometimes it is easier just to talk to a human. If you find yourself as a new account owner not knowing what to look up or which feature can solve your problem – our 100% human 24/7 support team is available via chat, phone, and email.
3.
Investigate logs
Now that you've become familiar with your account features and general layout it's time to figure out what the previous account owner set up, and where you need to pick up the ball.
Audit Logs
If your account has audit logs enabled, this is a great place to start to reference when checks were created (which can help you identify monitoring services that may not have been clearly labeled), when updates were made, and identify any regular or scheduled actions that were done in the past to manage the account. 
Audit logs can also show you which account users are active, who is responsible for what, and how often your team is interacting with your account.
Alert Logs
Alert logs are available to all Uptime.com users. They list out all account alerts (even ignored ones), link directly to checks and deeper analysis, and provide easy-to-reference data on services or locations that may have experienced recurring outages.
4.
Review feature settings and thresholds
You're familiar with the account's activity, now it's time to review the particulars. Uptime.com features are highly customizable. From branded status pages to custom sensitivity thresholds that manage when and how you are alerted. There are a lot of fields to review, and once you've done your manual audit, we make it easy to make mass changes with our bulk update feature.
Monitoring Checks
We could take a deep dive into each field that you should or can audit/customize (but we've already done that in our documentation 😉) so we'll just say this:
Even basic checks have optional and advanced settings. It's in these settings that you can make decisions to tailor your monitoring and your alert structure to suit your needs. The advanced settings tab of your edit check window is the place to start.
Sensitivity and timeout thresholds allow you to customize how many monitoring locations need to fail before you are alerted, and how many retries each location will perform before it fails. These are powerful settings that help prevent false positives.
The tabs in the edit check window will also allow you to customize escalations; meaning you can select contacts to be alerted a certain amount of time after the check fails – if it remains down. 
Scheduled Reports and Status Pages
Audit your existing reporting. Navigate to Reports>SLA Reports to view any reports that have been created for your account. Then navigate to Reports>Scheduled reports to view any set schedules. Schedules can be created on a recurring basis to report on specific checks to whichever contacts you please, whether they be account users or external emails.
Dashboards and Tags
Review your account organization.
Tags are the organizational bread and butter of Uptime.com. Tags can be created and then assigned to checks (either individually or in bulk) and then used to quickly populate checks to dashboards, status pages, or reports.
Dashboards are the first thing you see when you log in, and they can be customized to show specific checks, latest alerts, response time metrics, etc. so you can quickly reference the information you need without navigating through a bunch of screens. Use tags to populate your Dashboard, SLA Reports, and Status pages with any checks (past, present, and future) that have the same tag. 
5.
Audit users, integrations, and contacts
Last but not least, audit your team. This includes your account users, plus the contacts and integrations linked to your Uptime.com account.
Permissions
As the account owner, you can assign permissions and visibility to your account users. Choose between Administrator, View and Modify, or View Only to control account access. You can also limit views further and segment your internal clients with the use of subaccounts. 
*Pro Tip: If you inherit an account which utilizes subaccounts – you will need to audit them separately. Subaccounts receive their feature allocations from the main account's limits but otherwise function as totally separate accounts.
Security
Uptime.com allows for enablement of SSO and 2FA for account security. Manage these functions for your account as a whole, or for individual users. But don't worry, even if your SSO provider goes down unexpectedly, you as the account owner can always login normally.
Alerts and notifications
Uptime.com supports both account users, who are granted access to your Uptime.com account, as well as contacts. Contacts do not have to be users. But all users will need to be contacts if they want to receive downtime alerts. 
Don't think of contacts as people. Think of them as channels. Each contact represents an alert pathway and supports communication via integration, email, sms or phone call. Contacts must be configured into checks or escalations in order to receive alerts for that specific check should it go down – so this is an important step in your audit. Contacts can also connect a check to an integration; like a slack channel, or PagerDuty so you can receive Uptime alerts wherever you need.
Taking over a new account is no small job, especially for a technical product. Uptime.com makes it easy with both human and digital resources. Need help with your account management? Reach out to us at support@uptime.com 
Minute-by-minute Uptime checks.
Start your 14-day free trial with no credit card required at Uptime.com.
Don't forget to share this post!