Uptime.com Blog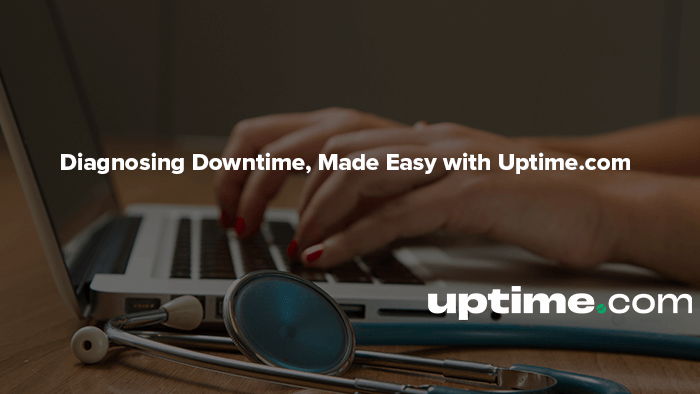 Diagnosing Downtime, Made Easy with Uptime.com
Downtime is one diagnosis you don't want to waste time with second opinions. You want accurate alerting the first time around, followed by drill-down tools to uncover and help you treat root cause as fast as possible.
As with any form of health (even domain health), preventive care should always be your first defence. With Uptime.com "preventive care" means 360º monitoring that doesn't skimp on analysis.
There are 3 true and tested tools that make up the Uptime.com diagnostic checklist. 
1.
Escalations: Building Your Alert Structure
A key component of diagnosing downtime is making sure downtime alerts go to the right people. Step one is configuring your web monitoring checks with an alerting structure. We make it easy to alert as many contacts as you like when a check initially fails, and even easier to escalate alerts that have been down for a certain period of time. After all, time DOWN may change who needs to see the data.
Next, you want to ensure that the alert data you're sending is as comprehensive as possible and there are a few pieces to this. 
Configure for accuracy

Practice good record keeping
Accuracy depends on locations, retries, and sensitivity – which is just fancy talk for making sure your web monitoring checks are thoroughly testing each probe server before they declare failure.
Once you set up the basic configurations for your check, you are able to choose your probe server locations. Let's say you pick 3 (US East, US West, and Austria). You then say 2 of those locations need to fail 2 consecutive times (time is based on the check interval you determine) before your check is considered DOWN. 
Uptime.com tests each of your locations within your set interval – providing you with even more coverage and security. So if our interval is set for 3 minutes, with 3 locations we're getting 1-minute monitoring coverage and a lot of prevention against false positive alerts.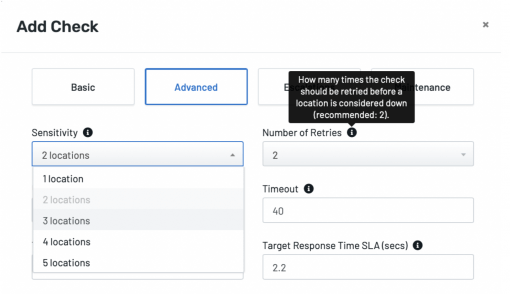 Records and logs (if they're easily referenced) can expedite incident response. Notes can be configured within checks and sent along with alerts to your email, SMS and integrations – a powerful tool when you consider you can send runbook details and information useful for diagnosing the problem and resolving the incident.
2.
Review: Alert Details and Analysis
Alerts are no good if they don't give you information you can use. Along with any notes you include, we send alert data, check details, and suggested steps to get you started with solving the problem. These include links to real-time analysis, a link to the alert, and a link to our probe servers/IPs so you can verify your whitelisting is up-to-date.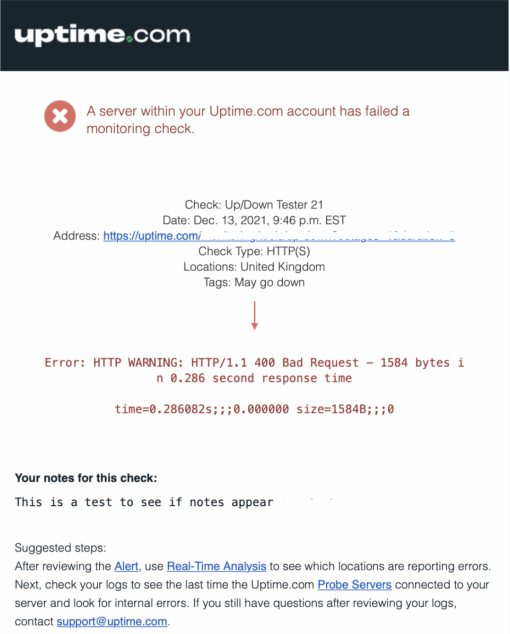 Real-Time Analysis shows you which locations are acting up and gives you a timeline of each location and events during an outage with links to real-time check status, and alert details.
3.
Drill Deeper: Advanced Checks and Features 
For checks that monitor pathways (login forms, shopping carts, etc.) it can be harder to identify the issue – there's more ground to cover. 
Advanced check types (Transaction Checks and API Checks) feature Root Cause Analysis to identify the specific step in the script where your check failed. It also provides browser console data, to see any requests that may have failed, and screenshots of what the check encountered at point of failure.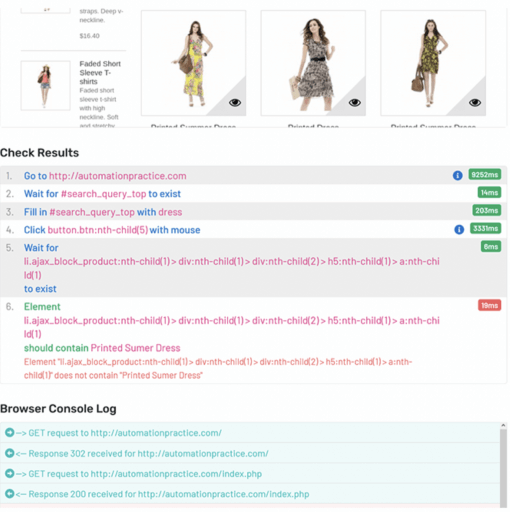 Additional tools like Traceroute are particularly useful for detecting anomalies between Uptime.com and the route our servers take to your service. These insights can inform where the connection is encountering packet loss, and are especially helpful in diagnosing regional outages. 
Resolving Alerts 
Beyond diagnostics, there are a slew of tools that help you reduce the impact of an outage. Everything from Status Pages that communicate your diagnostic efforts and findings, to internal integrations that keep your team in the loop, and Private Location Monitoring that checks your internal infrastructure assets with the same tools you use for your public facing sites. 
Need help creating your monitoring infrastructure? Reach out to our team to get started.
Minute-by-minute Uptime checks.
Start your 14-day free trial with no credit card required at Uptime.com.