Uptime.com Blog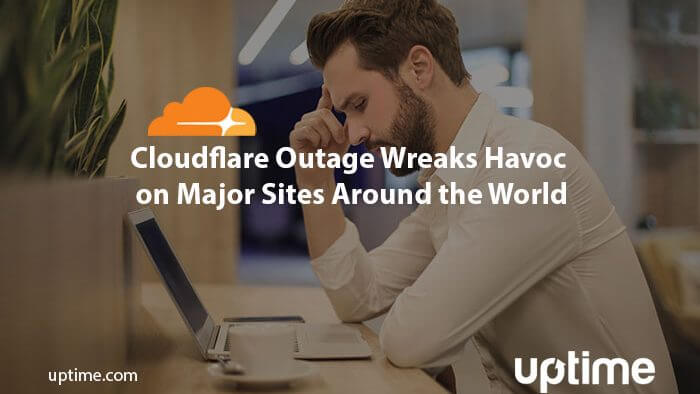 Cloudflare Outage Wreaks Havoc on Major Sites Around the World [Updated]
Cloudflare, a company that provides CDN services to major websites around the world, recently experienced an outage that took down many of their customers' sites.
The outage began around 7AM EST, and many major companies, including web hosting company WP Engine and chat service Discord also experienced outages due to issues over at Cloudflare.
Cloudflare has identified the source of the problem and implemented a temporary fix until the issues can be resolved permanently.
Current Status
According to the Cloudflare status page, all systems are now operational. The outage was due to a route leak. Route leaks are a type of attack where web hosting providers leave paths unprotected that allow access to block IP addresses.
In this case, though, a piece of equipment called a BGP optimizer at a small company in Pennsylvania was the source of the problem. The BGP optimizer created inaccurate paths for internet traffic to travel to Cloudflare sites. These paths were broadcasted through the web host. That's why so many sites were unavailable. The web hosting provider, Verizon, didn't have any monitoring in place to catch this problem. Luckily, the folks at Cloudflare quickly detected the problem and were able to get it fixed.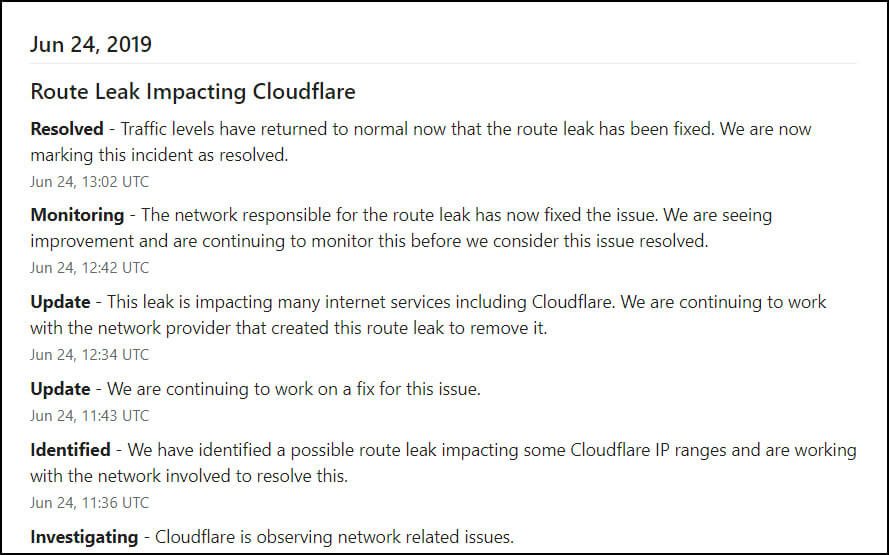 Twitter is Abuzz With the News
As usual, Cloudflare users have taken to Twitter to express their frustration with the outage. Many have stated "half the internet is down."
#Cloudflare is down. Half the Internet is down pic.twitter.com/ato4UmiX4s

— Apple Bhoy (@AppleBhoy) June 24, 2019
Webmasters that rely on Cloudflare for hosting, caching and other services scrambled to find a way to bring their websites back online.
#cloudflare right now pic.twitter.com/xJihNb5AX9

— Marco Cuciniello (@Arm4x) June 24, 2019

About Cloudflare
Cloudflare is the world's largest internet security and performance boosting website. They provide caching and hosting to over 16 million websites around the world.
Other Outage Coverage
For more information on major outages, check out our coverage on major events when they happen:
Software Outage Grounds Flights at Several US Airports
Updated 6/26 at 1:55PM EST with information from Cloudflare.
Minute-by-minute Uptime checks.
Start your 14-day free trial with no credit card required at Uptime.com.
Don't forget to share this post!