Uptime.com Blog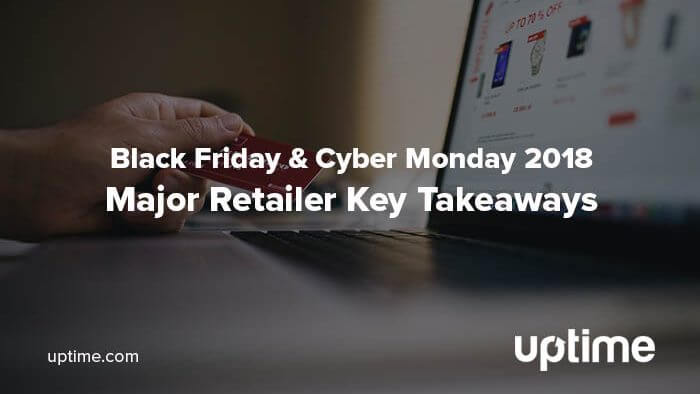 Website Outages on Black Friday & Cyber Monday 2018 | Key Lessons
As expected, Black Friday and Cyber Monday 2018 sales broke records.
Amazon reported their highest sales day ever on Cyber Monday, though exact numbers weren't provided.
Brick-and-mortar retailers saw a decline in foot traffic by 1.7% on Black Friday, hinting at the importance of website performance for retailers of all sizes.
Companies are more conscious of website downtime and its effect on sales. During a landmark event like Black Friday, every second a customer cannot make a purchase leaves money on the table.
Site monitoring solutions can watch specific URLs, monitor important infrastructure (like the API that drives any automated social efforts or application data), and even specific transaction paths. You can act fast when there's a problem and keep customers from leaving your site in droves.
Naturally, web traffic is higher during this time of the year with consumers checking their lists twice. Is your site able to handle it?
In preparation for this year's holiday shopping frenzy, we decided to run a test on some major retailer websites to answer a couple of key questions:
How are major retailers reacting to customer shopping behavior on these massive sales days?
What were Black Friday's effects on the web?
We set out to answer these questions with hard data and some firsthand accounts from users stuck in the trenches.
The Test
We created HTTPS checks for most major retailers, including:
Amazon
Costco
eBay
Home Depot
Kohl's
Sephora
Walmart
Zappos
We tested from 5 locations, including across the US, the UK and Australia.
Minor Outages Struck Everyone
Retailers appear to have done well this season. The ones we monitored maintained a 99% Uptime for the period around Black Friday. Data showed that some had hiccups in the pre-Black Friday sales events, like Amazon, which suffered some higher response times in the early hours of deployment.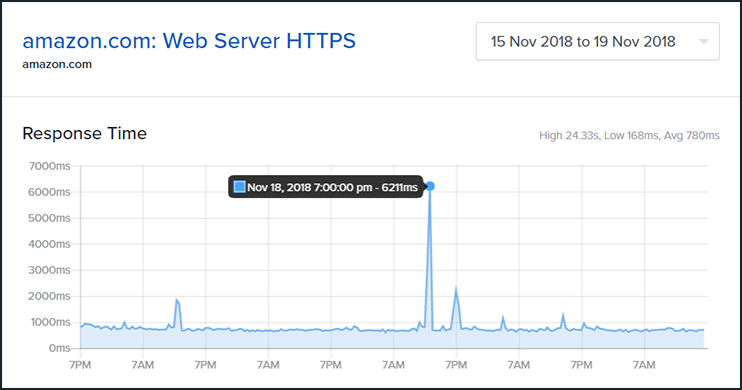 Most of the outages we tracked were minor, meaning they lasted for less than 10 minutes. But those 10 minutes carry a heavy cost on Black Friday. Consumers were estimated to have spent $7.9 billion on Cyber Monday alone, with almost $2 billion spent just on smartphones. If we do a quick and dirty calculation, 10 minutes cost the collective online industry just shy of a million dollars.
Fortunately, no single company lost that much due to downtime but we use this figure to say the effects were much higher than on a typical sales day.
Other good news from our end includes the fact that outages were usually limited to just one instance. We tracked a small handful of repeat outages, but in total the downtime did not exceed 20 minutes for every case we tracked.
Related Infrastructure Also Affected

Kohl's had a 503 (Service Unavailable) error occur around 11:30AM on Black Friday, but response time was very high on Cyber Monday throughout the day. Customers also could not pay with debit cards in-store on Black Friday.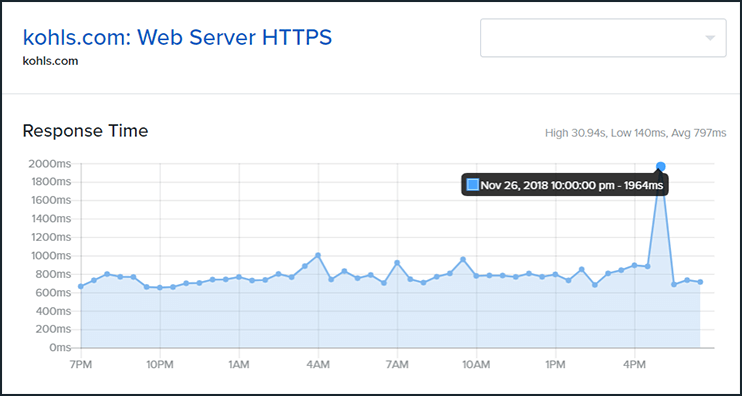 Additionally, WPTV reported some kohls.com customers may have had orders cancelled due to a lack of stock. It appears the items were refunded, but the customer bank accounts are still holding those amounts, some totalling several hundred dollars.
Customers claim Kohl's is holding money for canceled Black Friday deals https://t.co/47OA493RJs pic.twitter.com/yjKWnM8sqZ

— WPTV (@WPTV) November 28, 2018
What happened to Kohl's appears to be a small and fixable problem, but it raises an interesting question: when your in-store infrastructure goes down, do customers shift to your online store? If so, is your infrastructure in place to handle that sudden surge in traffic?
Additionally, what are the demands that real-time sales of this magnitude are putting on related logistics systems? All of these interrelated systems are vulnerable to downtime as well. Are warehouses well stocked? Are databases working and sending orders? Can deliveries arrive on time?
ANYONE BLACK FRIDAY SHOPPING TONIGHT DONT GO TO KOHLS!!!!! THERE SYSTEM IS DOWN AND YOU CAN ONLY PAY IN CASH

— emma collins?? (@emmacollins___) November 23, 2018
Beware of using https://t.co/cSLJNGWEPY to purchase items.  I made a purchase of $727 on Monday. As of today (Thursday) they have charged my credit card almost $1350 for this order. So much for shopping Black Friday deals as Kohl's has tied up over $700 of my funds.  @kohls

— klh51 (@klh514) November 22, 2018
#kohls  should have had it together its Black Friday sales I shouldn't have to deal with customers yelling at me and getting in my face because the systems went down and they can only pay for cash. pic.twitter.com/9bnnUrKUwY

— Sly (@kybersword) November 23, 2018
Before and After Snapshots
We came into Black Friday theorizing that the volume of users would increase server loads, thereby increasing response times. We did observe this phenomenon with retailers like Costco, which saw a downtime incident as well as an increase in response time worldwide.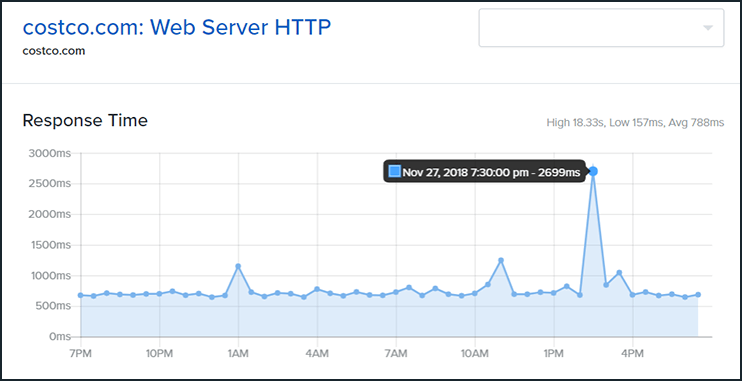 Home Depot also saw an increase in response time, although our systems saw no accompanying downtime.
Below, we've included some screenshots that show the URL we tracked, percentage of Uptime, incidents we tracked, total downtime for the incident, and the average response time when measuring from each location.

Costco Before Black Friday

Costco After Black Friday
The majority of retailers, especially larger ones like Amazon or Walmart, actually saw a decrease in response time. Perhaps they'd taken precaution preparing for Black Friday's traffic surges.
Amazon Before Black Friday

Amazon After Black Friday

Walmart Before Black Friday

Walmart After Black Friday
Testing the waters with early-bird shoppers likely mitigated some of the traffic load of the sales day themselves, but also acted like a stress test for the big days.
Key Takeaways
How did Black Friday impact the Web? There were no major hurdles for shoppers, but if you were caught up on an unresponsive site you weren't alone. Timed deals and surges in demand place a massive load on servers for a short period, and it's not uncommon for only portions of the country (or the globe) to feel the sting.
Retailers should continue leveraging big data to properly forecast demand, but how are they reacting to it?
What happened to Kohl's was a common occurrence in retail refunds. Even registers failing is a normal hiccup. Reducing the number of unwanted returns or voids would virtually eliminate this problem. Retailers able to react to database problems or downtime can update sales pages so customers don't discover an item is out of stock after they've made the purchase. Cumulatively, some estimates put out-of-stock losses at $484 million in potential sales.
There's no quick calculation that tells us how much any single retailer lost, but we do understand more about how downtime may have affected the shopping experience. It's worth considering how a specific item might affect infrastructure. A flash deal is no good if most of your audience can't access it.
Minute-by-minute Uptime checks.
Start your 14-day free trial with no credit card required at Uptime.com.
Don't forget to share this post!