Uptime.com Blog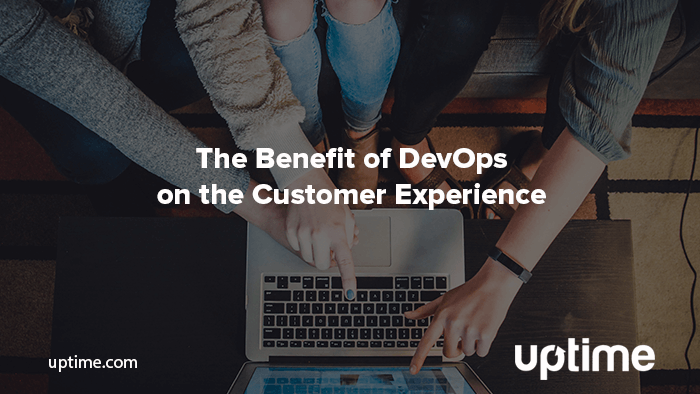 The Benefit of Devops on the Customer Experience
If there's no customer, there's no job. In a competitive marketplace, every site element matters from the functionality of your service to your UI; your documentation to your marketing. Your SLA should mirror that structure. Building a strong customer experience is about consistency on every level. 
The key is visibility, offering all the verification your customers need with an intuitive click of the mouse. 
The Benefit of DevOps on the Customer Experience: Transparency
Transparency translates to integrity and that means showing the highs with the lows in terms of website downtime and uptime percentages. It also means, be specific with your visibility. Don't just say something is "UP", offer performance metrics; conversely, in the event of an outage, update frequently, keep your users informed, and show off your track record with historical data. 
Transparency for your customers and userbase is easy in the form of a Status Page, whether public, or prepared for a specific tier of customers or stakeholders, a Status Page is a clear way to convey downtime, metrics, and component status for services and other aspects of your platform. A private status page can also be useful internally for incident response and IT teams.  
If transparency sounds like a scary concept, try running a Gameday exercise to prep your team for impending disaster or improving your error budgeting. 
The Benefit of DevOps on the Customer Experience: Design & Documentation
Location, location, location. What is true in real estate is true for placement within your UI. And you need to prioritize which elements get the beach front property and which get the 15th floor garden-view. 
Well-placed informative content can cut down on your support tickets, especially if the design attracts your users; create too much congestion and you lose functionality no matter how flawless your service may be. 
Tooltips can be helpful here, as you can distill critical information and make it accessible to users. Try and balance this out with more informative documentation that digs deeper into concepts and shows use cases.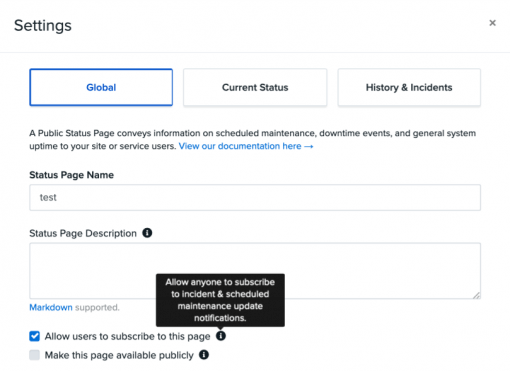 User-Centered Design
How easy it is for your customers to navigate through your site and find the tools they need is a pretty big deal. You have probably heard enough about responsive design, now it's time to ask if your site is accessible.  A major contributing factor to this is the design, flow, and theme of your UI. 
A strong UI design illustrates and guides the steps to carrying out operations without pulling attention from the tasks at hand, it also acts as a map, directing users where they want to go. 
Design and documentation go hand in hand – creating a flow and an architecture to your site will influence elements like:
Product descriptions

Features

Page elements
And determine general parameters like font size, word count, icon placement, etc. 
Documentation
Your product works! But how do I use it? Support documentation please, and plenty of it. If your product relates to software and digital services then providing guides to your userbase not only encourages the user to find the answer for themself but boosts your overall trustability through education.
Keep your documentation fresh by reviewing and updating frequently, starting perhaps with a quarterly or semiannual review. Go a step further and use resources like your support ticket subjects and direct customer feedback as a barometer for:
1.) How effective your documentation is being
2.) How accessible your documentation is – is it placed well or being completely overlooked?
TIP: Carry your documentation through to your UI with tooltips and links to relevant information – make finding the answers easy for your customers. 
The Benefit of DevOps on the Customer Experience:
Round the Clock Monitoring & Alerting
Monitoring supports transparency through checks that verify operation status, and alert on outages. 
Uptime Monitoring
It's one thing to show off your site metrics and global uptime percentages on your status page, and another to set up accurate monitoring for your site and services to fuel those metrics. Be smart with your checks and monitor for total observability both internally and externally. 
To support your SLA, review the recent status page updates of your third-party providers. Check out their past history as well; what is their incident response time like, and how is their uptime? Do they project reliability? You should also monitor your third-party services. We recommend our API Check for this purpose. An API check provides awareness into the state of your services – especially if they go down, and are as customizable as they need to be to orchestrate complicated checks with the purpose of checking the uptime of your own apps and tools or testing your server response. 
Alerting
The flip side to monitoring is alerting. It's great that you're watching but useless if the right people aren't informed of what you see. Even more useless if your monitoring isn't responsive enough. 
There's standard alerting and then there's robust alerting. With Uptime.com the main account contact becomes the default for all up and down event alerts but you can add to this with escalations and integrations with your most-used platforms. 
Escalations are the embodiment of 'work smarter not harder', with a tiered strategy to alerting during an outage as notifications are sent to designated people as the outage progresses and the severity of the situation increases. 
Final Thoughts: Define Your Content
Let's bring this back around to your SLA which, for service providers, should contain things like:
What services will be delivered

How/when the services are made available

User capacity

Support response time

Incident response

Percentage estimates for uptime

Notification policies

Usage statistics
All of these elements combined contribute to a solid customer-first experience making it important that response and visibility are well-defined in your SLA, after all, what is an SLA but a promise of performance to your customer?
Minute-by-minute Uptime checks.
Start your 14-day free trial with no credit card required at Uptime.com.
Don't forget to share this post!