Uptime.com Blog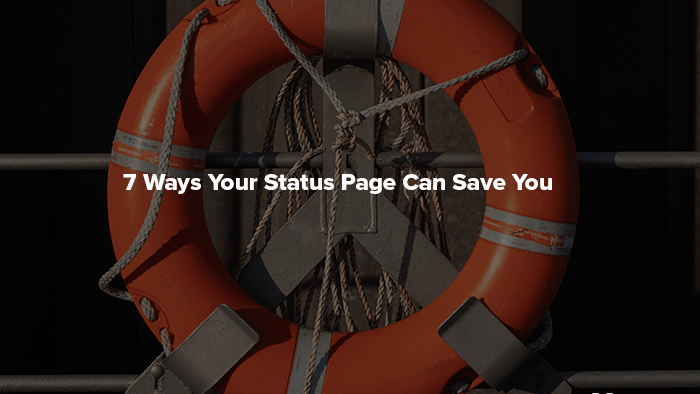 7 Ways Your Status Page Can Save You
Having a Status Page is like having a dog. A dog alerts you to an incident; sudden noise, approaching neighbor, squirrel… A dog sounds the alarm on an intruder. A dog even alerts you to maintenance by barking at every handyman, garbage truck, and gardener within sight.
As a dog fetches the same stick over and over, so does a status page fetch the attention of your users – especially during a live incident – with each browser refresh they wait for the status to change. 
Dogs fetch for fun – people refresh pages because it engages them in an event, connecting them to a journey in anticipation of some kind of resolution. In terms of status pages, not all posts will be negative; scheduled maintenance, etc., but each update is an opportunity to build trust. 
1. Avoid Morbid Consequences
If you google post mortem it takes only the distance of one-half your trackpad to scroll down the page far enough for the results to shift from medical, to business. If your site has just made it through an incident, your status page (if you've got one) will be the first place any kind of media outlet turns when they go to write about it. 
Status page updates create a timeline of events. Timelines are useful when the public's attitude toward website downtime is condemning. Without a timeline, media, potential clients, and current users will make up their own assumptions. You don't want that. We don't want that for you.  
Food for Thought: Think you're not big enough for people to take notice of your downtime? Downtime costs you – In a 2020 survey by Statista, 25 percent of global respondents reported the average hourly downtime cost as between 301,000 and 400,000 U.S. dollars. So even if your users don't report any issues, your stakeholders sure will. 
A status page is most commonly used as a public platform for sharing information specific to your company's updates and incidents but, as they say, there's more than one way to skin a ca… -well, you get the idea. Let's dissect the options.
2. Build a Messaging Strategy with Your Status Page
At Uptime.com we present status pages in three ways; Public Status pages, Internal Status Pages, and Public SLA pages. Status pages create a dialogue around your incident management that helps cut down on Support team workloads while letting you control your incident narrative.
3. Create a Trustworthy Brand
Public Status Pages host components which can be linked to Uptime.com checks, or that represent resources outside of your Uptime.com account, such as third party resources or databases. 
By branding your Public Status Page (with logo, custom html & CSS) and controlling the messaging sent with updates to your page subscribers, you build a history of clear and successful communication that goes a long way in mitigating damage to your brand reputation – even if the incident drags on. 
4. Reduce Incident Response Time
Internal Status Pages are an easy way to alert and focus your response team. All Uptime.com Status Pages can be configured to be private, or secured with basic auth. For your eyes only is a comforting statement and with internal Status Pages, this idea can be implemented across teams. 
For internal conversations about whether your services are up or down and how they got that way, the Internal Status Page is a space for syncing and solving. A great alerting hierarchy is critical for any uptime monitoring set up, but if your team goes beyond your account users, you'll need a secure method of communication stemming from a single source (a system admin or team member with a holistic view).

We all know that team messaging applications can get loud, Internal status pages reduce incident response time by cutting out the noise and updating on status and actions. 
5. Prove SLA Accountability
Public SLA Pages (service level agreement) feature check-driven metrics and alert data that represent the uptime and response time of services outlined in an SLA. We know site downtime costs, and SLA Pages will help you track and display your accountability.

24/7 convenience is the power of the Public SLA Page. Show history for accountability, and enable performance metrics to satisfy the curiosity of your clients between scheduled reporting. 
6. Engage Status Page Visitors
Uptime.com status pages are interactive. If you enable the setting, your page visitors can download pdf reports, and adjust their view on the timeline to search through your entire incident history. 
Why is this effective? It turns your status page into a platform that your potential and current clients can use to research you. If a status page is a dog, the goal is to be best in show. When done right, a status page gives you clout.
7. Have a Real-Time Relationship
Direct communication creates peace of mind. It's the man behind the curtain telling a user that everything will be ok. 
The technical perks of having a status page – whether it's public or for your internal team – lie in the metrics displays (optional) and real-time component status. Data representation takes your status page from messaging platform to plan of action while keeping track of your incident history. 
Business-critical systems rely on real-time communication to solve problems and manage reputation. Without a vehicle for incident management, downtime not only costs you revenue from suspended services, but can dissuade future earnings by driving away potential business with an inaccessible site. 
Don't get caught with your tail between your legs when you can talk your way out of it. Communication commands trust. To prove it to you, we offer a completely free (no credit card required) 21-day free trial complete with support from our top-notch team.
Minute-by-minute Uptime checks.
Start your 14-day free trial with no credit card required at Uptime.com.
Don't forget to share this post!