Uptime.com Blog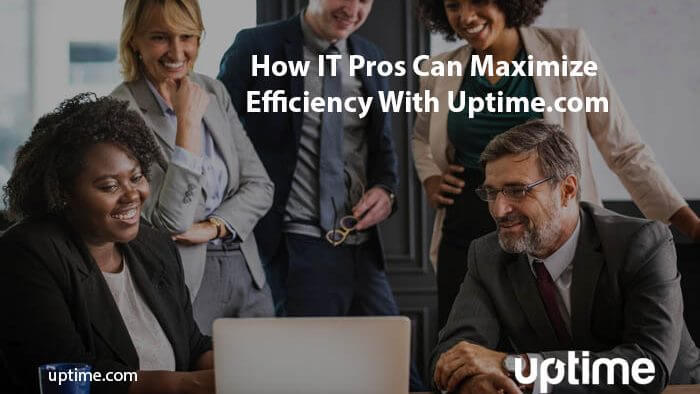 How IT Pros Can Maximize Efficiency With Uptime.com
IT professionals have to efficiently manage several dozen to several hundred critical pieces of infrastructure a modern business needs to stay afloat. Even smaller businesses often encounter this challenge.
We understand that at every level, the time spent researching these issues comes at a cost. That's why we've built some time-saving measures into Uptime.com to help you make more efficient use of your most precious resource: your time.
Add Basic Checks Faster
Basic HTTP(S) checks are one of the first actions a user takes upon entering Uptime.com.  From the dashboard, Uptime.com lets users quickly enter a URL and have SMS, phone call and/or email alerts sent if downtime occurs. Constant monitoring occurs at one-minute intervals from servers situated across five continents.
Uptime.com is the most comprehensive monitoring solution and only takes about 30 seconds to start using.
Bulk Upload Checks
A large company monitoring several critical points of business infrastructure will require many checks. Basic checks are a good method to monitor the most important points first, especially if your team is still getting acquainted with Uptime.com's various tools. Once your team knows exactly what they need, you can bulk upload checks.
The Excel sheet includes simple drop-down menus to guide you in the setup of specific columns in order to format checks correctly. You can name checks for search at a later time, and configure a number of options that specify the responsibilities for your check and its outcomes.
Tag Checks for Sorting
Adding a tag helps you to identify what a check does, or what family it is a part of. API and Transaction checks, for example, are sometimes used together when measuring the uptime and response for a web application. You might also check DNS and SMTP records, or any combination of interrelated systems. If you're a contractor, you could use tags to track which clients your checks are related to.
Tagging your checks gives you more precision in search and quick access to reporting when you need it.
Stay in Touch with Status Pages
Although public status pages are quite useful, private status pages provide a resource offsite that measures your status in-house. An invaluable form of QA and testing, this page can provide usage statistics that can help your support team resolve trouble tickets and answer questions.
Shifting from being reactive to becoming responsive is a small change that provides a huge impact for you and your team. The ability to execute on your troubleshooting and restoration efforts ultimately improves your capabilities as a company. It also leads to better outcomes when dealing with customers, or even in-house management, struggling to get around stalled productivity.
Get Notifications Sent to You
Just like private status pages, we think downtime reporting is only useful when presented in a useful manner. Some of us completely zone out of email and phones when we work, but instead rely on other forms of messaging to get and guide our attention throughout the day.
With Uptime.com, you don't need to complicate your routine. Downtime notifications come via your platform of choice, from Datadog to Twitter and every Slack or StatusPage in between. Wherever you need this reporting, Uptime.com is there for you.
One Corporate Login
The SAML2 protocol provides a secure method of log on for corporate users already authenticated within their network. Uptime.com utilizes SAML2 and Single Sign-On (SSO) to authorize users and grant complete access to the entire Uptime.com suite.
We integrate seamlessly with your corporate network, offering an extensive guide for support and troubleshooting, along with a support staff standing by to assist with implementation. Consolidate logins securely using Uptime.com.
Control When and How Alerts are Issued
Our final tip is to utilize escalations, maintenance and other advanced options to control when and how contacts receive alerts. Should management see a report of every outage or only the most significant ones? Do you have escalations in place to prevent the timesink of aimlessly troubleshooting?
With Uptime.com, you can schedule maintenance time for patches, updates, and everything else that comes with maintaining a server. Escalations ensure automated responses go to the right decision makers if basic steps fail. Customized notes can inform employees on best practices for data collection during an error, all aimed at providing clear and actionable data of a critical outage.
Wrapping Up
With unprecedented control and the flexibility to meet your organization's needs when and how you demand it, Uptime.com provides critical data on downtime so you can focus on execution.
Minute-by-minute Uptime checks.
Start your 14-day free trial with no credit card required at Uptime.com.
Don't forget to share this post!