Uptime.com Blog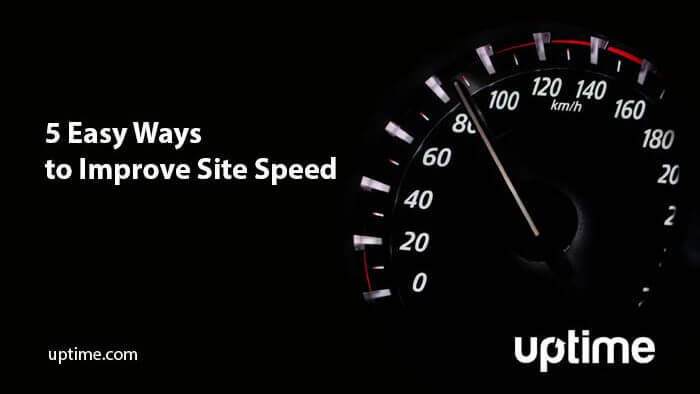 5 Easy Ways to Improve Site Speed with Uptime.com
When it comes to loading time, every second counts. In fact, studies show people will never return to your site if it takes longer than a couple of seconds to load. Site speed should be high on your list of performance improvements. On the internet, you really do only get one chance to make a first impression.
That's why speed testing is so important, but it shouldn't stop at the development phase. Site speed should be continually monitored every step of the way.
Uptime.com's free Speed Test Tool does more than just tell you how long it takes for your site to load. It provides detailed suggestions on exactly how long each type of content (fonts, plugins, images, etc) takes to get served to visitors and where the problems are occurring.
How to Run an Uptime.com Speed Test
Anyone can take advantage of Uptime.com's Speed Test, Domain Health and Global Uptime tests, even if they're not a registered user.
If you're already using Uptime.com, you can access the speed test from your Dashboard under Monitoring>Page Speed. If you're not an Uptime.com user, go to Free Tools>Speed Test.
Running a test only requires you to enter your URL and hit the Go or Start Testing button. If geography is a concern, you can choose from one of 10 worldwide testing locations. For a general idea of site speed, you can test from a random location.
After the test is complete, you'll get a detailed analysis of your overall website performance, as well as charts and graphs detailing load time for each content type and suggestions for improvement.
Based on our own personal experience, and decades of experience in development, here are five of the most common website loading issues and how to fix them.
1. Enable Caching On Your Domain to Improve Site Speed
While you can enable caching in your website's code, WordPress users can also use a plugin like W3TotalCache as well. Just be careful with the amount of plugins you install; too many can wreck your loading time.
2. Use A CDN Like Cloudflare For Larger Content That Can't Be Compressed
Content Delivery Networks (CDNs) save both time and space on your web host's already overcrowded servers. Web hosting companies like Siteground offer free CDN accounts and will assist you with configuration.
3. Clean Up Your Javascript And CSS Code
Too much code makes a website slow to load. Since JavaScript and CSS often load first, this can cause pages to render slower than your dial-up connection. This is especially true with WordPress templates. While hero image sliders and animations may look nice, you'll often sacrifice loading time for these unnecessary bells and whistles, especially on mobile devices.
4. Optimize Images
Oversized images make mobile pages painfully slow. Use responsive design and size images accordingly. If images are especially problematic, check out our suggestions on how to create beautiful images that won't bog down page speed.
If you need to optimize images already on your WordPress site, WPSmush is a great plugin to use. Just be sure to delete the plugin when you're done using it!
5. Do A Periodic Site Audit And Delete Or Update All Obsolete Content
Many websites contain thousands of pages, and lots of those pages are obsolete. Instead of wasting space on your main domain, why not delete pages that are no longer applicable to your company audit. For sites with hundreds of thousands of pages, a weekly audit is best.
Wrapping It Up
Speed testing should be a regular part of your company's monitoring program. If you're looking for a complete web and app monitoring solution, look no further than Uptime.com.
Pro tip: Site speed is just the tip of the iceberg when it comes to site optimization. Real User Monitoring reports help you observe site performance and behavior in real-time.
Minute-by-minute Uptime checks.
Start your 14-day free trial with no credit card required at Uptime.com.
Don't forget to share this post!