Uptime.com Blog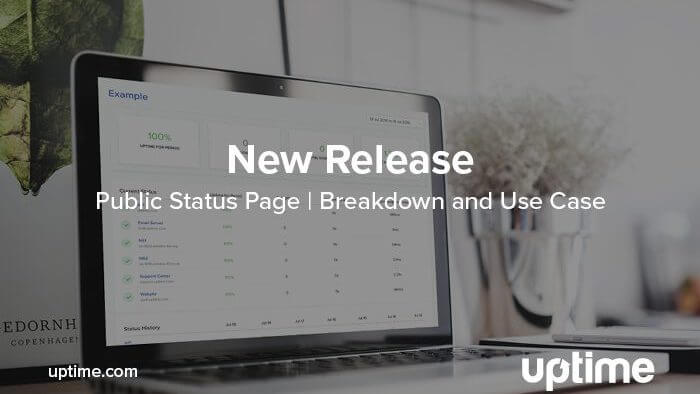 New Release: Public Status Page | Breakdown and Use Case
Uptime Status Pages can now be shared publicly. You will find that they are a useful tool for information sharing under a variety of circumstances. Internal pages offer excellent insight for your team, but public status pages provide users and other parties helpful information about your services and websites.
Status Pages display your uptime checks on a public URL, and you can share them without granting access to your Uptime.com account. Customers frequently query support to report outages that are sometimes corrected by the time the ticket is received. This causes a small delay in closing the ticket, and the customer may not ever receive a response. Such an interaction can erode customer confidence, so providing a public Uptime check that details when downtime occurs, and what caused it, boosts consumer confidence and helps reduce some of those unnecessary support tickets.
We'll explain how to create your first public status page, and offer a use case that shows why you might incorporate this reporting into your monthly analytics.
Creating Public Status Pages
A public status report grants high-level data on downtime and page response, with the ability to drill into more detailed statistics. Internal status reports provide decision makers key metrics to determine whether website uptime or page load time was a factor in any significant conversion changes for a given period. Public status pages share some of that same information with the public, so be sure you carefully designate the type of check you want to report.
Generating a new status page is simple, but you must first create a monitoring check to report.  Once a check has collected some data, click Reports>Status Pages to create a new status page. Before you proceed, consider what level of access you want to grant:
You can turn off to add an HTML header requesting search engines not index your page
Choose whether to show individual check statistics
Show incident descriptions
You can also add some inline HTML in the header and/or footer for branding purposes, like logos or individual awards. Personalize your status pages and display your accessibility with pride, granting access to whomever you wish on your terms.
Public Status Page Use Case
We wanted to consider an everyday use case to illustrate the versatility of a public status page.
Testing Server Integrity Under Stress
An exciting day in startup life! Your company was just featured in a major news publication, and you're suddenly facing thousands of new users. Good news for your next seed round, assuming you can show investors that your web application can withstand the user influx.
Uptime can help with a publicly available status page that shows the uptime, downtime, number of outages and average response time, alongside detailed statistics about that downtime and what caused the problem. Whether or not you suffered an outage, you have a publicly available document that shows investors the strength of your infrastructure and provides a sense of where growth might occur in the future. Investors like to see startups ready to withstand the demands of a large user base, and such a status page shows that kind of progress.
By default, this page shows a breakdown of the previous seven days. Users also have the option to query a specific period, such as the week of your exciting news. As a bonus, this same page can become a reference for new users to test if the site is down.
Add detailed reporting about a specific incident to update users on the status of an outage.

Final Thoughts
Public status pages offer essential metrics on how well a website is performing, especially if the month has been prosperous and the traffic volume has been high. Beginning with the checks you create; status pages help to build user confidence in your service.
Minute-by-minute Uptime checks.
Start your 14-day free trial with no credit card required at Uptime.com.