Uptime.com Blog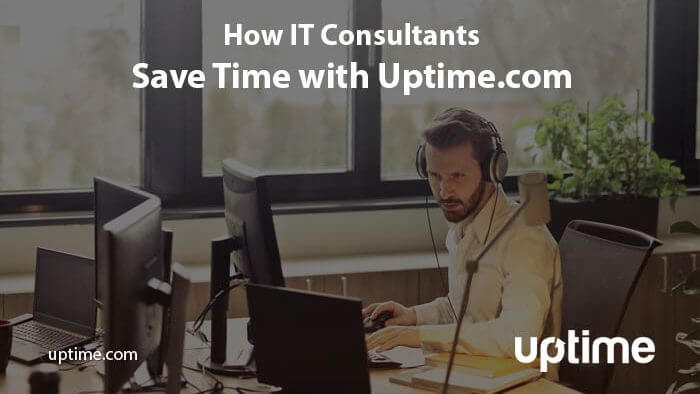 How IT Consultants Can Save Time with Uptime.com
Today's economy has created a new class of worker: the IT consultant. This lone warrior often manages multiple websites, responding to anything from outages to update requests and every code debug in between.
If one can manage the never ending onslaught of servers, API calls and transactions these sites rely on each day, it's a pretty decent living. The key is removing all the menial work that overwhelms and stifles productivity.
Uptime.com can help with a series of tools designed to save time and provide opportunities to upsell clients on new services.
Instant Access to Server Status
First, we'll look at how Status Pages can save time responding to status requests. Clients like to know their site is functioning, and the more moving parts in play the higher the probability one of those parts will break down.
Everyone has one of those clients. The one that constantly calls with questions, problems or concerns. As an IT consultant with more than one client to serve, having information readily available for needy clients will save you time and headaches.
Uptime.com Status Pages solve the problem. A privately shared page provides hard data on downtime incidents. It's always available from a static URL, so your client can access it anytime. The public-facing page can be updated with incident descriptions in real time. As you work to restore functionality, your client and their customer remain informed of your efforts.
This way, you can focus on restoring functionality instead of answering status questions.
The Uptime.com Dashboard gives you an instant overview of every site you manage. Detailed site data in a single view makes it easy to uncover incidents. Spot outages fast and get to work.
Speed Test Monthly to Uncover Sluggish Sites
Monthly audits are great for an IT consultant to maintain customer loyalty, and function as a way to spot slow server infrastructure. Though outages are less likely with good hosting, other problems can often bog down loading time. These run the gamut from excessive plugins, bloated code or slow-loading images.
The Uptime.com Speed Test is a fast and reliable way to find out exactly which elements are contributing to that slowness. Report directly to your client so they know each month what you plan to fix and how it should impact their operations.
Since 2010, Google has considered optimizing for speed a factor in ranking. Faster sites better serve the customer, and often improve sales while reducing overall bounce rate. In short, your client's customers will be much happier with this improved accessibility.
For you, this translates to new billable projects with positive outcomes the client can see. No finessing the sale required.
Global Uptime to Optimize Access from Specific Locales
A successful IT consultant pitches to clients with adequate budgets to pay for their services. It's not surprising International eCommerce businesses are often a prime candidate for technical services. But pitching them can be a challenge.
That's where Uptime.com can help. In your initial pitch email, a Global Uptime Test can highlight which areas need improvement. This check tests every major facet of your potential client's infrastructure.
If your monthly speed audit for an existing client reveals some unexpected slowness, use the Global Uptime check to drill deeper into the problem. The results tell you which part of the globe, and even which part of the site's servers, are the source of slowness.
Finally, use the tool to reliably simulate probe servers from around the globe. Escalate outages to your client's in-house team if your diagnosis reveals problems you cannot fix, or the client can also use the notes feature to provide you with instructions for how to respond to specific outages.
Find the Cause of Slowness
When WordPress is slow, the first thing most contractors will do is disable all plugins and then re-enable them one by one. But what if you began by using actual site data to tell you what's slowing things down? Uptime.com allows you to begin your diagnosis on data instead of guesswork.
Run the Uptime Speed Test and check the Waterfall. This tool provides data on every plugin and scripted element that loads on the page, including when it begins and how long it takes. All of this data is presented in an intuitive graph.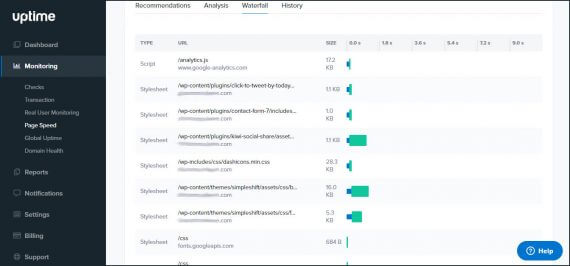 Email, SMS and phone call alerts, as well as other integrations, also provide technical data on an outage the moment it occurs. Remain proactive, and diagnose the most likely sources for the problem much faster with Uptime.com.
Analyze the User Experience
The marketing team does everything it can to analyze how a site is presented, but they often can't or don't see how real website visitors are actually interacting with the site. You can provide that technical analysis with an Uptime.com RUM Report.
A RUM Check simulates the user experience, using real browser technology, for a full analysis of the site's responsiveness.
The advantage is clear: marketing can use this technical data to suggest site changes and bypass the typical back-and-forth corporate arguments about how to improve user experience. RUM reports test from multiple locations, and offer specific information on what causes slowness by closely simulating the real user experience.
BONUS: Use the Uptime Widget to Build Trust
When your clients sell directly online, website uptime is something they should brag about. Provide your clients with an Uptime.com Widget  as a way for them to build trust with their clientele.
The widget tracks specific check data. Simply configure a check, then upload the code. We've worked hard to streamline this widget and make its impact on site load speed as low as possible.
Your clients will also appreciate branding the public-facing status pages the widget links to with the company logo in the header and footer.
Final Thoughts
Uptime.com is all about ensuring a site is functioning over time, but it's also a tool that makes troubleshooting and downtime response more efficient. For contractors, our services provide a one-stop overview of critical infrastructure for every client under your watch.
Easily monitor multiple websites and provide a professional-looking report of server infrastructure. As a consultant, you can provide a better service with technical data your clients can review to understand the impact of your work, or proposed changes.
All of this translates to better opportunities to upsell your clients on services that directly impact their site's user experience and their bottom line.
With Uptime.com, you provide a unique competitive edge: your client's site won't suffer from extended downtime when they work with you.
Minute-by-minute Uptime checks.
Start your 14-day free trial with no credit card required at Uptime.com.
Don't forget to share this post!